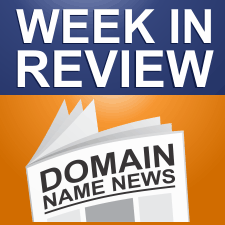 Every Friday, DomainSherpa.com provides you with a hand-selected, editorially-based review of the weekly news. In this summary, you will find the latest articles and videos produced by DomainSherpa staff and contributors. You will also find links to the best news articles in the domain name industry – so you don't have to spend your time searching for news or reading something that was not worth your time.
---
This Week's DomainSherpa Interview
---
VIDEO: Zappy's Proven Process to Extract Maximum Value from Domain Names – With Michael Zapolin

Michael "Zappy" Zapolin has a track record of notable online business successes. Among them are purchasing Beer.com for $80,000 and Diamond.com for $300,000 – and then later selling each for $7+ million.

In this master class-like interview, Zappy walks us through his methodology for building maximum value in premium, generic, category-killer domain names though his technique of "just enough" development and marketing.
---
This Week's News in Review
---
Millionth internet Site with Czech .cz Domain Name Registered
– 21-Nov-12
The Czech internet reached a significant milestone this week, when the one millionth website with the country domain name ending of .cz was registered. The announcement was made by CZ.NIC, the body that administers domain names in the Czech Republic. Perhaps surprisingly, the majority of sites ending in .cz – 58 percent – are owned not by firms but by individuals.
Watch ICANN's New TLD Lottery Online
– 21-Nov-12
The biggest sweepstakes in the history of ICANN. ICANN will hold its new TLD lottery "prioritization draw" on December 17 in Los Angeles.
New .za Domains On The Way
– 21-Nov-12
The establishment of the .ZA Central Registry will see other second-level domains, such as .net.za and .web.za added to the portfolio of domains administered by the registry, which will also include the well-known .co.za and .org.za domain names.
Walmart Owns Key Domains for Black Friday Union Showdown
– 19-Nov-12
Company acted last year to corral domains from group organizing protests this Friday.
New Site Collates Registrar Stats and Pricing
– 19-Nov-12
Domain name registrar NameSilo has just launched a new web site that tracks domain registrar and top level domain data.
Icann to Revamp WHOIS Policy
– 19-Nov-12
In the wake of the rollout of the new gTLDs, ICANN said it is looking to revamp the way it handles collecting, maintaining and providing access to the registration data for these domains, which includes name and contact data for domain registrants. Access to registration data is currently provided via WHOIS, a protocol standardised in the early 1980s.
Google Takes on Tiny Doogle
– 19-Nov-12
Search engine giant Google is threatening a lawsuit against a tiny South African website named Doogle.
Lawmaker Uses Reddit to Craft New Law on Domain Name Seizures
– 19-Nov-12
A number of lawmakers have taken to the Internet to crowdsource ideas for laws and policy. The latest is Rep. Zoe Lofgren (D-Calif.), who is using the Reddit community to help her craft a proposal to protect websites accused of copyright infringement.
Insurance Calculator Completes Two New Domain Acquisitions
– 18-Nov-12
US based auto insurance provider Insurance Calculator has absorbed AutoInsuranceCalculatorUSA.com and AutoInsuranceCalculatorUSA.net into the company's domain portfolio, in an effort to secure its brand online.
150,000+ Domain Portfolio Sells for $5.2 Million
– 16-Nov-12
A portfolio of more than 150,000 domain names has sold in a bankruptcy auction for $5.2 million. Yet that might not be the end of it.
Tucows Loses UDRP for Marker.com (but it ain't over yet)
– 16-Nov-12
World Intellectual Property Organization panelist David Perkins has ruled that Tucows' registration of Marker.com is cybersquatting, and the domain should be transferred to Marker Völkl (International) GmbH. Marker Völkl owns the domain name marker.de.
Top Flippa Domain Sales of 2012
– 16-Nov-12
You probably know Flippa best as a marketplace for buying and selling web sites. But it's also an active domain name market.
Feng.com Sold for $250,000 in Private Transaction
– 16-Nov-12
The domain name Feng.com sold for $250,000 in a deal brokered by FindYourDomain.com. The transaction was between two private parties and the sale closed on November 1, 2012. "We are seeing a higher demand from investors and businesses in China for .com domain names. It seems the market prefers .com over the local .cn extension." said FindYourDomain Marketing Manager Tom Salbego.
Uh-Oh: Pritz Out at ICANN Over Conflict of Interest
– 15-Nov-12
Kurt Pritz was the face of ICANN's new top level domain program. Literally. It was Pritz who defended ICANN on Capitol Hill. It was Pritz who spoke to the press and at conferences. Now he's gone.
Ad Network Says Scammers are Impersonating it Using Cybersquatted Domain Names
– 15-Nov-12
Chicago based online advertising company Q Interactive has filed a lawsuit alleging that someone is impersonating it to dupe web site publishers out of advertising revenue.
.Co Launches Membership Program
– 15-Nov-12
.CO Internet has launched a membership program that offers perks to registrants of .co domain names.
If you enjoyed this article, subscribe for updates (it's free)