How hard could it be to sell a domain name? If hundreds of domain names can be sold every day, surely you can sell one domain name today too…right? Well, selling a domain name isn't hard to do, as long as you know how to market it and get it in front of the right people — that's the difficult part.
Jason, over at Domaining Mojo, takes the time to share his experiences with his many readers. There are (what seems like) millions of websites to list a domain names for sale: eBay, DNForum, and a host of registrar-led marketplaces. But Jason decided to list his geographic specific domain name — BeachHomeRentals.org — on Craigslist.org, a network of online communities, featuring free online classified advertisements.
Why would Jason choose Craigslist to list his domain name? Because Craigslist is a network of communities and each community has tens, if not hundreds, of thousands of online users specific to a geographic region, it's the perfect place to list domain names that are also geographic specific (geo-domains).
Yesterday, Jason posted his step-by-step formula on how to post on Craigslist. Today, he posted exactly how he listed his BeachHomeRentals.org domain name for sale at Craigslist. While the listing will expire, the below screen-shot will live on indefinitely and allow you to model your future geo-domain advertisements after his:
In comments and through email correspondence, Jason shared a little more detail about his process. Since Craigslist listings expire after 7 days, he would either need to sign into his account and re-list the advertisement in the same geographic location, or select a new geographic location to list the domain name advertisement. Jason wrote, "Eventually, I will find one person that may consider investing into the domain. If not, I will rotate the ad [from Ventura, California] to Myrtle Beach [, South Carolina]. There are many alternatives." He also stated, "The technique worked a few times, [including] San Francisco andNYC."
I agree that targeting vacation destination-cities along both coasts is the best tactic: anything from San Francisco down to San Diego on the West coast, and anything form Hilton Head or Myrtle Beach in the Carolinas down to the tip of Florida on the East coast would have a good opportunity.
I'll update this article with any information on the sale that Jason is kind enough to share. Thanks again to Jason at Domaining Mojo for this great tip and example geo-domain advertisement.
UPDATE: Jason was kind enough to post a couple of additional samples: Pier39.info was placed in Craigslist San Francisco, and ResumeNYC.com was placed in Manhattan. The screen shots are included below so you can read the text.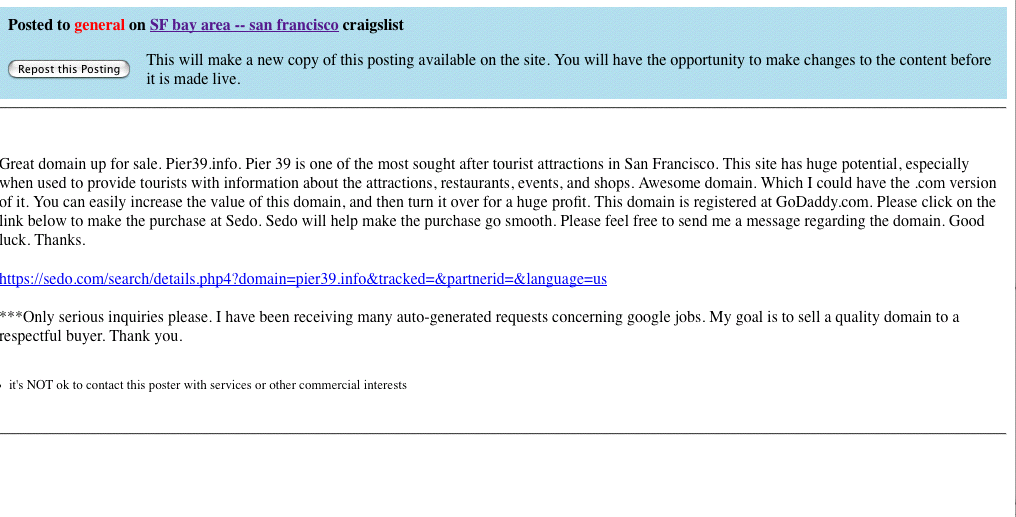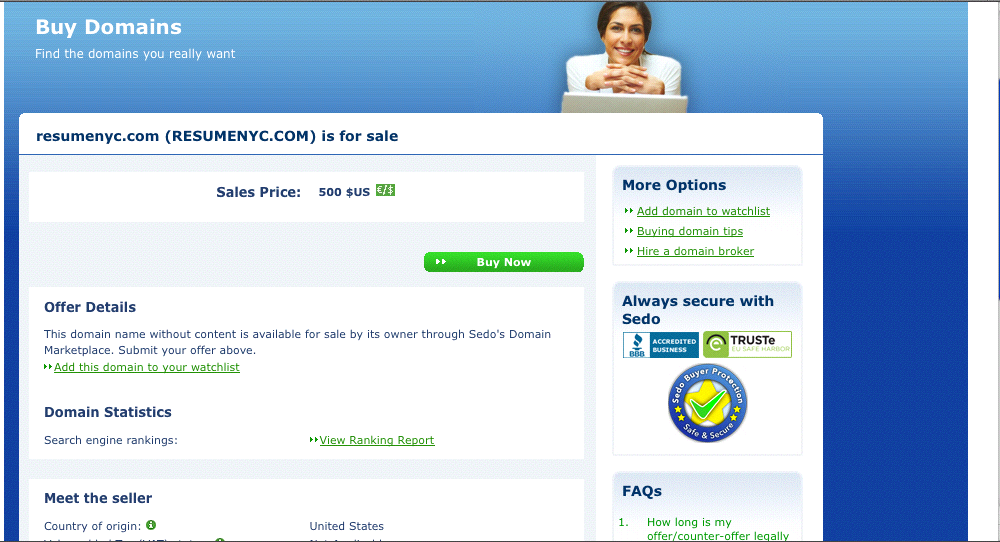 Do you have any recommendations on how to advertise your geo-domains? Post a comment and let everyone know.
If you enjoyed this article, subscribe for updates (it's free)