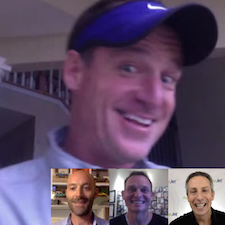 This is the show where we get into the minds of successful domain name investors – people we call Sherpas – and talk about the value of specific domain names. By listening to the Sherpas, we expand our thought process so we can become more successful investors ourselves.
In this DomainSherpa Review:
An investor's portfolio is appraised: Sex.guide, Higher.education, Design.center…
Get your bids in soon for Genetics.com, Night.club and GGG.xyz…
A surprising result when a Sherpa summits the mountain in the "Name That Price" game
Plus, much more!
For each domain name portfolio, the Sherpas answer:
Which domains are valuable, and in what way?
What is the market value (both wholesale and retail) of the best domain names?
Which domains are worthless and should be dropped?
Which domain names may invite legal issues, such as a UDRP case or cybersquatting lawsuit?
Which domains do our Sherpas want to make an offer on?
We're joined by three Domain Sherpas: Andrew Rosener, Frank Schilling and Shane Cultra.
Review (39:32): Watch | Listen/Download Audio | Domain Lists
Your DomainSherpa Review
Playback Speed:
This interview is promoted through a media partnership with
DAN.com
.

Your DomainSherpa Interview, Audio Only
Note: Adobe Flash Player (version 9 or above) is required to play this audio clip. You also need to have JavaScript enabled in your browser. Or, listen on iTunes or in your favorite podcast app (here are the feeds).
Investor Submitted Domain Names
App.directory
Design.center
Learning.center
Higher.education
Career.training
Kids.furniture
Cowboys.team
Broncos.team
Camping.guide
Gardening.guide
Golf.guide
Math.guide
Sex.guide
Vancouver.guide
Victoria.guide
Wedding.guide
Wedding.directory
LasVegas.apartments
LasVegas.deals
LasVegas.events
Brisbane.city
Melbourne.city
Perth.city
Sydney.city
Euro.zone
This Show's Sherpas
DomainSherpa Advertisers
Please visit the advertisers that support DomainSherpa and make our shows possible.
If you enjoyed this article, subscribe for updates (it's free)