Privacy Policy Cookie Policy
Google Archive
Video interviews, panel discussions, articles and Q&As featuring

Google

.

Latest Interview
If you want to buy keyword-rich domain names with the objective of ranking the domain name at the top of the results for a search, you'll first want to determine if there is enough search volume and interest to justify purchasing the domain name.

In this how-to video, you'll learn exactly how to use the Google Adwords Keyword Tool to determine search volume and advertising interest before you make a domain name purchase.
Michael Cyger February 18, 2013 10

More Interviews

Many people openly state that exact match domain names are worth more because they can get your website to the top of the search engine results. But this commonly espoused belief has rarely been backed up by real data…until today.

Seventeen-year-old wunderkind Mark Collier has not only secured a substantial amount of data from various sources, but he's taught himself programming and statistics in order to analyze the data. And he can say without a doubt – statistically speaking, of course – that exact match domain names correlate with high-ranking websites within the search engine results.
Michael Cyger July 30, 2012 28
When you purchase a television or a car, you perform due diligence by comparing prices, looking at third-party ratings and searching for recalls. Buying a domain name should be approached in the same way, conducting appropriate research to ensure a sound acquisition.

In this show, Steve Jones walks us through the 11 steps of his process for domain name due diligence, which will keep you from buying a domain name that infringes on someone else's trademarks, that is stolen, or that was previously used for an unscrupulous purpose and might be on blacklists.
Michael Cyger January 9, 2012 13
How do you leverage 8,000 domain names to create the largest buy-local network in the world?

Colin Pape, president of ShopCity.com, answers this question and more as he describes how he built ShopMidland.com – serving a town of only 16,000 residents – into a $100,000+ business, and is now scaling it across thousands of Shop[CityName].com domain names. Pape is also taking on Google by filing a U.S. Federal Trade Commission complaint for anti-competitive behavior.
Michael Cyger November 28, 2011 19

Even with the inherent superiority of a domain name like toothpaste.com, its value is undermined if the company that owns it does not develop a useful website on that domain, a website that can reach the top rankings of search engines.

Such is the case with toothpaste.com, owned by the Procter & Gamble. P&G is not capitalizing on the marketing value of its domain name and, as a result, P&G wastes more than $500,000 every year.
Michael Cyger August 21, 2011 22
Most small and medium businesses would be thrilled to be listed even once in the top 10 organic search results on Google for a keyword phrase that describes their business. But what if you could rank in six of the top 10 positions?

Christian Walter, the chief technology officer of NowYo.com, has helped a small landscape design firm in Cincinnati do just that. The firm ranks in positions 1, 2, 5, 7, 8 and 10 of the top 10 positions for "Cincinnati hardscaping structures," as well as many other search phrases. In today's show, Walter shares the secret to achieving these results.
Michael Cyger August 9, 2011 24
Marc Ostrofsky is likely best known as the domain name investor who bought Business.com for $150,000 and sold it for $7.5 million a mere four years later, earning him an entry in the Guinness Book of World Records. But he's also founded five magazines, 12 trade shows and seven companies, selling businesses cumulatively worth over $100 million.

Despite the title, "Get Rich Click!: The Ultimate Guide to Making Money on the Internet," this is no get rich quick scheme. Instead, this book arguably contains the most comprehensive and diverse information source available for making money on the Internet, and it's written by one of the world's most successful Internet entrepreneurs.

I spent about an hour asking Marc Ostrofsky to dissect the strategies and tactics in his book and tell you exactly how you can make money on the Internet. And Marc is a fantastic storyteller who illustrated his points with examples that you will remember long after this interview is over. Watch this video now. Trust me.
Michael Cyger April 26, 2011 50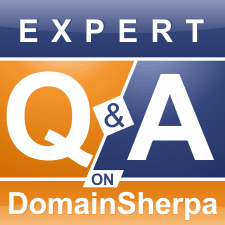 There are a plethora of domain name tools and services available on the market. Most people who are interested in domain name investing have to learn the ins-and-outs of domaining by trial and error. However, with the right advice and the right tools you can get up-to-speed quickly, and be more productive in your domain name buying and selling.
Michael Cyger March 27, 2011 7
Jake Ackerman had a real estate business that died when the real estate bubble burst in 2008. With 20,000 zip codes sold to date at ZipSmart.com, Jake's back on a comeback with a run rate of $500,000 and a goal to hit $1 million in 2011.
Michael Cyger March 22, 2011 14

What can a teenager teach you about domaining? In this case, a heck of a lot — don't equate a low age with with a lack of experience.

Instead of buying and flipping domains, or buying and doing nothing with domain names, you can build significant value into your domain name portfolio by developing the domain names into mini-sites. Brian Diener has not only done it, but he's done it successfully for himself and his clients.

In his relatively short domaining career, Brian has accomplished a number of great feats. He has developed a successful mini-site model for his business. He has had a $1,000 day through affiliate marketing. And he not only continued to study in school while domaining but was accepted into Emory University this coming fall.
Michael Cyger March 15, 2011 29