EDITORIAL NOTE: "On December 6, 2012, Google decided to discontinue Google Apps Free Edition (Standard Edition). New business customers will be redirected to register for Google Apps Work Edition while existing Google Apps Standard Edition accounts will continue to be operational." (
Wikipedia
)
Do you own your own domain name (maybe your last_name.org or business.com)? Are you tired of paying $4.95 a month or $30 a year to have email service through your domain name registrar or web host? If you answered yes to these two of these questions, this article is for you!
This article shows you how to set-up free email for your own personal or business domain name using Google Apps. It provides a step-by-step tutorial for free email on your own domain name using Google's industry-leading Google Mail (Gmail) service.
Gmail is a free, advertising-supported mail service offered by Google. It can be accessed through a web browser, POP3 and IMAP (POP3 and IMAP are what the software on your computer uses to connect with mail services). What makes it unique in the domain name world is that you can use Google Apps (Gmail, Google Calendar, Google Sites and Google Docs) with your own domain name and offer your family/friends/business an industry-leading email service with no cost, high up-time/availability, great spam-protection, tight security and constant upgrades. Each Gmail account offers more than 7 GB of free storage per mailbox for messages and attachments, and they're adding more space all the time.
That all sounds great, but what are the downsides? Advertisements, of course. The ads display on the side panel of your email inbox when viewed using a web browser (POP3 or IMAP access does not include ads). Currently, there are no ads in Calendar, Sites or Docs. There is also a 50 mailbox limit, although you can set up what-appears-to-be unlimited aliases per mailbox. Also, if you need more than 7GB of email storage per mailbox, you can upgrade to Google Apps for Business for $50 per user per year and have no ads, 25 GB of storage per mailbox, unlimited mailboxes, and much more. But if you're downloading the mail to your computer's software program and deleting it from the server, you'll never have an issue with 7GB mailbox storage limit.
Here are 9 steps for setting up Gmail FREE for your domain name:
---
Step 1: Visit Google Apps for free
---
Visit
http://www.google.com/apps/intl/en/group/index.html
in your web browser. Make sure you're signed out of a personal Gmail account, if applicable.
---
Step 2: Click the "Get Started" button
---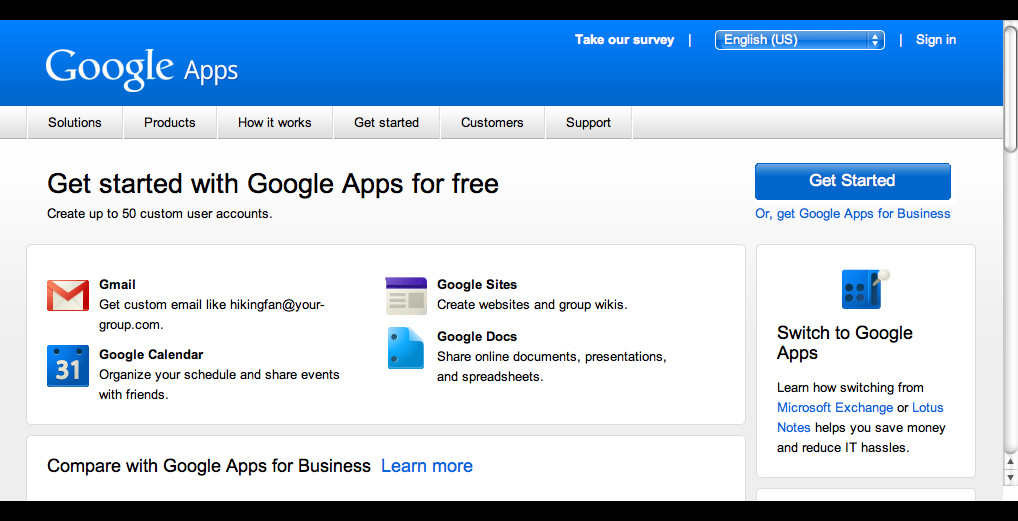 ---
Step 3: Enter your domain name
---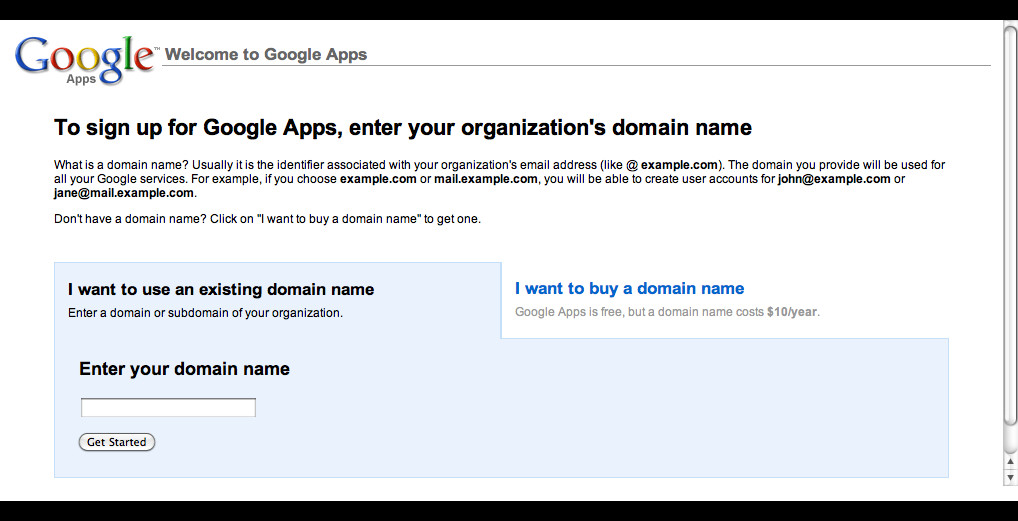 You have the option to purchase a domain name through Google for $10 per year, although I prefer to use the registrar when I have all my other domain names. This provides the added benefit of keeping my domain names separate from my services (sort of a "separation of church and state," if you will), so if I decide to change services I can easily do so using my registrar.
---
Step 4: Enter your account information
---
---
Step 5: Select Continue
---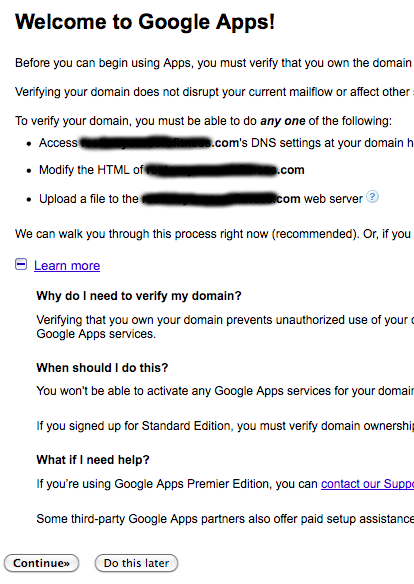 ---
Step 6: Select a verification method
---
I downloaded a file (the "Upload an HTML file to your server" option).

I then uploaded the file to the root of my website, and clicked the "Verify" button.
---
Step 7: You're ready to sign into your account
---
Although you can sign into your account at this point, no email is actually being delivered to your new account until you tell email to go there. Step 8 tells you how to do that.
---
Step 8: Point your DNS settings to point to Gmail
---
Go down to the Settings area and click "Activate Email"

It will provide information for how to change your Mail Exchange (MX) records at your domain name registrar. Mail Exchange (MX) records control how incoming email is routed for your domain. In order for Google to receive your email and route it to your inbox, you'll need to change these MX records to point to the Google servers. They'll be set to these values: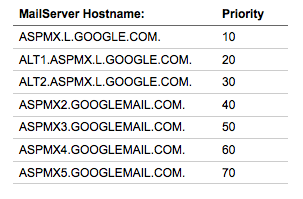 ---
Step 9: Complete the process
---
After the MX records are properly set-up at your registrar, click on "I have completed these steps" to have Google check your MX records and the process is complete.
If you enjoyed this article, subscribe for updates (it's free)