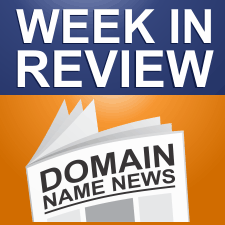 Every Friday, DomainSherpa.com provides you with a hand-curated, no-B.S., important domain name industry news.
In this summary, you will also find the latest tutorials and videos produced by DomainSherpa staff and contributors.
---
This Week's Featured DomainSherpa Show
---
VIDEO: After 15 Years, FastMail Finally Acquires Their .Com – With Rob Mueller

FastMail started in 1999 and today serves hundreds of thousands of customers. They launched on FastMail.fm because it was what was available and memorable, and proving the business model was more important than trying to acquire the .com domain name.

But when an employee took the initiative to call the Monster.com main switchboard to inquire about purchasing fastmail.com, the then-owner was more than happy to sell the unused domain name asset for a fair price.

In this interview, founder and director Rob Mueller recounts the impact of not owning fastmail.com for 15 years, how the negotiations started and progressed, how much they paid, and lessons learned for other startup entrepreneurs.
---
In Addition, Don't Miss…
---
Don't Mess with Rick Schwartz; $100K+ Lawsuit Against Hijacker; No to .Quebec; Sherpas Spend $5K…

• Think you can mess with Rick Schwartz? Try again!
• $100K+ federal lawsuit filed against a soon-to-be-labeled reverse domain name hijacker
• Quebec, Canada says no to .Quebec
• Mike Mann is "cash poor" but living between an $8MM oceanfront and a luxury rental
• Reader question: How would you invest $5K if starting in the industry today?
• Reader question: Is Afternic's recommendation to price domains worth it?
• Millions of new ICANN-restricted "collision" names are coming available. Want some?
• And much more!
---
This Week's News in Review
---
Frank Schilling Changes Strategy for .Click Launch – 20-Nov-14
NothingHeldBack.click. 5 more Uniregistry domain names go into general availability next week. And for one of them, .click, Frank Schilling is taking a different strategy when it comes to holding back domain names. In previous launches, Schilling's companies have registered thousands — even tens out thousands — of names ahead of general availability launch. That…
Uniregistry: No Reserved or Collision Domains Held Back Except for Single Characters – 20-Nov-14
We just received this from Uniregistry which is launching .Click on November 25th. Pricing for a .Click domain will be $6.88 or less at retail. "We will no longer have a registry reserved list at the time of launch for any domain name beyond single-characters. If your registrar…
ICANN Terminates Accreditation of Panama Registrar With Zero Domains – 20-Nov-14
ICANN sent a notice of termination of registrar accreditation agreement for the registrar Vigson, Inc. from Panama on the 18th of November 2014. As of 18 November 2014, Vigson, Inc.'s Registrar Accreditation Agreement ("RAA") with the Internet Corporation for Assigned Names and Numbers ("ICANN") dated…
Rightside Shares Hit New Low – 20-Nov-14
Domain name company isn't getting much love from Wall Street. Shares of domain name company Rightside have dropped 15% this week, and hit an all time low of $8.33 in trading yesterday. Rightside (NASDAQ: NAME) is trading for $8.55 per share this afternoon. It's unclear what caused the sharp drop this week. Rightside reported earnings…
GoDaddy is Looking for a $4.5 Billion Dollar Valuation in Its IPO Rolling Out Next Year – 20-Nov-14
According to the New York Post, GoDaddy.com is pushing ahead with an initial public offering early next year that would value the world's biggest domain registration service at roughly $4.5 billion GoDaddy is stressing its desire to diversify from a domain registrar to a business that builds out Web sites for customers and helping them…
Trademark Clearinghouse: 1,181 Marks Have Already Expired & 848 Marks are Not Verified – 20-Nov-14
We have not even reached the first year anniversary of the first New gTLD and marks are already expiring at the TMCH. So far 33,902 marks have been submitted to the Trademark Clearinghouse as of the 18th of November 2014…
.Music LLC Community Priority Evaluation Reconsideration Request Denied – 20-Nov-14
.Music LLC sought reconsideration for Community Priority Evaluation in an effort to be given priority over others who are interested in running .music. .Music LLC believed that when their application was looked at that the panel failed to comply with already established ICANN policies. The board governance committee denied the reconsideration request. From the report…
Over 180,000 Blocked New gTLD Names to Drop Next Week – 20-Nov-14
Several new gTLD registries will release hundreds of thousands of currently blocked domain names — some of them quite nice-looking — next Wednesday. It's one of the first big batches of name collisions to be released to market. The companies behind .xyz, .website, .press, .host, .ink, .wiki, .rest and .bar will release most of their…
Google Beaten to .Dot for a Paltry $700k – 20-Nov-14
Dish DBS, a US satellite TV company, has beaten Google to the .dot new gTLD in an ICANN auction that fetched just $700,000. It's further proof, if any were needed, that you don't need to have the big bucks to beat Google at auction. Dish plans to use .dot as a single-registrant space, but unusually…
Braden Pollock's Legal Brand Marketing Acquires 14 Premium Law-related .co.com Domains – 19-Nov-14
According to a press release we received, co.com LLC, announced today that Legal Brand Marketing, LLC which was founded by Braden Pollock, acquired a premium portfolio of law-related .co.com domain names, including Law.co.com and Attorney.co.com. Legal Brand Marketing, plans to develop and launch websites for each domain. Financial terms were not disclosed. Legal…
The .Org Registry Will Launch "OnGood", a New Brand Identity for .ngo & .ong Domains – 19-Nov-14
Public Interest Registry, the not-for-profit operator of the .org domain, unveiled "OnGood" – the new brand identity for the upcoming .ngo & .ong domains and their accompanying suite of services. Set to launch in early 2015, OnGood is an online…
.NYC Landrush: $1.2M+ Revenue, 10,506 Domains Sold, 145 for $1,000-$9,999, 10 for $10,000+ – 19-Nov-14
The .NYC Advisory Board published a report on the .NYC Landrush that involved 10,506 domain names. My estimate is that the .nyc landrush revenue was at about $1.2 to $1.3 million. This includes the landrush fee and the domain name…
Italian Web Hosting Company Aruba.it Has Won The .Cloud New gTLD – 19-Nov-14
Aruba S.p.A. (http://www.aruba.it), a company offering web hosting, certified email and domain names services as well as a cloud provider in Europe (http://www.arubacloud.com) since 2011, has been awarded the .cloud extension, thus supporting Aruba's ambitious move to become a global…
ICANN CEO: Government Attempts to Impose Rules On The Internet are Doomed to Fail – 18-Nov-14
ICANN Chief Executive Officer Fadi Chehade told Bloomberg yesterday in an interview that government attempts to impose rules on the Internet are doomed to fail "Governments can't effectively enforce laws on websites available in different jurisdictions. Any group that makes policies for the Web must be decentralized and involve the private sector and academia" "The…
NYC.com Making Email Expensive – 18-Nov-14
Gothamist did a piece about NYC.com offering email addresses and their not cheap. The article looks at all of the recent attention around "NYC" branding. The new .NYC extension is mentioned along with the offering of email addresses from NYC.com. From the article: The email addresses are not free, they come with a monthly rent…
"Cyberflight" Rules Coming to UDRP Next July – 18-Nov-14
It will soon be much harder for cybersquatters to take flight to another registrar when they're hit with a UDRP complaint. From July 31 next year, all ICANN-accredited registrars will be contractually obliged to lock domain names that are subject to a UDRP and trademark owners will no longer have to tip off the registrant…
NABP Discloses Premium .Pharmacy Pricing – 18-Nov-14
The National Association of Boards of Pharmacy has revealed its premium pricing structure for the new gTLD .pharmacy, in launch policy documents filed with ICANN. The registry, which stood unopposed for .pharmacy, plans to have three standard tiers of pricing for its premiums — $750, $2,500 and $10,000. A fourth "Gold" tier will have prices…
GoDaddy "Reports" Q3 Earnings in SEC Filing – 17-Nov-14
Revenue up nearly 25% compared to same quarter last year. GoDaddy filed an amended S-1 with the SEC today, in which it discloses its results from the third quarter. Here are some financial highlights: Q3 2014 revenue was $356.9 million, up 5.4% from Q2 and 24.7% from Q3 2013. Domain revenue kept growing, but its…
Bids.com UDRP Denied As Being Outside The Scope of UDRP Panel Decision – 17-Nov-14
Insolvency Services Group, Inc., which is the Assignee for the Benefit of Creditors of BIDZ.COM, INC. just won the UDRP on the domain name Bids.com which is currently in an bankruptcy auction with several other domains including Bidz.com The sole panelist Sandra J. Franklin denied the UDRP finding the dispute is outside those cases that…
IP Mirror Rapped for Failing to Deal With Abuse – 17-Nov-14
Here's something you don't see every day: a corporate brand management registrar getting smacked by an ICANN breach notice. Singapore-based registrar IP Mirror has been sent a warning by ICANN Compliance about a failure to respond to abuse complaints filed by law enforcement, which appears to be another first. Under the 2013 Registrar Accreditation Agreement,…
Robert Downey Jr. Wins Rights to The Domain Name RobertDowneyJr.Actor – 17-Nov-14
Robert Downey Jr. won the rights to the domain name RobertDowneyJr.actor in a one member UDRP panel handed down by the National Arbitration Forum. Although the domain in question was a new gTLD Mr. Downey filed the Complainant as a UDRP The registrant who lives in India, Shashank Agarwal, first said he was "publicly known…
TLD Registry Wins Best Marketing Award at China New gTLD Roadshow – 17-Nov-14
TLD Registry, the registry of Dot Chinese Online (.在线) and Dot Chinese Website (.中�-���'), was awarded with the Best Marketing by a New gTLD trophy for 2014 at Brandma's China New gTLD Roadshow. In the presentation, on Thursday November 13, in China's…
Mike Mann and the Economics of Large Domain Name Portfolios – 17-Nov-14
Washington Post article provides more data on about domain name portfolios. The Washington Post wrote about domain name investor Mike Mann yesterday, and the article sheds more light on the economics or large domain name portfolios. Really, it applies to all domain portfolios, even if you have a small one. I wrote about this topic…
Millions of New gTLD Domains to Be Released As Collision Blocks End – 17-Nov-14
Millions of new gTLD domain names are set to start being released, as ICANN-mandated name collision blocks start getting lifted. Starting yesterday, domains that have been blocked from registration due to name collisions can now be released by the registries. About 95,000 names in gTLDs such as .nyc, .tattoo, .webcam and .wang have already ended…
"Second Most Marketable Athlete in The World" to Use a .Club Domain – 17-Nov-14
Virat Kohli, a famous Indian cricketer, is .CLUB Domains' latest star anchor tenant. He's launching his first ever official web site, at viratkohli.club, today. No, I've never heard of him either, but he's been called the "second most marketable athlete in the world" after Lewis Hamilton by SportsPro, a UK sports marketing business-to-business magazine. The…
SchoolLoans.com 1st Domain Name Sold for The Cryptocurrency Sync Coin – 17-Nov-14
According to a press release we just received from the The Sync Foundation, the Domain-Backed CryptoCurrency has recorded it first sale. The domain name SchoolLoans.com was sold in Private Transaction, a first for the organization which backs a cryptocurrency called Sync Coin with these domain assets. "We call it 'Proof of Concept'," says Sync Foundation…
$10 Million to Move to a Dot-brand? Quebec Says "Non" – 17-Nov-14
One of the biggest hypothetical barriers to the adoption of dot-brand gTLDs has always been the likely cost of migration, but until now nobody's really thrown around any figures. The Government of Quebec has decided against rebranding to the forthcoming .quebec gTLD, saying the migration would cost it CAD 12 million ($10.6 million), according to…
GoDaddy Becomes 1st Domain Registrar to Top 500,000 New gTLD Registrations – 16-Nov-14
According to ntldstats.com, Godaddy.com has become the first domain name registration to have registered more than 500,000 domain names. Godaddy has 500,091 new gTLD domain names under registration, 100,000 more than the second closest domain registrar, Network Solution which topped the 400,000 domain mark although around 377K of the 400,000 Network Solutions domain names were…
Bespoke.com Saved in UDRP, But No RDNH and Unbelievable Dissent – 14-Nov-14
Domain bought for $18,805 earlier this year saved in UDRP, but it was closer than it should have been. In September, I wrote about the domain name Bespoke.com being hit with a UDRP after the buyer paid $18,805 to buy it in an expired domain name auction. A three person WIPO panel has denied the…
Public Interest Registry Reveals Ongood Campaign for The New gTLDs .NGO & .ONG – 14-Nov-14
Public Interest Registry, the not-for-profit operator of the .org extension, today unveiled "OnGood" – the new brand identity for the upcoming .ngo & .ong domain extensions along with their accompanying suite of services. Set to launch in early 2015, OnGood is an online community designed with and for NGOs and nonprofits worldwide, providing them with…

If you enjoyed this article, subscribe for updates (it's free)