Privacy Policy Cookie Policy
Domain Name Interviews
Latest Interview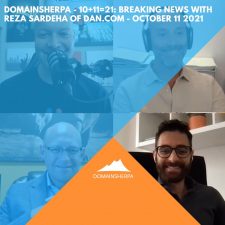 JT, Drew, and Chris Zuiker are joined by Reza Sardeha of DAN.com to provide an exciting update on the MediaOptions & DAN.com partnership and to announce a new deal between DAN.com & DomainSherpa! Some key moments from the show include an update on the official launch of MediaOptions domain brokerage services on DAN.com, some insight into the features of the DAN.com platform and details about the MediaOptions integration, a discussion about strategies and philosophies around successful domain sales and brokering, and more! Be sure to tune in!
DomainSherpa October 11, 2021 4

More Interviews

On this episode JT, Drew, and Shane discuss a number of hot topics including: GameStop, r/wallstreetbets, and Robinhood; Bitcoin, Dogecoin, and crypto trends in light of recent events; the possible reinstitution of the price cap at Verisign; and some highlights from NamesCon Online 2021!

Be sure to tune in!
DomainSherpa January 29, 2021 3

Edouard Bessire and Hugo McDonaugh, co-founders of Crytograph, discuss their patented blockchain technology, and how it does/could apply to: auction system and price discovery mechanics, particularly for non-fungible assets; how and why the blockchain could create disruption in known auction systems, and especially, how Cryptograph could be utilized within- and create tremendous new opportunity in- Domain Name industry auctions!

This show is fantastic for anyone curious about or investing via domain name auctions, blockchain, alternative investmenting, or other non-fungible assets.
DomainSherpa October 5, 2020 3

Michael Saylor, visionary CEO of Microstrategy, who sold Voice.com last year and converted $400M into Bitcoin, joins Media Options CEO Andrew Rosener to discuss domain names, domain valuation, the dematerialization of assets, and so much more!

They discuss why it's time to rediscover the criticality of owning your own domain, and why to sell, market and service your value proposition through your own domain.

This show is vital for ANY CEO, entrepreneur, bitcoin investor, or domain investor! Jam packed!
DomainSherpa September 29, 2020 23
Chris Snyder's career, in essence, has been creatively providing bespoke solutions for clients. Chris speaks about the evolution of opportunities he encountered with Banks.com, the network effects and marketplace models that challenged him during development, and how he is hoping to build a $50M+ company!

After Chris had negotiated a licensing agreement for Banks.com and personally invested $750,000, the rug was pulled from underneath him and he was informed the domain was for sale for $2-$5M! With his unique focus, savvy and authenticity, Chris managed to negotiate and acquire the domain, and is now reaching for the stars!
DomainSherpa September 23, 2020 0

Serial entrepreneur and domain name industry veteran Richard Lau has been highly visible lately as he has been discussing his latest company, Logo.com. We discuss his background in the industry and his thoughts for the future!

Any domain investors interested in the future of conferencing, will benefit from today's show!
DomainSherpa July 28, 2020 0
Hear perspectives from Zak Muscovitch, Karen Bernstein, Stevan Lieberman on the historic US Supreme Court decision regarding the trademark on Booking.com, plus vital thoughts on how this may impact domain valuations from Andrew Rosener.

Any domain investor, domain attorney or corporate domain manager, will benefit from today's show!
DomainSherpa July 13, 2020 7
Mike Carson, the savvy programmer and founder of Park.io, explains the launch of Gateway.io and what that means as an opportunity both for new types of domain name investing as well as decentralization of domain names and/or DNS.

Frankly, anyone who uses the internet and wants to know what the future may look like, and certainly any individual who invests in domains or corporate brand manager, will benefit from today's show!
DomainSherpa June 15, 2020 5
Jeff Gabriel, who recently co-founded brokerage firm Saw.com after departing from UniRegistry last August, discusses GoDaddy's recent acquisition of Frank Schilling's domain portfolio, UniRegistry and corporate domain management firm Brandsight. He shares his insights, thoughts on possible product changes, and what this means to the domain industry. 

The conversation focuses on the 350k+ domains coming to market, thoughts on GoDaddy's strategy with domain investors & corporate brand management, and what UniRegistry products may change.

Domain brokers, investors and corporate brand managers will benefit from today's show!
DomainSherpa February 17, 2020 2

Andrew Rosener, CEO of Media Options, announces a new SEO-focused domain acquisition newsletter, in partnership with SEO expert Sean Markey!
DomainSherpa September 30, 2019 0