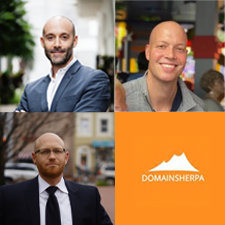 We have a ton of exciting news in today's special episode of DomainSherpa! Jonathan Tenenbaum is introduced as the new host by Andrew Rosener, and they are also joined by Chris Zuiker, Senior Broker for MediaOptions. The three of them discuss a number of interesting topics including:
Some exciting changes coming to the DomainSherpa network programming;
The seismic shift to digital commerce brought on by COVID-19; and
Some exciting updates for MediaOptions, including details on a new and ground-breaking partnership that was recently announced.
Be sure to tune in!
Review (22:52): Watch | Listen/Download Audio | Transcript
Your DomainSherpa Review
Playback Speed:
This interview is promoted through a media partnership with
DAN.com
.
Your DomainSherpa Interview, Audio Only
Note: Adobe Flash Player (version 9 or above) is required to play this audio clip. You also need to have JavaScript enabled in your browser. Or, listen on iTunes or in your favorite podcast app (here are the feeds).
This Show's Sherpas
DomainSherpa Advertisers
Please visit the advertisers that support DomainSherpa and make our shows possible.
Interview Raw (Non-Edited) Transcript
Interview Transcript in PDF Format (Right-click to Save As…) [View in Google Docs]
If you enjoyed this article, subscribe for updates (it's free)