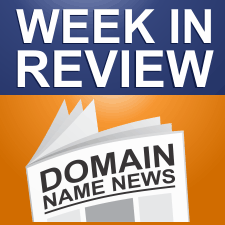 Every Friday, DomainSherpa.com provides you with a hand-curated, no-B.S., important domain name industry news.
In this summary, you will also find the latest tutorials and videos produced by DomainSherpa staff and contributors.
---
This Week's Featured DomainSherpa Show
---
---
In Addition, Don't Miss…
---
Web.com Down; Amazon's Buying Spree; Holiday.com Sale Fails Miserably; Domaining LLC…

In this DomainSherpa Discussion:
• Web.com has lower than expected earnings, is this trouble for GoDaddy's pending IPO?
• Amazon.com buys .Book, .Buy and .Pay – what could this mean in the industry?
• Holiday.com fails miserably to sell for $30 million in a glitzy fashion, but slow and steady sells Power.com for $1.261 million – we compare them
• Reader question: Should you form a legal entity, like an LLC, for your domain business?
• Reader question: Best insurance lead gen domain name for safe drivers?
• Reader question: Why do some worthless domains have multiple bidders on GoDaddy auctions?
• And much more!

DomainSherpa Review – Nov 10: eBirthdayGifts.com, Amsterdam.org, eNetwork.com, Vitamin.net…

What do successful domain name investors think when they value domain names?

In this show:
• An investor's portfolio is appraised: eBirthdayGifts.com, GetSpayed.com, CarbonConsumption.com…
• Get your bids in soon for Amsterdam.org, eNetwork.com, Vitamin.net…
• A surprising result when a Sherpa summits the mountain in the "Name That Price" game
• Plus, much more!
---
This Week's News in Review
---
Archeo: 60% of Sales are 8-12 Character Domains While 11.5 Was The Average Length
– 13-Nov-14
Archeo Domains, a Marchex company, released its 3rd Quarter 2014 newsletter that includes great advice for business owners about why and how a premium domain can boost their business. Archeo sold $1.6M worth of domain names. The most popular domains…
More Details Emerge On New York's Deal On .NYC: But 50k New Yorkers Did Not Register 50k Domains
– 13-Nov-14
According to a post on crainsnewyork.com, the city of New York is making a "cool $40,000 a week on the Internet". According to the story, the City of New York collects 40% of all domain registration fees collected by Neustar the operator of the .NYC…
Nat Cohen's Telepathy Files Federal Lawsuit Over The Domain SDT.com
– 13-Nov-14
Domain investor Nat Cohen's Telepathy, Inc. just filed a federal lawsuit against SDT INTERNATIONAL of Brussels, Belgium, over the domain name SDT.com after it rejected a $400 offer that got worked up all the way to $1,000. Actually the Brussels company filed a UDRP with WIPOUDRP with the case number D2014-1870. Mr. Cohen is represented…
Minds+machines & Hexonet Mistakenly Priced Premium Domains Cheap – Renewals Will Be As High As $5,400
– 13-Nov-14
Minds + Machines and the registrar Hexonet mistakenly priced a lot of premium domains and those domains were sold at cheap standard prices. The problem affects domains registered in the past 2 months such as live.rodeo and aqua.surf…
IDN.com Owners Will Lose Big if Verisign Doesn't Get Its Way
– 13-Nov-14
They could be forced to buy transliterations within a limited time period. Verisign has been negotiating its contracts for transliterations of .com for a long time, and last week we got an idea about what the hold up is. ICM Registry, the domain registry for .xxx and the forthcoming .adult, .porn and .sex top level…
.Melbourne Hits 2,775 Registrations, .Restaurant Has Solid First Day
– 13-Nov-14
.Melbourne wins the day, but not by much. The .Melbourne domain name launched Wednesday in Australia — Tuesday night in the United States — and had 2,775 domain names registered at the close of business on day one of general availability. That does not include landrush domain names that are still in contention. The zone…
Symantec Withdraws Their Uncontested Application for New gTLD .Antivirus
– 13-Nov-14
Symantec Corporation has withdrawn their uncontested application for the new gTLD .Antivirus after saying it would become one of their "core assets" in their application. From its application it appears Symantic wanted to operate the extension on a closed basis. The Government Advisory Counsel (GAC) to ICANN objected to generic strings from being operated on…
Noss Hints at Winning .Online Auction Bid
– 13-Nov-14
A triumvirate of domain name companies led by Radix paid well over $7 million for the .online new gTLD, judging by comments made by Tucows CEO in an analysts call yesterday. As the company reported its third-quarter financial numbers, Noss said of .online, which was recently auctioned: While we are bound by confidentiality with respect…
Judge Blocks Seizure of Iran's ccTLD
– 13-Nov-14
ICANN has won a court battle, and avoided a major political incident, over an attempt by terrorism victims to seize ccTLDs belonging to Iran, Korea and Syria. A District of Columbia judge ruled this week that while ccTLDs may be a form of "property" under the law, they're not "attachable" property. Attachment is a legal…
Phone Service Continues to Bolster Tucows' Top Line
– 12-Nov-14
Ting product shows continued growth, OpenSRS takes a dip. Domain name and mobile phone service provider Tucows continues to see growth in its Ting offering, offsetting stagnating revenues in its domain name business. Net revenue for the third quarter of 2014 increased 9% to $38.9 million from $35.6 million for the third quarter of 2013…
Tucows Reports & Plans Repurchase $8 Million in Shares
– 12-Nov-14
Tucows (NASDAQ:TCX, TSX:TC) reported earnings for the third quarter of 2014 after the market closed. Net revenue for the third quarter of 2014 increased 9% to $38.9 million from $35.6 million for the third quarter of 2013. Net income for the third quarter of 2014 was $2.7 million, or $0.24 per share, compared with $2.6…
Generic TLDs Impacted By New gTLDs While ccTLDs are Going Strong
– 12-Nov-14
At month-end September, the contribution of "traditional" generic TLDs (.com, .biz, .info, etc.) to net market growth in 2014 was 45% against 75% in March 2014. The October 2014 edition of the Afnic Industry Report on Domain Names focuses on…
Moniker Announces John Mclaughlin As New Chief Operating Officer
– 12-Nov-14
Moniker announced today that Mr. John McLaughlin will assume responsibility as the new Chief Operating Officer. Mr McLaughlin's first statement might infuriate a lot of Moniker's clients: "The new management platform represents an industry leading solution that we plan on…
Major Chinese Travel Sites Ctrip.com and Elong.com Go Down Due to Domain Change
– 12-Nov-14
Domains stop resolving after placed in clienthold status. The websites for two major publicly traded Chinese travel sites went down today as a result of their domain names being place in "ClientHold" status at the registrar. Sites for $8 billion (market cap) Ctrip.com (NASDAQ: CTRP) and $0.6 billion eLong.com both were unavailable this morning United…
1-800flowers Gets Birthday.gifts, Anniversary.gifts, Flowers.gifts, Mothersday.gifts, Valentines.gifts
– 12-Nov-14
Today two new gTLD's from Donuts go into General Availability today .Gifts and .Restaurant. Both of the strings have around 330 domain name registered in the Sunrise period for "trademark holders" and the Early Access program where people paid an extra fee for early access. When it comes to gifts, except for the domain names…
Another 11 New gTLDs Won at Auction
– 12-Nov-14
It's been a busy week for new gTLD application withdrawals, with no fewer than 11 contention sets getting settled over the last few days. First, as predicted, Radix won .online, after I-Registry withdrew the last remaining competing application, but only with a little help from its friends. Radix is to form a new joint venture…
Dish Networks Beats Out Minds + Machines for The New gTLD .latino
– 11-Nov-14
Another new gTLD that was schuduled to go to the ICANN Last Resort Auction next week had been settled privately. Minds + Machines has withdrawn its application for the new gTLD .Latino leaving Dish Network as the sole applicant. Minds + Machines put out a press release last week about how they made over 8.4…
New gTLD Collision Domains Could Be Released As Soon As January 10, 2015
– 11-Nov-14
Following a 90-day public consultation period, ICANN is implementing a solution to allow new gTLD registries to release names from their Second-level Domain (SLD) Block Lists while complying with all Rights Protection Mechanism requirements. ICANN will provide affected registries with…
Former CEO of Vegas.com Releasing "Revolutionary Global Booking Platform" On New gTLD's
– 11-Nov-14
Howard Lefkowitz, the former CEO of Vegas.com, announced today that his new company, One Degree World™ Systems, Inc., which describes itself as "architects and owners of a revolutionary global content and booking platform, will be the first company of its kind to launch a series of holistic hospitality and travel websites on the emerging top-level…
Google Withdraws Another New gTLD Application: .earth Won By Interlink Co., Ltd
– 11-Nov-14
Google has given up on another new gTLD extension. Just hitting ICANN's site today, Google has withdrawn its application for .Earth The remaining applicant is Interlink Co., Ltd. of Japan also known as Urban Brain. The new gTLD was set to go to auction later this month. According to its application Interlink Co., Ltd. (Interlink)…
Minds + Machines Gains $8.4 Million By Losing .book, .cloud, .dog, .site, .style New gTLDs
– 11-Nov-14
Minds + Machines Group Limited (AIM:MMX) announced that following the recent series of private auctions, the Company has gained, in aggregate, cash of approximately $8.4 million through withdrawing its applications on .book, .cloud, .dog, .site, and .style. The cash to…
UDRP Panel Rules That The Word "Club" is Generic
– 11-Nov-14
A one member UDRP panel has found that the word "club" is generic The disputed domain names were clubsail.com; clubyachting.com and clubyachting.org however in the case of clubsail.com the domain holder agreed to transfer the domain leaving only the other two domains at issue Here are the relevant facts and finding: The Complainant operates a…
Amazon.com Wins .Book Top Level Domain Name Battle
– 11-Nov-14
Amazon wins 9-way battle for .book domain name. Amazon.com has won an auction for rights to run the .book top level domain name. The company went head-to-head with 8 other applicants for the domain name, including Google, but ultimately agreed to pay the most to run the domain name. Although my money was on Amazon.com…
Amazon Not Only Owns The New gTLD .buy; They Just Acquired .pay Too
– 11-Nov-14
Amazon which won an ICANN last resort new gTLD auction for .Buy for $4.6 Million has now acquired the .Pay. .Pay which was scheduled to go to an ICANN Last Resort auction next week, has been settled. The other applicant for .Pay, DOTPAY SA has just withdrawn its application, leaving Amazon as the winner of…
Rightside Partners With Bandzoogle to Offer .rocks & .band to Musicians
– 11-Nov-14
Rightside Group, Ltd. announced it is partnering with Bandzoogle, a company whose technology platform is used by over 20,000 bands and musicians to power their websites and online stores. Bandzoogle is offering Rightside's Top Level Domains (TLDs) to its customers…
Sedo Adds a Minimum Sales Commission Fee to Parked Domains
– 10-Nov-14
Starting October 21, 2014, Sedo added a 50 EUR/USD or 35 GBP minimum sales commission fee to all domains. Up until that time parked domains with Sedo didn't have a minimum sales commission. Sedo actually says that this increase is "Standardization…
Web.com Sued for Telemarketing Calls
– 10-Nov-14
Plaintiff complains about multiple telemarketing calls. A California resident has sued Web.com, claiming the company called her cell phone multiple times in violation of the Telephone Consumer Protection Act. The lawsuit seeks class action status. Web.com disclosed the lawsuit in its most recent quarterly filing: On October 31, 2014, a putative class action was filed…
ICANN Last Resort New gTLD Auctions Scheduled for November
– 10-Nov-14
A bunch of private auctions held in October headed off many of the the ICANN Last Resort Auctions scheduled for November. However as far as we know the following New gTLD auctions that will be held by ICANN in November are: .APARTMENTS DERApartments, LLC June Maple, LLC (Donuts) .DOT Dish DBS Corporation Charleston Road Registry…
Radix, Tucows & Namecheap Won Auction for .Online Domains for More Than $10 Million
– 10-Nov-14
A newly formed entity owned by Radix, Tucows and Namecheap won the auction, paying more than $10 million, to operate the .online registry for an undisclosed amount. Each of Radix, Tucows and NameCheap will contribute $4 to $5 million to…
ICANN Changes Last Resort Auction Rules to Allow Early Bidding
– 10-Nov-14
ICANN and Power Auctions made some changes in the Last Resort Auction rules starting with auction scheduled for November all seeming to quicking up the auction process. Here are the red line changes to the ICANN Last Resort Auction and here are some of the highlights: " The first Round of an Auction will start…
Minds + Machines Nets $8.4 Million From Auctions, .Cloud and .Book Settled
– 10-Nov-14
Company wins by losing five auctions. New top level domain name company Minds + Machines has bolstered its bank account by $8.4 million as a result of losing five private auctions for new top level domain names. The losses included a handful of highly contested strings, such as .cloud and .book. That's not bad for…
Mayor's Local Enterprise Partnership for London Adopts .London (Lep.London)
– 10-Nov-14
The Mayor's London Enterprise Panel (LEP), the local enterprise partnership for London, has become the first Mayoral body to adopt a Dot London web domain, as it launched its new website this week – lep.london. The Panel is one of…
ICM Will Not Offer Free .porn Names to .xxx Buyers
– 10-Nov-14
ICM Registry has reneged on its promise to "grandfather" trademark owners and other .xxx registrants in its forthcoming .sex, .porn and .adult new gTLDs. While the changes are sure to infuriate trademark owners and .xxx registrants, the company insists that ICANN is to blame for blocking its original plans. Originally, ICM had promised to reserve…
New gTLD Implicated in Macaulay Culkin "Death", But Journalists Get It All Wrong
– 10-Nov-14
A cybersquatted domain in a new gTLD was deployed to perpetrate a hoax about the death Macaulay Culkin this weekend, but reports insisted on adding a ".com" to the name. A prankster set up a fake news report at msnbc.website, which was registered via Domains By Proxy on November 5, reporting the former child…
1 Million .ch Domains to Be Transfered From The .ch Registry to Registrars
– 10-Nov-14
The SWITCH foundation will stop selling .ch domain names as of the beginning of January 2015 and successively hand over the related client support to its business partners, the registrars. The basis for this change is the new Ordinance on…
Rightside (NAME) is Up 20% in After Hours Trading
– 06-Nov-14
After its first earnings report as a public company, Rightside (NAME) is up about 20% in after hours trading. Rightside is currently trading at $11.26 up $1.85 from its closing price of $9.41 Rightside has a 52 week low is $8.96 and its 52 week high of $17 but just started trading on August 1st…
Rightside Earnings: 15 TLD Generate $2.5 Million, Strong Enom Performance
– 06-Nov-14
Rightside grows its eNom business, new TLDs generate $2.5 million in revenue as of end of Q3. Rightside released third quarter earnings after the bell today. Revenue for the third quarter came in at $48.8 million, up from $45.5 million in the same quarter last year and $46.7 million in the second quarter of 2014…
Will Web.com Hurt GoDaddy's IPO?
– 06-Nov-14
Web.com in reporting its earnings earlier today had a few comments on its earnings call that should be of concern to all domain name regisrtrars: CEO David L. Brown noted "the increased availability of [domain] names has had a near-term negative impact on domain-related revenue," primarily related to "non-core domain-related revenue such as sales of…
Web.com is Down Over 22% & Hits a 52 Week Low After Earning Report
– 06-Nov-14
Shares Of Web.com (WWWW) hit a 52 week low of $14.89 today after reporting its earnings which missed expectations. The company reported a loss of $3.4 million, or 7 cents a share. Adjusted earnings came to 66 cents a share. Revenue totaled $137.4 million. The consensus estimate called for adjusted earnings of 63 cents a…
New gTLDs Steal $5 Million From Web.com's Top Line
– 06-Nov-14
Top registrar Web.com is seeing disappointing revenue from its domain business due to new gTLDs. The "increased availability" of names has taken a chunk out of the company's premium domain sales, CEO David Brown told analysts on the company's third-quarter earnings call yesterday. While we continue to expect the recently expanded top-level domain environment to…
Battles for .Chat, .Style, .Tennis, .Bingo and .SAS Over
– 06-Nov-14
Seven new gTLD contention sets have been formally resolved with application withdrawals this morning, five of which we haven't previously reported on. Most appear to have been settled by private auctions, with Donuts often the victor. The standout, however, is .sas, an unusual case of a contention set of two would-be dot-brand registries being resolved…
If you enjoyed this article, subscribe for updates (it's free)