Privacy Policy Cookie Policy
Domain Name Interviews
In Profitable Flips, skilled domain name investors share all the details of how they bought low and sold high, turning a profit of at least four figures. Hosted by Tess Diaz.

Latest Interview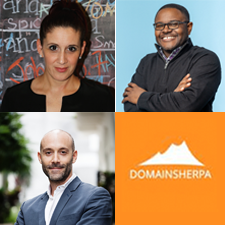 SEM Expert, digital strategist, and domain name industry publisher Alvin Brown joins us to share his expertise, addressing specific domain investing strategy options, automation & efficiency, and some impressive examples of the importance of building relationships! Plus, Alvin shares two profitable flips.

Any domain investor, particularly if trying to make decisions about portfolio strategy, will benefit from today's show!
DomainSherpa June 22, 2020 3

More Interviews
Meet Jason Sheppard, the successful domain name investor who only just began seriously working in the domain space in 2017. Jason's savvy from years as a marketing consultant and his remarkable work ethic have quickly made Jason stand out on Twitter and at NamesCon.

Hear the details about 2 Profitable Flips – From $8k to $69k in Under a Year- plus his insights on domain pricing strategy!
DomainSherpa March 16, 2020 3

Doron Vermaat, co-founder of Efty.com, the unique commission-free domain name sales and portfolio management platform, joins us to discuss his insights into the industry.
DomainSherpa October 29, 2019 5
Braden Pollock, as a legal marketing expert and a domain investor, shares a year's worth of profitable flips without NDAs.

Since most larger domain transactions are under NDA, it's unique to receive one perspective on a  single portfolio's sales over a year.
DomainSherpa September 17, 2019 11
Strategic online marketing consultant Logan Flatt joins us to share a profitable flip with a crypto domain, CryptoCPA.com. He meticulously charts the domain history even including initial registration, expiration and complete drop back to the registry for over two years before another new registration.

Learn why he saw value, how he calculated and adjusted asking prices, and even hear how he tracks asking price and offers versus crypto value at each time.

Plus, get all the details leading up to the final sale!
DomainSherpa August 26, 2019 4
Hear how Matan Israeli discovered a technical niche in emoji domains, how they work, his ROI, sales strategy and more.

If you're searching to find your niche, Matan's thought process and insights will inspire you to think differently! And if you are curious about emoji domain usage, languages in technology, or investing in emoji domains, you will benefit from today's show!
DomainSherpa May 20, 2019 7
Hear how Josh Reason built his domain investment portfolio & ROI strategy over the past 5 years from newcomer to steady $15-20k/mo income. Josh includes real examples and 2 profitable flips from last month.

Hear the tools he's used, his experience both as full time and part time domain investor, and his adjustments to his strategies. Every new domain investor – and every experienced one looking out for the next up-and-comer – will want to watch today's show!
DomainSherpa May 6, 2019 4

Experienced domain investor Drew Rosener bought an expired domain on GoDaddy Auctions this past September, and he was willing to bid at least double the $2,033 he paid. Within 5 months, he received a $500 offer and turned it into a $22,000 sale.

Drew walks us through why he likes domains that include common phrases like BreadBread.com, some factors he considers when pricing a domain for sale, and his simple email philosophy.
DomainSherpa February 18, 2018 30
Chris takes us through his stages of domain investing: educating himself, antique picking previously owned dropped domains, buying brandable expired domains and his first 2 profitable flips. We touch on the tough topics of frontrunning and GoDaddy expired auction changes, plus the 4 letter word of domainers, CALL- with Chris' current 100% success rate on phone calls!
Rod Atkinson posted a "looking for Russian speaker" on NamePros and built a friendship with another member who helped with a domain name purchase.

Later, that friendship paid major dividends when he came across another interesting domain name.

Learn how Atkinson purchased a major insurance domain name in Russian for only $711 that turned into a $62,000 sale through an Efty for-sale landing page inquiry.

And hear how Atkinson responded to the buyer's "strong-hand" negotiation tactics that ultimately led to the successful and very profitable sale.
Michael Cyger September 4, 2017 61