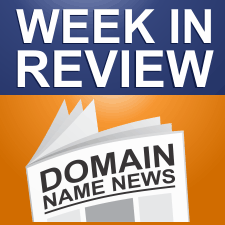 Every Friday, DomainSherpa.com provides you with a hand-selected, editorially-based review of the weekly news. In this summary, you will find the latest articles and videos produced by DomainSherpa staff and contributors. You will also find links to the best news articles in the domain name industry – so you don't have to spend your time searching for news or reading something that was not worth your time.
---
This Week's DomainSherpa Interview
---
VIDEO: How an Exact-Match Domain Turned $60 Million into $100+ Million in 5 Months – With Shaun McGowan

Past DomainSherpa interviews have highlighted the power of exact-match domain names (EMDs) to instantly create business credibility, increase organic rankings in search engine results, and generate type-in traffic by potential customers.

Today's interview offers proof that EMDs can also assist in increasing the click-through rate of advertising on search engines like Google's AdWords platform, decrease the amount per click spent on advertising by 35 percent, and increase the conversion rate of clicks to actual customers by 30 percent.

Those are big benefits in themselves, but the final proof is that – while holding all other factors constant – a change in business and domain name from brandable Beep.com.au to exact-match CarLoans.com.au produced a 66 percent increase in sales turnover, driving their business from a $60 million company to $100 million in only five months.
---
Additional Resources
---
DomainSherpa Review – Nov 14, 2013

Real Estate-related domains from 56 investors are discussed and valued, domains in the pre-release at NameJet are reviewed, and we crown a new "Registered or Available" king. Plus, a fantastic discussion in the After Show.

This is the show where we get into the minds of successful domain name investors – people we call Sherpas – and talk about the value of specific domain names. By listening to the Sherpas, we expand our thought process so we can become more successful investors ourselves.

We're joined by four Domain Sherpas: Adam Dicker, Page Howe and Rick Schwartz.
---
This Week's News in Review
---
.kiwi Launches Founders Program
– 14-Nov-13
The .Kiwi registry has formally launched a Founders Program for the .Kiwi new gTLD and has broken it down between several different levels of involvement…
JustCloud.com Buys Mega.co for $60,000
– 14-Nov-13
JustCloud.com a company which allows you to store all you "information in the cloud" just bought the domain name Mega.co for $60,000…
Verisign Publishes 3rd Part of Four Part Series On Name Collisions
– 14-Nov-13
Verisign publishes the 3rd part of a new 4 part series on name collisions last night. "Blocking a second level domain (SLD) simply on the basis that it was queried for in a past sample set runs a significant risk of false positives. SLDs that could have been delegated safely may be excluded on quantitative evidence alone, limiting the value of the new gTLD until the status of the SLD can be proven otherwise."…
Frank Schilling's First New Top Level Domain Name is Live
– 14-Nov-13
You can now visit a .tattoo domain name. Frank Schilling's .tattoo is alive with nic.tattoo. Yes, that's a domain name. And it's now on the internet. It's the first second level domain of Schilling's TLD bids that you can actually visit from your browser. Included on the site, which is a pitch "artists, studios, and…
.sexy and 10 More gTLDs Now in The Root
– 14-Nov-13
The third batch of new gTLDs have gone live. Uniregistry's .sexy and .tattoo are currently in the DNS root zone, the first two of its portfolio to become active. The TLDs .bike, .construction, .contractors, .estate, .gallery, .graphics, .land, .plumbing, and .technology from Donuts have also gone live today. Donuts already had 10 new gTLDs in…
J.P. Morgan Registers Domain Names for Mortgage Backed Securities Settlement
– 14-Nov-13
Bank registers domain names for a settlement with the U.S. government over mortgage backed securities. It's no secret that J.P. Morgan is on the verge of a multi-billion dollar settlement with the U.S. government over mortgage backed securities. That probably explains why the bank just registered a handful of domain names related to the settlement:…
Timbermate Products Guilty of Reverse Domain Name Hijacking
– 14-Nov-13
Company never alleged domain was registered in bad faith…just use in bad faith. Timbermate Products Pty Ltd of Nunawading, Australia, has been found guilty of reverse domain name hijacking by a World Intellectual Property Organization panel. The company, which uses the domain name timbermate.com.au, filed a UDRP against the domain name timbermate.com. The owner of…
Under Armour Buys MapMyFitness for $150 Million (+Hand Reg or Low Reg Domains)
– 14-Nov-13
Company didn't spend a lot of money for its domain names. Athletic apparel company Under Armour has acquired Austin, Texas company MapMyFitness for $150 million. So what does this have to do with domain names? Well, it's kind of interesting when you dig into it. The name MapMyFitness immediately set off alarm bells in my…
Some New TLDs Will Run Early Access Programs for The Landrush Phase
– 14-Nov-13
The TLD launch phase typically known as Landrush might look very different with new top level domain names. Top level domain name launches over the past decade have followed a fairly similar path. First, there's a sunrise period in which trademark owners can get first claim on domains. Then the domain proceeds to a landrush…
Architelos Publishes The Second Installment of The Namesentry Namespace Quality Report
– 14-Nov-13
Architelos, Inc. announced today the publication of the second installment of the NameSentry Namespace Quality Report…
1&1 Prices First Four Donuts gTLDs at $50-$80 a Year
– 14-Nov-13
The registrar 1&1 Internet has started selling pre-registrations in the first four Donuts new gTLDs for between $50 and $80 a year. Three gTLDs — .singles, .bike and .clothing — carry a $49.99 price tag at the company's US site. In the UK, they're priced at £29.99. A fourth gTLD, .holdings, costs $79.99/£49.99. Customers are…
Will ICANN Be Forced to Reject Islamic gTLDs?
– 14-Nov-13
The Organisation of Islamic Cooperation has condemned applications for .islam and .halal gTLDs filed by a Turkish company, despite the applicant recently fighting off an OIC-backed objection. Claiming to represent the world's 1.6 billion Muslims, the OIC expressed in a November 4 letter to ICANN and its Governmental Advisory Committee: official opposition of the Member…
RightOfTheDot to Manage .club's Premium Strategy
– 14-Nov-13
.CLUB Domains has selected RightOfTheDot to manage its premium and founders program domains strategy. The company named "a.club, 888.club, chess.club, poker.club, insurance.club, golf.club country.club, car.club" as examples of "category killer" names that RightOfTheDot will try to find homes for. .CLUB signed its Registry Agreement with ICANN late last week and plans to go to Sunrise…
ICANN urged to rule on .llp "breach"
– 13-Nov-13
ICANN is being urged to clarify whether an applicant for the .llp generic top-level domain (gTLD) would be breaking any rules by restricting the suffix to US customers.
Tucows Shares Rocket to $3.00 On Earnings, New TLD Deal
– 13-Nov-13
Deal with Donuts bolsters Q3 earnings. Shares of Tucows (NYSE AMEX:TCX, TSX:TC) shot up 15% to $3.00 in after hours trading after the company announced third quarter earnings. The company got a big cash boost from its deal with Donuts to withdraw its applications for the .marketing and .media top level domain name applications. Although…
1and1.com Tops 4 Million New gTLD Pre-reservations; Adding 1.5 Million in a Month
– 13-Nov-13
The domain name registrar, 1and1.com just topped 4 Million pre-reservations for new gTLD domain names. The registrar announced earlier this week that they were accepting pre-registrations for 4 new gTLD's, .BIKE, .SINGLES, .HOLDINGS and .CLOTHING which are different that pre-reservations…
ICANN Cautions About New TLD Pre-registrations
– 13-Nov-13
ICANN weighs in on pre-registrations for new top level domain names. With more and more domain name registrars offering some sort of pre-registration or pre-reservation service for new top level domain names, ICANN has published a word of caution. Cyrus Namazi, Vice President of DNS Industry Engagement for ICANN, published a blog post today titled…
Troubling: Federal Court Gives Sharetv.com to Sharetv.org Despite .com Registered 3 Years Earlier & 7 Years Before Trademark
– 13-Nov-13
In a troubling development for all domain investors, The United States District Court for the Eastern District Of Virginia has awarded the domain name Sharetv.com to the owner of ShareTv.org under a lawsuit brought under the Lanham Act and Virginia's Unfair Competition Act. (Case No. 1:13-cv-00506, Dkt No. 1)…
Sedo Auctioning Off 100 of Yahoo's Domain Names Including Av.com
– 13-Nov-13
AV.com, Sled.com, and other Yahoo domain names go on the auction block. Sedo is holding an auction this month in which it is selling over 100 of Yahoo's domain names. The auction runs November 11-21. Currently there are just 29 domains listed on the auction page, but an email I received from Sedo says there…
Brands May Lead The New gTLD's But They May Also Lead The Confusion
– 13-Nov-13
Many expect the Brand applicants are to lead the new gTLD charge by bringing consumer awareness to the new gTLD program. To the extent consumers start seeing advertising on domain names using new gTLD's , consumers may become much more aware of new gTLD domain names…
Demand Media Scores Another $1.3 Million From Withdrawing New TLD Applications
– 12-Nov-13
New TLD applicant gets $1.3 million from the withdraw of a couple new TLD applications. Demand Media realized $1.3 million in gains in the third quarter of this year due to the withdrawal of its interest in new top level domain name applications, according to the company's latest 10-Q filing with the SEC. In gained…
One Del Monte Calls The Other a Reverse Domain Name Hijacker
– 12-Nov-13
You've heard of reverse domain name hijacking, but can you RDNH a top level domain name? Del Monte International GmbH has filed its opposition to Del Monte Corporation's motion to dismiss a lawsuit related to the .delmonte top level domain name. If you're confused already, let me bring you up to speed. Del Monte used…
7 Year Old Domain Jwines.com Saved in UDRP Filed By Holder of Jwine.com
– 12-Nov-13
J Vineyards & Winery, L.P. which owns the domain jwine.com, lost a UDRP on the domain name jwines.com which was registered on December 17, 2005. The domain holder acquired the domain name from its previous owner on August 1, 2011…
Sedo Reports Continuing Decline in Domain Parking
– 12-Nov-13
Sedo cites domain parking woes for revenue drop. Sedo Holding has issued its preliminary results for the first nine months of the year. This is likely to be one of the last public reports from the company before it gets rolled up into United Internet. The company's affiliate marketing division saw revenue growth, but the…
Coffee Bean Direct Loses Second Case Against CoffeeDirect.com (And No Response!)
– 12-Nov-13
Online coffee seller fails to snag CoffeeDirect.com through a UDRP for a second time. Coffee Bean Direct LLC, an online coffee seller, has lost its second UDRP against the domain name CoffeeDirect.com. In both cases the owner of CoffeeDirect.com didn't bother to respond but still won the case. If you look at the facts, this…
Over Half The World's Biggest Brands Will Be Blocked in New gTLDs
– 12-Nov-13
More than half of the world's most-famous brand names already stand to benefit from blocks in new gTLDs, due to the name collisions policy introduced by ICANN recently. That's the preliminary conclusion of a quick analysis of the 37 block-lists already published. Using Interbrand's list of the top 100 most valuable brands, we find that…
Over 87,000 New gTLD Domains Now Blocked
– 12-Nov-13
The total number of domain names to be blocked due to the risk of name collisions has topped 87,000 with the latest batch of block-lists from ICANN, published yesterday. According to our database, 87,670 domain names, representing 75,208 unique second-level strings, are to be blocked in the 37 new gTLDs that have published collisions lists…
Over 100 New gTLD Contracts Now Signed
– 12-Nov-13
The pace is stepping up as ICANN starts to lift its heels in moving more new gTLDs towards delegation. The organization signed contracts with registries covering 34 strings over the weekend, including popular favorites such as .wiki and .ninja. The full list of gTLDs with freshly signed Registry Agreements goes like this: .education, .institute, .training,…
ICANN Rejects Third New gTLD Bid
– 12-Nov-13
ICANN has formally rejected .thai, only the third new gTLD application to suffer this fate. It's been flagged as "Not Approved", following an objection from a consensus of the Governmental Advisory Committee led by an outcry from Thailand and Thai nationals. Only DotConnectAfrica's .africa and GCC's .gcc have the same designation. Both also were killed…
Donuts Wins Two More String Objections, Settles Another
– 11-Nov-13
Only four string confusion objections have not been decided. The contentious and highly unpredictable string confusion objection process for new top level domain names is coming to a close. International Centre for Dispute Resolution posted three more decisions today, leaving just four decisions outstanding. The three decisions all involved mega-applicant Donuts. Commercial Connect brought and…
Academy Wins Domain Name Ruling in GoDaddy Lawsuit
– 11-Nov-13
In advance of a trial next year, the Academy wins summary judgment on 177 domain names including HollywoodOscar.com and OscarResults.net. GoDaddy appears to be on the verge of losing a big cybersquatting lawsuit over a program that allowed its customers to buy domain names like BetAcademyAwards.com and 2013Oscars.com.
.club Signs Registry Agreement With ICANN
– 11-Nov-13
.CLUB Domains, LLC, the company formed to own and operate the new ".CLUB" generic top-level domain name (gTLD), announced today it has signed its Registry Agreement with ICANN, the Internet Corporation for Assigned Names and Numbers, the international organization responsible for managing and coordinating the Domain Name System (DNS)…
1and1.com Starts Selling Preregistrations for .bike; .singles; .holdings; .clothing
– 11-Nov-13
Accrding to a press release we received today 1and1.com has started selling pre-registrations on the new TLDs including: .BIKE, .SINGLES, .HOLDINGS, .CLOTHING…
.buzz Registry Launches ICANNbuzz Ahead of Buenos Aires Conference
– 11-Nov-13
.Buzz registry makes website for sharing during next week's ICANN conference in Buenos Aires. The domain name industry pilgrimage to Buenos Aires for ICANN #48 begins later this week. There's a lot more excitement buzz in the air this time around as new TLD applicants can finally see the endpoint (or is it the starting…
National Association of Realtors: Do Not to Pay Preregister .realtor Domains They Will Be Free
– 11-Nov-13
In a blog post today on Realtor.org, the National Association of Realtors is warning its members and I guess anyone else who about thinking about preregistering a domain name in the new gTLD .Realtor not to bother doing it at Godaddy or anyone traditional domain name registrar…
Fairwinds: Time for UDRP Reform to Change Bad Faith Requirement From Registration Date to Renewals
– 11-Nov-13
Fairwinds Partners, which also heads up the Collation Against Domain Name Abuse (CADNA) has weighted in on the recent UDRP decision on Big5.com and whether the bad faith for a domain holder should be judged from only at the time the domain was first registered or acquired or each time the domain name was renewed on its blog today…
GoDaddy Goes All in On The New gTLD's
– 10-Nov-13
Godaddy.com appears to have gone all in on the new gTLD's. Gone from the front page of Godaddy is the drop down menu listing the different domain extension that are available for registration, replaced by a huge ad for preregistrations of just 4 new gTLD's, .Uno, .Luxury, .Build, and .Menu…
XYZ Says Auctions "Comfortably Within The Rules"
– 10-Nov-13
New gTLD registry XYZ.com has responded to criticisms of its plan to auction .xyz and .college names with NameJet before they even have signed contracts with ICANN. CEO Daniel Negari told DI that the plan to auction 40 names between now and the end of February, is "comfortably within the rules". The company seems to…
Will Quorvus Become The New Hotel Brand for Carlson Hotels (Radisson, Parkplaza, Country Inns)
– 10-Nov-13
Looks like its getting to roll out another new Hotel group known as Quorvus
According to some new registrations at brand protection company MarkMonitor.com. It looks like Carlson is going to call a new line of hotels Quorvus registering Quorvus.com, Quorvuscollection.com, and even some typo's like Quorvis.com…
New gTLDs Bring Back Tiered Renewal Pricing
– 10-Nov-13
Only one mass-market TLD used it, and it's often considered a bad idea, but variable pricing for domain name renewals is making a comeback with the launch of new gTLDs. What Box? and Plan Bee are the first two new gTLD registries to start selling domains with tiered renewal fees, in .menu and .build respectively,…
1&1 Internet Signs Domain Names Agreement With Donuts
– 10-Nov-13
Web hosting company 1&1 Internet has signed a registry-registrar agreement with industry leader Donuts, the sector's largest registry by number of top-level domain name (TLD) applications.
Domain Name Meetup in Seattle Scheduled for Early 2014
– 08-Nov-13
If you live/work in Seattle or visit regularly and you want to learn more about domain names, improve your investing knowledge, hear entrepreneurial success stories, learn the secrets of the industry, or just get out from behind your computer and meet other people interested in domain names, this is the meetup for you.
Verisign Publishes 2nd Part of 4 Parts Series On Why Domain Blocking On New gTLD's Isn't Good Enought
– 08-Nov-13
Verisign just released the second in a four part series of why ICANN's effort to fix the potential collision issue caused by the release of new gTLD's, by blocking domain registrations, isn't good enough to fix the potential problems…
NaturallyBorn.com Saved in UDRP
– 08-Nov-13
The domain name NaturallyBorn.com was saved in a UDRP today. The domain holder was represented by John Berryhill…
NCSG: ICANN Board-staff Violated Its Own Corporate Bylaws By Unilaterally Imposing "Tm+50 Policy"
– 08-Nov-13
The Non-Commercial Stakeholders Group (NCSG) says ICANN Board-staff violated ICANN Bylaws by adopting the Trademark+50 policy without following the proper policy modification process. The specific policy at issue in this CEP is ICANN staff's unilateral decision to grant trademark holders significantly greater rights via its "trademark plus 50" ("TM+50") policy in contradiction to the GNSO Council's policy recommendations and implementation guidance and the process described in ICANN's Bylaws that govern its adoption of policy…
NameJet to Auction New gTLD Domains Before They Launch
– 08-Nov-13
Many registrars are already offering new gTLD pre-registrations, now NameJet has taken the idea one step further: it's going to auction premium names months before the gTLDs even go live. It's just announced a deal with XYZ.com, which is on track to run the .xyz and .college registries, to sell 40 "premium" domain names this…
NameJet.com to Auction .xyz & .college Domain Names Starting This Month
– 08-Nov-13
NameJet and XYZ.COM announced they have partnered in a groundbreaking advanced auction format prior to the release of the TLD to the open market in 2014. Forty premium .XYZ and .COLLEGE domain names will be offered in this first-of-its-kind advance auction, where the highest bidder purchases an option to acquire the domain at the winning price, taking possession of the domain when it becomes available at the registry…
Tucows Takes Over As Cheapies Loses Accreditation
– 08-Nov-13
ICANN has terminated the registrar Cheapies.com and is to transfer its registrations to Tucows. Cheapies had fewer than 12,000 gTLD domains under management judging by the last available registry reports. The registrar was terminated two weeks ago, having previously having its accreditation suspended for 90 days, for various violations of the Registrar Accreditation Agreement mainly…
If you enjoyed this article, subscribe for updates (it's free)