Video interviews, panel discussions, articles and Q&As featuring
Latest Interview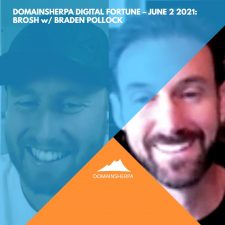 Josh Reason is a successful domain investor and entrepreneur with a fantastic podcast on domain names and digital entrepreneurship – Digital Fortune – on the DomainSherpa Network! Josh is joined on this episode by domain investor and serial entrepreneur Braden Pollock and they discuss a bunch of things related to domain investing and digital assets. Among other topics, Braden and Josh discuss the appreciation of premium domain names and how crypto could help push .IO's forward!
Be sure to tune in!
DomainSherpa June 2, 2021 0
On this Profitable Flips show, we talk to Mark Levine, a newer individual investor who purchased a series of .io domain names that – as a portfolio – have yielded a 100 percent return on his investment in less than a year with a 23 percent sell-through rate.
Given that most domain name investors agree that a 2-3 percent sell-through rate is typical, 23 percent is unbelievable.
Listen in as we learn from Levine what types of .io domain names do or don't sell, what types of end users are buying them, how he sets retail pricing, and how his .io investing tactics are going to change in 2017.
Michael Cyger January 2, 2017 33

The startup community LOVES .io domain names.
Never heard of .io and don't believe me? Today's Sherpa will convince you, as well as share a method to value .io domain names for end users.
Then, he shows you how to find, contact and sell your newly acquired .io domain names without being an @$$hole.
Michael Cyger July 11, 2016 79

I stumbled across Park.io, a drop-catching service for .io domain names, and purchased PHP.io for $1,655, thinking that it would be a great domain to sell on the technology- and entrepreneurial-focused marketplace Flippa.com.
Within 30 days of my original purchase, the domain name sold for $6,000. I invited Park.io founder Mike Carson on the show to help let you in on my secret, even though I'd rather keep this terrific resource all to myself.
Michael Cyger March 2, 2015 40