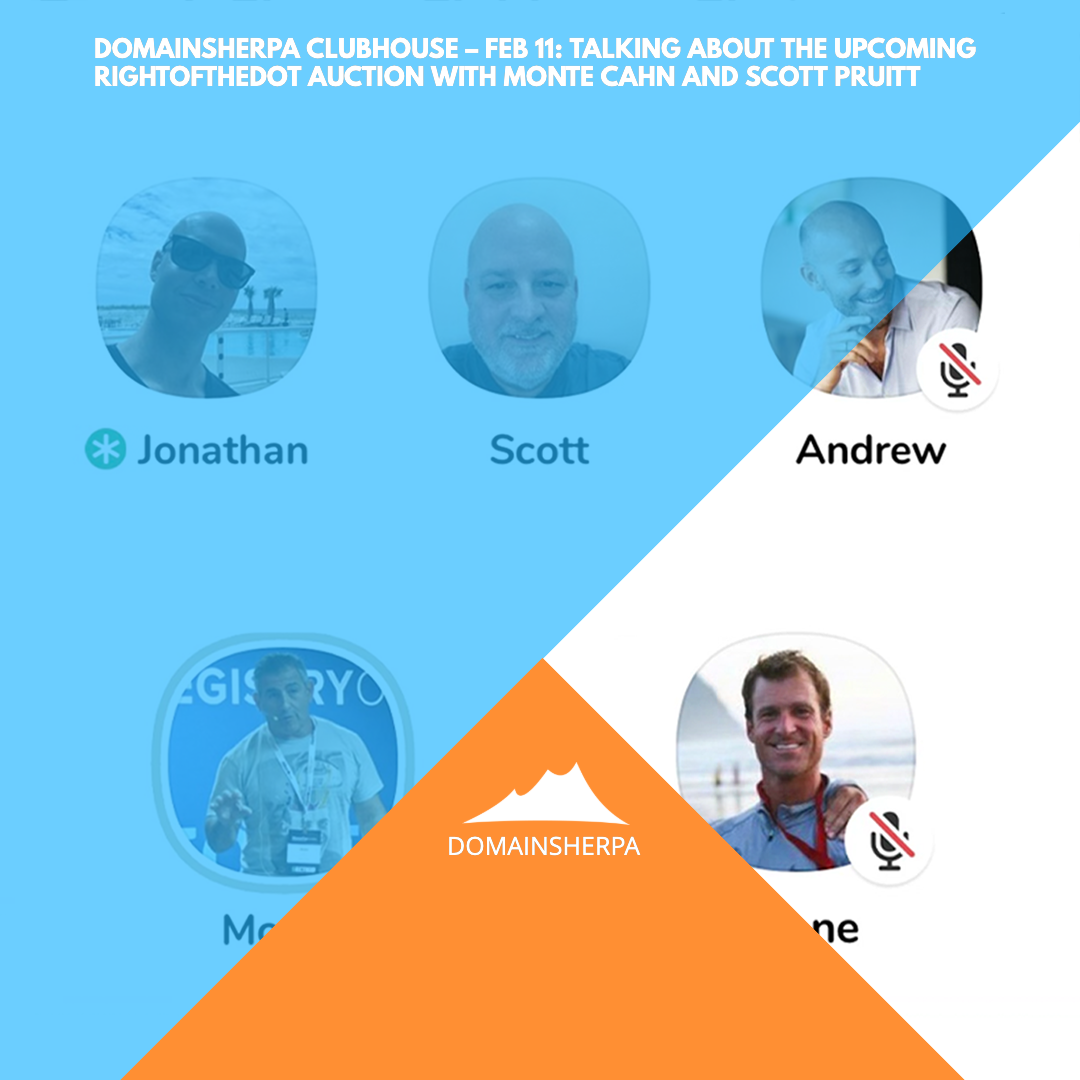 We take DomainSherpa to Clubhouse for the first time! JT, Shane, and Drew are joined by Monte Cahn and Scott Pruitt in a Clubhouse session to talk about the upcoming RightOfTheDot auction taking place on February 25, 2021. Some key moments from the show include:
Insight into how the upcoming RightOfTheDot auction will work;
A discussion about some of the great domains listed in the auction; and
A Q&A session with the Clubhouse audience where we talk about the Clubhouse effect on domains, industry trends, and more!
Be sure to tune in!
Review (109:18): Watch | Listen/Download Audio | Transcript
Your DomainSherpa Review
Playback Speed:
This interview is promoted through a media partnership with
DAN.com
.
Your DomainSherpa Interview, Audio Only
Note: Adobe Flash Player (version 9 or above) is required to play this audio clip. You also need to have JavaScript enabled in your browser. Or, listen on iTunes or in your favorite podcast app (here are the feeds).
This Show's Sherpas
DomainSherpa Advertisers
Please visit the advertisers that support DomainSherpa and make our shows possible.
RightOfTheDot Auction Catalog in PDF Format
RightOfTheDot Auction Catalog in PDF Format (Right-click to Save As…) [View in Google Docs]
DomainSherpa Clubhouse – Feb 11: Talking About the Upcoming RightOfTheDot Auction with Monte Cahn and Scott Pruitt
RightOfTheDot will be conducting a live and online domain premium auction on February 25, 2021 at 12:00 PM CST.
The RightOfTheDot premium domain auction is known for being an excellent opportunity to buy and sell some of the best domains curated specifically for this event. This is one of the very few domain auctions with a live auction component, complete with a real live auctioneer along with live remote internet bidding!
The domains have been loaded into the special event auction for pre-bidding where you can place pre-bids on domain names through the special bidding system. Several days before the live auction, approximately 75-100 of these premium names will be selected to go into a live webcast auction with world-renown auctioneer Wayne Wheat. The remaining names will go to a timed online auction.
If you've been bidding on a domain that gets selected for the live auction, you will be emailed about the change. You will need to continue bidding through the live auction at that time. Anyone can bid on domains, but if you wish to bid on domains over $2,000 you'll need to have your account verified.
Visit http://rotd.hibid.com to register, pre-bid, & for more details!
If you enjoyed this article, subscribe for updates (it's free)