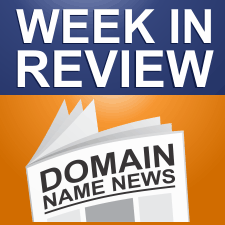 Every Friday, DomainSherpa.com provides you with a hand-curated, no-B.S., important domain name industry news.
In this summary, you will also find the latest tutorials and videos produced by DomainSherpa staff and contributors.
---
This Week's Featured DomainSherpa Show
---
---
In Addition, Don't Miss…
---
$100K TRAFFIC Deal; BuyDomains Sold 1MM Domains; City.gTLDs For Sale; Recent Sales…

In this DomainSherpa Discussion:
• T.R.A.F.F.I.C. was last week; Was Rick roasted? What happened?
• .Club Sells a domain name for $100K and is the highest priced new gTLD to date
• Endurance Acquires the almost 1 million domains of BuyDomains.com for $1-80 per domain
• RightOfTheDot & CentralNic Launch Websites To Sell City New gTLDs Domains
• What sold over the past few weeks and for what price? Is it reasonable?
• Bloomberg buys 400 defensive domain names, then gives most up. DNW's story goes mainstream.
• And much more!
---
This Week's News in Review
---
Rightside (NAME) is Up 20% in After Hours Trading – 06-Nov-14
After its first earnings report as a public company, Rightside (NAME) is up about 20% in after hours trading. Rightside is currently trading at $11.26 up $1.85 from its closing price of $9.41 Rightside has a 52 week low is $8.96 and its 52 week high of $17 but just started trading on August 1st…
Rightside Earnings: 15 TLD Generate $2.5 Million, Strong Enom Performance – 06-Nov-14
Rightside grows its eNom business, new TLDs generate $2.5 million in revenue as of end of Q3. Rightside released third quarter earnings after the bell today. Revenue for the third quarter came in at $48.8 million, up from $45.5 million in the same quarter last year and $46.7 million in the second quarter of 2014…
Will Web.com Hurt GoDaddy's IPO? – 06-Nov-14
Web.com in reporting its earnings earlier today had a few comments on its earnings call that should be of concern to all domain name regisrtrars: CEO David L. Brown noted "the increased availability of [domain] names has had a near-term negative impact on domain-related revenue," primarily related to "non-core domain-related revenue such as sales of…
Web.com is Down Over 22% & Hits a 52 Week Low After Earning Report – 06-Nov-14
Shares Of Web.com (WWWW) hit a 52 week low of $14.89 today after reporting its earnings which missed expectations. The company reported a loss of $3.4 million, or 7 cents a share. Adjusted earnings came to 66 cents a share. Revenue totaled $137.4 million. The consensus estimate called for adjusted earnings of 63 cents a…
New gTLDs Steal $5 Million From Web.com's Top Line – 06-Nov-14
Top registrar Web.com is seeing disappointing revenue from its domain business due to new gTLDs. The "increased availability" of names has taken a chunk out of the company's premium domain sales, CEO David Brown told analysts on the company's third-quarter earnings call yesterday. While we continue to expect the recently expanded top-level domain environment to…
Battles for .Chat, .Style, .Tennis, .Bingo and .SAS Over – 06-Nov-14
Seven new gTLD contention sets have been formally resolved with application withdrawals this morning, five of which we haven't previously reported on. Most appear to have been settled by private auctions, with Donuts often the victor. The standout, however, is .sas, an unusual case of a contention set of two would-be dot-brand registries being resolved…
Marchex Q3 2014 Report: $1.6 Million Domain Sales & $49.2 Million Revenue – 05-Nov-14
Marchex, Inc. announced today its financial results for the third quarter ended September 30, 2014. During the third quarter of 2014, Archeo domain sales yielded $1.6 million. During the second quarter of 2014, domain sales yielded $2.2 million. During the…
Yoyo.email, Owner of 4,000 .email Domain Names, Gets a "Win" in Court – 05-Nov-14
Company reaches agreement with company that won URS case against it. Yoyo.email, the controversial company that registered over 4,000 .email domain names, got a win in court today after settling with one of the companies that filed a Uniform Rapid Suspension case against it. Yoyo registered thousands of .email domain names matching the monikers of…
CyclingTips.com.au Owner Guilty of Reverse Domain Name Hijacking – 05-Nov-14
Company went after CyclingTips.com. Law firm ESQwire.com has scored yet another Reverse Domain Name Hijacking victory on behalf of a client. Wallace Media Pty Ltd, which operates the cycling website CyclingTips.com.au, filed the case against the owner of CyclingTips.com. Wallace Media complained that people looking for its site often leave off the .au, leading them…
Donuts Sends Comment to ICANN Complaining About a .Shop Community Application – 05-Nov-14
Donuts sent ICANN a comment regarding the Community Priority Evaluation Application by GMO Registry, Inc. for .Shop New gTLD. From what I have seen most community application have no merit, including the controversial .gay application. Companies get a few letters…
Moniker Lost Just 18,057 .com Domains to Transfers in July – 05-Nov-14
Customer losses still fairly low after switch to new system. Last month I reported that Moniker only lost 17,506 .com domain names to transfers in June after its disastrous switch to a new registrar platform. I predicted that the number would shoot up in July, since it was easier to transfer domains out at that…
CSC Digital Brand Services Acquires IP Mirror – 04-Nov-14
CSC Digital Brand Services announced today that it has acquired IP Mirror, a Singapore-based provider of corporate domain name registration and online brand protection services. Financial details of the acquisition were not disclosed. Recognized as "Asia's Online Brand Expert," IP Mirror was formed in 2000 and has grown into a regional leader on the strength…
Why Endurance Bought BuyDomains, and Why The Price Might Make Sense – 04-Nov-14
BuyDomains is a natural fit for Endurance, and you need to look at more than price-per-domain to understand its value. Endurance International, a $2.1 billion (market cap) rollup of hosting and domain name companies, announced this morning that it acquired BuyDomains from NameMedia. The tie-up makes sense for Endurance, which is generally considered the #2…
John Berryhill Fills Noah's Ark, Gets Another Reverse Domain Name Hijacking Win – 04-Nov-14
Domain attorney defends owner of Squirrels.com in his latest animal-related UDRP. Domain name attorney John Berryhill is either Noah, busily filling up his ark, or he has a fetish with animals. He's successfully defended UDRP filings against Pig.com, Elephant.com, Ant.com and Elk.com. Now you can add Squirrels.com to the list. World Intellectual Property Organization has…
Endurance International Group Acquires Buydomains, Webzai & Arvixe for $77 Million – 04-Nov-14
Endurance International Group Holdings, Inc. today reported financial results for its third quarter ended September 30, 2014 and it announced the purchase of the BuyDomains assets, a company related to web design called Webzai and web hosting company Arvixe for…
Donuts Wins .Wine Auction – 04-Nov-14
Donuts has become the only applicant for .wine and .vin after winning a private auction for .wine, according to sources familiar with the situation. I gather that the auction, which saw Donuts knock out rival applicants Afilias and Famous Four, happened a couple of weeks ago. I don't know what the winning bid was. Neither…
Minds + Machines Close to $4 Million in Domain Registration Revenue – 04-Nov-14
Company says it has sold the equivalent of nearly a half million .com domain names. New top level domain name portfolio company Minds + Machines issued a press release this morning touting its results to date after launching 10 new TLDs. According to the release: The Directors are highly satisfied with the overall progress of…
Endurance Continues to Roll Up, Acquires BuyDomains – 04-Nov-14
NameMedia sells off domain name portfolio. Publicly traded Endurance International Group continued its roll up of the webhosting and domain name business last quarter with the acquisition of BuyDomains, the company announced today. In his prepared statements for its quarterly earnings call, Endurance CEO Hari Ravichandran said: Second, we closed the acquisition of BuyDomains, a…
Its Official: ICANN 52 is Relocated to Singapore – 03-Nov-14
ICANN has relocated its 52nd meeting scheduled to take place in Marrakech, Morocco in February 2015, to Singapore In the official announcement made tonight by ICANN said: "Community concerns that would prevent maximum participation at its next global meeting (ICANN 52, 8-12 February 2015), a critical one given the ongoing discussions around the IANA Stewardship…
ICANN Updates Zone File Access & Requires The Most Complicated Password Ever – 03-Nov-14
Back in May 2014 I made a few suggestions to ICANN regarding the New gTLD zone file access. So when I got an email with the subject "About enhancements to CZDS" I was excited. The email didn't give a lot…
For Only The Second Time, ICANN Tells The GAC to Get Stuffed – 03-Nov-14
ICANN's board of directors has decided to formally disagree with its Governmental Advisory Committee for what I believe is only the second time in the organization's history. In a letter to new GAC chair Thomas Schneider today, ICANN chair Steve Crocker took issue with the fact that the GAC recently advised the board to cut…
.Sucks Domains "Will Not Be $25k" – 03-Nov-14
Vox Populi Registry, which won the auction for the .sucks new gTLD last week, says its Sunrise prices will not be $25,000 a year after all. The company has further denied that its general availability prices will be $300 a year. As DI reported earlier today, the Momentous affiliate beat off competition from Donuts and…
GoDaddy Opens European Customer Care Centre – 03-Nov-14
Go Daddy put out a press release today with regards to them opening a European customer care centre to serve their EMEA clients. The centre will be in Belfast, Northern Ireland. GoDaddy, the world's largest technology provider dedicated to small businesses, today announced it has opened a new customer care centre in Belfast, Northern Ireland…
Momentous Pays Over $3 Million for .Sucks – 03-Nov-14
Momentous Corp, whose .sucks application has been branded "predatory", has won the three-way contention set for the new gTLD, according to sources with knowledge of the auction. The company paid over $3 million for the string, one source said. Momentous affiliate Vox Populi Registry beat Donuts and Top Level Spectrum, the other applicants, at a…
Domain Appraisals With Estibot's Luc Lezon – Domain Name Wire Podcast #5 – 03-Nov-14
Listen to Domain Name Wire Podcast #5. What's a domain name worth? It's the key question whenever you buy or sell a domain name. That's part of the reason people use Estibot.com to appraise 1.8 million domain names a day. Automated domain name valuations are not without their critics. On this week's podcast, we chat…
.NYC Surpasses .London in Domain Registrations & is The Fastest Growing Extension – 03-Nov-14
.NYC surpassed .London in domain name registrations according to ntldstats.com. .NYC is ranked 8th today with 48,671 domains compared with .London that ranks 9th with 48,479 domains. Actually .nyc is 3rd and .london is 4th if you take out extensions…
URS Examiner Hands Over Ppr.wang Without Even Citing Complainant's Trademark – 03-Nov-14
KERING of Paris, France just won a proceeding under the Uniform Rapid Suspension (URS) policy to get the domain name PPR.Wang Suspended Mr. Sebastian Matthew White Hughes, was the Examiner who found that KERING owned a trademark on the term "PPR" The problem I have with this decision is that the Examiner didn't take the…
.ooo Runs Another Full Page, Front Page Newspaper Ad – 03-Nov-14
They're spending big bucks, but they'll have to back it up with results rather than just lies and predictions. Last month I wrote about Infibeam, the company behind the new domain name .ooo, and its front page ad on the Times of India. It has returned with another front page ad – including the inside…
.Wine Applicants Changing Tune On Geo Protection? – 03-Nov-14
Aggressive lobbying of ICANN by the wine-making industries on both sides of the Atlantic may be about to bear fruit. Applicants for .wine and .vin are talking to the organization about providing special protection for a list of "geographic indicator" terms, according to CEO Fadi Chehade. In a letter to French secretary of state for…
DreamHost Hit With Big Breach Notice – 03-Nov-14
DreamHost, a web hosting provider which says it hosts over 1.3 million web sites, has been hit with a lengthy ICANN compliance notice, largely concerning alleged Whois failures. The breach notice raises questions about the company's popular free Whois privacy service. Chiefly, DreamHost has failed to demonstrate that it properly investigates Whois inaccuracy complaints, as…
The 2014 T.R.A.F.F.I.C. Award Winners Are… – 02-Nov-14
The 2014 T.R.A.F.F.I.C. Awards were handed out today at the T.R.A.F.F.I.C. East conference at the Fontainebleau Hotel at Miami Beach, Florida. The Award Winners were: Developer of the Year – Adam Dicker; Broker of the Year – Dave Evanson (Sedo)…
ICANN Pays Over $2 Million Dollars for Its Directors + CEO Fadi Gets Almost $1.4 Million – 31-Oct-14
ICANN published its compensation paid to or on behalf of 23 people who servered on its Board of Directors ending June 30, 2014. In all 23 people received over $2,000,000 combined in "any payments made by ICANN to Directors (including reimbursements of expenses)." "This table represents reimbursements and compensation paid directly to Board Members, payments…
RightOfTheDot & CentralNic Launch Websites to Sell City New gTLD's Domains – 31-Oct-14
CentralNic plc announced its joint venture with domain name consultancy RightOfTheDot, LLC, to create specialist new retail websites for the sale of "city domains". These new city-specific domains include: London.domains for domain names ending .london Vegas.Domains for domain names ending…
ICANN Grants Data Retention Waiver to 4 European Registrars – 31-Oct-14
ICANN granted data retention waivers to 4 European registrars: GANDI SAS (France) IP Twins SAS (France) CPS-Datensysteme GmbH (Germany) Hostserver GmbH(Germany) The 4 registrars submitted to ICANN a Registrar Data Retention Waiver Request ("Waiver Request") pursuant to Section 3 of…
Startup.club Launches to Help Entrepreneurs Get Access to Great .club Premium Domains – 31-Oct-14
The .Club registry announced today the Startup.club which is designed to Help Entrepreneurs Get Access to Great .CLUB Premium Domain Names with the purchase price financed up to over 10 years with no interest. The Startup.Club will be rolled out today T.R.A.F.F.I.C. East Conference in Miami. The new program for entrepreneurs which includes…
.UK Registry Nominet Names Next CEO – 31-Oct-14
Nominet, the .uk registry, named its new Chief Executive Officer that is Russell Haworth. Russell will join Nominet in January 2015. Nominet said in the announcement that "Russell will lead the organisation as it develops its core registry business, explores…
Neustar Reports Earnings, .Co Grossed $4.4 Million Last Quarter – 30-Oct-14
.Co acquisition helps boost revenue at Neustar. Neustar reported third quarter earnings after the bell today. The company, which operates .us, .biz and .co, reported a 7% lift in revenue and a 1% increase in net income compared to the third quarter of 2013. A big growth driver was the addition of .Co, which the…
.ooo Owner Infinibeam Isn't Just Crazy, It's a Misinformation Machine – 30-Oct-14
Company is spreading a lot of incorrect information about domain names. I was rather amused when Infibeam, the Indian ecommerce company behind .ooo, announced its bold ambitions for the domain name last month. I figured it was just a publicity stunt. Kevin Murphy called the company's sales targets including millions of first year registrations "batshit…
New gTLDs Top 3 Million Domain Names As .Realtor Moves Into #5 With 78k Free Registrations – 30-Oct-14
New gTLD domain name registrations passed the 3 million mark today. According to ntldstats.com, the total number of new gTLD domain name registrations sits at 3,026,376. The good news is that in less than 8 months new gTLD registrations went from zero to over 3 Millihttps://www.thedomains.com/wp-admin/post.php?post=60681&action=edit&message=9on and are growing daily. The bad news is there are…

If you enjoyed this article, subscribe for updates (it's free)