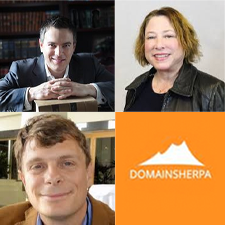 Three of the top legal minds in domain name case law join us to discuss the historic US Supreme Court decision regarding the trademark on Booking.com. Hear perspectives from Zak Muscovitch, Karen Bernstein, Stevan Lieberman, plus vital thoughts on how this may impact domain valuations from Andrew Rosener.
Any domain investor or attorney, or corporate domain manager, will benefit from today's show!
Review (88:52): Watch | Listen/Download Audio | Transcript
Your DomainSherpa Review
Playback Speed:
This interview is promoted through a media partnership with
DAN.com
.
Your DomainSherpa Interview, Audio Only
Note: Adobe Flash Player (version 9 or above) is required to play this audio clip. You also need to have JavaScript enabled in your browser. Or, listen on iTunes or in your favorite podcast app (here are the feeds).
This Show's Sherpas
DomainSherpa Advertisers
Please visit the advertisers that support DomainSherpa and make our shows possible.
Interview Raw (Non-Edited) Transcript
Interview Transcript in PDF Format (Right-click to Save As…) [View in Google Docs]
If you enjoyed this article, subscribe for updates (it's free)