How long does it take to transfer a domain name from one domain name registrar to a second domain name registrar? That is is the question this article documents from a recent transfer from Yahoo Domains to Moniker. If you're too busy to read the details below, the answer is 5.5 days. Note: This article does not document a domain push, which can happen within a few hours if a domain name is transferred from one account to another account at the same registrar.
---
Sunday, January 16, 2011 10:47 PM
---
I began the process of transferring a friend's domain name from Yahoo Domains by unlocking the domain name. I then signed into her Moniker account and used the domain name and authorization code to request the transfer, for which I paid a year's worth of registration (the transfer is free, but they charge you for an extra year of registration).
Moniker sent my friend an email confirming transfer. However, I didn't receive it because Yahoo Domains used an incorrect email address for my friend's domain name registration, even though she specified her updated email address. Ah, computers…gotta love them.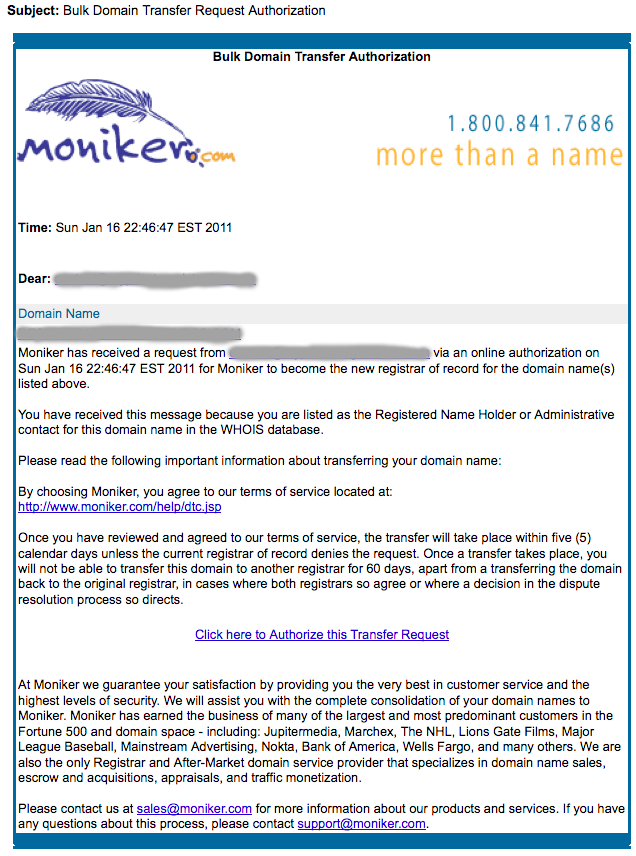 ---
Fri, Jan 21, 2011 at 11:12 AM
---
After realizing the wrong email address was on file at Yahoo Domains, I changed it, emailed Moniker support, and asked for the confirmation email to be sent again. Moniker support did so relatively fast — it took exactly 25 hours for Moniker support to respond to my technical support ticket. At this point I received the transfer authorization request. I immediately clicked on the "Click here to Authorize this Transfer Request" link.
---
Tuesday, January 25, 2011 1:13 PM
---
I asked Moniker support how much longer it would take to transfer the domain name.
---
Wednesday, January 26, 2011 5:31 AM
---
16 hours later I received Moniker's email response: "This transfer is schedule to be completed on January 27, 2011 at 2am eastern time."
So, on January 26, 2011 at 11PM Pacific, I should see the domain name available in my control panel. I'll let you know how it went in the comments.
---
Total Elapsed Time (Minus Email Address Snafu) = 5.5 days
---
Calculated from January 26, 2011 11PM minus January 21, 2011 11:12AM.

If you enjoyed this article, subscribe for updates (it's free)