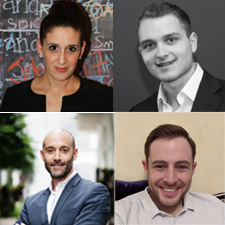 Today we meet with Edouard Bessire and Hugo McDonaugh, co-founders of Crytograph, which was founded as an exciting new way to monetize fame and raise money for charitable causes using blockchain technology.
We delve into:
Auction system and price discovery mechanics in general
Cryptograph's focus on non-fungible assets… and how may domains fit into that focus
How and why their patented blockchain technology could create disruption in known auction systems
 Particularly, how Cryptograph could be utilized within- and create tremendous new opportunity in- Domain Name industry auctions, even to the point of creating new careers and investment opportunities similar to options traders!
This show is fantastic for anyone curious about or investing via domain name auctions, blockchain, alternative investment, or other non-fungible assets.
Review (87:28): Watch | Listen/Download Audio | Transcript
Your DomainSherpa Review
Playback Speed:
This interview is promoted through a media partnership with
DAN.com
.
Your DomainSherpa Interview, Audio Only
Note: Adobe Flash Player (version 9 or above) is required to play this audio clip. You also need to have JavaScript enabled in your browser. Or, listen on iTunes or in your favorite podcast app (here are the feeds).
This Show's Sherpas
DomainSherpa Advertisers
Please visit the advertisers that support DomainSherpa and make our shows possible.
Interview Raw (Non-Edited) Transcript
Interview Transcript in PDF Format (Right-click to Save As…) [View in Google Docs]
If you enjoyed this article, subscribe for updates (it's free)