This blog will review the top domain name brokers of 2022, including MediaOptions & ChrisZuiker.com.
1) Andrew Rosener – The founder of Media Options, the best domain brokerage service of all time.
2) Chris Zuiker – Top level broker with years of experience in premium domain brokerage and acquisition.
3) Dave Evanson – Sedo.com Domain Broker
4) David Clements – Brannans.com Broker
5) Jen Sale – Evergreen.com Domain Broker
How do Domain Brokers Help You?
The right domain broker can mean the difference between success and failure when buying or selling a premium domain.  A good broker will handle negotiations, facilitate deals, keep your identity anonymous during transactions–and have expertise in finding buyers for high-end domains like yours!
If you want to make sure that this process goes smoothly (and quickly!), consider getting help from an expert who knows what they're doing.
Here is a list of the best domain brokers in the industry with their background and experience.
Media Options is the leading broker of expensive domains, specializing in those over $75K. They deal exclusively with premium domain names and are experts at what they do; having worked on projects for companies like Amazon Web Services (AWS), bigdata-io & devo Network.
If you're looking to purchase or sell a highly sought after web address then Media options should be your first stop – trust us when we say no one else can offer such personalized service as ours does: find out more about how our team could make things easier by taking advantage today.
Their seamless process and experienced team make them the best option for buying and selling expensive domains.
If you're looking for the best premium domains, Media Options is your go-to source.
Brokers are experienced and knowledgeable in their field of expertise so they can negotiate on behalf of clients to get top dollar when purchasing expensive web addresses like .coms or new extensions such as CO etc.
Andrew Rosener: The Founder of Media Options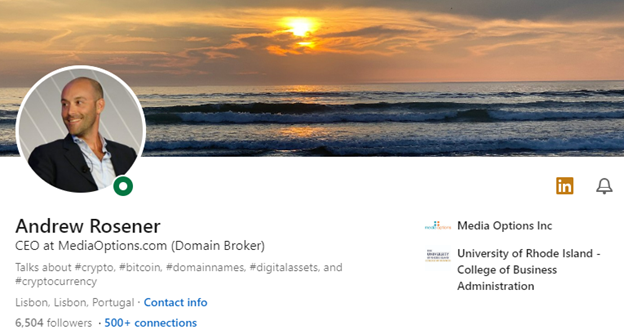 Andrew Rosener is the founder of Media Options, the greatest domain brokerage service of all time.
Andrew started the company 13 years ago through his interest in domain names and how the relate to a company's success.
Media Options has done over 600 million dollars in Domain sales making them the best and most experience domain broker service in the world.
He is a trusted speaker at NamesCon which is event dedicated to domains and branding.
With his years of experience and being awarded Domain broker of the year by Escow.com (a widely used transactional service) you can consider him a rockstar in the domain community.
For buying or selling premium domain names, reach out to Andrew Rosener or the Media Options team to assist you.
Chris Zuiker: Media Options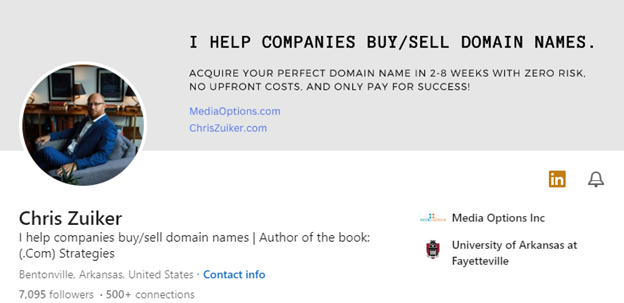 In the world of online real estate, there's no one better than Chris Zuiker.
With over 200 million dollars in successful acquisitions and an expertise that sets him apart from other brokers across all markets.
He'll make sure you're getting your money's worth when it comes time to sell or purchase a new domain name for whatever reason.
What sets apart is his voice in the domain industry. Chris has a podcast dedicated to domain names with over a 1000 podcasts and posts often on LinkedIn and Twitter.
You can set strategic meeting with Chris on his website, ChrisZuiker.com, or reach out to him through LinkedIn.
Dave Evanson: Sedo
Dave Evanson is the Senior Sales and Brokerage Consultant for Sedo.com, the world's largest domain aftermarket and monetization platform.
Sedo.com offers buyers and sellers an efficient way to negotiate on more domains that are not available through other websites.
With their auction platform acting as a great middle ground for making your deals happen smoothly without having too much outreach effort involved in any transaction – especially in higher priced ones.
Dave is a trusted broker at Sedo and if you are looking for a great brandable domain name reach out to him via Linkedin or visit Sedo.com.
David Clements: Brannans.com
Domain brokerage is a fast-growing and highly competitive field, where domain sellers and buyers rely on expert brokers like David Clements to help them navigate the complex world of domain name transactions.
As CEO of Brannans.com, David has over a decade of experience working in the domain industry, advising clients on premium domain assets and brokering domain transactions at all price levels.
He is known for being a skilled negotiator and a trusted resource for domain buyers, sellers, and investors alike.
Whether you are looking to buy or sell a domain name, David Clements is the ideal broker to help you achieve your goals.
With his expertise, market knowledge, and proven track record of success, he can help you find the domain that is the perfect fit for your business or investment portfolio.
So if you're looking to make a smart move in the domain name industry, contact David Clements today and start your journey towards success!
Jen Sale: Evergreen.com
Jen Sale is an experienced domain broker with years of experience with selling domain names.
She is the CEO of Evergreen.com and is a great domain broker for startups looking to acquire a brandable domain name.
If you are looking for a focused broker to help you acquire a domain name, contact Jen.
Frequently asked Questions
Why do you need a Domain Broker?
Why do you need a domain broker? When looking to purchase a domain, having the support and expertise of a reliable domain broker can be invaluable.
With their connections and resources, they are well-equipped to handle negotiations and legal aspects of the transaction, as well as help you find the perfect premium domain that meets your needs. Whether you are looking to buy or sell a domain name, a domain brokerage service is the right choice for navigating the often complex and competitive world of domain acquisition.
At its core, domain acquisition is about finding the right owner for your domain.
A good broker has the skills and experience to identify owners that are visible and those who may be less so and will work to make sure your first interaction with the domain owner is a positive one.
As well as helping you find the right domain and negotiating a fair price, brokers also offer complete anonymity throughout the acquisition process.
They will work hard to keep your identity hidden from potential competitors who may try to buy the same domain to use it for their own benefit.
What is a Premium Domain Name?
A premium domain name is a highly valuable and sought-after piece of internet real estate. It is characterized by factors such as age, meaning, spelling, extension, length, and popularity.
These qualities make premium domains an attractive investment for businesses and individuals looking to establish or grow their online presence.
Read Website domain brokers blog on Premium Domain Meaning to learn more.
Are Domain Brokers Worth it?
Domain brokers are experts in the domain name market, with years of experience and specialized skills that make them invaluable when it comes to buying or selling domains.
Whether you are looking to purchase a premium domain or are interested in selling one of your own, domain brokers are worth it because they can provide expert guidance, connections, and resources that can help you get the best deal possible.
Negotiating with the current owner of a domain or reaching out to a potential buyer.
Domain brokers are skilled at handling complex and often confidential negotiations and are committed to getting you the best possible price for your domain.
So if you are planning to buy or sell a domain, it is definitely worth working with a domain broker who can help ensure that your transaction goes smoothly and successfully.
If you enjoyed this article, subscribe for updates (it's free)