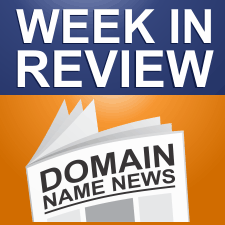 Every Friday, DomainSherpa.com provides you with a hand-selected, editorially-based review of the weekly news. In this summary, you will find the latest articles and videos produced by DomainSherpa staff and contributors. You will also find links to the best news articles in the domain name industry – so you don't have to spend your time searching for news or reading something that was not worth your time.
---
This Week's DomainSherpa Interview
---
VIDEO: The Fundamentals of a Revenue-generating Website – With David Fairley

Understanding the basics of a revenue-generating website is half of the equation to successfully building and exiting an Internet business.

In this interview, a successful entrepreneur and business broker walks us through the fundamentals, including understanding – in detail – how to value websites, how he finds so many buyers in the $50,000 to $5 million range, and what types of businesses are always in demand by buyers.
---
Additional Resources
---
DomainSherpa Review – Dec 5, 2013

In this show:

Drop or renew: 6 criteria to evaluate domain names
Mike Berkens' new registrations in .horse (yes, .horse)
What Page Howe registered after researching new TLDs
Domain name age, valuations, and much more!

This is the show where we get into the minds of successful domain name investors and talk about the value of specific domain names. By listening to the Sherpas, we expand our thought process so we can become more successful investors ourselves.

We're joined by four Domain Sherpas: Adam Dicker, Michael Berkens, Page Howe and Rick Schwartz.
---
This Week's News in Review
---
"Cloud" is Not a Community, New TLD Panelist Rules – 05-Dec-13
Group's definition of "cloud community" is too broad. Cloud Industry Forum Limited has lost its community objections against three applications for the .cloud top level domain name. The objections were filed against the three applicants who planned to keep their .cloud registries closed to registrations: Google, Amazon.com, and Symantec. Panelist Stephen L. Drymer ruled that…
.Uno & .Menu Have Arrived – 05-Dec-13
In the past few days, .uno and .menu have both gone live. The domain names that are running are informational pages on the new extensions and they provide additional information about registration. DotRegistry registered .uno to showcase businesses targeting Hispanic communities, while .menu, which provides menus, dining suggestions, restaurant information, reviews and offers, recipes, ingredients and dietary details, belong to What Box?.
How Much Will Domainers and Defensive Registrations Matter for New TLD Operators? – 05-Dec-13
New TLD registries will need to count on domainers and defensive registrations if they hope to amass a large registration base. Every new top level domain name applicant I've spoken with will swear they aren't counting on defensive registrations to build their domain base. Even those whose business model depends on companies wanting to make…
And S&P Loses UDRP Because BoycottStandardAndPoors.com Doesn't Resolve – 05-Dec-13
Standard & Poor's Financial Services LLC just lost a UDRP on its big to grab the domain name, BoycottStandardandPoors.com. Unlike the UDRP decision we just wrote about which seemed to turn on the fact that the domain name didn't resolve, this three member panel refused to transfer the domain largely because the domain name did not resolve finding since the domain did not resolve S&P could not meet its burden of proof that the domain name was registered in bad faith…
Standard & Poor's Loses Domain Name Dispute – 05-Dec-13
Financial services company and rating agency can't have "boycott" domain name, panel rules. Standard & Poor's has lost a UDRP against the domain name BoycottStandardandPoors.com at World Intellectual Property Organization. The domain name owner argued that he's exercising his first amendment rights by owning the "gripe" style domain name. The panel determined that the domain…
13 Year Old Wafu.com Lost in UDRP As Domain Holder Fails to Respond & Domain Doesn't Resolve – 05-Dec-13
Wafu Inc. of Montreal, Quebec, Canada, was just awarded the rights to the domain name WAFU.com a domain that was registered on March 8, 2000. The Complainant owns some trademarks in Canada the one's cited by the panel are dated June 23, 2008 another dated November 17, 2003…
Ontario Company Paid $137,500 to Buy Sandwich.com From Yahoo! – 05-Dec-13
A small Canadian company bought Sandwich.com in the Yahoo! domain name auction last month. The first three domains that Yahoo! sold in a domain name auction last month have changed hands, including the biggest sale of all: $137,500 for Sandwich.com. The buyer is officially Seyed Ali Mirabolghasemi in Thornhill, Ontario, Canada. Based on the address…
Small Kiwi Registrar Loses Accreditation – 05-Dec-13
ICANN has terminated the registrar accreditation of Pacnames, a small New Zealand registrar. The roughly 10,000 domain names the company had under management will now be transferred to Net-Chinese, a Taiwanese registrar that is not much bigger as measured by DUM. The termination was voluntary, according to ICANN, but it follows the suspension of Pacnames'…
ALMC.com Saved in UDRP Decided By Asian Domain Name Dispute Resolution Center Finding Domain is Generic – 04-Dec-13
The Asian Domain Name Dispute Resolution Center, in a one member UDRP decision rejected the attempt of the Hong Kong Trade Development Council to grab the generic domain name ALMC.com. The domain holder was represented by David E. Weslow of Wiley Rein LLP…
SellMyApp.com Saved in UDRP As Complainant Fails to Meet Any of The 3 Elements of a UDRP – 04-Dec-13
Vassilios Pantazopoulos just lost his bid to grab 4 domains including SellMyApp.com with the three member UDRP panel finding the Complainant failed to meet any of the three elements required for a successful UDRP…
The Internet Has Run Out of Four-Letter Dot-Com Names (Slate.com) – 04-Dec-13
None. Zero. Nada. That's how many four-letter dot-com domain names are left unregistered on the Internet, according to new research by WhoAPI.com, a Croatian startup that analyzes domain data…
IPO Warns About Premium Loopholes in New gTLD Trademark Protection – 04-Dec-13
It seems like it's been an age since we last heard the intellectual property lobby pushing for stronger rights protection mechanisms in new gTLDs, but they're back just in time for the first launches. The Intellectual Property Owners Association has written to ICANN this week to warn about loopholes in the standard new gTLD Registry…
Variety.com Publishes; Epic Fail: The Rise and Fall of Demand Media – 04-Dec-13
Variety.com just published a cover story on Demand Media, Inc. (DMD) and its less than flattering. The article entitled Epic Fail: The Rise and Fall of Demand Media starts out…
Oink.com With Trademark Sold for $57,500 – 04-Dec-13
TechCrunch.com is reporting that Virtual Piggy, a payments service aimed at minors is today rebranding as Oink after buying the domain, trademarks and social marks from Milk (not Google) for $57,500…
How Premium New gTLD's Might Help Sell Your .com Domains – 04-Dec-13
Many of the new gTLD registries are planning on the old .TV pricing model to sell their premium domain names. Two large applicants Donuts and Minds +Machines who between the two applied for 400 new gTLD strings, have both stated they indent to use the .TV pricing model which sells premium domains instead one for a one time payment in the four, five and even six figures and breaks them down by a factor of 1/10 and charges that amount every year as a annual premium renewal price…
Are 10,000 Registrations a Realistic Goal for Niche New Top Level Domains? – 04-Dec-13
So far, most new TLD registries are pricing their domains at a big premium to .com. Will that limit registration numbers? We're starting to get a better idea of how new top level domain name registries are going to price domain names. It appears many are taking the .TV approach, essentially pricing out any value…
Superstitious Launch Planned for Chinese gTLDs – 04-Dec-13
TLD Registry plans to time its Chinese new gTLD launch dates to coincide with days considered lucky in Chinese astrology. The Sunrise period for .在线 (".online") and .中�-���' (".chinesewebsite") will start January 17 and end March 17. According to the registry: Both the start and end days of Sunrise fall on highly auspicious days for…
.EU Names to Be Sold Outside The EU – 04-Dec-13
EURid is to expand sales of .eu domains to three countries outside the European Union from January 8. Companies and individuals from Iceland, Lichtenstein and Norway will get to register .eu names, due to a rule change at the registry. The three countries are members of the European Economic Area, which enjoys many of the…
Dotkiwi Puts $7 Million of Premium Names On Sale – 04-Dec-13
DotKiwi has put NZD 8.5 milion ($7 million) of "premium" domain names on the market in advance of the delegation of .kiwi, which it expects to happen this week. There are 4,668 names on sale right now, ranging in price from NZD 501.50 ($410) to NZD 124,626.71 ($102,000). The highest price belongs to hotels.kiwi. The…
Fxx.com, Fxx.net, Fxx.org and Fxx.ca Purchased By Fox in 2013 for The New FXX Channel – 03-Dec-13
Fox Entertainment Group, owner of the FX TV channel, has bought many FXX domain names in the past year. Fox launched a sister channel to the FX channel called FXX. The new channel got a brand new website located at…
Square Grouper Tiki Bar Guilty of Reverse Domain Name Hijacking – 03-Dec-13
Florida bar filed UDRP despite knowing domain name wasn't registered in bad faith. Castaways Bar, LLC, owner of Square Grouper Tiki Bar in Jupiter, Florida, has been found guilty of reverse domain name hijacking by filing a UDRP against SquareGrouper.com. When the company opened its bar in 2003, SquareGrouper.com was already registered. The registrant…
TheDomains.com's 6,000th Post On Their 6th Birthday – 03-Dec-13
We didn't actually plan to write our 6,000 post on what is the 6th birthday of TheDomains.com. Our first post was published on December 4th 2007. (yes I know its technically tomorrow). Time really does fly…
.EU Extends to Norway, Iceland and Lichtenstein – 03-Dec-13
Residents, companies and organisations based in the European Economic Area (EEA) countries of Iceland, Lichtenstein and Norway will also be eligible to register domain names under the .eu top-level domain from 8 January 2014. This decision by the European Commission…
E.U., U.S. and Hong Kong Authorities Work Together to Take Down 690 Counterfeit Websites – 02-Dec-13
Time Magazine is reporting that European and U.S. authorities have cracked down on another group of websites that traffic in counterfeit goods. This continues to be an ongoing battle between authorities and the counterfeiters who have networks all throughout the world…
Amazon.com Registers Domain Names for Its Delivery-by-drone Prime Air Service – 02-Dec-13
Company registers over 40 domains, but can't get its hands on some key ones. Will your Amazon.com packages be delivered by drone in the future? That's the vision of Jeff Bezos. And millions have already watched a video (embedded below) of how Amazon envisions it working. Amazon is pretty thorough with defensive domain name registration,…
Hosting Company XBT.com is The Buyer of Servers.com for $300,000 – 02-Dec-13
The buyer of the domain name Servers.com has issued a press release about its $300,000 acquisition of the domain. XBT, whose website is XBT.com "one of the largest dedicated hosting, IP Transit and co-location provider of the European Union" acquired the domain name servers.com for 300.000 US dollars "as a highest bid in an auction, which took place in Dallas."…
12 Year Old 8�–8.net Lost in UDRP; Panel Rejects Laches – 02-Dec-13
8�–8, Inc. ("Complainant"), owner of the domain name 8�–8.com just won a three member panel against 8�–8 Mediacom Services Ltd represented by Ari Goldberger of Esqwire.com, New Jersey, USA on the domain name 8�–8.net which was registered back on August 8, 2001…
Two More New gTLDs Delegated – 02-Dec-13
The new gTLDs .menu and .uno have gone live on the internet. Both appear to have been delegated to the DNS root zone at some point over the last few days — nic.menu and nic.uno are both resolving right now, though nic.uno takes you to an Apache status page. The Latino-focused .uno is the first…
Here's a Mainstream Publication That Gets The Value of Domains: Hope.com, Alert.com, Usher.com, Wisdom.com. Mike.com, Dna.com; Alarm.com – 29-Nov-13
bizjournals.com, covered what they considered to be very successful companies located in DC that own great domains in a post entitled "The golden domain names of D.C. Tech"
I quite an opposite approach to the Forbes article which portrayed those that acquired great domain names in the 1990′s as less than great businessman…
Troubling: UDRP Panel Hands Over Generic Domain Rainforest.es – 28-Nov-13
Rain Forest , SL of Madrid, Spain just won the UDRP lottery and got the generic domain name RainForest.es. The decision was handed down in Spanish and we used Google translate into English. The panelist Albert Agustinoy Guilayn has some pretty disturbing language in this decision…
UDRP Panel Refuses to Let BuyDomains Give Up Domain & Issues Ruling Against It On Shiseido.net – 28-Nov-13
A one member UDRP panel refused to allow BuyDomains.com to unilateral consent to transfer the Domain Name Shiseido.net to the Complainant, Shiseido Company of Tokyo, Japan, and went ahead and issued its opinion ordering the transfer of the domain. BuyDomains.com tried to agree to the consent to transfer while still maintaining that its did not register the domain name in bad faith…
Nominet Drops Libel Lawsuit Against Domain Blogger – 28-Nov-13
UK registry Nominet has withdrawn its lawsuit against a domainer who had allegedly published "defamatory" remarks about CEO Lesley Cowley on his blog. The defamation complaint was filed against Graeme Wingate over his blog Avoid.co.uk in January. Nominet said yesterday that it "continues to refute entirely the untrue allegations made" on the site, which focuses…
Google's First New gTLD Hits The Root – 28-Nov-13
Google has become the latest new gTLD registry with a string live in the DNS root. Its .み��"な — Japanese for "everyone" — was delegated by ICANN last night. The URL nic.み��"な resolves already to charlestonroadregistry.com, the name of Google's registry subsidiary. Google plans to operate it as an open, unrestricted namespace, aimed at Japanese-speaking…

If you enjoyed this article, subscribe for updates (it's free)