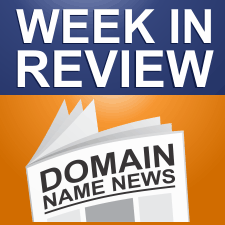 Every Friday, DomainSherpa.com provides you with a hand-selected, editorially-based review of the weekly news. In this summary, you will find the latest articles and videos produced by DomainSherpa staff and contributors. You will also find links to the best news articles in the domain name industry – so you don't have to spend your time searching for news or reading something that was not worth your time.
---
This Week's DomainSherpa Interview
---
VIDEO: 7 Interviews to Help You Build Wealth in 2014

All domain name investors say their parking revenue has decreased over the past few years. Stop complaining and do something about it.

The last two weeks of the year are the perfect time to think strategically about building a business that creates cash flow in 2014.

The DomainSherpa editorial staff has selected seven interviews — our must-watch recommendations for entrepreneurs and wantrapreneurs.
---
This Week's News in Review
---
The Oscars Files Another Suit Against GoDaddy Under ACPA Alleging Continued Violations
– 26-Dec-13
The Academy of Motion Picture Arts and Sciences which hands out the Oscars has filed anther lawsuit against Godaddy under the Anticybersquatting Consumer Protection Act. This suit filed on Novmeber 15, 2013, "supplements a currently pending action between the same parties asserting the same theories of infringement under the ACPA and related state theories that was filed in May 2010, Case No. 2:20-cv-03738-ABC-CW"…
NAR Pitches .realtor Domains (Free for 1 Year) and Disses .re
– 26-Dec-13
NAR to provide free .realtor registration for one year. National Association of REALTORS (NAR) sent an email to its members earlier this month pitching "priority registration" for .realtor domain names. Priority Registration basically means they will email you a day before general availability to remind you about .realtor registration. The email points members to SignUpForDotREALTOR.com…
HomeAway Sues Airbnb Over Birdhouses
– 26-Dec-13
Airbnb irks rival by launching birdhouse ad campaign. Publicly traded vacation rental site HomeAway (NASDAQ: AWAY) has sued upstart rival Airbnb for trademark infringement after the latter launched an ad campaign featuring birdhouses. HomeAway's logo prominently features a birdhouse, and the company uses birdhouses as its sort of "mascot." A birdhouse is prominently featured at…
Mack Trucks Plays Grinch & Files UDRP On 16 Year Old Macktruck.com
– 25-Dec-13
NWC Body Works, Inc. of Elk Grove Illinois just got hit with the proverbial Mack Truck. as Mack Trucks filed a UDRP to gain control of the domain name MackTruck.com. The UDRP has a filing date of December 25, 2013…
Registrar Bigrock Gets ICANN Terminated Registrar Dynamic Dolphin's Domains
– 24-Dec-13
ICANN has authorized the bulk transfer of gTLD domain names from Dynamic Dolphin, Inc. to BigRock Solutions Ltd. due to compliance actions taken by ICANN that resulted in the de-accreditation of Dynamic Dolphin, Inc…
Porn.xxx Ranks On 1st Page of Google for Porn; Good News for New gTLD's
– 24-Dec-13
Well its taken a while but the bang on domain name Porn.xxx is has made it to the first page of Google for the search term "porn". As you might imagine, porn its one of the toughest terms to rank on the first page on, with millions of adult sites all trying to get in that position…
Calle: New TLDs Will Be Good for .co
– 23-Dec-13
.Co Internet CEO thinks new TLDs will gain acceptance over time and ultimately be good for his own .co domain name. Everyone has been asking the question about what new TLDs mean for .com. Few have been asking what new TLDs mean for existing alternatives to .com, such as .me, .info, and of course .co…
WIPO Panel Awards StAndrews.com Domain Name to Golf Course
– 23-Dec-13
Famous golf course to get control of StAndrews.com domain name. A World Intellectual Property Organization UDRP panelist has awarded the StAndrews.com domain name to St Andrews Links, one of the oldest golf courses in the world. This was an interesting case because St Andrew is also the name of the town in which St Andrews…
St. Andrews The Golf Course Wins Control of 10 Year Old StAndrews.com in UDRP
– 23-Dec-13
St Andrews Links Ltd of St Andrews, Fife, the United Kingdom of Great Britain just won control of the domain name standrews.com in a one member UDRP decision.
The decision is no surprise, the domain was parked until very recently pull up golf related links. The only real question is why did it take the complainant 10 years to file the complaint?…
Applicant Says .islam Ban Would Damage ICANN
– 23-Dec-13
If ICANN decides to reject Asia Green IT's applications for .islam and .halal it would "be dealing a blow to the new gTLD program's credibility", according to AGIT. The two potential new gTLDs are currently in limbo, awaiting a decision by the ICANN's board of directors' New gTLD Program Committee, following stalemate within the Governmental…
Is ICANN Going to Hold Registries; The $25k .sucks One to What They Said in Application??
– 23-Dec-13
Vox Populi Registry Inc. (VOX) was in the news last week when it put up a site taking Priority Registrations for .sucks domain names for $250 per domain, per year, and Trademark Priority Registrations of $2,500 per domain threatening trademark owners to act now because if they wait until the Sunrise Period, the cost would be $25,000…
Today's New gTLD Passes, Signings and Withdrawals
– 23-Dec-13
ICANN signed 21 new gTLD registry contracts late last week, while one applicant has withdrawn and another has passed evaluation. First, Donuts has pulled out of its two-way contest for .global, leaving the path clear for CloudNames to be awarded the gTLD, which is to be an open-registration generic. I gather that the contention set…
New gTLD Price Wars As United Domains Undercuts GoDaddy
– 22-Dec-13
United Domains sent out an email making customers aware that they were now taking binding pre-orders on some new gTLD domain names.
VeriSign Inc. (VRSN): New Analyst Report from Zacks Equity Research
– 20-Dec-13
VeriSign posted strong third-quarter 2013 results. Both revenues and earnings beat the Zacks Consensus Estimate. The company provided positive full-year 2013 outlook. We believe that the growing generic top-level domain (gTLD) customer base, international expansion through IDNs (internationalized domain names), strong growth in the Network Intelligence and Availability (NIA) services and investments on developing new intellectual properties will boost revenues and profitability, going forward. However…
Crunching the new gTLD numbers
– 20-Dec-13
With the first sunrise periods open, TB&I provides some useful statistics on the new gTLDs and what the numbers mean for trademark owners.
Chinese Premium Domain Names Available for Auction at NameJet
– 20-Dec-13
NameJet.com and FindYourDomain.com have once again partnered to feature a select group of premium Chinese, single word generic .com domain names on NameJet's award-winning auction platform.
KPMG to Replace KPMG.com With Its New gTLD .KPMG
– 20-Dec-13
In an interview with worldipreview.com, Professional services firm KPMG says they are going to replace KPMG.com with .KPMG the new gTLD they applied for. KPMG is a worldwide company, which operates in more than 155 countries and employs close to 155,000 people according to David Green, head of global digital marketing who was interviewed for the story…
WIPO Pats Itself On The Back for Legal Rights Objections
– 20-Dec-13
Even if it didn't mean to, WIPO should pat itself on the back for its handling of Legal Rights Objections. World Intellectual Property Organization (WIPO) has issued a lengthy report (pdf) detailing the process and results from managing Legal Rights Objections to new top level domain names. Although the report is merely an analysis, it…
More Stupid Government Interference With New Top Level Domain Names
– 20-Dec-13
I've written before about hard headed governments and their challenges against particular top level domain names. I was reminded of another such case today, thanks to the Government of India sending a letter (pdf) to ICANN reiterating its opposition to a couple strings. The government is opposed to the delegation of .RAM. This is based…
Czech Arbitration Court (CAC) UDRP Panel Awards Hijacked Domain
– 20-Dec-13
Virtually all UDRP panels in the past have refused to return an allegedly stolen domain name back to the original registrant, generally finding such a matter to be outside the UDRP panel authority. However one of the two newest UDRP organizations, the On-line ADR Center of the Czech Arbitration Court (CAC) just gave the domain name VIRTUALCOLLABORATION.ORG to the original registrant finding that "The Respondent transferred the disputed domain name to its own account without the Complainant's consent by accessing the Complainant's personal GoDaddy account by using her login data."…
This One Graphic Threatens to Derail Progress in The New TLD Program
– 19-Dec-13
"See, we told you this whole thing is a shakedown." This one graphic below, as spotted by Michael Berkens earlier today and published on Vox Populi's website, threatens to set the forward momentum of the new TLD program back quite a bit: (click here for full size) Any ground the Intellectual Property Constituency was going…
Extortion.sucks — Vox Pop CEO Defends "Under-priced" $25,000 Sunrise Fee
– 19-Dec-13
Vox Populi Registry, the .sucks new gTLD applicant backed by Momentous Corp, is to charge trademark owners $25,000 to participate in its Sunrise period, should it win the TLD. Not only that, but it's become the first new gTLD applicant that I'm aware of to start taking pre-registration fees from trademark owners while it's still…
You've Got to Be Kidding: $25k for a .sucks Domain Name Registration
– 19-Dec-13
One of the new gTLD applicants for .sucksopened up Priority Registrations for .sucks domain names for $250 per domain and Trademark Priority Registrations of $2,500 per domain. The truly shocking part of today's announcement is that the registry plans on charging $25,000 PER domain for Sunrise Registrations…
After Asking for $40k to Sell; 14 Year Old Privata.com Lost in UDRP
– 19-Dec-13
BARBET of Spain just grabbed the domain privata.com which was registered and has been owned by the domain holder since 1999. The Complainant didn't register its domain name privata.es, until August 6, 2001…
Indonesia Will Roll Out Shorter .id Domains Next Year
– 19-Dec-13
TechInAsia.com reported that the country code for Indonesia will be getting shorter…
Clear Examples of Inconsistency in Limited Public Interest Objections
– 19-Dec-13
Latest .health decisions show that Limited Public Interest objections are not consistent. An International Chamber of Commerce panel has handed down a decision on a consolidated limited public interest objection against .health. The decision shows more inconsistencies in how panels are handling limited public interest objections. The case against DotHealth LLC's (pdf) and Donuts' .health…
UK Bans 1and1.com New gTLD Commercials As Being "Misleading"
– 19-Dec-13
The Advertising Standards Authority (ASA) which is the independent regulator of advertising across all media the United Kingdom has just banned 1and1.com new gTLD television commercials as being misleading…
Applicants Spank IO in .health Objections
– 19-Dec-13
Donuts and Dot Health LLC have beaten back objections filed by ICANN's Independent Objector over the .health gTLD. In simultaneous separate rulings by the same three-person International Chamber of Commerce panel, it was decided that the string "health" is not intrinsically offensive. The IO, in his Limited Public Interest Objections, had argued that health is…
1&1′s New gTLD Ads Banned for "Misleading" Viewers
– 19-Dec-13
TV ads promoting 1&1′s new gTLD pre-registration services have been banned from the UK's airwaves after being ruled "likely to mislead" by the Advertising Standards Authority. The ads were part of probably the biggest new gTLD marketing outreach to date, a worldwide campaign I've heard is costing 1&1 up to $80 million. The UK ad…
Donuts Officially Richer Than God After Winning Three New gTLD Auctions
– 19-Dec-13
Donuts has a clear path to being awarded the .church, .life and .loans new gTLDs, following a private auction managed by Innovative Auctions this week. Life Covenant Church and CompassRose.life have already withdrawn their applications for .church and .life respectively, and others are expected to follow soon. Life Covenant Church, which does business at LifeChurch.tv,…
.buzz and .support Go Live
– 19-Dec-13
DotStrategy has become the newest registry with a gTLD live in the DNS root. Its .buzz, which is aimed at "groups related to blogging, communications, journalism, advertising, and marketing and development" was delegated last night. The first second-level name, nic.buzz, is currently resolving to a parking page — seemingly managed by one of the usual…
If you enjoyed this article, subscribe for updates (it's free)