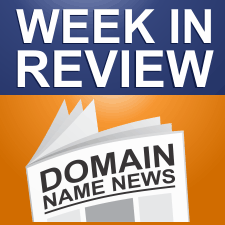 Every Friday, DomainSherpa.com provides you with a hand-selected, editorially-based review of the weekly news. In this summary, you will find the latest articles and videos produced by DomainSherpa staff and contributors. You will also find links to the best news articles in the domain name industry – so you don't have to spend your time searching for news or reading something that was not worth your time.
---
This Week's DomainSherpa Interview
---
VIDEO: How Examine.com Is Collating Scientific Research for Public Consumption – With Sol Orwell

According to Consumer Reports, "of the more than 54,000 dietary supplement products in the Natural Medicines Comprehensive Database, only about a third have some level of safety and effectiveness that is supported by scientific evidence. And close to 12 percent have been linked to safety concerns or problems with product quality."

Learn why Sol Orwell, the founder of Examine.com, came out of retirement to educate people about the waste and issues associated with the $10+ billion dietary supplements industry; how he partnered for success; why he chose the brandable domain name Examine.com over exact-match domain names like Supplements.com; how he iteratively grew the business while updating their business model; and much more.

If you are or thinking about developing a Internet-based business, this is a must-watch interview.
---
Additional Resources
---
DomainSherpa Review – Dec 19, 2013

In this show:

70+ advertising/branding/marketing domain names are reviewed
Mark Hershiser from DomainPicks.com picks some domains to show newbies how it's done
36 domains in the pre-release (between now and Jan 3) at NameJet are reviewed
A fantastic discussion in the After Show: Berkens versus Schwartz – Bring it, no holds barred
Adam Dicker is crowned king, and much more!

This is the show where we get into the minds of successful domain name investors and talk about the value of specific domain names. By listening to the Sherpas, we expand our thought process so we can become more successful investors ourselves.

We're joined by four Domain Sherpas: Adam Dicker, Michael Berkens, Rick Schwartz and Shane Cultra.
---
This Week's News in Review
---
This One Graphic Threatens to Derail Progress in The New TLD Program
– 19-Dec-13
"See, we told you this whole thing is a shakedown." This one graphic below, as spotted by Michael Berkens earlier today and published on Vox Populi's website, threatens to set the forward momentum of the new TLD program back quite a bit: (click here for full size) Any ground the Intellectual Property Constituency was going…
Extortion.sucks — Vox Pop CEO Defends "Under-priced" $25,000 Sunrise Fee
– 19-Dec-13
Vox Populi Registry, the .sucks new gTLD applicant backed by Momentous Corp, is to charge trademark owners $25,000 to participate in its Sunrise period, should it win the TLD. Not only that, but it's become the first new gTLD applicant that I'm aware of to start taking pre-registration fees from trademark owners while it's still…
You've Got to Be Kidding: $25k for a .sucks Domain Name Registration
– 19-Dec-13
One of the new gTLD applicants for .sucksopened up Priority Registrations for .sucks domain names for $250 per domain and Trademark Priority Registrations of $2,500 per domain. The truly shocking part of today's announcement is that the registry plans on charging $25,000 PER domain for Sunrise Registrations…
After Asking for $40k to Sell; 14 Year Old Privata.com Lost in UDRP
– 19-Dec-13
BARBET of Spain just grabbed the domain privata.com which was registered and has been owned by the domain holder since 1999. The Complainant didn't register its domain name privata.es, until August 6, 2001…
Indonesia Will Roll Out Shorter .id Domains Next Year
– 19-Dec-13
TechInAsia.com reported that the country code for Indonesia will be getting shorter…
Clear Examples of Inconsistency in Limited Public Interest Objections
– 19-Dec-13
Latest .health decisions show that Limited Public Interest objections are not consistent. An International Chamber of Commerce panel has handed down a decision on a consolidated limited public interest objection against .health. The decision shows more inconsistencies in how panels are handling limited public interest objections. The case against DotHealth LLC's (pdf) and Donuts' .health…
UK Bans 1and1.com New gTLD Commercials As Being "Misleading"
– 19-Dec-13
The Advertising Standards Authority (ASA) which is the independent regulator of advertising across all media the United Kingdom has just banned 1and1.com new gTLD television commercials as being misleading…
Applicants Spank IO in .health Objections
– 19-Dec-13
Donuts and Dot Health LLC have beaten back objections filed by ICANN's Independent Objector over the .health gTLD. In simultaneous separate rulings by the same three-person International Chamber of Commerce panel, it was decided that the string "health" is not intrinsically offensive. The IO, in his Limited Public Interest Objections, had argued that health is…
1&1′s New gTLD Ads Banned for "Misleading" Viewers
– 19-Dec-13
TV ads promoting 1&1′s new gTLD pre-registration services have been banned from the UK's airwaves after being ruled "likely to mislead" by the Advertising Standards Authority. The ads were part of probably the biggest new gTLD marketing outreach to date, a worldwide campaign I've heard is costing 1&1 up to $80 million. The UK ad…
Donuts Officially Richer Than God After Winning Three New gTLD Auctions
– 19-Dec-13
Donuts has a clear path to being awarded the .church, .life and .loans new gTLDs, following a private auction managed by Innovative Auctions this week. Life Covenant Church and CompassRose.life have already withdrawn their applications for .church and .life respectively, and others are expected to follow soon. Life Covenant Church, which does business at LifeChurch.tv,…
.buzz and .support Go Live
– 19-Dec-13
DotStrategy has become the newest registry with a gTLD live in the DNS root. Its .buzz, which is aimed at "groups related to blogging, communications, journalism, advertising, and marketing and development" was delegated last night. The first second-level name, nic.buzz, is currently resolving to a parking page — seemingly managed by one of the usual…
The Ship is On The Move Again, The Pirate Bay Leaves Peru and Docks in Guyana
– 18-Dec-13
We reported on December 12th that The Pirate Bay had moved to the country code of Peru (pe). Well now they have moved to the country code of Guyana (gy). Digital Trends and Torrent Freak covered the change. Here's what a Pirate Bay insider had to say about the matter when speaking with TorrentFreak…
Is .Quebec The Motivation for The UDRP On Quebec.com?
– 18-Dec-13
We broke the news this morning that an agency of the Provence of Quebec filed a UDRP on the domain name Quebec.com. Anything.com has owned the domain since at least 1998 making the domain some 15 years old…
Google Updates Url Removal Tool, Aka Mugshot/Revenge Porn Removal Tool
– 18-Dec-13
System allows people to alert Google that a page has been deleted, blocked, or changed. Google has improved its tools for removing a page from its search results or cache on a website you don't own. The tool is designed for people to alert Google that a page has been deleted, had robots.txt added, or…
New TLD Conference Finalizes Agenda for March Event
– 18-Dec-13
Third installment of gTLD Strategy Congress returns to New York City in March. The 3rd Digital Marketing & gTLD Strategy Congress is coming to New York City March 3-4 at the Dream Hotel. Momentum Event Group, the show's organizer, has published the conference guide and agenda (pdf). It appears the show will be good for…
Domain Name Company Tucows Headed to The NASDAQ
– 18-Dec-13
Company to list on NASDAQ and perform a reverse stock split. If you've watched Tucows' stock over the fast few years, you've seen it go from under $1 to almost $3, and its market cap hit $125 million: The stock surge is due to a couple things. First, the company has grown its stock price…
12 Registrar Signup With TLDH; 7 With Minds + Machines; 25 New gTLD to Launch 1Q
– 18-Dec-13
The Directors of Top Level Domain Holdings (AIM: TLDH) announced the company has Registry-Registrar Agreements ("RRA's") with an initial twelve ICANN-accredited registrars in the US, Europe and Asia. The Company plans to expand its registrar network in 2014 to complement its own direct sales channel to market through its wholly-owned registrar, Minds + Machines Registrar Limited…
UDRP Filed On Quebec.com
– 18-Dec-13
A government agency of Canada, Ministre des Relations internationales, de la Francophonie et du Commerce extérieur, has just filed a UDRP on the domain name Quebec.com. Quebec.com is the direct match domain for the largest Provence in Canada by area and home to some 8 million people and include the cities of Montreal and Quebec City…
SeoRoundtable.com: Has Google Boosted EMD in Its Algorithm?
– 18-Dec-13
An interesting post in seroundtable.com, yesterday say there is a bunch of chatter that Google may have adjusted their algorithm to give more credit to Exact Match Domains (EMD's) especially Geo domains…
Seven Registrars Sign Up to M+M Pre-reg Platform
– 18-Dec-13
Top Level Domain Holdings has signed up 12 registrars to sell its forthcoming gTLDs, seven of which are to also use its recently announced OPEN pre-registration platform. While TLDH is operating vertically integrated registrar/registrar business, Minds + Machines it's also built a pre-registration service that it wants other, higher-profile registrars to access. OPEN, for Online…
The Plurals Debate is Over As ICANN Delegates 17 More New gTLDs
– 18-Dec-13
Another 17 new gTLDs were delegated to the DNS root last night, most of them belonging to Donuts. Notably, Donuts now runs .photos and .careers, the first two delegated gTLDs where live applications also exist for the singular form of the string. Uniregistry is currently contracted and awaiting the delegation of .photo, while dotCareer is…
Tucows Moving to Nasdaq & Does 1-for-4 Reverse Stock Split
– 17-Dec-13
Tucows Inc. (NYSE MKT:TCX, TSX:TC), announced today that it will transfer its U.S. stock exchange listing to the NASDAQ effective December 30, 2013. The Company also announced that its board of directors has approved a reverse stock split of the Company's common shares that will combine every four Tucows common shares into one Tucows common share…
Insurance.pro Gets Hit With a UDRP
– 17-Dec-13
I know 99% of you could give a crap about a .Pro domain name but in the legal world there isn't any different between a .pro and a .com domain and insurance.pro, as about a generic domain as you can get,just got hit with a UDRP. The complainant is not listed but there is a trademark on the term "Insurance Pro"…
Domainers are Going to Love and Hate The QLP.com UDRP Decision
– 17-Dec-13
Complaint fails, by why did only one panelist find Quality Logo Products guilty of reverse domain name hijacking? Get On The Web, Ltd has successfully defended the domain name QLP.com in a UDRP brought by Quality Logo Products, Inc. While the overall decision in the case was good, domain investors are still going to be…
Parajumpers Wins a UDRP On Third Try
– 17-Dec-13
Company behind Parajumpers clothing brand takes UDRP more seriously and wins Parajumpers.org domain name. Ape & Partners S. p. A. and licensee PJS International S.A. have finally won a UDRP for a Parajumpers domain name after three tries. The company sells winter clothing under the brand name Parajumpers. In May the company filed complaints against…
Cisco Acquires Collaborate.com
– 17-Dec-13
Cisco's just announced on its company blog that it has acquired Collaborate.com "to help capture this market transition in mobility and cloud". The domain name was owned by Collaborative Strategies of San Francisco earlier this year and the site just launched in June when it went under privacy…
Frank Schilling Sets The Stage for 2014. More Domain Parking Revenue?
– 17-Dec-13
Will Google pay more to domain name owners in 2014? Frank Schilling thinks it's possible. Frank Schilling just sent a newsletter to DomainNameSales.com clients, and in it he makes a couple predictions for 2014. One is that new top level domain names will be a big deal. It's no surprise that Schilling, who has invested…
ICANN Publishes Accelerated gTLD Auction Timeline
– 17-Dec-13
ICANN has cut the anticipated length of its "last resort" new gTLD auctions in half, last night publishing a schedule that would take 10 months and end in early 2015. The draft schedule and auction rules, put together by selected auctioneer Power Auctions, would see 10 monthly batches of auctions, with 20 contention sets resolved…
Finally, Domain-slamming Registrar Gets ICANN Breach Notice
– 17-Dec-13
Domain "slamming" registrar Brandon Gray Internet Services, which does business as NameJuice.com, has finally received its first ICANN compliance notice. If you've been around the industry for a while you'll know Brandon Gray better as Domain Registry of America, Domain Registry of Canada, Domain Renewal Group and various other pseudonyms. DROA is known for being…
Donuts Explains Its Premium Pricing Strategy
– 17-Dec-13
Add Donuts to the list of registries planning to use .tv-style variable pricing after their new gTLDs start to go to general availability next year. COO Richard Tindal told DI last night that each of its upcoming registries could have "two, three, four, five, six — it varies — levels of buy-it-now pricing". He was…
ICANN Opens Comment Period On Last Resort Auctions
– 16-Dec-13
ICANN has opened a comment period on its Last Resort Auctions "To gather community input regarding the detailed rules and processes for Auctions to resolve string contention sets in the New gTLD Program."…
ICANN Opens Comment Period On Last Resort Auctions
– 16-Dec-13
ICANN has opened a comment period on its Last Resort Auctions "To gather community input regarding the detailed rules and processes for Auctions to resolve string contention sets in the New gTLD Program."…
ICANN Updates New TLD Auction Plans, Still No Resolution for Indirect Contention
– 16-Dec-13
ICANN has published new rules for upcoming auctions which will resolve top level domain strings with more than one applicant. ICANN has published updated rules for its so-called "Auctions of Last Resort" to resolve new top level domain name contention sets. It has also published a draft schedule for the auctions. ICANN hopes to resolve…
People are Already Frontrunning On The Next Round of New TLDs
– 16-Dec-13
.Whatever trademark applications are still being submitted to the U.S. Patent and Trademark Office. Before the application period for the current round of new top level domain names opened, many people and companies filed trademark applications to try to claim superior rights to strings. They applied for trademarks on .app, .wedding…you name it. The practice…
Bing Already Recognizes New gTLDs (Google Doesn't)
– 16-Dec-13
Microsoft seems to be ahead of its rival Google when it comes to recognizing new gTLDs in their respective search engines. Doing an advanced search for sites within specific new gTLDs on Bing is returning results today. The same cannot be said for Google, however. Here's an example of a search results page limited to…
With 20 Million Domain Registration, The Registry Behind .tk Raises $3 Million in Funding
– 16-Dec-13
 Freenom SARL who is the registry for the .TK which is the ccTLD of Tokelau, which offers free domain names has closed a $3 million Series A funding round led by Kima Ventures. Freenom SARL is headquartered in Amsterdam runs the .TK registry which is the second most registered domain name extension in the world with over 20,000,000 domain name registrations…
Homeaway Gets 161 Domain Names With Stayz Acquisition
– 16-Dec-13
HomeAway's acquisition of Stayz included a number of descriptive Australian ccTLD domain names. Earlier this month vacation rental company HomeAway bought Australian competitor Stayz for a little over $200 million. The SEC filing about the acquisition lists 161 domain names (pdf) that were included in the deal. In addition to the many defensive brand registrations,…
Prince Charles First to Get a Second-level .UK Name
– 16-Dec-13
The household of Prince Charles, the Prince of Wales, has become one of the first bodies to receive a second-level .uk domain name, Nominet announced this morning. The name princeofwales.uk was among four delegated to organizations that have previously used third-level .gov.uk names but which are actually independent of the UK government. Nominet said: Nominet…
The Latest New gTLD Passes and Signings
– 16-Dec-13
Five new gTLD applications passed Extended Evaluation late Friday, while one more contract was signed. Four of the five EE passes were dot-brands that had previously failed to provide ICANN with enough financial information to pass their Initial Evaluation. They are: .mckinsey (McKinsey Holdings), .alcon (Alcon Laboratories), .cipriani (Hotel Cipriani), and .jcp (JCP Media). The…
Zynga Drops 130 + Names
– 15-Dec-13
Zynga dropped about 130 names that were either going to be projects that never came top fruition or were just protection names in alt extensions…
UDRP Panel Hands Over 12 Year Old Domain AmericanConnection.com to American Airlines
– 14-Dec-13
A one member UDRP panel has awarded the 12 year old domain name americanconnection.com to American Airlines (AA) . The domain holder who is a Canadian Citizen and resident registered the domain name on June 19, 2001…
Blocked Trademarks Still Eligible for Donuts Sunrises
– 13-Dec-13
Donuts has confirmed that it is to allow trademark owners to participate in its new gTLD Sunrise periods even if their marks appear on name collisions block-lists. The decision means that companies will be able to choose whether to grab names matching their marks during Sunrise, or take the risk that they will be released…
Ten More New gTLDs Get ICANN Contracts
– 13-Dec-13
.bar, .pub, .fish, .actor, .caravan, .saarland, .yokohama, .ren, .eus and .рус all have new gTLD contracts with ICANN as of yesterday. It's an eclectic batch of TLDs. Unusually, only one belongs to Donuts. Of note is .caravan, which on the face of it looks like an English-language generic, but which is actually a closed, single-registrant…
Should New gTLD Objections Have an Appeals Process?
– 13-Dec-13
That's the question the ICANN Ombudsman is asking today. Several new gTLD applicants that have lost objections — many in decisions that appear to diverge from ICANN's rules or are inconsistent with other decisions — have been in touch to ask for redress, Ombudsman Chris LaHatte blogged this morning. He wrote: The real problem as…
Islamic States to "Officially Object" to .islam
– 13-Dec-13
The Organization for Islamic Cooperation has decided to "file an official objection to the use of gTLDs .Islam and .Halal", following a summit of 56 foreign ministers. In a resolution (pdf) from the OIC's high-level summit in Guinea this week, the organization also said it will become "an effective member" of ICANN, closely monitoring its…
If you enjoyed this article, subscribe for updates (it's free)