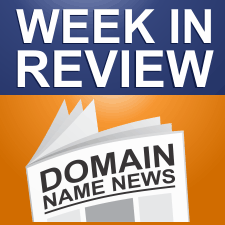 Every Friday, DomainSherpa.com provides you with a hand-selected, editorially-based review of the weekly news. In this summary, you will find the latest articles and videos produced by DomainSherpa staff and contributors. You will also find links to the best news articles in the domain name industry – so you don't have to spend your time searching for news or reading something that was not worth your time.
---
This Week's DomainSherpa Interview
---
---
This Week's News in Review
---
Uh-Oh: Pritz Out at ICANN Over Conflict of Interest
– 15-Nov-12
Kurt Pritz was the face of ICANN's new top level domain program. Literally. It was Pritz who defended ICANN on Capitol Hill. It was Pritz who spoke to the press and at conferences. Now he's gone.
Ad Network Says Scammers are Impersonating it Using Cybersquatted Domain Names
– 15-Nov-12
Chicago based online advertising company Q Interactive has filed a lawsuit alleging that someone is impersonating it to dupe web site publishers out of advertising revenue.
.Co Launches Membership Program
– 15-Nov-12
.CO Internet has launched a membership program that offers perks to registrants of .co domain names.
Private Inventory of 2,200 Now Free Premium Domains Made Public by Domain-Cheap.com
– 14-Nov-12
Domain-Cheap.com today announced that it will be opening its private reserves of more than 2,200 old premium generic keyword rich domain names to the public, each offered free with matched managed web hosting service.
Namejet® to Offer Premium Domain Names for Auction
– 14-Nov-12
NameJet.com, a domain name aftermarket auction company, will be auctioning an exclusive list of more than 200 premium domain names, including 2013.com, Ambitious.com, and PriceMatch.com. These domain auctions are set to begin on November 25, 2012 and run through January 29, 2013.
gTLDs Reinvent Digital Brand Strategy: Critical Drivers for CMOs in Next Generation of Internet
– 14-Nov-12
The Internet is about to experience a paradigm shift as it explodes from 21 Top Level Domains (TLDs), largely dominated by .com, into an ever-expanding realm of thousands of generic TLDs (gTLDs).
Tucows Reports Continuing Strong Financial Results for Third Quarter of 2012
– 13-Nov-12
Net revenue for the third quarter of 2012 increased 17% to a record $29.3 million from $25.1 million for the third quarter of 2011. Net income for the third quarter of 2012 was $1.6 million, or $0.04 per share, compared with a net loss for the third quarter of 2011 of $1.2 million, or $0.02 per share.
Tucows Announces Plan to Commence Dutch Auction Tender Offer
– 13-Nov-12
Tucows today announced its plan to launch a modified Dutch auction tender offer to repurchase up to 6,500,000 shares of its common stock, representing approximately 14.7% of Tucows' outstanding shares, at a price per share not less than $1.35 and not greater than $1.50.
Media Options Hires Tess Diaz Former Go Daddy Asset Advisor
– 13-Nov-12
Tess Diaz, one of Go Daddy's most tenured and trusted Executive Account Managers for the past 6 1/2 years, has accepted a new Coordinator of Business Development position with the Domain Name Brokerage Firm Media Options.
Major League Baseball and Miami Heat Make Domain Purchases — and You Won't Believe the Prices
– 13-Nov-12
Two sports domains traded hands this week at stunningly low prices given who the buyers were. Major League Baseball paid just $900 for TopOfTheOrder.com and while the Miami Heat paid just $1,358 for TheHeatStore.com.
GoDaddy Masks Expired Domain Whois to Prevent Auction Circumvention
– 13-Nov-12
GoDaddy.com has started masking contact information in whois records of expired domains in an effort to prevent people from circumventing auctions and bothering domain owners.
Cyrillic Web Domain Ranked World's Largest
– 13-Nov-12
Russia may not be the world champion in terms of computer use or Internet access, but when it comes to non-Latin domains the patriotic .рф is the name to beat.
Media Options Hires Tess Diaz From Go Daddy
– 13-Nov-12
We are very proud and excited to announce that Tess Diaz has joined the Media Options team after 7 years of service at Go Daddy.
".xxx" = Big Money
– 13-Nov-12
The company that pioneered the porn-centric ".xxx" domain name stands to make $200 million this year.
The Domain Venture Partners gTLD Pitch Deck for Investment
– 13-Nov-12
DVP planned to raise up to £100 to invest in 60 top level domain name applications, according to the pitch.
Court Says Domain Name Can Be Seized
– 12-Nov-12
In the first case of its kind in Shanghai, a court ruled that an Internet domain name, as a kind of virtual property, can be seized and auctioned off to pay a debt.
MyICANN is a Big Step Forward for Transparency at ICANN
– 12-Nov-12
ICANN launched a beta of MyICANN during last month's meeting in Toronto. The site, hosted at MyICANN.org, provides notifications about new documents published to ICANN's web site.
Coming Soon: Trademark Applications Tip Off New Products
– 11-Nov-12
Before even launching a product, many companies will file "intent to use" trademark applications to protect their new brands and slogans. A couple domain related companies have filed such applications recently, which may indicate new products they're working on.
Why Should I Change My Exact Match Domain?
– 11-Nov-12
There is a fun thread at Google Webmaster Help where a site owner is asking why should he change his exact match domain to something else when the exact match domain is the official name of his business…
Donuts' Grab for Domains Raises Fears of Cybersquatting
– 09-Nov-12
As the Internet adds valuable new domain names that are luring the likes of Google Inc. and Amazon.com Inc. (AMZN), a little-known company called Donuts Inc. is making a grab that opponents say could fuel cybersquatting, the practice of stealing website identities.
New gTLD Conference on Tap for March
– 09-Nov-12
Momentum Consulting is organizing The Digital Marketing & gTLD Strategy Congress to take place in New York City March 11-12, 2013.
.Co Auctioning Off 150+ Domains on Sedo
– 09-Nov-12
A .co auction kicked off on Sedo Monday with a number of top keyword domain names. 164 domain names are for sale with reserve ranges from $500 to $25,000.
Enhanced Corporate Security Promised in .uk Domain Proposals – 08-Nov-12
Nominet's planned .uk second-level suffix aims to improve data security and boost business confidence.
Buff.com Spared by UDRP Panel – 08-Nov-12
A three person World Intellectual Property Organization panel has ruled against Original Buff, S.A. in a case brought against the domain name Buff.com.

If you enjoyed this article, subscribe for updates (it's free)