Every Friday, DomainSherpa.com provides you with a hand-selected, editorially-based review of the weekly news. In this summary, you will find the latest articles and videos produced by DomainSherpa staff and contributors. You will also find links to the best news articles in the domain name industry – so you don't have to spend your time searching for news or reading something that was not worth your time.
---
This Week's Articles in Review
---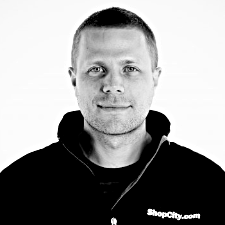 How do you leverage 8,000 domain names to create the largest buy-local network in the world?
Colin Pape, president of ShopCity.com, answers this question and more as he describes how he built ShopMidland.com – serving a town of only 16,000 residents – into a $100,000+ business, and is now scaling it across thousands of Shop[CityName].com domain names. Pape is also taking on Google by filing a U.S. Federal Trade Commission complaint for anti-competitive behavior.
---
This Week's News in Review
---
Illinois State University Locking Up .XXX Domain Names – 01-Dec-11
Illinois State University is trying to lock up nine Internet domain names with the planned .xxx suffix to keep them out of the hands of pornographers. ISU Chief Technology Officer Mark Walbert told WJBC Radio in Bloomington that the school wants to avoid…
Parked Domains, Scraper Sites Targeted Among New Google Changes – 01-Dec-11
In what's now to be a monthly update on search changes, a new Google Inside Search"blog post today tells us that life is getting tougher for those with parked domains, life may get better for those plagued by scraper sites and those hoping to "push down" negative listings may have a tougher challenge.
Penn State Recently Bought Four .XXX Domain Names, Should Have Bought More – 01-Dec-11
Visionaries at Penn State snatched up four .xxx domain names for the school this September, according to The Daily Collegian. New .xxx URLs go on sale to the public next week, but trademark owners like PSU got a chance to lock down their porn names early so as to prevent any scuzzing up of their brands. Wouldn't want any brand scuzzing at Penn State, after all.
Where to Find The Cheapest .XXX Domain Pricing – 30-Nov-11
General availability starts December 6. But to get the best domains you'll need to pre-reserve them with a registrar. They will then submit the registration the moment the registry opens December 6. Many registrars have a pre-registration deadline of December 5.
ICANN Chief Beckstrom: Bulgaria Should Move On From .бг Cyrillic Domain – 30-Nov-11
Bulgaria should move on from its desire to register .бг as the national Cyrillic Internet domain name, ICANN CEO and President Rod Beckstrom stated in an interview for Novinite.com (Sofia News Agency) and Novinite.bg.
ICANN on the Hot Seat as Domain Debate Gets Heated [VIDEO] – 30-Nov-11
As the January 12th opening of gTLDs (top-level domain names) looms, the Association of National Advertisers president and CEO Bob Liodice is stepping up the organization's campaign against ICANN.
Penn State Bought Adult Domain Names to Block Usage Prior to Sex Abuse Scandal – 30-Nov-11
Penn State University — now wracked by the sex-abuse allegations against former assistant football coach Jerry Sandusky — purchased several .XXX domains roughly two months before news of the ongoing child sex-abuse scandal surfaced.
Penn State Buys Up Porn Domains – 30-Nov-11
With the new .xxx adult entertainment domains up for sale next week, PSU bought up domains so that the university's name will not be used to promote porn
WeedMaps Acquires Marijuana.com For A Kushy $4.20 Million – 29-Nov-11
General Cannabis Inc. has just announced that it's acquired Marijuana.com. The company didn't disclose the details of the deal, but we've confirmed that the acquisition price was $4.20 million. Naturally.
US Judge Orders Hundreds of Sites De-indexed From Google, Facebook – 29-Nov-11
Luxury goods maker Chanel has convinced a judge to order the seizure of hundreds of Internet domain names and to order the names blocked from "all" search engines and social media networks.
General Cannabis Inc Purchases Marijuana Dot Com for Over 4 Million Dollars – 29-Nov-11
Marijuana.com has a new owner, and it's now a publicly traded company. General Cannabis Inc., which already owned WeedMaps, forked over $4.20 million for the site and its contents.
Soon, Domain Names in All 22 Indian Languages – 29-Nov-11
By mid-2012, vernacular domain names in all 22 Indian languages may secure the approval of the Internet Corporation for Assigned Names and Numbers (ICANN).
Bands.com to Launch Wednesday on Killer Domain Name – 29-Nov-11
A new service for music bands formally launches in beta tomorrow at a killer web address.
IPv6 Web Domain Support Up 1900 Percent in 2011 – 29-Nov-11
The U.S. government's adoption of Internet protocol version 6 (IPv6), the next-generation Internet addressing standard, may be moving slowly to some, but the number of overall Web domains that support IPv6 is on the fast track — it's up 1,900 percent over the last 12 months, according to a recent census.
Republicans Register ObamaVsObama.com to Counter Mitt Vs. Mitt Commercials – 29-Nov-11
The democrats just launched an attack ad on republican front runner Mitt Romney called Mitt vs. Mitt. It calls him a flip flopper. But the republicans have a similar trick up their sleeves.
Facebook Pages Offer New Twist On Domain Name-like Ownership – 28-Nov-11
It's often joked that Facebook is trying to replace the world wide web itself. That joke's just got a little closer to the bone with the launch of legal action over the rights to operate a particular Facebook page.
Feds Seize 150 Web Domains Before Cyber Monday – 28-Nov-11
Federal agencies shut down websites they said were illegally selling counterfeit goods or copyrighted works. But it is easy for bad guys to set up shop under a new name.
Nominet to Review Domain Suspension Policy – 27-Nov-11
Internet registry goes back to drawing board after ISPs reject cyber defence plans.
Criticism Grows As Domain Debate Heats Up – 25-Nov-11
ICANN claims move will encourage creativity but trademark holders are yet to be convinced after pricy .xxx debacle
Feds Seize 130+ Domain Names in Mass Crackdown – 25-Nov-11
The Department of Justice (DOJ) and Immigration and Customs Enforcement (ICE) have resumed "Operation In Our Sites", the domain name seizing initiative designed to crack down on online piracy and counterfeiting.

If you enjoyed this article, subscribe for updates (it's free)