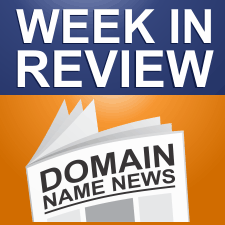 Every Friday, DomainSherpa.com provides you with a hand-curated, no-B.S., important domain name industry news.
In this summary, you will also find the latest tutorials and videos produced by DomainSherpa staff and contributors.
---
This Week's Featured DomainSherpa Show
---
VIDEO: Lower Your Risk of UDRP Action in Generic Domain Name Investments

The greatest risk to owning a high-value generic domain name is having it taken away from you during a UDRP action.

If you're spending $10,000, $50,000 or $100,000 or more on a premium generic domain name and you want to lower your risk of UDRP, URS or lawsuit, then pay attention to these four attorneys and the tactics they suggest.

Learn from:
• David Weslow of Wiley Rein
• Stevan Lieberman of Greenberg & Lieberman
• Zak Muscovitch of The Muscovitch Law Firm
• Jason Schaeffer of ESQwire.com
---
In Addition, Don't Miss…
---
Are .COM Values Increasing; Outbound Sales Calls; ICANN Passes the Buck; Long Marriages…

In this DomainSherpa Discussion:
• Are .COM values increasing or decreasing as a result of the new gTLDs?
• Should you be doing outbound sales calls by telephone on inbound inquiries by email?
• Not all .COMs are taken and Verisign proves it
• ICANN Passes the buck to the FTC
• Judy Berkens makes a special guest appearance and shares the secrets to 29 years of marriage
• And much more!
---
This Week's News in Review
---
Afnic Report: "The Domain Market in 2014″
– 16-Apr-15
Aftnic.fr the manager of the .fr (France) extension, published a pretty extensive report today. The report "The Domain Market in 2014″ takes a look back at 2014 and provides some interesting stats and graphs. I will highlight one topic in this post and read the full report here Legacy TLDs: highly contrasting performance in 2014…
Free .Realtor Domains Expanded to Local & State Realtor® Associations & Brokerages On May 7
– 16-Apr-15
"The National Association of Realtors® top-level domain .REALTOR will be available to local and state Realtor® associations as well as brokerages in the U.S. and Canada starting May 7. State and Local REALTOR® Member Boards, and REALTOR® owned and operated MLSs have the opportunity to receive a FREE .REALTOR domain for up to 5 years" Since…
Donuts Wins The New gTLD .Theater
– 16-Apr-15
Donuts has won another private auction for a new gTLD, this time the right to operate the new domain extension . The only other applicant for .Theater, KBE gTLD Holding Inc. of Brooklyn New York, whose web address is broadwayacrossamerica.com, withdrew its application Some of the new gTLD's in that vertical include .broadway, .tickets and…
Donuts' New TLD Renewal Rates Range From 55% to 72%
– 16-Apr-15
Company releases updated figures for renewal rates. New top level domain name company Donuts has released updated renewal rates for the first 25 top level domain names it launched. Rates range from about 55% to 72%, well under the company's predicted 80% renewal rate. (The company now says it expects rates to trend toward 80%…
Sedo Will Now Display The Domain's Asking Price Directly On The Parking Page
– 15-Apr-15
Sedo added a small change to its domain name parking pages. It will now display the domain name's asking price directly on the parking page. This new feature affects both "Buy Now" and "Make offer" domains. Go to http://24×7.de to…
Verisign Announces First Round of #InternetOfficial Contest First Prize Winners
– 15-Apr-15
Verisign announced its first group of winners in its #InternetOfficial Contest. Our own Michael Berkens is one of the judges in this contest. Our illustrious panel of top industry experts and celebrity judges has determined the five best .COM domain names entered into the #InternetOfficial contest during the first monthly entry period. (Drum roll please)…And…
Verisign: China is Trending
– 15-Apr-15
Chinese terms dominate trending words in .com registrations last month. Much of .com's growth has been fueled by Asia recently, and the top trending keywords in .com and .net from last month bare this out. Verisign released numbers on March yesterday: It appears that 7 of the top 10 trending terms in .com are in…
Sedo Opens Up for Advertising
– 14-Apr-15
Sedo.com is now showing advertising rates on its website. I'm not sure how long they have been showing this but I believe its a new feature. Here is what the site currently shows: "Advertise with Sedo to reach the world's largest audience of domain investors, as well as small business owners, marketing professionals and a…
All 2-letter .berlin Domain Names Were Registered Against ICANN Rules
– 14-Apr-15
All 676 combinations of 2-letter .berlin New gTLD domain names were registered yesterday against ICANN rules that prohibit the registration of all 2-letter domain names in New gTLDs. Domain names like us.berlin, uk.berlin and aa.berlin have been registered by a…
.Promo and Other TLDs Headed to Auction
– 14-Apr-15
Auction group hopes to sell .Promo and other TLDs at June auction. Innovative Auctions Ltd. is holding another auction to "resell" already-contracted top level domain names. The next auction will take place June 4 and will feature .Promo. Play.PROMO Oy has entered into a contract with ICANN for the top level domain name but has…
NetSol's Free .XYZ Bundle Renews at $57
– 13-Apr-15
Network Solutions is charging a total of $57.17 for renewing the .xyz domain names and associated services it gave away for free as part of .xyz's controversial launch last year. A little over a year ago, NetSol found controversy when it pushed hundreds of thousands of .xyz domain names into its customers' accounts without their…
WIPO Panel Finds Chemical Company Engaged in RDNH
– 13-Apr-15
Panel determines that company submitted "selective and incomplete story". A three person WIPO panel has found NH Resources LLC of Texas to have engaged in reverse domain name hijacking over the domain name No-Heat.net. It's a bizarre case in which the parties have already been embroiled in lawsuits, there are allegations of bribery and a…
Panel Makes Reverse Domain Name Hijacking Finding Without Domain Holder Asking for It
– 13-Apr-15
NH Resources LLC and Vaughn Crowe of Southlake, Texas, were just found guilty of Reverse Domain Name Hijacking (RDNH) on the domain name no-heat.net, despite the fact that the domain holder didn't even ask the panel to make a RDNH finding. The three member panel of John Swinson, Gaynell Methvin and David H. Bernstein rejected…
Hugo Boss Loses UDRP Attempt to Grab Domain Hugo.mx
– 13-Apr-15
Hugo Boss just lost its bid to gain control of the domain name Hugo.mx The domain holder Jesus Navarro Saracibar, of Baltimore who seems to own some 10K domain name represented himself in the matter and seemed to do a very good job even citing other UDRP cases in support of his arguement. Bottom line…
ICANN in "Fact-finding" Mode Over Potential .Sucks Breach
– 13-Apr-15
ICANN is playing its cards close to its chest when pressed on what it thinks Vox Populi may have done wrong with its .sucks launch pricing and policies. The organization told DI in a statement that it is currently "fact-finding", and will not speculate on what parts of the Registry Agreement may have been breached…
WORLD DOMAIN DAY 2015
– 11-Apr-15
its my site and i am fane of you cyger thatsy i am sending you World Domain Day 2015 event update,i attend this event yesturday by doin 12 hours journey so if you are intrested then you can ready i hope its great news for you thanks my ideal person.
Go Daddy Purchases Web Design Marketplace Elto
– 10-Apr-15
Back in October of 2013 Ophelie Lechat introduced me to a gentleman named Ned Dwyer, Ned ran a company called Tweaky and was looking to change the name of the company and was looking for a new domain name. I submitted a bunch of names both personal and client names. We were close on a…
New gTLD's Registrations Top 5 Million; .Science & .Link Break 100k: We Break Down The Numbers
– 10-Apr-15
The number of new gTLD domain name registrations have topped 5 Million for the first time, according to ntldstats.com Here are the top 30 most registered new gTLDs: Domain. Total Reg % of all Reg .xyz 867,598 17.33% .XX'址 (xn--ses554g) 349,778 6.99% .club 204,557 4.09% .berlin 156,908 3.13% .wang 138,175 2.76% .link 105,023 2.10% .science…
Big Brands Register .Sucks As ICANN Asks FTC for Review
– 10-Apr-15
Oprah, Apple and Microsoft among companies paying to protect their brands. Intellectual property interests and brands owners are upset about the .sucks domain name and its pricing, but many big brands aren't taking chances even as ICANN asks government regulators to review it. .Sucks registry Vox Populi continues to advertise which companies are coughing up…
ICANN Asks FTC and OCA to Review .Sucks
– 09-Apr-15
ICANN asks government agencies for feedback on .sucks plan. ICANN has sent a letter to the U.S. Federal Trade Commission and Canada's Office of Consumer Affairs (OCA), asking them to consider if Vox Populi's plans for the .sucks top level domain are violating any laws or regulations these agencies enforce. .Sucks registry Vox Populi has…
ICANN Reports .Sucks to the FTC Over "Predatory" Pricing
– 09-Apr-15
ICANN has referred .sucks registry Vox Populi to the US Federal Trade Commission over concerns from intellectual property owners that its pricing is "predatory". The organization has asked the FTC and the Canadian Office of Consumer Affairs to determine whether Vox Pop is breaking any laws. It asks both agencies to "consider assessing and determining…
MySchool.com Domain Name Owner Fights Back After Lawsuit
– 09-Apr-15
Domain name owner alleges reverse domain name hijacking. Original Web Ventures has responded to a lawsuit filed against its domain name MySchool.com, and has made claims of its own against plaintiff Joseph Carpenter. Carpenter filed an in rem lawsuit against MySchool.com in February after losing two separate UDRP cases over the domain name. The lawsuit…
UDRP Panel Finds Not Responding to C&D Letter is Bad Faith: 14 Year Old Mascot.nl Lost
– 09-Apr-15
"Mascot International A/S of Silkeborg, Denmark, just won the rights to the domain name mascot.nl which was registered on October 31, 2001. Complainant, a Danish company has a Benelux trademark for the term MASCOT which is really a figurative mark for the word MASCOT as written in a special script: which was granted in January…
Lady Gaga Dumps .org for Freebie New gTLD
– 09-Apr-15
With all the recent headlines about celebrities who feel compelled to protect their personal brands in .porn and .sucks, it's worth noting that celebs also find new gTLDs useful. Lady Gaga has re-domained her Born This Way Foundation non-profit, dumping a .org for a domain in the new gTLD .foundation. The old bornthiswayfoundation.org, which still…
DomainNameSales Increases Sales Commissions
– 09-Apr-15
Rate increased to 15%, in line with competitors. DomainNameSales.com is increasing the fee it charges for brokering a sale from 12.5% to 15.0%. The commission applies to existing negotiations for which a deal hasn't been reached. In justifying the price increase, DNS VP of Sales Jeff Gabriel wrote: Over the past 90 days we have…
.US Domains are Subject to Being Suspended Under URS
– 09-Apr-15
.US domain names have became subject to the Uniform Rapid Suspension (URS) policy. Actually ICANN site on the URS specifically says that .US domain names are not subject to the URS Technically the decision is a usRS for the .usTLD Rapid Suspension System (the "Rules"). In the National Arbitration Forum decision, Beachbody, LLC of Santa…
If you enjoyed this article, subscribe for updates (it's free)