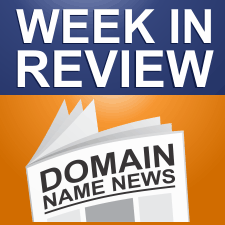 Every Friday, DomainSherpa.com provides you with a hand-selected, editorially-based review of the weekly news. In this summary, you will find the latest articles and videos produced by DomainSherpa staff and contributors. You will also find links to the best news articles in the domain name industry – so you don't have to spend your time searching for news or reading something that was not worth your time.
---
This Week's DomainSherpa Interview
---
VIDEO: How a Fishmonger Lost $300K Learning the Domain Name Ropes – With Andrew Rosener

We all lose money when first starting out in domain name investing, because part of the process of figuring things out inevitably includes buying worthless or undesirable domain names.

The same was true for today's guest.

But instead of just buying 100 or so worthless domain names, he invested in a "domain name education" that cost him about $300,000 over three years until he realized what he was doing wrong.

Today, he runs one of the most successful domain name brokerages. Listen in as Andrew Rosener shares what he learned from his expensive "education."
---
Additional Resources
---
DomainSherpa Discussion: ICANN Oversight; DNForum.com; Heartbleed; Verisign…

This is the show where we discuss domain name industry news with a panel of veterans and thought leaders.

In this DomainSherpa Discussion:
* Is the ICANN oversight issue overblown, or significant to you as an investor?
* A physical letter from a reader about .LA domain name valuations
* What should you expect on the new DNForum.com? (hint: there's a surprise)
* Heartbleed and what it means to you as an internet user and business owner
* Verisign published their Domain Name Industry Brief and the Sherpas chimed in
* Congratulations to Mike and Judy Berkens on their pending 27th year anniversary!
* And more!

We're joined by Adam Dicker, Mike Berkens, Page Howe and Rick Schwartz.
---
This Week's News in Review
---
CBS Picked Colbert 18 Months Ago But Didn't Register Any Domains But Someone Else Did Today
– 10-Apr-14
As you probably heard today CBS named Stephen Colbert to replace David Letterman as host of the "Late Show" when he retires next year. According to Mashable.com CBS has been planning on Colbert to replace Letterman since 2012, which makes it pretty surprising that CBS didn't lock up the bang on domain names LATESHOWWITHCOLBERT.COM, LATESHOWWITHSTEPHENCOLBERT.COM,…
Republicans Advance "Embarrassing" DOTCOM Act
– 10-Apr-14
Republican US Congressmen today voted to advance the DOTCOM Act, which would add a delay of up to a year to the IANA transition. The Communications and Technology Subcommittee voted 16 to 10, split directly along party lines, to advance the bill to the next stage of the US legislative process. The bill (pdf) has…
URS Denied On Aeropostale.uno
– 10-Apr-14
A Uniform Rapid Suspension examiner, Alan L. Limbury, has denied the complainant of the clothing company, Aeropostale Procurement Company, Inc The domain name aeropostale.uno "Complainant here submitted with its complaint copies of the certificates of registration of seven United States AEROPOSTALE trademarks, four of which are in the name R. H. Macy & Co., Inc.,…
ThamesRivers.com Lost in UDRP
– 10-Apr-14
F&C Management Limited of London, United Kingdom of Great Britain just got the domain name thamesrivers.com awarded to them by a UDRP panel based off of a Community Trade Mark registration. The domain holder did not respond to the complaint Here is the relevant facts and findings: The Complainant states that it is an international…
Money Talks, and Verisign is Doing a Good Job Quashing New TLDs
– 10-Apr-14
Marketing programs help .com get top billing, but other registrars can play this game too. New top level domain names represent a growth opportunity for domain name registrars, many of which have seen domain registrations plateauing over the past year. That's why 1&1 spent $50 million promoting new top level domain pre-registrations and other registrars…
Next Week is Colorful for New TLDs: 5 Schillings, Afilias Colors, and a Bit of Buzz
– 10-Apr-14
Lots of new domains enter general availability next week, and only two of them are from Donuts. Only two of Donuts' new top level domain names enter their "true" general availability phase next week. It will still be a big week for new TLDs as other applicants launch domains. April 15 .Buzz gets buzzing on…
Ready to .party: Famous Four Wins Contention Set for .party Domain
– 10-Apr-14
Famous Four uncorks the bubbly as it seals deal for .Party top level domain name. Famous Four Media has resolved its contention set with Oriental Trading Company for the .party top level domain name. The agreement was made through private negotiations; not an auction. Financial details were not disclosed. Famous Four Media now has 13…
BCE.com Acquired By Bell Canada
– 10-Apr-14
The domain name BCE.com has been acquired by BCE Inc, of Quebec Canada. The administrative contacts email is
[email protected]
which belongs to Bell Canada. The company already owned and uses the domain name bce.ca The domain name was parked and for sale at Sedo although was not made public The seller of the domain appears…
Famous Four Wins .party
– 10-Apr-14
Famous Four Media, the registry operator for Domain Venture Partners announce today that is has resolved contention set for the new generic Top Level Domain (gTLD) .PARTY. Domain Venture Partners along with Blue Sky Registry came to an "agreement" with the other applicant for .Party, Oriental Trading Company, Inc whereby Oriental Trading Company, Inc has…
CentralNic Acquires Assets of DomiNIC GmbH
– 10-Apr-14
CentralNic publicly traded on the AIM Exchange under the symbol CNIC, announced an acquisition of the assets of DomiNIC GmbH. Since 1994 DomiNIC has been continually developed into an all-round domain and DNS management system with integrated customer and user administration. In January 2014 CentralNic acquired all rights to the DomiNIC software with the intent…
Verisign: 271 Million Domain Names Registered
– 09-Apr-14
Universe of registered domain names slowing ticking upward. Verisign has resumed publishing its Domain Name Industry Brief, a report it used to publish quarterly. The company reports (pdf) that there were 271 million domain names registered as of December 31 across all top level domain names. That's a 1.9% increase over the previous quarter and…
ICANN Sets Ball Rolling On IANA Transition
– 09-Apr-14
ICANN has put the wheels in motion towards the ultimate transition of the IANA functions from the stewardship of the US government. The organization put forward a proposal this morning, apparently compiled from views gathered at the ICANN 49 meeting in Singapore and mailing list suggestions. It's a proposal for a process to develop process…
Four Governments File ICANN Appeals Over .wine
– 09-Apr-14
France, Spain, the UK and the European Commission have formally appealed ICANN's decision to allow the .wine and .vin new gTLD applications to proceed. In doing so, they've become the first national governments to file Requests for Reconsideration with ICANN since the process was introduced in 1999. All four governments are demanding that ICANN take…
150 NNN.asia Domains Hits Namejet.com Including 888.asia & 777.asia
– 08-Apr-14
Namejet.com just started a featured auction of 150 NNN.Asia domain names. The domain names can currently be backordered on NameJet.com The domain name auctions close between May 1st and May 4th As we all know buyers in China love numbered domain names and I would expect a lot of these to sell with minimum bids…
ID.me Raises Another $10 Million in Funding
– 08-Apr-14
According to a press release just out, "ID.me, Inc., a 2013 WSJ "Startup of the Year" finalist and leader in the digital identity space, completed a Series A fundraising round of $10 million led by USAA, Silicon Valley Bank, and notable angel investors including David Tisch's Box Group, Kelly Perdew, K Street Capital, and Blu…
Busted: UDRP Panelist Contradicts His Earlier Decisions
– 08-Apr-14
Panelist's rationale for latest decision directly contradicts earlier ones. National Arbitration Forum panelist Héctor A. Manoff has found against Restomod, Inc. in a UDRP it filed for the domain name restomod.com. The decision is probably correct, but how he came to the decision directly contradicts earlier decisions he has made. In the Restomod.com case, the…
.tokyo to Go Live July 22nd & Anyone in The World Can Register One
– 08-Apr-14
According to a press release, GMO Internet Group company, GMO Registry, Inc. announced that the new gTLD .Tokyo will be open for landrush applications starting on June 9th. General Availability will begin July 22nd. Sunrise period for trademark holders is already opened. Unlike some cities like New York's .NYC, there are no residence or other…
Hilton Buys ChicagoAirportHotel.com for a Whopping $850
– 08-Apr-14
Hilton just bought the domain name ChicagoAirportHotel.com for a whopping $850. The domain name was listed on a Buy It Now basis through Fabulous.com So one of the largest hotel chains in the world just picked up the bang on matching domain for one of the busiest airports in the country for less than $1,000…
JustBelieve.com Saved in UDRP, No RDNH Thanks to "Idiot Defense"
– 07-Apr-14
Arbitrator decides that the case was so weak that the complainant just didn't know any better. In March I wrote about how Life is Now, Inc., which promotes business coach David Neagle, had filed a UDRP against JustBelieve.com. Domain owner Greg Ricks has successfully defended the ridiculous UDRP. The primary determining factor was that Ricks…
Google Appears to Have Sold Hello.com Domain Name
– 07-Apr-14
Hello.com domain name transferred. It appears Google has sold the domain name Hello.com. The company used the domain name for a photo sharing service called "Hello" last decade. It later shut down the standalone service and eventually stopped using the domain name. Last Friday it looks like Google transferred the domain name. The Hello.com domain…
UDRP Complainant Shoots Self in Foot With Supplemental Filing
– 07-Apr-14
Company effectively admits its original complaint was destined to fail when it makes supplemental filing. Inbay Limited of the United Kingdom has been found guilty of reverse domain name hijacking in a UDRP for Inbay.com. The three person panel found that Inbay should have known its complaint would fail from the outset. Perhaps more importantly,…
.co.com Live Registrations Begin April 8th
– 07-Apr-14
The .Co.com registry announced that their registrations go live tomorrow on April 8th. Here is the press release…
Inbay Limited of London Guilty of Reverse Domain Name Hijacking
– 07-Apr-14
Inbay Limited of London, United Kingdom of Great Britain and Northern Ireland ("United Kingdom"), represented by Keystone Law, United Kingdom has been found guilty of Reverse Domain Name Hijacking (RDNH) on the domain name inbay.com which was registered back on December 11, 1998. The trademark which inBay Limited of London based their claim on wasn't…
How Russia and China Could Take Over The Internet!
– 07-Apr-14
Do governments have too much potential power over ICANN, and do they need reining in before the US cuts itself loose? It's a question that's emerging given the recent decision of the United States government to remove itself from stewardship of the domain name system root zone. The US National Telecommunications and Information Administration may…
Euro Winemakers Talk .wine Boycott, EU Block
– 07-Apr-14
European wineries are threatening to boycott .wine and .vin and may lobby for the two new gTLDs to be "blocked" in the EU. The news follows ICANN's decision to allow .wine and .vin applications to proceed over the objections of the EU, and its decision a few days later to put both strings on hold…
Google to Launch Android TV But They Don't Own The Domain
– 06-Apr-14
According to a story on Mashable, Google is going to launch Android TV. Ten days ago Mike wrote a post about a UDRP that Google filed on AndroidTV.com. The panelists decided that this case was outside the scope of the UDRP. You can read the case and the commentary that Mike added here. March 31,…
.wine Frozen After EU Complaint
– 05-Apr-14
ICANN has frozen the applications for .wine and .vin new gTLDs, again, following a complaint about process violations from the Governmental Advisory Committee. The New gTLD Program Committee of the ICANN board on Thursday voted to prevent any of the four affected applicants signing Registry Agreements for at least 60 days. But the NGPC found…
Chehade Rules Out Move to Geneva
– 05-Apr-14
ICANN CEO Fadi Chehade yesterday called for an end to "speculation" about plans to move the organization's headquarters out of US jurisdiction to Geneva, Switzerland. Responding to a reporter's question during a panel discussion at the Hudson Institute in Washington DC, Chehade said: I did not say that I'm moving ICANN to Geneva. This is…
Who Said There Would Be No Cybersquatting in New gTLDs? Googl.glass, Gogle.glass, Gooogle.glass Anyone?
– 04-Apr-14
Plenty of Google Glass typos were registered on the 1st day of general availability. Interestingly all of the registrations are public not under privacy leading me to conclude that there are just a lot of new "domainers" who don't know anything about the laws, rules and restrictions around domain names…
After 1st Days After Registration The New gTLD Experience.glass is Suspended By The Registry
– 04-Apr-14
Just noticed that the domain name Experience.Glass which was just registered on April 2nd 2014 has already been suspended by the registry, Donuts, for Spam or Abuse…
Senate Majority Leader Harry Reid: "People Just are Not Educated On How to Use The Internet"
– 04-Apr-14
According to FoxNews.com, Senate Majority Leader Harry Reid pegged problems with people being able to signup on Healthcare.gov, by saying people just "are not educated on how to use the Internet."…
.wed, .xyz and Donuts Featured in NPR New TLD Story
– 04-Apr-14
Planet Money features some of the people behind new TLD applications. NPR aired a story on Planet Money this morning about new top level domain names. I thought the story was well done. It features Adrienne McAdory of .Wed, Daniel Negari of .XYZ, Daniel Schindler of Donuts and domain attorney Thomas Brackey. It takes a…
Mittal.CEO Suspended After URS; No Site Was Up & Registrants Name Wasn't Mittal
– 04-Apr-14
The new gTLD domain name, Mittal.ceo was just suspended by a Uniform Rapid Suspension Examiner Villamil Jimenez. As we guessed the complainant was ArcelorMittal of Luxembourg, Luxembourg…
Second US Bill Would Block IANA Transition
– 03-Apr-14
Another bill has been introduced into the US Congress related to the IANA transition process, and this one would actually be dangerous if passed. Rep Mike Kelly introduced the Internet Stewardship Act (pdf) to make the IANA transition a matter that requires Congressional legislation. The press release announcing the bill is longer than the bill…
ICANN Fights The Fear in Congressional Hearing
– 03-Apr-14
A Congressional hearing yesterday addressed fears that the decision to cut ICANN loose from US governmental oversight would lead to the internet being seized by backwards regimes. Long-term DI readers may recall that I'm usually quite snarky whenever a Congressional subcommittee convenes to pretend to be interested in ICANN — with the reason that they…
Mapfree.com is Not Confusingly Similar to Mapfre, Panel Rules
– 03-Apr-14
Majority of panel denies all three prongs of UDRP complaint while another confirms all three. A World Intellectual Property Organization panel has ruled against Spanish company Mapfre in a UDRP case the company brought against MapFree.com. The domain name belongs to Vertical Axis (Kevin Ham's company). Vertical Axis argued that it registered the domain name…
Frank Schilling's Uniregistry Announces Affiliate Program
– 03-Apr-14
Frank Schilling Uniregistry registrar side of the business has just announced its affiliate program that promises to pay commission just not on new gTLD registrations but for renewals as well for the lifetime of the domain registration…
Minds + Machines Issues New gTLD Update
– 03-Apr-14
In a press release sent out overnight, "The Directors of Minds + Machines Group Limited (AIM: MMX) are pleased to provide an update on the launch programme of its portfolio of new top-level domains and the expansion of its registrar sales channel activity."…
Hugedomains Sues Medical Group to Keep Domain and Claims RDNH
– 03-Apr-14
HugeDomains claims Austin medical group provided false statements in UDRP. A couple weeks ago I wrote about a UDRP for AustinPain.com and how I thought the panel got it wrong. Now HugeDomains, which was on the losing end of the case, has filed suit to halt the transfer and is asking to recover damages under…
10 New TLDs Now Top 10,000 Registrations Each
– 03-Apr-14
.Center appears to have hit the milestone, making it the tenth domain to do so. Ten new top level domain names have now eclipsed the 10,000 registration milestone. That's according to new TLD tracking site nTLDStats.com. Actual zone files show the tenth one is slightly below 10,000, but given the number of "dark" domains without…
If you enjoyed this article, subscribe for updates (it's free)