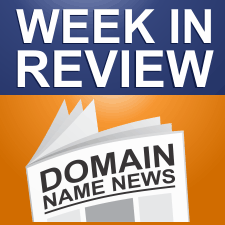 Every Friday, DomainSherpa.com provides you with a hand-selected, editorially-based review of the weekly news. In this summary, you will find the latest articles and videos produced by DomainSherpa staff and contributors. You will also find links to the best news articles in the domain name industry – so you don't have to spend your time searching for news or reading something that was not worth your time.
---
This Week's DomainSherpa Interview
---
---
Additional Resources
---
DomainSherpa Discussion: Massive .Link Registrations; .Rich Flops; Domain Name Hygiene; Dropping .Info

This is the show where we discuss domain name industry news with a panel of veterans and thought leaders.

* What do the numbers tell us about Tuesday's launch of .link, .photo, .pics, .gift, .guitars and .buzz?
* DomainIncite.com discovers that 18,272 .link domain name registrations, about 90% of their total registrations, are to an affiliate of Uniregistry. Is this "business as usual" for registries?
* What new top-level domain only received 22 registrations to date? (And, yes, the TLD is live.)
* Reader question: With GoDaddy and Sedo severing ties, how do you manage your inventory for sale?
* Reader question: When you buy a domain name, how do you clean up past owner's for-sale listings on multiple marketplaces?
* Thousands of 3-letter .info domain names are being dropped by a single investor. Find out what the Sherpas think and if they're doing it too.
* And more!
We're joined by Adam Dicker, Page Howe and Rick Schwartz.
---
This Week's News in Review
---
Blockchain.info Makes Five-Year Deal to Exclusively Manage Bitcoin.com Domain Name – 17-Apr-14
Domain names can be prime property if they meet certain criteria. They can sell for millions of dollars if they're just right. And since bitcoin has become an international phenomenon, you can bet that "bitcoin.com" would be in high demand. Indeed it was, and on Thursday, Blockchain.info announced they've struck a five-year deal to exclusively manage the bitcoin.com domain name.
Rightside's First Two Domain Names Enter Landrush – 17-Apr-14
After supporting dozens of Donuts' launches, Rightside is finally ready to play its own hand. Rightside's first two top level domain names are getting closer to market. The company, currently part of Demand Media, launched .democrat and .dance in landrush today. Although these are the first two of its own domains to enter landrush, Rightside's…
Panelist Digs Up Key Fact in Massy.com UDRP – 17-Apr-14
Intent-to-use trademark does in complainant. Neal & Massy Holdings, a business conglomerate operating in the Carribean, has lost a UDRP it filed against the domain name Massy.com. Massy.com is owned by domain investor Gregory Ricks. Ricks defended himself without counsel in the UDRP. He made a good defense, pointing out that the domain name is…
.marketing and .holiday Each Pick Up 2,000+ Domains On First Day – 17-Apr-14
First day .Marketing numbers seem rather low. Donuts launched .marketing and .holiday into general availability yesterday (post the Early Access phase), with both picking up over 2,000 registrations in the first partial day. .Marketing picked up 2,564 domains to hit 2,970 and .holiday added 2,125 to reach 2,341. These numbers are from the zone files,…
.rich Promises New Marketing After Pitiful Launch – 17-Apr-14
I-Registry's .rich may have taken the ignominious title of Worst New gTLD Launch Yet, but the company says it's not in any rush and is planning to start its marketing campaign in about a month. According to zone files, .rich has 22 registered names, despite the fact that it's been in general availability for a…
How One Guy Games New gTLD Sunrise Periods – 17-Apr-14
Wanna buy a SOCIAL brand pen for a dollar? No? How about social.web or cloud.guru or direct.flowers? One intellectual property lawyer closely associated with a number of new gTLD registries has been using a flimsy online pen-selling business in order to obtain potentially valuable domains during sunrise periods. Thomas Brackey of Beverley Hills law firm…
Dotbest Cancels Landrush – 17-Apr-14
PeopleBrowsr has decided to cancel the landrush phase for its forthcoming .best new gTLD, citing "very little engagement" from registrants. The TLD is due to go to sunrise today. Two days after it ends on May 19, it will go directly to general availability. VP of operations Michael Deparini said in an email: Many of…
Nominet: No Plans For a 'Trade Mark Clearinghouse' System – 16-Apr-14
Nominet has no plans to copy ICANN and develop a 'trade mark clearinghouse' to help rights holders identify and protect against infringing registrations of their trade marks in domain names.
123-reg.co.UK Alerts Customers to Fraudulent Email – 16-Apr-14
123 Reg – co.uk alerts customers to fraudulent emails. Please be aware these are NOT genuine emails from 123-reg so no action is required if you receive such an email. We advise you to not click on the links and to delete the email immediately. Emails such as this attempt to fraudulently get your account…
Power of Press: London Standard's Front Page Article About .london – 16-Apr-14
London Evening Standard dedicates half of front page to .london web address. .City domain names are popular with local press, and here's a great example. Michael Blend (formerly with Demand Media) snapped this photo in London today. It's the front page of London Evening Standard, and it looks like half of it is devoted to…
With Just 22 Domains Registered, .rich is The Biggest Bomb in New TLDs. or is It? – 16-Apr-14
.Rich zone file only has 22 names in it. Last week the .rich top level domain name quietly launched in general availability. And I mean quietly. .Rich registry I-Registry's website is still promoting the January launch of the .rich sunrise. There's no mention of registrars carrying the domain, either. I can only find a handful…
Uniregistry Activates Thousands of Reserved Domains Per TLD – 16-Apr-14
Company held back thousands of domains and has now activated and parked them. If you take a look at Uniregistry's zone files for its TLD launches so far, you might think yesterday was a huge day. After all, its previously launched .sexy domain jumped from 6,849 to 12,318 registrations. That's an 80% increase. .Tattoo jumped…
A New TLD Just Canceled Its Landrush Citing "Little Engagement" – 16-Apr-14
.Best says registrars suggested little benefit to holding a landrush. The applicant for the .best top level domain name has canceled the landrush phase of its new top level domain name launch. The company says that "registrars have given us feedback that there has been very little engagement with the TLD Landrush Phase". Indeed, with…
New gTLD Domains Top 500,000 As Schilling Goes On Parking Spree – 16-Apr-14
The total number of new gTLD domains broke through half a million for the first time yesterday, but it seems to be due to Frank Schilling obtaining tens of thousands of names in his own TLDs. Uniregistry's .link became the fifth-largest new gTLD, moving almost 20,000 names, but it appears that the vast majority are…
Hershey's Files UDRP On 16 Year Old Chocolateworld.com; 17 Year Old Newbody.com Also Hit – 15-Apr-14
A couple of interesting UDRP filings today Hershey's filed a UDRP on the domain name ChocolateWorld.com The domain name was registered in back in 1997 however it is going to a blank page and according to Screenshots.com the domain may never have resolved to any type of site or page, not even a parked page…
Association Takes on Amazon Over .Mobile Top-level Domain, Wins – 15-Apr-14
With the .mobile top-level domain hanging in the balance, the wireless trade group CTIA pushed back against the online retail giant's attempt to run the domain exclusively. The International Chamber of Commerce sided with CTIA, giving mobile providers a victory, albeit a partial one.
Can New gTLDs Save Demand Media ? – 15-Apr-14
Scott Hopkins wrote a piece on Seeking Alpha today stating that the new gtlds were the last chance for Demand Media. Demand Media has been languishing in the stock market for awhile now. The stock is down 25% this year and is down 46% over a one year time period. Demand Media owns…
GoDaddy.com Account Management Goes Down – 15-Apr-14
Site won't let users log in. GoDaddy had technical difficulties today, spanning from about 2:30 PM ET to 3:10 PM ET. Users trying to log in were greeted with a message similar to this: Service Unavailable The server is temporarily unable to service your request. Please try again later. Reference #6.c758acc6.1397587049.b44810 I was able to…
.buzz May Have The Strangest List of 100 Reserved Domains of All New gTLD's – 15-Apr-14
.Buzz goes live today and like all new gTLD registries they are entitled to keep 100 domains for their own use for marketing and other purposes, but going through the list of .Buzz reserved domains it maybe the strangest list of 100 (actually 85 by my count) that I have seen for any registry. Bill…
Go Daddy Going to Court in India Over Copyright/Trademark Infringement – 15-Apr-14
Go Daddy is going to have to go to court in India regarding a claim by the National Stock Exchange and their online trading platform. It is hard to see how Go Daddy has liability in this case as they are not profiting from the sales of software, but I am not a lawyer and…
Pricey .luxury Made $500k Already – 15-Apr-14
The new gTLD .luxury seems to have sold more than $500,000 worth of domain names already. (UPDATE: That's probably not accurate. I seem to have misread some registrar pricing pages. The sunrise price was actually much lower than $1,000. See comments below.) Saturday's zone file for the Luxury Partners-owned TLD popped from 1 domain to…
25 Plaintiffs Filed Federal Suit Over 231 Domains; 26 of Which are No Longer Registered – 15-Apr-14
A federal lawsuit was filed last week in the New Jersey District Court for trademark infringement against the owners of 231 domain names some of which are pretty generic and 26 of which are no longer registered. Besides the 26 that are no longer registered, 16 domain names named as defendants in the lawsuit are…
Belgium Comes Out Against Donuts' .spa Bid – 15-Apr-14
Belgium wants Donuts' application for .spa rejected after the new gTLD applicant declined to sign a deal with the city of Spa. In a March 20 letter to ICANN, published today, the Belgian deputy prime minister Johan Vande Lanotte said "negotiations between the stakeholders are closed", adding that Belgium: requests the Board of Directors of…
The ICA Comments On ICANN Preliminary Issue Report On IGOs and INGOs – 14-Apr-14
Phil Corwin of the ICA has sent a comment to ICANN regarding the Preliminary Issue Report on Access by IGOs and INGOs to the Curative Rights Protections of the UDRP and URS. In that report, the staff recommended the GNSO Council initiate a PDP (Policy Development Process) to see if they should modify the UDRP…
No Reverse Domain Hijacking if You Try to Buy Domain First – 14-Apr-14
Panelist says no reverse domain name hijacking because domain owner didn't respond to purchase inquiries. Today's "WTF, why isn't this reverse domain name hijacking" case comes courtesy of panelist Alistair Payne and Czech Arbitration Court (CAC). The case was filed by the proprietor of French trademarks for "ikase" against the domain name iKase.com. The domain…
From $355 Purchase in 2005 to $200,000 Sale in 2014 – 14-Apr-14
Mike Berkens and his MostWantedDomains.com sold the domain youpay.com for $200,000. The domain was purchased in 2005 for $355. The new owner is Inter-Mark Corporation out of Las Vegas, Nevada. Congrats to Michael and good luck with the name to the new owners.  
Big Week for New gTLD's Including .buzz, .link, .pics & 1st Singular/Plural Battle – 14-Apr-14
Its a big week in new gTLD world as 14 new domain name extensions go live, as they become available to be registered on a first come, first served basis. Here are some of the extensions going live starting tomorrow: .BUZZ .Pics .Guitars .Gift .Link .Holiday .Marketing .ONL .Pink .Red .Blue .Kim and two IDN's…
CTIA Kills Amazon.com's Bid for .mobile Domain Name – 14-Apr-14
International Chamber of Commerce decision eliminates Amazon.com's plans to run the .mobile top level domain name. CTIA, a trade group representing mobile phone carriers, has successfully objected to Amazon.com's application to run the .mobile top level domain name domain name. CTIA filed Community Objections against applications filed by Amazon.com and Dish DBS to run .mobile…
Wolfram Doesn't Use Computation in URS Dispute – 14-Apr-14
A lot of brain power missed the connection. Wolfram Research, Inc. has lost a Uniform Rapid Suspension (URS) case for mathematica.guru and wolfram.ceo, and the case is noteworthy for a couple reasons. First, the domain names were owned by two different people. One of the whois records has privacy on it, and companies often file…
Sedo Hacked Over The Weekend – 14-Apr-14
Intrusion resulted in confirmation emails sent to a "small number" of customers. Sedo was compromised over the weekend due to a security hole. This resulted in a number of registered Sedo users, including myself, receiving an email asking them to confirm their account. The confirmation email started: Dear Andrew, Thank you for becoming a Sedo…
.guru Becomes 1st New gTLD to Pass 50,000 Registrations – 13-Apr-14
.Guru has just become the first new gTLD to pass 50,000 registrations according to ntldstats.com .Berlin is firmly in the number 2 spot and might pass .Guru shortly. .Photography has passed 30,000 registrations and .Email has quickly jumped into 4th place with over 22,000 domains .Tips rounds out the top 5 There are now 14…
U.S. Internet Advertising Surpasses Broadcast TV for The First Time Ever – 13-Apr-14
For the first time, U.S. Internet advertising revenue has surpassed that of broadcast television due to sharp growth in mobile and digital video ads. CNET reported, A 17 percent increase over 2012′s results, last year's number helped the online ad industry beat the $40.1 billion in sales seen by traditional TV advertising. That achievement marked a…
Uniregistry WHOIS Tells You Why a Domain Isn't Available – 11-Apr-14
Whois explains if domain is on name collision list. One of the most frustrating challenges of pre-registering new top level domain names is having the registrar return a search "not available". You end up asking yourself "why isn't it available?" The first instinct is to blame the registry for holding back what appears to be…
Dune.com Hit With UDRP – 11-Apr-14
Generic word targeted with UDRP filing. The generic domain name Dune.com has been hit with a UDRP at World Intellectual Property Organization. The case was filed by Dune Holdings Limited, a London-based seller of shoes and accessories. The company uses the web address DuneLondon.com, so it's no wonder that it wants the shorter domain name…
Famous Four Submits .sport Reconsideration Request…with Ombudsman's Support – 11-Apr-14
Ombudsman recommends new panelist hear .sport community objection. I haven't written about many new TLD objection appeals (reconsideration requests) because there are so many and few have a chance of succeeding. But a recent one from Famous Four Media (pdf) for .sport is unique: ICANN's Ombudsman has supported the company's call for a rehearing with…
KSregistry Becomes Registry for .vg But ccTLD is Frozen Until April 15th; Registrations Resume May 12th – 11-Apr-14
The Telecommunications Regulatory Commission of Virgin Islands (TRC) has sourced out the operation of .VG, the ccTLD of Virgin Islands to KSregistry GmbH. Due to the difficulties with the former .VG zone manager, IANA performed a re-delegation which brought back the .VG zone under the control and the responsibility of the TRC on April 11,…
More New TLD Auctions On Tap, and Uniregistry Appears to Be Participating – 11-Apr-14
Private auctions taking place later this month. With the start of ICANN's "Auctions of Last Resort" quickly approaching, some new top level domain applicants are working on last minute contention set resolutions. Minds + Machines Group Limited (AIM: MMX), the band formerly known as Top Level Domain Holdings, says it's competing in at least three…
Geo gTLDs Catch a Break With New Launch Rules – 11-Apr-14
New gTLDs with a geographic or community focus have won concessions from ICANN under new rules published today. All new gTLD registries will be able to allocate names to public authorities, matching for example district names or landmarks, even if those names match trademarks in the Trademark Clearinghouse. The change came in the final version…
Famous Four Wins .party gTLD Contest – 11-Apr-14
Famous Four Media has won the .party new gTLD contention set after coming to a private agreement with the only other applicant for the string, Oriental Trading Company. Financial details of the arrangement were not disclosed. Oriental Trading is a supplier of party goods that intended to run the gTLD as closed, single-registrant namespace. But…

If you enjoyed this article, subscribe for updates (it's free)