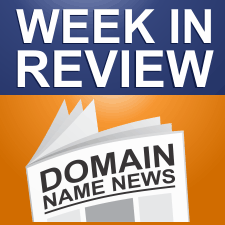 Every Friday, DomainSherpa.com provides you with a hand-selected, editorially-based review of the weekly news. In this summary, you will find the latest articles and videos produced by DomainSherpa staff and contributors. You will also find links to the best news articles in the domain name industry – so you don't have to spend your time searching for news or reading something that was not worth your time.
---
This Week's DomainSherpa Interview
---
VIDEO: Content Marketing and the Future of SEO – With Chad Fisher

Does Google have you guessing about your SEO strategy? Have you been slapped with a search engine ranking penalty, or worse, is your site not even showing up in the organic search results at all?

This interview with an SEO veteran covers not only the current state of affairs, but where SEO is heading and how to create great content for your business.

The days of thin sites, inexpensively purchased content and machine-generated websites are gone. Learn what you need to do in the future to have high-ranked sites by watching this show.
---
This Week's News in Review
---
ICANN Launches Strategy Public Conversation and is Looking for Feedback
– 11-Apr-13
As Fadi Chehadé, ICANN's President & CEO, announced this week, ICANN launched a public conversation about ICANN's future. ICANN is seeking ideas from the global community to help create a new, overarching vision and five-year strategy for ICANN. What do …
Mike Mann's Domain Asset Holdings Loses 21 Facebook Domains in One UDRP
– 11-Apr-13
Mike Mann's Domain Asset Holdings of Potomac, Maryland just lost a UDRP to Facebook, Inc on 21 domain names which it didn't even respond to.
Cax.com Starts Offering Seller Financing With Monthly Installments
– 11-Apr-13
CAX.com, the domain name marketplace owned by Francois Carrillo, that is also the owner of Domaining.com, started offering payment plans to domain names listed there beginning April 9, 2013. A buyer can choose to make an up front payment and …
The Story Behind .vegas
– 11-Apr-13
The story of how Dot Vegas, Inc. won the battle for .vegas and how it plans to bring the TLD to market. I recently met Dustin Trevino, CFO of Dot Vegas, Inc., and learned more about the company's plans for the .Vegas top level domain. In this interview, the company explains the effort it undertook […]
Google Acquires Yt.be to Use As Youtube Shorterner
– 11-Apr-13
According to Thenextweb.com, Google has acquired the domain name YT.be, which it started forwarding to its goo.gl URL shortening service today.
Cadna Wants ACPA Amended to Increase Penalties & Cover Ppc Providers & Parking Companies
– 10-Apr-13
The Collation Against Domain Abuse (CADNA) issued a paper last night calling for lawmaker to increase the penalties for Cybersquatters and to expand the parties that are held responsible for cybersquatting, not only the domain holder, but basically everyone in the monetization food chain, which would including parking and PPC companies presumable the upstream providers including Google by amending the Anticybersquatting Consumer Protection Act (ACPA).
Mali Offers Free .ml Domains to Anyone. What Could *Possibly* Go Wrong?
– 10-Apr-13
It's good news if you're a cybercriminal. But probably not something that's going to do much good for one of the world's poorest countries.
ICANN Says It Will Allow Chinese Top-level Domain Names This Year
– 10-Apr-13
The president of ICANN (the Internet Corporation for Assigned Names and Numbers) Fady Chehade told the Wall Street Journal that the organization will launch C..
ICANN Starts Using Salesforce.com for The Customer Portal
– 10-Apr-13
ICANN will be implementing a new and improved self-service customer portal, based on the trusted Salesforce.com platform. Starting Tuesday, April 16, 2013 (UTC), you will be able to electronically submit cases and receive real-time updates on the status of these …
2 More Objections Hit The ICC: .rugby & .insurance
– 10-Apr-13
A couple of more objection have hit the International Chamber of Commerce (ICC) site today as part of ICANN new gTLD program.
ICANN Headed for GAC Fight Over Igo Pleading
– 10-Apr-13
ICANN may be heading for a bust-up with its Governmental Advisory Committee over the issue of a special domain name block-list for intergovernmental organizations. The board of directors this week indicated at a meeting with the GAC in Beijing that it's prepared to deny the GAC's official demand for IGO protection at second level in […]
Google Amends 4 New gTLD Applications: .app, .blog, .cloud, and .search
– 10-Apr-13
Charleston Road Registry (Google) send a letter to ICANN announcing the amendment of 4 new gTLD applications. Google intends to operate a redirect service on the "dotless" .search domain (http://search/), the .app TLD will be restricted for use by relevant …
CitizenHawk Sued After Sending Two Cease & Desist Letters
– 10-Apr-13
Man sues domain recovery firm after receiving two cease & desist letters. A San Diego man has sued typosquatting recovery firm CitizenHawk after receiving two cease & desist letters. Michael Eddy says he received letters regarding USSearchReports.com and Naturalizes.com. The first letter said USSearchReports.com infringes the rights of Intelius' mark for "US Search.com". The second […]
Purva.com Bought in May 2012 Saved in UDRP: GoDaddy Placeholder May Have Saved It
– 10-Apr-13
The Complainant is Puravankara Projects Limited of Bangalore, Karnataka, India, just lost a UDRP on the domain name purva.com which turns out to be a pretty interesting case with a long fact pattern. The domain was orinally owned by the Complaintant who lost it many years ago do to non-renew it appears.
20th Century Fox Ready for 21st Century With Domain Registrations
– 10-Apr-13
Company registers domain names of current and future centuries. When 20th Century Fox (aka Twentieth Century Fox Film Corporation) was founded in the 1930s I'm sure it seemed like a great name. But now that we're in the 21st century, doesn't the name seem a little old fashioned? Like Prince talking about partying like it's […]
ICANN Starts "Public Conversation" On Icann's Future & Wants Your Input
– 09-Apr-13
As Fadi Chehadé, ICANN's President & CEO, announced this week, that ICANN has launched a public conversation about ICANN's future.
.xxx Paid Search Engine is Now Live
– 09-Apr-13
We just got an email from the ICM Registry that the .XXX paid Search Engine is now Live.
ICANN Signs Affirmations of Intent With CNNIC, Neustar and Nominet for Ebero Services
– 09-Apr-13
On 8 April, ICANN President and CEO Fadi Chehadé signed affirmations of intent with China Internet Network Information Center, Neustar, Inc., and Nominet for the provision of emergency back-end registry operation, or EBERO, services for new gTLDs.
Duncan Burns to Lead ICANN Communications Team
– 09-Apr-13
The Internet Corporation for Assigned Names and Numbers (ICANN) today announced that Duncan Burns has been named as the organization's Vice President of Global Communications. Burns is leaving Hill+Knowlton Strategies in Washington, D.C. to lead ICANN's rapidly expanding global communications …
32 String Confusion Objections Filed at The International Centre for Dispute Resolution (Verisign Filed 17)
– 09-Apr-13
32 more string confusion objections have been filed at the International Centre for Dispute Resolution (ICDR). Here is the complete list of the 33 string confusion objections so far: NO. OBJECTOR STRING APPLICANT 1. Starting Dot s.a.s .IMMOBILIEN United TLD …
Afternic.com Last Week Sales Total $975k: Led By Tribalwars.com for $34,910
– 09-Apr-13
Afternic's just posted its reportable weekly domain sales for the week of 4/1/13 – 4/7/13. Total domain sales for the week, including confidential sales and sales under $1000, summed to $ 973,532.
New TLD Applicants Want You to Know They Have Lots of Cash for Auctions…
– 09-Apr-13
But just how much? They don't want you to know. Last night when I received Donuts' press release about a follow on investment I had to re-read it a few times. While the press release didn't divulge exactly how much the company raised, it did say that the new funds "nearly doubles our capacity to […]
Sedo.com Transactions Total $1.47 Million for The Week Led By Connectnow $120k
– 09-Apr-13
738 transactions took place on Sedo's marketplace and via SedoMLS, totaling over $1.47m. Over 44% of total sales were the result of Buy Now listings.
Ebay Patents The Exit Pop Up Window
– 09-Apr-13
Company gets patent for way to deliver a pop up window when you leave a web site. It was once a favorite advertising tool and then a popular last-ditch effort from internet marketers. Yes, I'm talking about the exit pop up. When you leave a site for good, the site sends one last goodbye…one last […]
Monaco Wins Rights to MonteCarloVodka.com in UDRP
– 09-Apr-13
In January we told you that the Government of Monaco, officially; Gouvernement de la Principauté de Monaco SAM Marques de l'Etat de Monaco filed a UDRP against the domain name MonteCarloVodka.com which is not only a domain name but a brand of Vodka. Monaco wasn't happy about their name being put on a Vodka, the logo on the bottle which they said closely resembled the coat of arms of the Principality of Monaco, all without their permission and to make matters worse the Vodka was produced not in Monaco but in France.
GAC is Concerned About Plural & Singular Generic New gTLDs
– 09-Apr-13
The Government Advisory Council (GAC) has an open meeting with the ICANN Board late yesterday afternoon in Beijing and shared some of its concerns with the Board.The GAC is quite concerned about plural and singular generic new gTLD's and that they weren't placed into contention sets using .car and .cars as an example.
Oops…U.S. Government Lets Medicaid.com Expire, Now in Private Hands
– 08-Apr-13
Domain expired in January and wasn't renewed despite plenty of warning. The official site for Medicaid, the U.S. health program for lower income families and individuals, is Medicaid.gov. But you can bet many people looking for information about the program type in Medicaid.com instead of .gov. Up until January 29th, the U.S. government helpfully forwarded […]
India Joins The International Trademark System at WIPO
– 08-Apr-13
India's Minster for Commerce and Industry Anand Sharma today deposited his country's instrument of accession to the Madrid Protocol for the International Registration of Marks at WIPO, bringing the total number of members of the international trademark system to 90.
Donuts Raises More Funds at Double The Valuation
– 08-Apr-13
Donuts raises more dough to pursue new top level domains. Donuts Inc., which applied for 307 top level domain names, has raised new funding. The company did not disclose the amount of funding in the new round, but the valuation doubled compared to the series A round. Donuts had previously raised about $100 million. The […]
Google Lays Out Plans for a "Dotless .search" New gTLD
– 08-Apr-13
In a letter to ICANN today Google laid out its plan on how it plans on operating 4 new gTLD that it applied for as a closed Registry with the most interesting being plans for .Search which is plans on operating a redirect service on the "dotless" .search domain…
Donuts "Almost Doubles" $100m Funding for New gTLD Auctions
– 08-Apr-13
Somebody thinks new gTLDs will be a money-spinner. Portfolio applicant Donuts, which is involved in 307 applications, has just announced a second funding round, greatly increasing its new gTLD contention set war-chest. (UPDATE: This article originally stated, erroneously, that the funding was to the tune of $100 million. The exact amount has not actually been […]
6 New gTLDs Applications Withdrawn for .heart, .stroke, .buy, .guardian, Etc.
– 08-Apr-13
This past week 6 more new gTLDs applications were withdrawn and their status was updated at the ICANN New gTLD website. These 6 withdrawn applications bring the total of withdrawn gTLD applications to 39. The American Heart Association, Inc. from the …
Horizon Publishing Found Guilty of Reverse Domain Name Hijacking On Opulence.com
– 08-Apr-13
Horizon Publishing, LLC, which is based in Ft Lauderdale, has just been found guilty of Reverse Domain Name Hijacking (RDNH) on the domain name Opulence.com.
One Week After Launch The First UDRP for a .pw is Filed By Morgan Stanley
– 08-Apr-13
Less than two weeks after the .PW registry went live for domain name registrations, the first UDRP on a .Pw has been filed.
.jobs Will Have a Sunrise Period Using The Trademark Clearinghouse and ICANN Approves
– 08-Apr-13
The Internet Corporation for Assigned Names and Numbers (ICANN) welcomes the decision by. JOBS to use the Trademark Clearinghouse database to support a sunrise registration period ahead of its planned open registration period to begin later this year.
Report: More Than 250M Domain Names Have Now Been Registered, Almost …
– 08-Apr-13
The total number of registered domain names passed 250 million in the last quarter of 2012, according to Verisign's latest Domain Name Industry Brief. More than 6 million domain names were registered in the fourth quarter of 2012, bringing the total to 252 million worldwide.
California Furniture Seller Files Suit Over UrbanHome.com
– 08-Apr-13
Second lawsuit filed after UDRP decision. The legal expenses are mounting on this one. Urban Home, the California furniture maker that filed a UDRP on UrbanHome.com, has now filed a federal lawsuit in California to try to get the domain name. The suit is in response to UrbanHome.com's owner, Technology Online, filing suit in Nevada […]
ICANN Plans Satellite Office in China
– 08-Apr-13
The agency that oversees Internet domain names says it will open a satellite office in China, home of the world's largest Internet population. Monday's announcement comes as the Internet Corporation for Assigned Names and Numbers holds its spring meeting in Beijing this week. ICANN bills the office as an "engagement center," a way to stay in closer contact with Internet users and policy makers.
Barack Obama's "Organizing for Action" Fails to Win Complaint for OrganizingForAction.net at NAF
– 08-Apr-13
Barack Obama's "Organizing For Action" failed to win a UDRP complaint for the domain name OrganizingForAction.net at the National Arbitration Forum. Panelist Hon. Karl V. Fink (Ret.) denied the complaint because the Complainant didn't have any common law rights.
Ontario Court Rules in Favor of George Kirikos On Pupa.com & Awards $4,500 in Fees
– 07-Apr-13
George Kirikos' company, Leap Of Faith Financial Services, (Leap) just won a declaratory judgement that is was the lawful owner of the domain name Pupa.com and was awarded its court costs, all arising out of a UDRP filed last year by the Italian cosmetics company Micys. (not Macys).
Canadian Court Orders Company Pay Costs Over Wrongful Domain Claim
– 07-Apr-13
George Kirikos gets big court victory; judge orders defendant pay costs. A Canadian court has ordered Micys Company pay $4,512.45 to George Kirikos'(Leap of Faith Financial Services Inc stemming from a UDRP it filed against the domain name Pupa.com. Micys filed a UDRP against Pupa.com last year with World Intellectual Property Forum. Micys runs the […]
Craigslist Sues CraigsTruck.com
– 07-Apr-13
Classifieds site takes issue with delivery service's name. Online classifieds site Craigslist has filed a federal lawsuit against a Washington company that offers delivery services under the name Craigstruck.com. Craigslist alleges that Craigstruck.com is infringing its trademarks and using its name to get more business. Craigstruck.com matches people who have a truck and are willing […]
Wipo Awards Twitter The Domain Name Twitter.org
– 07-Apr-13
Twitter has won the rights to the domain name Twitter.org.
Internet Tops 250 Million Domain Names
– 07-Apr-13
Verisign says milestone reached at end of 2012. There are now more than 250 million domain names registered, according to Verisign's latest Domain Name Industry Brief. The company reports that there were 252 million domains registered at the end of 2012. That number grows every day. But the total universe of paid registrations is less […]
Mali Gives Away Its .ml Domain Names for Free
– 07-Apr-13
Mali became the first African nation to announce it will give its domains for free. Today the Dot ML Registry published the launch schedule for the .ML top level domain space. Dot ML – the Mali domain name – will be operated by the Agence des Technologies de l'Information et de la Communication (AGETIC) as a generic, unrestricted, clean and global TLD focusing on individuals and businesses in- and outside Mali.
66 More Objections to New gTLD: .shop, .search, .book, .music, .cloud ++
– 05-Apr-13
66 More Community Objection to New gTLD applications have hit the official site of International Chamber of Commerce (ICC). Objectors include Ralph Lauren which objected to .polo; TD Ameritrade which objected to .MutualFunds, .IRA, .Broker and .Retirement; American Association of Independent Music which objected to .Band, .Song, .Tunes and .Music; the Universal Postal Union which objected to .Mail; Charles Schwab & Co., Inc. which objected to the same strings that TD Ameritrade objected to; the National Association of Realtors® which objected to .Realestate, and .Realty; the Teachers Insurance and Annuity Association of America which objected to the same strings as TD Ameritrade and Charles Schwab, the Republican National Committee which objected to .Republican, and the Cloud Industry Forum Limited which objected to .Cloud…
Six Big Reasons We Won't See Any New gTLD Launches Until Q3
– 05-Apr-13
ICANN's announcement of a big media bash in New York on April 23, to announce the launch of new gTLDs, has gotten many people thinking the first launches are imminent. Wrong. We're not going to see any new gTLD domains on sale until the third quarter at the earliest, in my view, and here are […]
39 More New gTLD Pass Initial Evaluation As ICANN Gets Through The IDNs
– 05-Apr-13
39 more new gTLD's passed ICANN Initial Evaluation (IE) today and more importantly ICANN has now gotten through all the IDN applications, meaning that next week non-IDN domain names for the first time will pass initial Evaluation….
.org Go Daddy Project 94 Results: 27 of 42 Domains Sold for a Total of $88,642 (Fs.org $9,250, Ts.org $9,065)
– 05-Apr-13
From March 18 to April 4, 2013, Go Daddy Auctions offered on an extended 17 day auction 42 rare, valuable one and two character .org domain names. 27 of the total 42 domains were sold in this auction with a … Continue reading →
.jobs Likely to Be First New TLD to Launch This Year
– 04-Apr-13
It's not really "new", but .jobs is likely to beat other TLDs to the market later this year. Forget prioritization draw numbers, new TLD objections, and contention sets: .jobs may be the first "new TLD" to be available for registration this year. It's not really a "new" TLD. .Jobs is a sponsored top level domain […]
Afternic Opens Up Its Escrow Service to All Domain Transactions
– 04-Apr-13
Afternic Escrow Service has just opened up its service for sales that take place out outside of Afternic.com. For transactions taking place outside the Platform the fee is 3% of the transaction with a $60 minimum….
Dr. Dre's Beats Electronics Files UDRP On Beats.co Against Innovation HQ
– 04-Apr-13
Beats Electronics, Inc. best know for the Dr. Dre Beats Headphone products known as Beats By Dre just filed a UDRP on the domain name Beats.com…
Companies Await Fate in Domain Name Battle
– 04-Apr-13
Retailers and suppliers will start finding out later this month if they have got their hands on hundreds of new web domain…
Apparently Verisign is Worth The Same With or Without Price Hikes
– 04-Apr-13
Company's market cap is back up to October levels. Just as I don't understand why the DOW has been hitting all time records lately, I also don't understand this: Verisign is apparently worth the same with or without seven-percent-a-year price hikes on .com. When Verisign dropped the bomb on October 25 that the Department of […]
.WTF: .lotto, .weather, .game, .retirement Hit With Objections
– 04-Apr-13
Seriously, WTF? International Chamber of Commerce has posted more community and limited public interest objections on its web site. On the surface, these look to be quite misdirected. Afilias' application for .lotto has been hit with a community objection filed by European State Lotteries and Toto Association. That's a group that represents lotteries and gambling […]
The GSM Association Sends Letter to ICANN Regarding Applications for Closed gTLDs .mobile and .phone
– 04-Apr-13
The GSM Association, that is located in the United Kingdom, sent a letter to ICANN regarding applications for closed gTLDs .MOBILE and .PHONE. The letter from GSMA actually supports the Donuts applications for .phone and .mobile. The GSMA, the trade …
26 More Community/Limited Public Interest Objections On New gTLD Filed With Icc
– 04-Apr-13
There are now a total of 54 community & and limited public interest objections filed with the International Chamber of Commerce (ICC) , which is 26 more objections filed since last reported…
Right of The Dot Gets Legal Opinion: New gTLD Auctions Not Illegal
– 04-Apr-13
Right Of The Dot, one of the companies hoping to offer contention set resolution services to new gTLD applicants, has published a legal opinion arguing that auctions are not inherently illegal. The document was issued in response to Uniregistry's claim that the US Department of Justice has refused to give auctions a green light under […]
Architelos and Kurt Pritz Join Forces to Serve TLD Market
– 04-Apr-13
Architelos Inc. and Kurt Pritz announced a collaboration to provide advisory services to the new gTLDs applicants and registries. The duo aim to translate their clients' strategic objectives into the successful pursuit and operation of a top-level domain name registry…
.eu Celebrates 7th Birthday & 3.74 Million Registration; 1.84 Million Eu Residents Own One
– 04-Apr-13
EURid the registry for the .Eu TLD released a study today ahead of its 7th Birthday. To date there are over 3.74 Million .Eu registrations. Over 1.84 million EU residents have registered at least one .eu domain name, with 25% of those having registered more than one…
If you enjoyed this article, subscribe for updates (it's free)