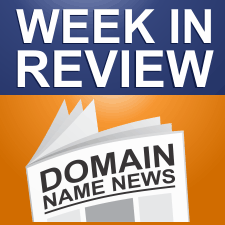 Every Friday, DomainSherpa.com provides you with a hand-selected, editorially-based review of the weekly news. In this summary, you will find the latest articles and videos produced by DomainSherpa staff and contributors. You will also find links to the best news articles in the domain name industry – so you don't have to spend your time searching for news or reading something that was not worth your time.
---
This Week's DomainSherpa Interview
---
VIDEO: The Hardest Working Man in the Domain Name Industry – With Shane Cultra

You are probably like today's guest: You learned about the Internet and domain names in 1995 or 1996, but domain names were expensive and "the good ones" were taken. Although Shane Cultra dabbled in domaining, he mainly considers his fruitless investment during that time to be part of his learning curve.

By 2007, Cultra had figured out what makes domain names "liquid" such that they can be sold more readily in domain name aftermarkets and auction sites. By doing so, Cultra earned six figures in 2012 from domain name investing – in addition to his full-time job running Country Arbors Nursery in Urbana, Illinois.

In this show, Cultra shares his methodology for determining and valuing "liquid domains," as well as his sweet spots for buying and selling, and how he finds and sells through his favorite marketplace platforms.
---
This Week's News in Review
---
Moms.com Sells for $252,000 in Sedo Auction
– 25-Apr-13
Moms.com domain name sells for $252,000 in monthly Great Domains auction. The headline domain name in this month's Great Domains auction at Sedo hit its reserve in extended bidding. Bidding for Moms.com jumped from $175,000 to $249,000 when a bidder placed the latter bid, which was the reserve. It looked like the auction was going […]
Avaya Inc. Found Guilty of Reverse Domain Name Hijacking and Harassing The Domain Name Owner
– 25-Apr-13
Avaya Inc., a multinational company with over 17,500 employees worldwide, was found guilty of Reverse Domain Name Hijacking by a 3-member Panel at the National Arbitration Forum. I represented the Respondent, Avayo Electronics, in these proceedings. Avaya Inc. tried to steal the …
Network Solutions Files Domain Privacy Patent Application
– 24-Apr-13
Domain name registrar Network Solutions wants to patent various aspects of a domain privacy service, and has filed a patent application for "Private Domain Name Registration" with the U.S. Patent and Trademark Office. The application is technically a continuation of an application the company filed in 2004 but later abandoned. The new application was filed […]
GAC Claims Its First New gTLD Scalps
– 24-Apr-13
Two new gTLD portfolio applicants have withdrawn a total of nine applications following advice from ICANN's Governmental Advisory Committee. Top Level Domain Holdings, owner of Minds + Machines, said it has binned its bids for .free, .sale, .spa and .zulu "as a consequence of these warnings, and after discussion with relevant governments". .spa and .zulu […]
Hilco to Auction Bargain.com, Etm.com, Other Domains
– 24-Apr-13
Bargain.com, ETM.com, and ServiceMerchandise.com headed to auction block. Hilco Streambank announced that it will auction off a number of domain names, including Bargain.com, next month through its online auction platform HilcoIPAuctions.com. Hilco is well known for auctioning of domain names related to defunct brands, but Bargain.com isn't such a distressed asset. The domain is owned […]
One "Corporate Identifier" TLD Applicant Bows Out
– 24-Apr-13
Applicant for six new TLD strings pulls applications. An applicant for a number of corporate identifier top level domains (e.g. .llc, .inc) has withdrawn its applications. Each of the top level domains was applied for by a separate company, but the CEO of all of the companies was listed as Bekim Veseli. Veseli runs an […]
New Domain Name Association Names Interim Board
– 24-Apr-13
The formative Domain Name Association has started calling itself the Domain Name Association and is moving closer to a proper launch under the guidance of an interim board of directors. This is the trade group that started getting together in January, kick-started by Google, and launched a one-page web site at WhatDomain.org in March. Right […]
Will Thousands of New Top Level Domains Change The Internet?
– 24-Apr-13
Uncertainty is never attractive for businesses. And undoubtedly the new gTLD programme does create some uncertainty. Protecting trademarks in the new domain space will increase costs, costs which will presumably be passed on to consumers.
GAC Advice Leads to TLDH Withdrawing Four New TLD Applications
– 23-Apr-13
Major new TLD applicant says it will withdraw four applications after discussions with governments. Top Level Domain Holdings, a publicly traded pure play applicant for new top level domains (London: TLDH), plans to withdraw four of its top level domain applications after receiving government advice. In a release issued today, the company writes: The GAC […]
TLDH Withdrawing 4 New gTLD Applications: .free; .sale; .spa; .zulu
– 23-Apr-13
According to a press release we received this morning, The Board of Directors of Top Level Domain Holdings (AIM:TLDH) issued an update to its new gTLD application with the biggest news out of the release is that it is withdrawing 4 of its new gTLD application
TLDH announced that is decided to withdraw its application for .Free; .Sale; .Spa; .Zulu.
Those withdrawals are not reflected on ICANN's site.
National Arbitration Forum Publishes URS Supplemental Rules: Complaints Start at $375, Appeals at $300
– 23-Apr-13
The National Arbitration Forum published its proposed URS Supplemental Rules that includes the URS fee structure: Fee Type Paid By Amount Refundable/to whom? Filing Fee Complainant # of DN Fee No 1-15 $375 16-50 $400 51-100 $450 101+ $500 Response …
Charity Files UDRP Over Frank Schilling's WalkTheWalk.com Domain
– 23-Apr-13
Group owns .org version of domain name. The charity that owns WalkTheWalk.org has filed a UDRP against Frank Schilling's Name Administration Inc. for the domain name WalkTheWalk.com. Walk the Walk Worldwide raises money to raise awareness about breast cancer. It certainly has an attention-grabbing approach: it gets women to walk marathons in bras to raise […]
ICANN Will Now Be Able to Suspend Domain Name Registrars
– 23-Apr-13
[Well, looks like ICANN actually had a similar provision in its 2009 RAA, just in a different section. Sorry about that.] One of the big improvements in the proposed 2013 Registrar Accreditation Agreement (RAA) over the 2009 version is the ability for ICANN to suspend registrars. Previously, if a registrar was in breach of contract, […]
Enom Collects More Than 2 Million Expressions of Interest On New gTLDs
– 23-Apr-13
According to enom.com its "New TLD Watchlist module has collected more than two million expressions of interest for domains to be registered with the new TLDs, in just nine months. In the more than two million Watchlist submissions received over the course of nine months, the three new domain extensions of greatest interest are…
Deadbeat Registrar is Also a Massive New gTLD Applicant
– 23-Apr-13
One of the latest three registrars to receive ICANN contract breach notices is also a new gTLD applicant involved in four applications, a helpful reader has pointed out. A. Telecom S.A., which owes ICANN $10,863.67 in unpaid accreditation fees and is facing a May 14 de-accreditation if it doesn't pay up, doesn't have any gTLD […]
Could This Be ICANN's Most Important Public Comment Period Ever?
– 23-Apr-13
How much power should governments have over the domain name industry? Should the industry be held responsible for the actions of its customers? Are domain names the way to stop crime? These are some of the questions likely to be addressed during ICANN's latest public comment period, which could prove to be one of the […]
Three Registrars Rapped for Not Paying ICANN Fees
– 23-Apr-13
ICANN has sent compliance notices to three registrars for allegedly not paying their dues. Dotted Ventures, Basic Fusion and A. Telecom S.A owe a total of roughly $25,000 in unpaid ICANN fees, according to the notices. Basic Fusion and A Telecom also didn't notify ICANN about changes of address, according to the notices. All three […]
Salesforce Launches Social.com
– 23-Apr-13
Almost two years after buying domain, Salesforce launches Social.com. Last week Salesforce started forwarding its Social.com domain to one of its sites, but today it formerly announced its new Social.com service. Social.com offers services to advertise on Facebook and Twitter more effectively. It automates how companies find potential customers and market to them via social […]
DomainSkate Offers Templated UDRP Complaints for $399
– 23-Apr-13
Low cost service prepares UDRP filing to submit to National Arbitration Forum. The biggest cost of filing or responding to a UDRP isn't paying fees to National Arbitration Forum or WIPO. It's typically the lawyer's fees that add up to the most. DomainSkate aims to change that by offering a low cost way to compile […]
Internet Giant Tencent Bumbles Domain Dispute
– 23-Apr-13
Company drops ball in UDRP submission. It's possible you've never heard of TenCent. I hadn't heard of it until reading The Economist's recent spread on the internet in China. But it's big in China. Huge. With a market cap of $60 billion (U.S.), it's right up there with Facebook in terms of valuation. Yet TenCent […]
.pw Claims 50,000 Domains Registered in Three Weeks
– 23-Apr-13
Directi's recently relaunched .pw top-level domain has racked up 50,000 domain name registrations after just three weeks of general availability, according to the company. The number, which will put a smile on the faces of many new gTLD applicants, relates to GA only and does not include defensive registrations made during the ccTLD's sunrise period, […]
Domain Arbitration Cases Edge Up Slightly in 2012
– 22-Apr-13
…but trail the growth in domain name registrations. National Arbitration Forum (NAF) has released its official numbers for 2012 UDRP cases. Combined with World Intellectual Property Organization's (WIPO) results, the number of UDRP cases filed last year appears to have edged up slightly. NAF reported a total of 2,060 cases for 2012 last year, which […]
Coming This Year: The Biggest Domain Registrar Phishing Attack Ever
– 22-Apr-13
New RAA satisfies boneheaded law enforcement request that will lead to more domain theft. The proposed new registration accreditation agreement satisfies a law enforcement requirement of verifying whois information when someone registers a domain name. The requirements can easily be satisfied by people who want to register domains for nefarious purposes. In fact, they're downright […]
What The New RAA Means for You, The Domain Registrant
– 22-Apr-13
Your responsibilities when registering a domain name will soon change. Late yesterday ICANN published the proposed "final" new Registrar Accreditation Agreement (RAA) for public comment. The update RAA will have an impact on how you register domain names. You must verify your phone number or email address. After you register a domain, transfer it to […]
Domain Holdings Selected to Broker Tax.com Domain Name
– 22-Apr-13
I saw a news release this morning that I want to share with you. The Tax.com domain name has been listed for sale, and Domain Holdings was selected as the…
Afilias Blames Security Crackdown for Massive Drop in .info Domains
– 22-Apr-13
Afilias says a new anti-abuse policy is responsible for .info losing almost a million domains in 2012. The .info space ended the year down 914,310 domains, an 11% decline on 2011, the biggest gTLD shrinkage in actual domain terms and second only to .tel in percentage terms, according to DI's TLD Health Check. The TLD […]
Internet Squatters Bank On Domain Names to Profit From New Licences
– 22-Apr-13
A new bank is touted as one of the hottest business opportunities in India with the central bank likely to throw open the field.
New gTLD Program Posts 49 New Initial Evaluation Results: 38 Applications Get a Pass
– 22-Apr-13
The next set of Initial Evaluation Results was released by ICANN. The total number of passing applications is now 169. ICANN released Initial Evaluation (IE) results for the next set of applications with priority numbers 150-198. There are 38 applications …
NAF Prices URS at $375 to $500 Per Case
– 22-Apr-13
The National Arbitration Forum has released its price list for Uniform Rapid Suspension complaints, saying that the cheapest case will cost $375. That's for cases involving one to 15 domains. Prices increase based on the number of domains in the filing, capped at $500 for cases involving over 100 names. The prices are within the […]
Asian Outfit Named Second URS Provider
– 22-Apr-13
The Asian Domain Name Dispute Resolution Centre has been approved by ICANN as a provider of Uniform Rapid Suspension services. The two organizations signed a memorandum of understanding last week, ICANN said. ADNDRC is the second URS resolution provider to be named, after the US-based National Arbitration Forum. It's got offices in Beijing, HongKong, Seoul […]
.an Domains to Be Removed From The Root Server By October 2014
– 22-Apr-13
According to BrandShelter.com, the .An registry is being phased out with the the .An ccTLD being removed from the root server by October 2014. I know a lot of unsophisticated domain investors may get caught up buying one of these domain names with great keyword which maybe offered with cheap pricing , so buyer beware.
The New TLD Trademark Clearinghouse is About to Get a Lot of Attention
– 21-Apr-13
The TMCH phase of new TLDs is here. Which companies should participate, and how should they approach online brand protection in the coming years? Remember when .xxx came out and law firms across the country advised their clients to defensively register domains? Law firms are now sending notices to their clients about signing up for […]
Traffic Changing Venues in Florida & Returns to Vegas in 2014
– 21-Apr-13
The organizers of the TRAFFIC Conference sent out an email today saying that it would be changing its Venue in Florida in 2014 & 2015. Also TRAFFIC will be returning to Las Vegas in 2014 as well.
2 New gTLDs Applications Withdrawn for .mail and .bloomingdales (Total at 45)
– 21-Apr-13
This past week 2 more new gTLDs applications were withdrawn and their status was updated at the ICANN New gTLD website. These 2 withdrawn applications bring the total of withdrawn gTLD applications to 45. 1&1 Mail & Media GmbH from Germany …
ICANN Selects Second URS Provider
– 20-Apr-13
Asian Domain Name Dispute Resolution Centre second to sign up with ICANN for rapid domain suspension system. ICANN has entered into a memorandum of understanding with Asian Domain Name Dispute Resolution Centre (ADNDRC) to be a provider under Uniform Rapid Suspension (URS). URS is sort quick and less expensive version of UDRP in which a […]
Homeland Security Issues Bulletin Using TheDomains.com List of Boston Domains
– 19-Apr-13
It was a pretty busy week for us at TheDomains.com. Our stories on the registration of domain names here and here, was picked up by news outlets all around the world and was the basis for a bulletin put out by the Department of Homeland Security.
38 More New gTLD Pass Initial Evaluation: .hiv. .eco, .green. .wiki, .coupon
– 19-Apr-13
38 more new gTLD applications passed Initial Evaluation (IE) today in results released by ICANN.Those passing today includes an .Eco application by Donuts, the application for .Green filed by dotgreen.org, .Hiv, and Google application for .Docs. Other applications passing IE today include those for the new gTLD strings; .Blog, .Online .Cam, .Wiki, Tattoo .insurance and Amazon's new gTLD application for .Coupons to name a few.
Chicago.com Announces Strategic Marketing Partnership With Chicago Tribune Media Group
– 19-Apr-13
We have been covering the story of Chicago.com sale of subdomains and email addresses for over a year. Chicagobusiness.com, did a very nice story yesterday on Josh Metnick and what he has and plans to do with Chicago.com.
.org Ranks First in Terms of Trust and Information Ahead of .com, .info and .net
– 19-Apr-13
Public Interest Registry (PIR), the .org registry, recently conducted a survey through ORC International to measure the level of trust consumers have in .ORG and their sentiments towards other online resources, such as social media, and found that 82% of …
After Announcing New Name, 21st Century Fox Files UDRP
– 18-Apr-13
Company goes after 6 domains related to new brand. Last week I scooped that 20th Century Fox would be changing its name to 21st Century Fox thanks to some domain name registrations. One of the big questions remaining questions is how the company will get the domain name 21stCenturyFox.com, which was registered in 1997. Well, […]
Google Reports: Revenue Up 31%; Paid Clicks Up 20%; Cost Per Click Down 4%
– 18-Apr-13
Google Inc. its earnings after the market closed today, reporting a first-quarter profit of $3.35 billion, or $9.94 a share, compared with a profit of $2.89 billion, or $8.75 a share, for the year-earlier period.
Texas Fertilizer Plant Explodes; Domains Registered
– 18-Apr-13
Again we have another tragic situation in west Texas near Waco where a fertilizer plant exploded causing many death and injuries in and around the plant. Since news of the explosion hit, over 60 domain names have been registered around the event.
Lawyer Asks: How The Hell Did Demand Media Pass The New gTLD Cybersquatting Test?
– 18-Apr-13
A lawyer apparently representing a rival new gTLD applicant has questioned ICANN's background screening processes after Demand Media managed to get a pass despite its history of cybersquatting. Jeffrey Stoler, now with the law firm Holland & Knight, last July said ICANN should ban Demand Media and its partner Donuts from applying for new gTLDs […]
Paul.com Fights Pauldotcom.com Over Trademark
– 18-Apr-13
Two techies fight over "Paul Dot Com". The owner of Paul.com is fighting the PaulDotCom security podcast over the latter's attempt to trademark "PAULDOTCOM". In November 2011, Paul Asadoorian filed a trademark application for PAULDOTCOM, the name he uses for his IT security podcast hosted at PaulDotcom.com. Once the mark was published for opposition, the […]
Name.space Sends Lawsuit Against ICANN Over New Tlds to Court of Appeals
– 18-Apr-13
Company that offers domain names in alternative root pushes forward with legal challenge. Alternative root company name.space isn't letting its beef with ICANN die just yet. The company has filed an appeal (pdf) with the United States Court of Appeals for the Ninth Circuit after its suit against ICANN was tossed out by a lower […]
Latest Conan O'Brien Domain Related Jokes
– 18-Apr-13
Conan O'Brien has made a few domain name related jokes on his show Conan, in the last few months. Conan joked about Yahoo and Google, about Go Daddy twice and he even referenced new gTLDs… Conan is of course my …
If you enjoyed this article, subscribe for updates (it's free)