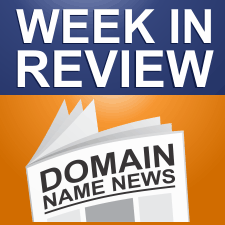 Every Friday, DomainSherpa.com provides you with a hand-selected, editorially-based review of the weekly news. In this summary, you will find the latest articles and videos produced by DomainSherpa staff and contributors. You will also find links to the best news articles in the domain name industry – so you don't have to spend your time searching for news or reading something that was not worth your time.
---
This Week's DomainSherpa Interview
---
---
This Week's News in Review
---
Protrada Partners With Alex Mandossian to Reach New Audiences
– 04-Oct-12
Protrada, aggregator of major domain auction houses and premier domain name trading platform, today announced their new partnership with internet marketing thought leader, coach and teacher, Alex Mandossian.
Illegal Medicine Websites Closed
– 04-Oct-12
More than 18,000 websites selling illegal medicines have been shut down during a global crackdown on illicit internet trade in pharmaceuticals. Domain names for the websites have been taken down or the payment facilities have been removed, the Medicines and Healthcare products Regulatory Agency (MHRA) said.
The Exact Match Domain Playbook: A Guide and Best Practices for EMDs
– 04-Oct-12
Exact match domains have always been the source of a lot of contention among SEOs. For quite some time, EMD's have offered a competitive advantage for SEO's who understood how to use them.
GiftCardLab.com Acquires the Domain Name GiftCard.com for over $4,000,000
– 03-Oct-12
Gift CardLab, a leading online provider of gift cards, today announced the purchase of the GiftCard.com domain. Gift CardLab will now use the GiftCard.com domain as its primary URL, where customers can search for and purchase store Gift Cards, e-Gift Cards, Customizable Gift Cards and Corporate Incentive Cards.
Google Warns of Upcoming Exact Match Domain Algorithm Change
– 03-Oct-12
Late last week, Google's head of webspam Matt Cutts announced a "small," upcoming algorithm change meant to reduce the amount of low quality exact match domains in search results. Exact match domains contain keywords that exactly match the search query. Cutts also tweeted, "New exact-match domain (EMD) algo affects 0.6% of English-US queries to a noticeable degree. Unrelated to Panda/Penguin."
Digitaltown Acquires 2,700 .com Domain Names for Its Portfolio
– 03-Oct-12
DigitalTown, Inc. (OTCQB: DGTW) announced today that it has acquired 2,700 new .com domain names, including 400 new high school spirit sites, 500 plus city names, the top 300 mascot names representing all levels of sports and more than 1,000 professional and business names.
qz.com Provides "Shortest Domain Names" Tool
– 02-Oct-12
There are 676 websites that have two-letter, dot-com domain names. Twenty-two of them, including ours, are news websites. Thirty-one are financial, accounting, or consulting firms… Nine people have their own personal websites on two-letter domains. But a wide swath of them—157, by our count—are parked domains: owned but not utilized.
GoDaddy Auctions Sells 30,000+ Domains in September
– 02-Oct-12
GoDaddy Auctions is reporting over 30,000 domains sold last month. The ticker shows 30,839; the number is typically adjusted upward as final tallies come in. The top reported sale for last month is CashLady.com at $36,000.
Lean Domain Search Adds Business Name Generator (and it's good)
– 02-Oct-12
Lean Domain Search, a domain name / web site name idea generator, has launched a new service that generates business names. Much like the existing web site name generator, the new business name generator checks names for domain availability, twitter handle status, and trademarks.
A New Afternic On The Way This Week
– 02-Oct-12
On Friday Afternic sent a notice to its registered users that the site is getting a major overhaul sometime this week.
Golden's ServiceMagic Becomes HomeAdvisor in Risky Rebranding Strategy
– 01-Oct-12
ServiceMagic is embarking on a strategy rarely seen from a dot-com of its size: a name change… The rebranding threatens to disrupt the Golden-based company's search-engine rankings, responsible for the bulk of its traffic and revenue.
Shorter .uk Internet Domain Proposed by Nominet
– 01-Oct-12
The scheme would give businesses the chance to register www.name.uk as their web address. It would run alongside the current www.name.co.uk service. Applicants would have to prove they had a UK presence and pay a higher fee.
Wall Street Journal Names New TLD Company Donuts to Top 50 Startups
– 28-Sep-12
The Wall Street Journal just released its rankings of the top 50 venture-capital-backed companies, and new top level domain name company Donuts made the cut.
Ford Bets Big on Domain Strategy
– 28-Sep-12
Ford launched one of its biggest-ever branding campaigns earlier this year, and it did so quite unconventionally. The Big Three automaker retired "Drive One," a slogan now familiar to U.S. customers and introduced the tagline "Go Further" to a global audience.
Domain Millwork, Inc. Launches CaribbeanVacations.net
– 28-Sep-12
Domain Name Development Company, Domain Millwork, Inc. Launches CaribbeanVacations.net to help visitors learn about the best Caribbean Vacations.
Music.com and Music.net For Sale on Domain Advisors
– 27-Sep-12
An extraordinary pair of names, to be sure. A veritable Dynamic Duo, but the real questions is: what are they worth?
Buy.Me Domain Name Sells For $147,000
– 27-Sep-12
Buy.me just sold for €115,000 (147,857.63 USD). 'Whoa!' That would be a perfectly reasonable reaction. So Buy.Me is now in good company with other high dollar Dot ME Sales like, Meet.me ($450,000) and Msg.me ($25,000). More top dollar Dot ME sales can be found here.
If you enjoyed this article, subscribe for updates (it's free)