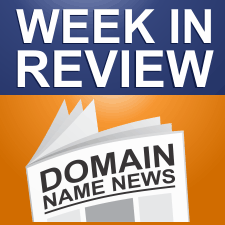 Every Friday, DomainSherpa.com provides you with a hand-selected, editorially-based review of the weekly news. In this summary, you will find the latest articles and videos produced by DomainSherpa staff and contributors. You will also find links to the best news articles in the domain name industry – so you don't have to spend your time searching for news or reading something that was not worth your time.
---
This Week's DomainSherpa Interview
---
VIDEO: Understand and Prevent Domain Name Theft – With Dr. Bruce Tonkin

The hacker group Syrian Electronic Army was able to hijack the websites of the New York Times, HuffingtonPost and Twitter, redirecting traffic, causing lost revenue and confusing hundreds of thousands of people.

If large, established and high-tech companies like these aren't safe, are our small business, ecommerce and publishing websites safe? Is our email safe?

Chief Technology Officer Bruce Tonkin from the sixth largest registrar in the world, Melbourne IT, answers these questions and tells us how we can secure our domain names from a similar fate.
---
Additional Resources
---
DomainSherpa Portfolio Review – Oct 3, 2013

This is the show where we get into the minds of successful domain name investors – people we call Sherpas – and talk about the value of specific domain names. By listening to the Sherpas, we expand our thought process so we can become more successful investors ourselves.

We're joined by four Domain Sherpas: Adam Dicker, Michael Berkens, Page Howe and Rick Schwartz.
---
This Week's News in Review
---
Deal Capital Acquires Key Domain Name For Sourcing Business Valuation Services – 03-Oct-13
Deal Capital, a provider of expert M&A advisor services, announces the strategic acquisition of several top-level domain names including businessvaluations.org. "We're always on the lookout for great domains to add to our portfolio," says Nate Nead, Partner at DealCapital.com. "We're particularly focused on acquiring domains that match our company's services profile."
CBS/CNET Quitely Sells Events.com to Bump Network & Gets Ready to Launch – 03-Oct-13
CBS Interactive quietly sold the Killer domain name Events.com sometime in late April of this year to BUMP Network, Inc. CBS Interactive purchased Cnet in June 2008 and acquired this domain name Events.com as part of that acquisition…
Bill Doshier is Creating Buzz Around .buzz – 03-Oct-13
After signing ICANN contract, .buzz is readying its rollout plans. Yesterday I sat down with Bill Doshier, applicant for the .buzz top level domain, while he was in Austin. Doshier was all smiles as he had just finished signing his registry contract with ICANN. Signing the contract is a big milestone for all new top…
Namejet Selected By Daniel Negari for New gTLD .college Auctions – 03-Oct-13
NameJet.com and Daniel Negari's XYZ.COM Registry have partnered to bring the new gTLD .COLLEGE to the public. NameJet will be managing the auction process for the Sunrise and Landrush phases of launch…
Schilling's Uniregistry is Positioned to Become The Most Successful New gTLD Registry – 03-Oct-13
We think the Frank Schilling's Uniregistry is uniquely positioned to become, pound for pound, the most successful new gTLD operator. So first a disclaimer, we don't own any part of Uniregistry (unfortunately) and Uniregistry doesn't and hasn't even advertised on TheDomains.com. Finally this is obviously an opinion piece as opposed to a news post.
With that out of the way, Uniregistry has applied for just over 50 strings…
Eleven TLDs Get Removed From The DNS – 03-Oct-13
ICANN will soon remove 11 experimental internationalized domain name TLDs from the domain name system. The TLDs, which represent ".test" in nine scripts and 10 languages, were added to the root almost exactly six years ago in preparation for ICANN's IDN ccTLDs program. Now that the program is quite mature, with a few dozen IDN…
.pink and Two Other gTLDs Get Contracts – 03-Oct-13
ICANN has signed Registry Agreements this week with three new gTLD applicants, covering the strings .wed, .ruhr and .pink. I would characterize these strings as a generic, a geographic and a post-generic. regiodot GmbH wants to use .ruhr as a geographic for the Ruhr region of western Germany while Atgron wants to providing marrying couples…
VIRURL Rebrands As REVENUE.COM To Launch The Most Native Ads On The Web – 02-Oct-13
VIRURL, Inc., a pioneering native advertising company incubated by INVENT Ventures (OTCQB: IDEA), today announced it has rebranded its platform to REVENUE.COM to reflect its mission of giving publishers the needed tools to earn more ad revenue…
Angry gTLD Applicants Lay Into ANA and Verisign "Bullshit" – 02-Oct-13
They're as mad as hell and they're not going to take it any more. New gTLD applicants yesterday laid into the Association of National Advertisers and Verisign with gusto, accusing them of seeking to delay the program for commercial reasons using security as a smokescreen. The second TLD Security Forum in Washington DC was marked…
Cognac Maker Remy Martin Loses UDRP On ThereMyMartin.com: Domain Holder is Saved By Social Networks – 02-Oct-13
E. REMY MARTIN & C° of Cognac, France, just lost a UDRP on the domain name TheRemyMartin.com to a "Remy Martin" of Palm Desert, California who appears to have represented himself…
GoDaddy Acquires Invoicing Company Ronin – 02-Oct-13
Domain name registrar has made five acquisitions in fifteen months. GoDaddy announced another acquisition today, although the acquisition isn't actually new. In April the company quietly acquired invoicing company Ronin and has integrated the technology into its GoDaddy Online Bookkeeping product. The online bookkeeping product comes from GoDaddy's earlier acquisition of Outright. The acquisition furthers…
Applicant Auction Announces Next Private New gTLD Auctions to Be Held On Oct 21 – 02-Oct-13
Applicant Auction announced today that is would be holding its third set of new gTLD private auctions. The Third Applicant Auction is scheduled to be held on October 21…
Growlife Launches Cannabis.org – 02-Oct-13
GrowLife, Inc. (OTCBB: PHOT), a provider of highly effective indoor growing technologies and unique lifestyle brands, is pleased to announce that the Company has launched its latest marijuana property, Cannabis.org, effective this morning…
Web.com Group, Inc. to Ring The Nasdaq Stock Market Closing Bell – 02-Oct-13
Web.com Group, Inc. [WWWW], providers of a full range of Internet services to small businesses to help them compete and succeed online, will visit the NASDAQ MarketSite in Times Square. In honor…
Sedo to Go Private As United Internet Buys Out Co-founders – 02-Oct-13
Sedo will no longer be a separate, publicly traded company. United Internet AG has raised its stake in Sedo Holding to 96.05% after buying out the co-founders' shares at a price of 2.60 euros per share. United Internet plans to integrate Sedo Holding's affiliate and domain business into its overall business. The company will initiate…
Still No Closure On GAC New gTLD Advice – 02-Oct-13
ICANN board members met again to discuss the Governmental Advisory Committee's advice on new gTLDs at the weekend and, again, made baby steps towards addressing it. The main update in a just-published New gTLD Program Committee resolution is that dozens of previously frozen applications for "closed generic" gTLDs have been thawed. These applicants will be…
Vanity.com Settles With Vanity Shop, Transfers Domain Name – 01-Oct-13
Valuable Vanity.com domain name changes hands as a result of lawsuit. The owners of Vanity.com have settled a legal dispute with Vanity Shop of Grand Forks, resulting in a transfer of the domain name to the clothing company. In June 2012, National Arbitration Forum panelist Nelson A. Diaz made a shocking decision in favor of…
17 Year Old Domain Vendita.com (Sale in Italian) Saved in UDRP & Narrowly Misses RDNH Ruling – 01-Oct-13
Vendita Technology Group, LLC just lost its bid to grab the domain name Vendita.com
The domain owner was represented by Ari Goldberger and Jason Schaeffer of ESQwire.com…
UDRP Filed On 14 Year Old Three Letter .com: QLP.com – 01-Oct-13
Quality Logo Products, Inc. has filed a UDRP against Get On The Web Limited of Great Britain on the 3 letter domain name QLP.com. As you can see the domain name goes to a page where the domain is being offered for sale for $125,000…
ICANN Publishes Final Rights Protection Mechanisms for New TLDs – 01-Oct-13
Final RPMs create two types of sunrise periods and leave room open for special treatment of geo domain names. ICANN has published the final Rights Protection Mechanisms (RPMs) added to the new top level domain name program. There are a few notable changes from the draft version of the RPMs. One key difference is that…
Bang With Friends Settles Suit With Zynga & Rebrands As TheNextBang.com – 01-Oct-13
According to several sources, Bang With Friends, Inc., will Re-brand the company name its website and the name of its app, to settle its trademark suit brought by Zynga. In July Zynga sued Bang With Friends, Inc. for infringing upon its trademark of "With Friends" brand…
Pinterest Gets $7.2 Million Dollar Judgement Against Cybersquatter Over 100 Domain Names – 30-Sep-13
According to Allthingsd.com, A San Francisco judge awarded Pinterest $7.2 million in damages and legal fees against a Chinese cybersquatter Qian Jin, over 100 domain names including pinterests.com, pimterest.com and pinterost.com. The judge found the infringement to be "willful and serial," noting, "There is no indication of good faith mistake or excusable neglect justifying defendant's failure to respond or otherwise defend against plaintiff's allegations."
New gTLD Delegations Probably Not Delayed By US Government Shutdown – 30-Sep-13
If the US government shuts down tonight, would that delay the delegation of new gTLDs? Probably not, from what I gather. For reasons beyond the ken of most sane people*, the US legislature is currently deadlocked on a bill that would provide the funds to keep the executive wing of the government running. It's looking…
Prestigious Domain Name Finances.com Bought for $500K – 30-Sep-13
One of the most lucrative domain names in the history of financial industry was acquired by Finances International Ltd. The company is launching a new interactive informational portal to provide insights into financial markets and financial management tools to…
Demand Media Welcomes Steve Banfield As SVP and GM of Registrar Services – 30-Sep-13
Demand Media (NYSE: DMD), a leading media and domain services company, today is pleased to announce its recent hire of Steve Banfield as senior vice president and general manager of Registrar Services. Banfield, a 20-year internet veteran, leads Demand Media's two registrar businesses; Name.com, one of the domain industry's most innovative retail registrars, and eNom, the world's largest ICANN accredited wholesale domain name registrar, as each team readies for the launch of new gTLDs later this year.
Verisign Study: 9 Out of 10 Small Businesses Prefer a .com Domain for Company Website – 30-Sep-13
Verisign released the results of a global survey today that was conducted by Merrill Research of 1,050 small businesses (SMB) with an online presence, to get a better understanding of SMB's sentiment around the benefits, barriers, and preferences for creating an online presence. The results of the survey found that in the U.S., 9 out of 10 small businesses with an online presence prefer a .com domain name for their company website…
Game Plan Nutrition Acquires GamePlan.com – 30-Sep-13
Game Plan Nutrition LLC, (GPLH) a line of nutritional supplements sold online exclusively through a network of personal trainers, today announced the acquisition of http://www.gameplan.com…
Public Interest Registry Unveils New Brand Identity for .org – 30-Sep-13
ORG's Nonprofit Operator Introduces New Logo to Reaffirm Mission to Serve in the Public Interest…
Transcard Ventures Acquires The Intellectual PropertIEs and Assets Associated With Reloadable.com – 30-Sep-13
A prominent prepaid processor announces that it is acquiring the intellectual properties and assets associated with web-based programs in order to increase its digital brand…
Twitch.tv Spun Off From Justin.tv Raises $20 Million – 30-Sep-13
Allthingsd.com, is reporting that Twitch.TV "an online video network and gaming community, raised a $20 million series C round of funding…
Company Raising Up to $200MM in IPO Licenses Its Key Domain Name – 30-Sep-13
Company that uses Vince.com doesn't actually own the domain name. Last week Apparel Holding filed its S-1 to go public. The clothing company hopes to raise up to $200 million in its IPO, so it's no small fry. Which is why I find it amazing that it doesn't actually own the key domain name it…
How Did The New Kozmo.com Get The Old Kozmo.com's Domain Name? – 30-Sep-13
Because Kozmo.com never fully expired, the group trying to relaunch the brand had to go to extraordinary measures to get the domain. Kozmo.com, the delivery service that became a poster child for the dot.com boom and bust, is coming back. Sort of. I first scooped this about a year ago after a Los Angeles company,…
PIR Rebrands, Talks Up "Facebook-like" New gTLDs – 30-Sep-13
Public Interest Registry is dropping the .org from its primary branding in preparation for the launch of its new gTLDs. CEO Brian Cute said that branding the registry around .org "made a lot of sense when we were a single product company", but that the time has come to put the PIR name front and…
Domain Parking Company Named to Bad Hosts List, But… – 30-Sep-13
Sedo listed as top for phishing sites, which doesn't make a lot of sense. HostExploit has released its latest World Hosts Report (which has been renamed from its previous moniker "Bad Hosts"). Domain name parking company Sedo shows up ranked #2 for phishing sites. Now, you may be scratching your head and asking "how does…
Desi Networks Llc Wins, Afilias Withdraws .desi – 30-Sep-13
Desi Networks LLC, in a press released announced they won a private auction, held by Innovative Auctions on August 13, 2013, it is now the sole applicant for the .desi gTLD. Other applicant in the private auction for .Desi was Afilias…
Sedo.com New gTLD Study Says 59% Said They Would Consider Using a Domain Other Than .com – 30-Sep-13
Sedo.com today announced the results of research study of whether those that work in the advertising and marketing industry (or their clients) are aware of the pending launch of new generic top-level domains (gTLDs) in 2013, and whether they plan to take advantage of these new web addresses…
TLDH Has The End in Sight, But No Revenue – 30-Sep-13
Top Level Domain Holdings made less than $12,000 in the first half of the year, but says its new gTLD business may start generating revenue in the fourth quarter. In its interim financial results, published this morning, the company also revealed that it plans to launch its own domain name registrar and, via a partnership,…
Web.com Finally Completes Acquisition Of NetworkSolutions.com – 28-Sep-13
According to an email we received tonight it looks like Web.com (WWWW) has finally completed the acquisition of NetworkSolutions.com.
Paramount Pictures Strips Great Chesterford Businessman of Domain Name in Legal Battle – 27-Sep-13
A businessman has had his internet domain name stripped from him by Hollywood giants Paramount Pictures free of charge. Andy Hugh, from Great Chesterford, near Saffron Walden, became embroiled in a David and Goliath legal battle with the international film and television production company…
Apple Drops .com Button in iOS7 – 27-Sep-13
Shortcut to .com websites not as prominent in latest operating system. The only device my daughter has used to visit a website is the iPad. So when I let her use my laptop one day, she looked at the keyboard with a puzzled look. "Where's the dot com key, daddy?" she asked. A lot of…
ANA Sounds The Alarm: US Tax Proposals Could Kill The Ad Industry & Domain Monetization – 27-Sep-13
Under US tax law, advertisers are allowed to deduct 100% of the amount they spend on advertising on their tax returns. However according to The Association of National Advertisers (ANA), several pieces of legislation are expected to be introduced by House Ways and Means Committee which would require advertising costs to be amortized over three years, rather than deducted in the year the funds are spent or limit the amount of tax deductions for advertising to a percentage of the amount spent in any particular year…
Claiming Trademark to The Term "Women", Company Files UDRP Against Women-Asia.com – 27-Sep-13
Sorry guys, you don't own "women". An international modeling agency claiming to have trademarks for the term "women" used them to try to wrestle away the domain name women-asia.com in a UDRP. It lost. PEC Intellectual Property Management B.V. of Amsterdam, which is affiliated with modeling agency Women Management, filed the complaint against a domain…
According to New Domain Name Registrations, Enterprise is Rolling Out My13days.com On October 10th – 26-Sep-13
A bunch of new registrations by Enterprise Rental Car indicates the company is about to roll out a new advertising campaign using the domain name My13Days.com. The company recently registered the domain names…
Oversee.net Launches WanderWe for Getaway Market; Designed for Tablet – 26-Sep-13
WanderWe was created for the traveler who is looking for a mini-vacation of 2-4 days. Launched in Beta, WanderWe helps travelers explore, collaborate, plan and book a short trip to destinations within a 500 mile radius from home. Using a tablet, mobile device or PC, users search the site based on their individual budget requirements and lifestyle interests.
CentralNic Buys Mex.com. YourName.mex.com Coming Soon? – 26-Sep-13
Domain name company picks up Mex.com at auction and will likely use it to sell subdomains. Last month I wrote about an auction at Sedo for Mex.com. The auction closed for 29,111 EUR. The domain has changed hands and the buyer is domain name company CentralNic. CentralNic, which went public earlier this month, is known…
Frank Schilling Live From London: ".com Will Become Like am Radio" – 26-Sep-13
The Digital Marketing & gTLS Strategy Congress conference kicked off today with Frank Schilling of Unregistry, laying out how he see the future of the domain name space and its the new gTLD program…

If you enjoyed this article, subscribe for updates (it's free)