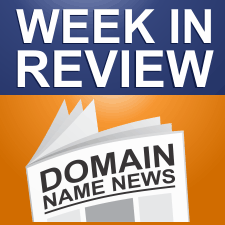 Every Friday, DomainSherpa.com provides you with a hand-selected, editorially-based review of the weekly news. In this summary, you will find the latest articles and videos produced by DomainSherpa staff and contributors. You will also find links to the best news articles in the domain name industry – so you don't have to spend your time searching for news or reading something that was not worth your time.
---
This Week's DomainSherpa Interview
---
VIDEO: Selling Third-level Domains on a Premium .Com Domain Name – With Ope Odusan

Offering third-level domains for sale and actually getting sales are two entirely different propositions.

Today's guest, however, has sold hundreds of Africa.com third-level domains to large companies, including IBM, Starbucks, Twitter, Evian and Standard Bank.

In this interview, Ope Odusan openly shares how Africa.com has accomplished it and discusses prospects for future sales, especially with the impending launch of geographic top-level domains like .Africa, .Joburg, .CapeTown and .Durban.
---
Additional Resources
---
DomainSherpa Portfolio Review – Oct 31, 2013

This is the show where we get into the minds of successful domain name investors and talk about the value of specific domain names. By listening to the Sherpas, we expand our thought process so we can become more successful investors ourselves.

We're joined by four Domain Sherpas: Adam Dicker, Michael Berkens, Page Howe and Rick Schwartz, and one relatively new domain name investor Christian Calvin.

DomainSherpa Review Five, Live! at T.R.A.F.F.I.C. East 2013

Domain names from 20 investors attending the T.R.A.F.F.I.C. East 2013 conference are valued in five ranges ($50K+, $10K-50K, $1K-10K, $1-1K, Drop), and we crown a new "Registered or Available" king for the week. Plus, a fantastic discussion about leasing, "the" domains, and much more.

This is the show where we get into the minds of successful domain name investors – people we call Sherpas – and talk about the value of specific domain names. By listening to the Sherpas, we expand our thought process so we can become more successful investors ourselves.

We're joined by four Domain Sherpas: Adam Dicker, Michael Berkens, Ammar Kubba and Rick Schwartz.
---
This Week's News in Review
---
ING Direct Canada to Become Tangerine? They Bought Tangerine.com for $100k.
– 31-Oct-13
Odds are that ING Direct Canada will soon by called Tangerine. David and Michael Castello recently sold Tangerine.com for $100,000, as reported on DNJournal this week. The buyer? ING Direct Canada. George Kirikos, a Canadian domain name investor, just tweeted out that he believes ING Direct Canada is about to change its name to Tangerine:…
Runnable.com Raises $2 Million After Buying It's Domain for $2,500 On Sedo
– 31-Oct-13
According to Term Sheet, Runnable, a Palo Alto, Calif.-based "centralized location for finding code," raised $2 million in seed funding. Sierra Ventures led the round, and was joined by Resolute.VC and individual angels. The domain name Runnable.com was acquired for a whopping 2,000 Euros, a year ago through Sedo.com which equates to less than $2,500…
Search All New gTLD Collision Block Lists
– 31-Oct-13
DI PRO subscribers can now see which strings appear most often in new gTLD registries' block-lists and search for strings — such as trademarks or premium strings — that interest them. We've just launched the New gTLD Collisions Database. Currently, it indexes all 14,493 unique strings that ICANN has told the first 13 new gTLD…
GoDaddy is Back for The 10th Consecutive Super Bowl With Two Ads; No Word On .Co
– 31-Oct-13
For a 10th year-in-a-row, GoDaddy is going to be in the Super Bowl commercial line-up according to a press release it issued today. Godaddy has purchased two thirty-second spots, one in each half of the game to be broadcast on FOX February 2…
GoDaddy to Run Two Super Bowl Commercials, Sans Sexual Innuendo
– 31-Oct-13
Company will continue to advertise in Super Bowl but take a different tact. GoDaddy has announced that it will run Super Bowl ads for the tenth year in a row. The company will again have two 30 second ad spots in the 2014 Super Bowl. One of them will, once again, feature race car driver…
Neustar Reports: Revenue Up 8%; & Acquired Aggregate Knowledge, Inc for $119 Million
– 31-Oct-13
Neustar, Inc. (NSR), the back end provider of the ccTLD's, .Us .Co and the TLD of .Biz and for hundreds of new gTLD applicants today announced results for the quarter ended September 30, 2013, and in a separate release stated that it has acquired Aggregate Knowledge, Inc., a leading campaign and predictive analytics platform, for approximately $119 million in cash consideration…
Famous Four Issues Statement About .sport Decision
– 31-Oct-13
Famous Four questions panelists decision in .sport community objection. In case you haven't heard yet, SportAccord won a community objection against Famous Four Media's application for the .sport top level domain name. It was a surprising decision, as it's pretty hard to argue that "sport" is a clearly delineated community. I personally don't know anyone…
GoDaddy Sends Out Its First Big Email Blast About New TLDs
– 30-Oct-13
Registrar invites customers to follow their favorite top level domains. GoDaddy has featured new top level domain names on its website for a while now. But it appears the company just sent out its first big email promotion to inform its customer base about the coming avalanche of top level domain options. The email (pictured)…
Google Makes It Easier to Recover From Site Hacks
– 30-Oct-13
Updates make it easier to pinpoint hacks and recover from them. Google released improvements to its Webmaster console today that will make it easier to recover from a site hack. As someone who has had his site hacked before, I can attest that it is a miserable experience. Not only do many visitors not come…
Barrett Launches New gTLD Launch Calendar
– 30-Oct-13
EnCirca's Tom Barrett has launched a collaborative calendar to help spread the word about new gTLD launch dates. Leveraging Google Apps, the service can be found at Calzone.org and is currently in a short beta open only to applicants and registries. All new gTLD sunrise dates published by ICANN will be incorporated into the service,…
Wrap Up From OTA's New gTLD Domain Collisions Workshop: Collision Issue is Like Y2k
– 30-Oct-13
The Online Trust Alliance's (OTA) held a new gTLD Domain Collisions Workshop yesterday in Herndon, VA over what "many stakeholders believe there are significant risks of "domain collisions" occurring with the introduction of the new gTLD's. The workshop ran well over 7 hours and the overriding theme is that the domain collision issue is a lot like Y2K…
Typical Name Collision Block List for Donuts' TLDs Under 1,000 Names (So Far)
– 30-Oct-13
Registry won't have to block many names per TLD, but some of them are good ones. Yesterday ICANN issued the "Alternate Path to Delegation" reports for nine of Donuts' English language top level domain names. If Donuts chooses to take the alternate path option to speed up delegation of these nine domain names, it will…
Three gTLD Community Objections Rejected
– 30-Oct-13
International Chamber of Commerce panelists have recently rejected three Community Objections against new gTLD applications. The dismissals include objections to the controversial Turkey-based bids for .islam and .halal, filed by Asia Green IT System, which had raised the ire of the United Arab Emirates' telecommunications regulator. The UAE's Telecommunications Regulatory Authority — also the operator…
Verisign's Earnings Continue To Grow On Domain Name Registrations
– 29-Oct-13
Verisign posted revenue growth of 9% annually in Q3 2013 to $244 million. The company's net income was recorded at $81 million during the third quarter. Its operating margin rose to 54.5% as compared to 51.9% in Q3 2012, due to leverage in sales and marketing, and general and administrative expenses…
BreatheAccord Wins Community Objection Against .breathe Top Level Domain Name
– 29-Oct-13
The following is a satirical response to news that SportAccord won a community objection against the .sport top level domain name. An International Chamber of Commerce panelist has upheld a community objection brought by BreatheAccord against dotBreathe LLC's top level domain name application for .breathe. The decision by panelist Aru Kiddinme means that BreatheAccord, the…
Robin Wauters Starting Tech Publication at Tech.EU
– 29-Oct-13
Journalist who has covered the domain industry is starting a new technology publication. Robin Wauters, a technology journalist who has frequently written about domain names, is starting a new online technology publication geared to Europe. It will launch at Tech.eu. Wauters previously wrote for The Next Web (where he was European Editor) and TechCrunch. Although…
GoDaddy Signs Its 1st Registry-registrar Agreement With New gTLD .uno
– 29-Oct-13
According to a press release we just received, Dot Latin LLC announced today that the world's largest domain registrar, GoDaddy, has signed the Registry-Registrar Agreement for the .UNO domain extension, specifically designed for the Hispanic and Latino communities, worldwide…
dotCloud Renames Itself
– 29-Oct-13
…and that's not a top level domain name. Technology company dotCloud has renamed itself Docker Inc., in a bit of news tangentially related to the domain name industry. Despite its name, the company has nothing to do with domain names. It created the Docker.io container technology for Linux Apps. Since that's the crux of its…
Samsung Rolls Out Ad Campaign On TogetherWeRise.co With Lebron James As Part of $100M NBA Deal
– 29-Oct-13
Samsung has rolled out a new Ad campaign to celebrate the start of the NBA season on the domain name TogetherWeRise.co With Matching Twitter Hashtag. The features Lebron James as the Miami Heat are seeking a three-peat as NBA champs…
ICANN Gets a Chief Security Officer
– 29-Oct-13
ICANN promotes senior director to replace Chief Security Officer role. Most companies have CXOs. ICANN is expanding that to CXXXOs. The non-profit announced today that it has promoted John Crain to be the Chief Security, Stability and Resiliency Officer. That's a new title for the Chief Security Officer role, which is being vacated by Jeff…
Confirmed: 1and1.com Has Spent Over $50 Million On Television Ads; But are They Over?
– 29-Oct-13
Fairwinds Domain Strategy Blog has confirmed was we have been suspecting, that 1and1.com has spent more than $50 Million dollars on its television advertising campaign promoting pre-registrations for the new gTLD program…
Donuts Successfully Defends .reisen Community Objection
– 28-Oct-13
Panelist says German-speaking travelers qualify as a community, but objection fails on other grounds. New top level domain name applicant Donuts has successfully defended a community objection brought against its application to run the .reisen top level domain name. The German word reisen means "travels" or "journeys" in English. The objection was brought by the…
Verisign Lays It All Out in SEC Filing
– 28-Oct-13
Risk disclosures heavily focused on new top level domain names. Verisign filed its 10-Q with the SEC last week. Comparing the risk factors section to the one in the previous quarter, it hasn't changed much. Yet it's interesting to see how changes at ICANN and new TLDs are finding their way into the risks section…
Demand Media to Call Spinoff Rightside?
– 28-Oct-13
Company files trademark applications that may be for spinoff. Demand Media is in the process of spinning off its domain name business into a new publicly traded company. Will it be called Rightside? Earlier this month Rightside Group, Ltd. filed four intent-to-use trademark applications for the brand "RightSide". Rightside Group, Ltd., was formed in Delaware…
Enom and Name.com Sign 2013 RAA
– 28-Oct-13
Demand Media gears up for new TLDs by signing new registrar agreement. Demand Media's eNom and Name.com domain name registrars have signed the 2013 Registrar Accreditation Agreement (RAA), the company announced today. That makes four of the top 10 domain name registrars who have signed the new agreement. In addition to Demand Media, other top…
Host Europe Group Acquisition Domain Name Registrar DomainFactory.com
– 28-Oct-13
Host Europe Group announced the successful acquisition of the domain name registrar, Domainfactory, for an undisclosed amount. Domainfactory currently manages 1.1 million domains and serves approximately 173,000 customers…
.club Selects Sedo for Sunrise & Landrush Auctions & Broker Premium Domains
– 28-Oct-13
.Club Domains, LLC, the company formed to own and operate the new ".Club" generic top-level domain name (gTLD), have announced today that it has selected Sedo to run the "sunrise" and "landrush" auctions, manage its premium reserve list and broker premium sales of .Club domains…
ICANN Compliance Not Broken, Ombudsman Rules
– 28-Oct-13
Ombudsman Chris LaHatte has rejected a complaint from spam research firm KnujOn — and 173 of its supporters — claiming that ICANN's compliance department is failing consumers. In a ruling posted online today, LaHatte said there was "no substance" to complaints that a small number of "bad" registrars, notably BizCN, have been allowed to run…
Chehade Talks Up Split From US Oversight
– 28-Oct-13
ICANN CEO Fadi Chehade used his keynote address at the newdomains.org conference this morning to discuss his plans to divorce the organization from US governmental oversight. With a split from the US recurring theme in his recent speeches, Chehade nevertheless warned that there were risks that such a move could create a dangerous governance vacuum…
Six More gTLD Contracts Signed
– 27-Oct-13
ICANN signed six more new gTLD Registry Agreements on Friday, bringing the week's total to eight. Donuts added .cab, .computer and .support to its rapidly expanding portfolio of generics, while its partner United TLD (Demand Media) added .dance. GMO Registry, which had teething troubles during Initial Evaluation before switching back-end providers, signed a contract for…
Traffic Leakage Alert: Healthcare.gov Seekers Flock to Healthcare.com
– 25-Oct-13
Healthcare.com highlights a big challenge to developing a site on something other than .com. What's one of the biggest challenges to creating a website on a non .com domain, at least in the United States? Many people looking for your site will inevitably type in .com instead. VentureBeat just wrote about the owners of HealthCare.com,…
Community Objections to .islam and .halal Denied By Icc
– 25-Oct-13
Two separate ICC panels have denied the objections to the new gTLD's .Islam and .Halal finding that although there "opposition to Respondent's application to some extent, but such opposition is not substantial"…
Three New gTLDs Makes It Through Evaluation
– 25-Oct-13
Three new gTLD applications passed either Initial or Extended Evaluation this week, according to ICANN's latest updates. MMA IARD, a French insurance company, passed IE for .mma, a dot-brand. It's an uncontested application, so it seems unlikely that "mixed martial arts" will ever have its own exact-match gTLD. Boston Consulting Group and I-REGISTRY passed Extended…
ICANN Signs Contracts for .wang and .democrat
– 25-Oct-13
The new gTLD applicants behind .wang and .democract are the latest to sign Registry Agreements with ICANN. Demand Media's United TLD is behind .democrat, while .wang was applied for by small Chinese portfolio applicant Zodiac Holdings. Both were uncontested applications. Both are to be open gTLDs. For .democrat, Demand expects names to be registered by…
Australian Energy Company Files UDRP Against AGL.com
– 25-Oct-13
Company that uses AGL.com.au wants AGL.com. Australian natural gas and electricity company AGL Energy Limited has filed a UDRP against the three letter domain name AGL.com. The company uses the Australian country code domain name AGL.com.au for its website. AGL.com was originally registered in 1999. The current whois record has privacy, but taking a look…
Binary Options Site Spends $99,000 to Rebrand As Binary.com
– 25-Oct-13
Site spends nearly six figures to rebrand with better domain name. The binary options website formerly known as BetOnMarkets.com has purchased the domain name Binary.com and rebranded to the new domain name. The company's CEO disclosed to Domain Name Wire that the purchase price was $99,000. The Binary.com domain name was previously owned by a…
Verisign Creates Patent Website, Still Doesn't Disclose Its IP Plans
– 25-Oct-13
Domain name registry shows off its patent portfolio, but still won't say how it plans to make money from it. Verisign has created a website dedicated to its patents and released a whitepaper about its intellectual property – but still won't say how it plans to monetize its IP portfolio. Yesterday the company formally unveiled…
We Said It Over a Year Ago, The BC Tells ICANN Allowing Singular & Plural New gTLD's are a Bad Idea
– 25-Oct-13
In a letter sent to ICANN, the Chair, ICANN Business Constituency (BC) told ICANN what we at TheDomains.com said over a year ago, that allowing new gTLD's of plural and singular of the same term is a bad idea…
Losing Private New gTLD Auctions for .lawyer & .website Net Top Level Domain Holdings $4.8 Million
– 25-Oct-13
Top Level Domain Holdings (LON:TLDH) said by losing the private auctions for .website and .lawyer, which concluded on Oct. 23, it will add £2.97m ($4.81m) to its cash reserves.
The 14 previous new gTLD private auctions held by ApplicantAuction.com, totaled $18.9 in winning bids or around $1.33 million per string…
TLDH Scores Nearly $5 Million By Losing Two Domain Name Auctions
– 25-Oct-13
TLDH grows its cash pile thanks to losing two private auctions. Top Level Domain Holdings will add $4.81 million to its cash reserves as a result of losing private auctions for .website and .lawyer, the company announced today. $130,000 is from refunds for withdrawing its two applications, bringing the total auction proceeds down to $4.68…
First URS Case Decided With Facebook The Victor
– 25-Oct-13
Facebook has become the first company to win a Uniform Rapid Suspension complaint. The case, which dealt with the domain facebok.pw, took 37 days from start to finish. This is what the suspended site now looks like: The URS was designed for new gTLDs, but .PW Registry decided to adopt it too, to help it…
Applicant questions how .Cars collision can be cleared
– 24-Oct-13
One applicant for .cars has good questions about how exactly it can resolve its contention set.
Verisign's .com Continues to Grow, But Faces Headwinds
– 24-Oct-13
.Com/.net base up about 5% compared to last year, but new TLDs are on the horizon. Verisign reported earnings today as well as combined statistics for its .com and .net business. The company added 1.55 million net new names during the third quarter, ending the quarter with 125.9 million active domain names in the zone…
Verisign Reports: 125.9 Million .com/.net Domains Registered Up 5% From Last Year
– 24-Oct-13
VeriSign, Inc. (NASDAQ: VRSN), reported financial results for the third quarter ended Sept. 30, 2013 reporting revenue of $244 million up 9% from the same quarter in 2012. Verisign reported net income of $81 million and diluted earnings per share (EPS) of $0.53 for the third quarter of 2013, compared to net income of $78 million and diluted EPS of $0.47 in the same quarter in 2012…
1and1.com New gTLD's Pre-reservations Pass 3.5 Million & Top 30 New gTLD List is Revealed
– 24-Oct-13
1and1.com new gTLD pre-registrations just topped the 3.5 million mark and for the first time the domain name registrar is showing the top 30 new gTLD's with the most pre-registrations.
1and1.com had only been showing the top 20 new gTLD based on pre-registration volume. Here is the top 30 according to 1and1.com in alphabetical order…
Panel Dismisses UDRP Based Mostly On Laches
– 24-Oct-13
Panelist questions why complainant waited 13 years to file a domain name dispute. A National Arbitration Forum panel has dismissed a UDRP case, and it seems that the main reason was that the case was brought 13 years after the domain name was registered. The case was brought by Galaxy Catering, Inc., aka Big Texan…
Michael Berkens Defends RoadWatch.com Domain Name in UDRP
– 24-Oct-13
Complainant loses all three prongs of case. Michael Berkens, who runs the domain name blog TheDomains.com, has successfully defended one of his company's domain names in a UDRP. Commercial Vehicle Group, Inc filed a UDRP against the RoadWatch.com domain name, a domain that Berkens' Worldwide Media has owned for about a decade. The complainant failed…
Demand Media Lays Off All 15 Members of R&D Unit
– 24-Oct-13
Variety.com, is reporting that just days after Richard Rosenblatt resigned from Demand Media, Inc. (DMD) as its CEO and Chairman of the Board, all 15 members of the research and development unit at the company were laid off, including chief innovation officer Byron Reese…
Here's How to Display New IDN gTLDs in Chrome
– 24-Oct-13
A lot of people have noticed since the first four new gTLDs were delegated yesterday that Google's Chrome browser doesn't seem to handle internationalized domain names. In fact it does, but if you're an English-speaking user you'll probably need to make a few small configuration changes, which should take less than a minute, to make…
Here's How to Display New IDN gTLDs in Chrome
– 24-Oct-13
A lot of people have noticed since the first four new gTLDs were delegated yesterday that Google's Chrome browser doesn't seem to handle internationalized domain names. In fact it does, but if you're an English-speaking user you'll probably need to make a few small configuration changes, which should take less than a minute, to make…
Applicant Questions How .cars Collision Can Be Cleared
– 24-Oct-13
One applicant for .cars has good questions about how exactly it can resolve its contention set. DERcars, an applicant for the .cars top level domain name, has filed a reconsideration request (pdf) with ICANN's board after Google won a string confusion objection against the company's .cars application. I wrote about the .cars case a few…
Four More New TLD Contention Sets Settled in Private Auctions
– 24-Oct-13
Donuts and Radix win auctions to settle four more new TLD contention sets. Innovative Auctions has helped settle four more top level domain name contention sets through its auction service. Donuts, by the far the largest applicant for new top level domains, won three auctions. It is now the sole applicant for .lawyer, .fish, and…
ICANN Helps Bust Russian Child Porn Ring
– 24-Oct-13
ICANN recently helped break up a Russian child pornography ring. That's according to a remarkable anecdote from CEO Fadi Chehade, speaking during a session at the Internet Governance Forum in Bali, Indonesia today. The "investigative effort" took "months" and seems to have entailed ICANN staff sifting through company records and liaising with law enforcement and…
Donuts Wins Three New gTLD Auctions
– 24-Oct-13
Donuts has added .lawyer, .fish and .discount to its portfolio of new gTLDs, having won private auctions against its competitors for the strings this week. It beat Top Level Domain Holdings for .lawyer and WhatBox for .fish and .discount, according to a blog post from Innovative Auctions, which managed the auction. The winning bids were,…
On Day One, Donuts in Breach of New gTLD Contract
– 24-Oct-13
Ooops! Donuts accidentally broke the terms of its first new gTLD Registry Agreement last night, just hours after its first string, .游戏, was delegated to the DNS root. If you've been following the name collisions debate closely, you'll recall that all new gTLD registries are banned from activating any second-level domains for 120 days after…
If you enjoyed this article, subscribe for updates (it's free)