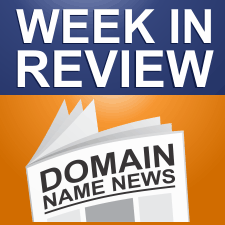 Every Friday, DomainSherpa.com provides you with a hand-selected, editorially-based review of the weekly news. In this summary, you will find the latest articles and videos produced by DomainSherpa staff and contributors. You will also find links to the best news articles in the domain name industry – so you don't have to spend your time searching for news or reading something that was not worth your time.
---
This Week's DomainSherpa Interview
---
VIDEO: Developing Software As a Service for Recurring Monthly Income – With Matt Mazur

Are you tired of building websites made for AdSense, hoping to generate ad revenue? Instead, build a website that solves a real customer problem, and then charge that customer a recurring monthly fee.

In this interview, Matt Mazur shares how he's doing just that using the software as a service (SaaS) business model, including:
* His traffic, business model, revenue and growth opportunities
* Why building businesses may be fun, but marketing them is how he's going to make a living
* How he solved the problem of finding a great, brandable domain name using LeanDomainSearch.com
* And much more!
---
This Week's News in Review
---
Buff.com Spared by UDRP Panel – 08-Nov-12
A three person World Intellectual Property Organization panel has ruled against Original Buff, S.A. in a case brought against the domain name Buff.com.
Matt Cutts: Don't Park Your Domain Right Before Launching a Web Site – 07-Nov-12
Cutts recommends taking down a parking page about a month before launching a new site.
NZ's 500,000th Domain Name – 07-Nov-12
The website www.drct.kiwi.nz has now been confirmed as New Zealand's 500,000th active domain name within the .NZ domain space.
Kim Dotcom's New Mega Site Barred by Gabon – 07-Nov-12
The government of Gabon has thrown a wrench in internet tycoon Kim Dotcom's plans to launch a new version of his Megaupload file-sharing site by suspending his domain name registration in that country, citing intellectual property concerns.
The Battle For The Cloud: Amazon Proposes 'Closed' Top-Level .CLOUD Domain – 07-Nov-12
According to a new proposal document uncovered by the website newgtldsite.com, Amazon.com is proposing a closed registry for the new .CLOUD generic top-level domain (gTLD).
Escrow.com Proudly Supports the Internet Commerce Association – 06-Nov-12
Escrow.com continues protecting Internet commerce and the domain name industry and marketplace by recently supporting leading Internet trade organizations such as the Internet Commerce Association (ICA).
Rick Schwartz Announces JointVentures.com for Businesses and Domain Investors – 06-Nov-12
'Million Dollar' Website Domain Names Available Free to Qualifying Businesses Accepted for No-Risk Joint Venture with JointVentures.com
Is OffersBy.Me Better Than Groupon? Probably (Especially If You Are A Business) – 06-Nov-12
Adam Goldberg did quite a bit of research before soft-launching OffersBy.me last spring. The ex-Oracle, ex-Google entrepreneur and ClearSaleing co-founder knows a thing or two about ad analytics and has taken this experience with him in his latest startup called OffersBy.me
FreeWebsite.com Founders Invest $500,000 in Domain Name Acquisition – 05-Nov-12
Website provider FreeWebsite.com acquires pricy domain name as investment in future success.
Marchex' Top 500 Domain Sales of All Time – 05-Nov-12
Marchex releases a sales data treasure trove.
Sedo Announces Results of Third-Quarter Domain Market Study – 05-Nov-12
Domain Market Remains Strong with Significant Year-Over-Year Increase in Median Sales Price for All gTLDs.
Marchex Will Finally Focus on its Domain Name Business – 02-Nov-12
Yesterday Marchex announced it was splitting the company in two, forming a new domain-centric business called Archeo.
Coach Gets $257 Million, 573 Domain Names in Counterfeiting Lawsuit – 02-Nov-12
Handbag maker Coach Inc. (COH) said it has been awarded $257 million in a lawsuit against people and businesses selling counterfeit Coach merchandise.
Right Of The Dot™ Teams up with Escrow.com™ To Provide Neutral Auction & Mediation Resolution for gTLD String Contention – 01-Nov-12
Hot on the heels of ICANN's welcome announcement of the drawing process, Right Of The Dot is launching a private auction and mediation service to accelerate the process of settling claims between applicants for the same new gTLD string, in turn reducing the time it takes for new gTLDs to go live. Right Of The Dot has been granted a special Auction License, which specifically allows them to conduct TLD Auction Services for new gTLDs.
ICM Registry Announces Innovative Promotion For .XXX Names – 01-Nov-12
Following the highly successful launch of its .XXX porn search engine Search.xxx, ICM Registry, the company that operates .XXX, announced a unique advertising credit program making .XXX amongst the most affordable domains available.
Commerce, Justice Reviewing .com Contract – 01-Nov-12
The Commerce and Justice departments are scrutinizing Verisign's bid for a six-year renewal of its contract to continue running the .com registry, the Internet's most popular generic top-level domain name.
Google Registers 18 '.中国' Domain Names – 01-Nov-12
Google has registered 18 domain names in China for various Web products under the simplified Chinese country code top-level domain (TLD).

If you enjoyed this article, subscribe for updates (it's free)