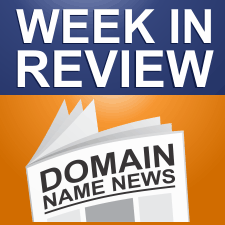 Every Friday, DomainSherpa.com provides you with a hand-selected, editorially-based review of the weekly news. In this summary, you will find the latest articles and videos produced by DomainSherpa staff and contributors. You will also find links to the best news articles in the domain name industry – so you don't have to spend your time searching for news or reading something that was not worth your time.
---
This Week's DomainSherpa Interview
---
---
This Week's News in Review
---
UCRP Filed On NJTurnpike.com & GardenStateParkway.com, Registered in 1998
– 30-May-13
A UDRP has just been filed on the matching domain names of the two major highways in New Jersey. The UDRP was filed on the domain names NJturnpike.com & GardenStateParkway.com both which are registered by a David P Matteo who lives in New Jersey…
ICANN Sends Notice of Breach to Hong Kong Registrar: Asiaregister, Inc.
– 30-May-13
As of 28 May 2013, 1 more ICANN accredited registrar is in breach of their Registrar Accreditation Agreement (RAA) with the Internet Corporation for Assigned Names and Numbers (ICANN). Registrar: AsiaRegister, Inc. (IANA ID#1084) Address: 11/F., AXA Centre, 151 Gloucester …
Fling.com Discovers The Challenges of Branding With a Generic Domain Name
– 30-May-13
Descriptive nature of domain means registrant not necessarily lacking rights or legitimate interests in domain. Fling.com, an adult social network that facilitates hookups, has lost a domain name dispute over best-fling-sites.com. According to Fling.com owner Global Personals, LLC, the registrant of the domain optimized it to show up high in search results when a user […]
Tiny Tokelau Now Has The Biggest ccTLD in The World
– 30-May-13
The .tk domain is now the biggest ccTLD in the world, according to the latest stats from Centr. In its just-published biannual Domainwire Stat Report, Centr says that .tk had 16.7 million registered domains in April, taking the #1 spot in the league table for the first time. It now out-ranks Germany's .de (15.4 million), […]
Above.com Becomes 1st Registrar to Share Profits of Sold Expired Domains
– 29-May-13
Above.com just announced this morning a new program where it will become the first domain name registrar to share the revenue generated from the sales of expired domain names. The Expiring Domain Sales Program is an opt-in program offered to clients with more than ten domain names registered at Above.com…
ICANN Approves .kiwi Domain Name
– 29-May-13
Trade mark owners could begin applying for .kiwi domain names as early as mid-August this year, but only if they have recorded their marks with the Trademark Clearinghouse.
Go Daddy IPO "Not Off The Table"
– 29-May-13
Go Daddy may be on the IPO track with its new investors and management. Speaking to the Wall Street Journal about the possibility of going public, CEO Blake Irving said: It's not off the table. We're growing at double digits [in terms of percentage] on the customer side, on revenue, on earnings, so the opportunity […]
.xxx Sells Over 12,000 Domain Names During May Promotion
– 29-May-13
xBiz.com is reporting the ICM registry the company that operates the .XXX extension has sold over 12,000 domain names during its May promotion where domain registrations went for a low as $8.99. The promotion will end Friday at 4 p.m. PDT (midnight UTC time) at which time the price of a .XXX registration goes back to $62 wholesale…
Luxembourg's .lu Domains Can Now Be Locked for a Year in Disputes
– 29-May-13
.Lu provides new lock in case of domain dispute. Country code operators are not required to offer a cybersquatting resolution service, although many adopt some form of the Uniform Domain Name Dispute Resolution Policy (UDRP). Luxembourg takes a more hands of approach. But starting next month it will implement a locking option to stop a […]
.club Could Be a Seven
– 29-May-13
It looks like the .club gTLD is heading to auction. Donuts' two rival applicants for the string seem to have agreed to an auction run by Cramton Associates, while .Club Domains, LLC said it has raised $3.5 million to participate. "We are happy to announce the successful raise of 3.5 million dollars for the purpose […]
.club Domains LLC Raises $3.5 Million & is Headed to Private Auction
– 29-May-13
.Club Domains, LLC an applicant for the new top level domain, (new gTLD) .CLUB, announced today that they have raised $3.5 Million dollars and is heading to a private auction next week. Earlier today Domainnamewire.com reported that .Club Domains, LLC filed a Form D with the "U.S. Securities and Exchange Commission seeking to raise up to $7 million"…
.gd, .tc and .vg TLDs are Back Online for Registrations and Transfers
– 29-May-13
.GD, .TC and .VG TLDS registrations and transfers are back online and available to the public. .gd is the country code top-level domain (ccTLD) for Grenada, .vg is ccTLD for the British Virgin Islands and .tc is the ccTLD for … Continue reading →
2.4 Billion People On The Net Up 8% From Last Year But Only 34% are Online
– 29-May-13
As reported by Cnet.com, Mary Meeker, a partner at Silicon Valley venture capital firm Kleiner Perkins Caufield & Byers Meeker, speaking today at the AllThingsD D11 Conference, reported that 2.4 billion people around the world are on the Internet, an 8% year-over-year gain. Only 34% of the world's population is online…
Domains Seized As Part of Liberty Reserve Money Laundering Sting
– 29-May-13
The US government seized five domain names and is going after dozens more as part of its crackdown on Liberty Reserve, a digital currency provider apparently popular with criminals. The Department of Justice said yesterday that the company was responsible for laundering $6 billion spread across 55 million transactions, "virtually all of which were illegal". […]
.club Applicant Seeks to Raise Up to $7 Million
– 28-May-13
.Club Domains, LLC files Form D with SEC. .Club Domains, LLC, an applicant for the .club top level domain name, has filed a Form D with the U.S. Securities and Exchange Commission as it seeks to raise up to $7 million. The filing states that none of the money has been raised so far, and […]
Sedo Pushing New TLD Services
– 28-May-13
Company releases brochure and starts more heavily marketing its new TLD capabilities. Sedo is starting to more aggressively promote services to new top level domain applicants, including adding a couple ad banners targeting them on its home page. The company's four page "Sedo New gTLD Services" brochure (pdf) highlights services the company provides prior to […]
Demand Media Wants to Trademark Name for Domain Name Trademark Protection Service
– 28-May-13
New TLD applicant files trademark applications fro DPML. Demand Media subsidiary United TLD has filed six trademark applications with the U.S. Patent and Trademark Office related to its proposed Domain Protected Marks List (DPML). Three of the applications are for the full term "Domain Protected Marks List " and the other three are for "DPML". […]
Report: Paid Search On Travel Continues to Decline & Its Google's Fault
– 24-May-13
According to a blog post on adgooroo.com, in the first four months of 2013. "Paid search spend in the Travel category on U.S. AdWords is down in 2013. At $238 million for the months of January through April, it's actually down 19% from 2012's $295 million during the same period, which was down 17% from 2011…
Aftermarket.com to Combine Parking and Selling
– 24-May-13
Thought Convergence's domain marketplace will integrate domain parking and the company has switched ad feed providers. Aftermarket.com, the domain name sales platform by Thought Convergence, is getting ready to launch a combined parking and selling platform. In a blog post today, the company said it will start offering a parking platform integrated into Aftermarket.com. Domain […]
91 New gTLD Pass Ie: .nyc, .microsoft, .gop; .kiwi, .monster, .berlin, .youtube
– 24-May-13
a Total of 91 new gTLD applications passed ICANN Initial Evaluation (IE) including 8 applications which were previously passed over. This is the most new gTLD applications to pass IE in a single week and ICANN is now processing 100 new gTLD applications up from 50 per week as they promised would happen in June…
Now We're Getting Serious: 92 New gTLD Bids Pass
– 24-May-13
ICANN has stepped up the pace of its Initial Evaluation results schedule, this evening publishing the results of 92 new gTLD applications. Applications for the following strings have passed IE this week: .fishing, .casa, .gop, .home, .love, .budapest, .book, .kiwi, .llc, .iselect, .audible, .wedding, .cpa, .earth, .delivery, .tickets, .msd, .neustar, .ski, .lease, .salon, .monster, .immo, […]
Bloomberg Reports Google Facing New FCC Antitrust Probe Over Display Ads
– 24-May-13
According to Bloomberg.com, Google is facing a new Antitrust Probe Over Display Ads by the U.S. Federal Trade Commission. According to the story the FCC is looking into "into whether the company is using its leadership in the online display-advertising market to illegally curb competition"…
Demand Media Commits Five TLDs to Private Auctions, But Three are Dead On Arrival
– 24-May-13
Demand Media throws five domains into private auction ring, but three are against competitors who won't participate. Demand Media subsidiary United TLD has committed five of its applied-for top level domains to the first private domain auctions to be handled by Peter Cramton. The five domains are .fishing, .green, .mom, .rip, and .wow. Donuts recently […]
Microsoft Doesn't Own Xbox One Domain Names, But is Fighting to Get Them
– 23-May-13
You'd think when a company is about to unveil a new product they'd ensure that they own the associated domain names….
Ron Paul Found Guilty of Reverse Domain Name Hijacking
– 23-May-13
Former congressman guilty of reverse domain name hijacking, says WIPO panel. Earlier today I wrote about how Ron Paul lost both of his domain disputes brought before the World Intellectual Property Organization. The disputes were filed against RonPaul.com and RonPaul.org and were both heard by the same arbitration panel under the Uniform Domain Name Dispute […]
Afternic & Directi Partner Up
– 23-May-13
Afternic, announced their partnership with Directi, the largest domain registrar in Asia and seventh-largest registrar in the world. Directi will join the Afternic reseller network as a Premium Partner, incorporating Afternic's vast inventory of premium domains for sale through their BigRock brand. This exclusive relationship brings premium domains to India for the first time, opening up new domain options for small to medium size business owners and domain investors across the globe. The entire Afternic portfolio of six million premium domain names will be available to BigRock customers, many of which are eligible for immediate ownership through Afternic's Fast Transfer network…
H2.co Launched By Linkedin Co-founder & Ex
– 23-May-13
Another .Co is in the news today as H2.co announced its holding its inaugural meeting at LinkedIn's global headquarters in Silicon Valley in October 2013. Talk about name dropping. Lets start with Reid Hoffman who is a Partner at Greylock and Co-Founder and Executive Chairman at LinkedIn. Then we move over to Nayan Patel and Jeff Merkel who between them are ex-Google, Verisign and Apple exec's….
.home and .corp are Not The Only Invalid Tlds That Currently Get Queried
– 23-May-13
They're not as big, but several applied-for TLD strings get invalid queries. ICANN is investigating internal names used by corporations and how they might conflict with applied-for top level domains. .Home and .Corp are frequently among the top 10 queried invalid top level domains, but they aren't the only ones. ICANN hosts a page that […]
If you enjoyed this article, subscribe for updates (it's free)