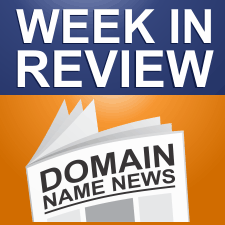 Every Friday, DomainSherpa.com provides you with a hand-selected, editorially-based review of the weekly news. In this summary, you will find the latest articles and videos produced by DomainSherpa staff and contributors. You will also find links to the best news articles in the domain name industry – so you don't have to spend your time searching for news or reading something that was not worth your time.
---
This Week's DomainSherpa Interview
---
VIDEO: UsedCardboardBoxes.com: From Storefront Failure to Dot Com Success – With Marty Metro

Big companies like Amazon, Citigroup and Dell know the value of an exact match domain (EMD) – they own Diapers.com, Mortgage.com and CloudComputing.com, respectively. But smaller companies and upstarts can also benefit tremendously from EMDs.

That was the case with Marty Metro and UsedCardboardBoxes.com.

In this interview, Metro describes the two failed business models he went through before his current success, and how UsedCardboardBoxes.com grew and is now generating revenue that's trending toward eight figures per year.
---
This Week's News in Review
---
Google Reports Miss On Revenue & Earnings: Paid Clicks Up 23%; Cost Per Click Down 6% Stock Sinks Over 5% – 18-Jul-13
Google Inc. (NASDAQ: GOOG) today announced financial results for the quarter ended June 30, 2013 after the market closed but missed expectations for both revenue and earnings per share, sending shares down more than 5% or $50 a share in after hours trading. Google reported consolidated revenues of $14.11 billion for the quarter ended June 30, 2013, an increase of 19% compared to the second quarter of 2012…
Over €1m Deposit Required to File a New gTLD Objection With The ICC, Partridge IP Law Tells ICANN – 18-Jul-13
At the ICANN Open Forum today at Durban An attorney Mark Partridge took the floor to tell ICANN how much money an objector has to tie up to get their objection heard by the ICC.
The ICC hear objections to new gTLD's that are based on limited public interest objections and community objections…
Pinterest Loses Fight With Amazon.com Over .pin Domain Name – 18-Jul-13
Social site loses objection for .pin top level domain name. Social networking site Pinterest has lost an objection it filed with World Intellectual Property Organization over Amazon.com's bid to get the .pin top level domain name. One of Pinterest's challenges was showing some sort of rights and secondary meaning in the term "pin". Amazon.com pointed […]
Mike Mann's Domain Asset Holdings Loses UDRP On Tracyanderson.com – 18-Jul-13
Tracy Anderson Mind and Body LLC of Studio City, California, just won a UDRP against Mike Mann's Domain Asset Holdings on the domain name tracyanderson.com
This marked the 6th UDRP in a row that Domain Asset Holdings has lost…
.amazon May Not Be Dead Yet As Trademark Groups Urge ICANN to Follow International Law Not Gac Advice – 18-Jul-13
Trademark Groups urged ICANN to follow International Law not GAC advice and to approves the new gTLD application for .Amazon…
Canadian Real Estate Association Loses Objection to Afilias' .mls New Top Level Domain – 18-Jul-13
Competing application loses objection over .mls top level domain name. The Canadian Real Estate Association (CREA) has lost its Legal Rights Objection against Afilias' application to run the .mls domain name. CREA is a competing applicant for the .mls string. It filed two applications for the string, one of which seeks community designation. Afilias tried […]
.CO TLD Tops .COM, .NET and .ORG in Average Sales Price in First Half of 2013 [PDF] – 17-Jul-13
Sedo today unveiled a report, detailing the growth and success of the .CO domain extension three years after its launch.
Lawyers Jump On New gTLD Wagon to Sell Webinar On "Challenging Unfavorable ICANN Objection & Application Decisions" – 17-Jul-13
We knew that the new gTLD process would cause a lot of new businesses to spring up but we weren't counting on this one. A company is selling a Webinar aimed at Attorney's On "Challenging Unfavorable ICANN Objection and Application Decisions"…
Body.com Seller Took a Loss, Plus Neustar Buys a .com – 17-Jul-13
Body.com sold for a loss, plus the .biz registry buys a .com in this week's Sedo end user sales roundup. Sedo's big sales week was led by the $380,000 sale of Body.com. The domain was sold through Sedo's partnership with GoDaddy. This is the second time Sedo has cashed in selling the domain. In 2009 […]
Internet Commerce Association: "ICANN Lied About URS Contracts" – 17-Jul-13
The Internet Commerce Association (ICA) to which our company is a Silver Level Supporter of wrote today on its blog that ICANN has gone back on its word that it would create a standardizes contract for all Uniform Rapid Suspension providers to prevent forum shopping…
PIR: We Think We'll Get 1 Million .ngo Domain Name Registrations – 17-Jul-13
.NGO applicant has goal of a million domain registrations. Public Interest Registry (PIR), the registry behind the .org domain and the only applicant for the .NGO top level domain name, has some lofty goals for the domain. PIR CEO Brian Cute thinks they'll get one million .ngo domain name registrations. Speaking to Computerwoche.de (and translated […]
After 16 Years, Johnson & Johnson Goes After Johnsons.com Domain Name (Again) – 17-Jul-13
Many years later, consumer products company decides it wants Johnsons.com domain name. Johnson & Johnson has filed a UDRP for the domain name Johnsons.com, which was registered way back in 1997. UPDATE 2: It turns out this is not the first time Johnson & Johnson has gone after the domain name. It filed a UDRP […]
GoDaddy Gets Patent for Geo Domain Tool – 17-Jul-13
First patent related to system for generating geo domain names is granted. Back in 2009 GoDaddy released a geo domain tool that allowed you to find domain names specific to a location, e.g. AustinAllergists.com. Last year I reported that GoDaddy filed three patent applications related to the tool. The U.S. Patent and Trademark Office has […]
HugeDomains.com Passes BuyDomains.com to Become Largest Private Domain Holder With Over 1 Million Domains – 17-Jul-13
HugeDomains.com has passed NameMedia's BuyDomains.com to be the largest Privately Owned Domain holder in the world with over 1,000,000 domains owned. The number of domains owned by HugeDomains.com as of today "is about" 1,016,374 according to DomainTools.com…
TLDH: We'll Sign Our First New TLD Contracts By End of Q1 2014 – 17-Jul-13
New TLD applicants still far from generating revenue. ICANN signed its first registry agreements for new top level domains this week, but a press release from portfolio applicant Top Level Domain Holdings is a reminder that many new TLDs are a long way to fruition. The release states: Top Level Domain Holding anticipates contracts will […]
.home Gets Half a Billion Hits a Day. Could This Put New gTLDs at Risk? – 17-Jul-13
New gTLDs could be in jeopardy following the results of a study into the security risks they may pose. ICANN is likely to be told to put in place measures to mitigate the risk of new gTLDs causing problems, and chief security officer Jeff Moss said "deadlines will have to move" if global DNS resolution […]
Frank Schilling's DomainNameSales.com Announces $5.5mm of Domain Sales for 1st Six Months of 2013 – 16-Jul-13
As reported by TNTnames.com, Frank Schilling's DomainNameSales.com, released its reportable sales for the first six months of 2013. Total combined sales were $5,502,211…
Donuts Chalks Up Another LRO Win – 16-Jul-13
Donuts has successfully fought off another Legal Rights Objection against one of its new gTLD applications. This time the objector was The Limited, apparently the operator of a large chain of clothing stores in the US, and the applied-for gTLD was .limited, which is uncontested. Key to the World Intellectual Property Organization panelist's decision appears […]
Donuts Chalks Up Another LRO Win – 16-Jul-13
Donuts has successfully fought off another Legal Rights Objection against one of its new gTLD applications. This time the objector was The Limited, apparently the operator of a large chain of clothing stores in the US, and the applied-for gTLD was .limited, which is uncontested. Key to the World Intellectual Property Organization panelist's decision appears […]
Trademark Clearinghouse Cutting It Fine for New gTLD Launches – 16-Jul-13
The Trademark+50 rights protection mechanism for new gTLDs is late, potentially complicating the lives of trademark professionals. During a session with registries and registrars at ICANN 47 in Durban today, executives from IBM and Deloitte, which are managing the Trademark Clearinghouse, laid out their go-live expectations. The TMCH is the central repository of trademark records […]
Trademark Clearinghouse Cutting It Fine for New gTLD Launches – 16-Jul-13
The Trademark+50 rights protection mechanism for new gTLDs is late, potentially complicating the lives of trademark professionals. During a session with registries and registrars at ICANN 47 in Durban today, executives from IBM and Deloitte, which are managing the Trademark Clearinghouse, laid out their go-live expectations. The TMCH is the central repository of trademark records […]
Healthcare Company Spends $50,000 On .org Domain Name for Hospital Chain – 16-Jul-13
Tucows sells AHN.org for $50,000 to hospital system. Healthcare provider and insurance company Highmark spent $50,000 for the AHN.org domain name, topping Afternic's list of reportable sales for last week. The domain name is the acronym for Allegheny Health Network, which Highmark announced in April as the new name for a Pittsburgh hospital system anchored […]
Just Like Express, The Limited Loses .limited New Top Level Domain Objection – 16-Jul-13
Donuts has scored its second victory against a large fashion brand. The company has successfully defended itself in a Legal Rights Objection brought by Limited Stores, LLC for the top level domain .Limited. It recently won a case brought by Express for .express as well. The .limited case was determined by Robert A. Badgley, who […]
GoDaddy Triples Space in Sunnyvale, Now Over 80 Employees in Silicon Valley – 16-Jul-13
Domain name registrar leases 40,000 square feet in key Silicon Valley location. GoDaddy is opening a new office in Sunnyvale, California as it rapidly increases its headcount in the area. The new 40,000 square foot office more than triples the company's current space in the city. 40 GoDaddy employees were in Silicon Valley as of […]
Verisign Downgrades Sponsorship of ICANN Meetings – 16-Jul-13
After peaking in 2011 meeting, Verisign's sponsorship of ICANN meetings has steadily dropped. Thinks there's a lot of bad blood between Verisign and ICANN right now? That may be why Verisign isn't sponsoring the Durban meeting at as high of a level as it has sponsored previous meetings. The Durban meeting offers six sponsorship levels, […]
ICANN Launches ICANN Labs – 16-Jul-13
Group that runs domain name system creates ICANN Labs to help improve communication and engagement. You're not a cool tech company unless you have a "labs" group. Apparently you're not a cool tech non-profit if you don't have one, either. ICANN has launched ICANN Labs, a new initiative to increase participation and engagement in the […]
GoDaddy Tests New Lander for Expired Domain Names – 16-Jul-13
GoDaddy drops PPC ads on expired domains in favor of auction promotion. A domain name registrar typically parks a domain when it expires. The expired domain parked page usually notifies visitors that the domain is expired and up for auction with a fairly subtle notice toward the top of the page. It appears GoDaddy is […]
Gac to Kill Off .amazon – 16-Jul-13
The Governmental Advisory Committee has agreed to file a consensus objection against Amazon's application for .amazon. The decision, which came this morning during a GAC session at the ICANN meeting in Durban, also applies to the company's applications for .amazon in non-Latin scripts. The objection came at the behest of Brazil and other Latin American […]
Trademark Clearinghouse Tops 5,000 Submissions – 16-Jul-13
Trademark protection service for new top level domains releases statistics. The Trademark Clearinghouse for new top level domains has received 5,000 submissions, the group announced today. 44% of the submissions have come from the United States. 10% are from France, 7% from the United Kingdom, and 4% from Germany. The top category of submissions so […]
Is Sauce for the .Halal Goose Sauce for the .Kosher Gander At The ICANN Meeting In Durban? – 15-Jul-13
The peculiar story of .kosher and the question of whether it will or will not be treated like .halal. Because whatever the actual outcome, it would be nice to think that the two communities will be treated with equal fairness regardless of size or political clout.
GoDaddy First Major Registrar to Sign ICANN's New Registrar Accreditation Agreement (Raa) – 15-Jul-13
According to a press release we received, GoDaddy, announced today it was the first major registrar to sign ICANN's new Registrar Accreditation Agreement (RAA)…
Oversee.net Loses UDRP On OnlineBacarrat.com – 15-Jul-13
Oversee Domain Management, LLC, just lost a UDRP on the domain name OnlineBacarrat.com to Baccarat SA of Baccarat, France…
1st Day of Single Character .pw Domains Auctions On Namejet.com End With 7 Domains, No Sales – 15-Jul-13
The first day of single character .PW domains just ended. Single character domains included single number .pw domain names as well as single letter .pw domains. With 7 domain names up for sale, none reached the reserve price set by the .Pw registry, so none of them sold…
BeNaughty.com, Flirt.com and WildBuddies.com Sites Sell for £45.1 Million – 15-Jul-13
According to Growthcompany.co.uk, publicly traded Cupid (AIM: CUP) sold "off its range of 'casual dating' sites including Benaughty.com, Flirt.com and WildBuddies.com to a company set up for the purpose of the transaction called Grendall Investment, which is managed by Cupid's co-founder and major shareholder. Max Polyakov."…
100th New gTLD Application Withdrawn – 15-Jul-13
Former London mayor Ken Livingstone, rejoice! L'Oreal has withdrawn its gTLD application for .redken, a dot-brand for one of its hair care products that I am reliably informed is not named after the balding socialist politician. It's the seventh of the company's 14 new gTLD bids to be withdrawn. Also today, it emerged that portfolio […]
Q&A With Matt Mazur, Who Just Sold His Domain Name Search Company to Automattic – 15-Jul-13
Lean Domain Search founder Matt Mazur explains why he sold his business to Automattic. Automattic, the company behind WordPress, has acquired domain name discovery company Lean Domain Search. I've written extensively about this company over the past year, as it was one of the best tools on the market for finding available domain names. I […]
First Five Domain Name Registrars Sign 2013 RAA – 15-Jul-13
Five domain name registrars, including GoDaddy, signed the new registrar accreditation agreement today. Five domain name registrars signed the 2013 Registrar Accreditation Agreement (RAA) during a signing ceremony at ICANN's meeting in Durban today. The group was headlined by GoDaddy, which registers about half of all new domain names. The 2013 RAA places significant new […]
As ICANN Meets, Two More New gTLD Apps are Withdrawn One Brand, One Famous Four – 15-Jul-13
As ICANN is holding its meeting in Durban, two more new gTLD applications have been withdrawn reflected on ICANN's site. L'Oréal which originally applied for 14 new gTLD, has withdrew its 7th application, all .Brand applications…
Introducing The New and Improved Domain Name Wire – 15-Jul-13
Domain Name Wire gets a clean and responsive design. Notice something new at Domain Name Wire today? Like, the entire site? I'm very excited to launch the new look of Domain Name Wire. It's been a very long process, but I'm happy with the result. I think you'll find the new look a lot cleaner […]
Roussos Loses New gTLD Objection – 15-Jul-13
The World Intellectual Property Organization has thrown out a second new gTLD objection that was based on a hastily acquired trademark filed by .music hopeful Constantine Roussos. While Amazon, the defendant, is the only applicant for .tunes, Amazon is in the .music contention set with one of Roussos' companies. The objection filed by Roussos' DotTunes […]
Wipo Panel Denies Constantine Roussos Objection Amazon's Application for .tunes – 15-Jul-13
A one member WIPO panel has rejected the objection of Dot Tunes Limited, which is Constantine Roussos company, to Amazon's new gTLD application of .Tunes…
Four New Top Level Domain Name Contracts Signed – 15-Jul-13
Four IDN top level domains backers sign contracts with ICANN. Yesterday Domain Name Wire reported about dotShabaka Registry signing the first registry agreement for a new TLD with ICANN for شبكة. Today ICANN held a signing ceremony during its meeting in Durban, South Africa, with dotShabaka and three additional top level domain names: Core Association's […]
Sedo Gets Startingdot Sunrise, Landrush & Premium Domains for New Gtld's .ski; .immo; .bio & .archi – 15-Jul-13
Sedo announced today that they will run "sunrise" and "landrush" auctions for Starting Dot's new gTLD extensions, and assist with sales and brokerage of premium domains for .Bio, .Ski, .Archi and .Immo…
ICANN Says Article 29 Letter Does Not Give EU Registrars Privacy Opt – 15-Jul-13
Registrars based in the European Union won't immediately be able to opt out of "illegal" data retention provisions in the new 2013 Registrar Accreditation Agreement, according to ICANN. ICANN VP Cyrus Namazi on Saturday told the Governmental Advisory Committee that a recent letter from the Article 29 Working Party, which comprises the data protection authorities […]
First New gTLD Contracts Signed – 15-Jul-13
Donuts, an ARI Registry Services subsdiary and CORE this morning became the first new gTLD applicants to sign registry contracts with ICANN. The ceremonial signing took place live on stage at the opening ceremony of ICANN 47, the week-long public meeting in Durban, South Africa. ARI CEO Adrian Kinderis signed on behalf of شبكة. applicant […]
Verisign Reconfirms IDN Transliteration Plans, Provides More Details – 14-Jul-13
Verisign provides some details on how it will allocate top level domain transliterations. Have you ever invested a lot of money in something without a written contract? It can be a bit nerve racking, and occasionally you can feel like you got burned. That's why internationalized domain name (IDN) investors are feeling a better after […]
Creating a Terms-of-Service policy: Expert advice for SMBs – 12-Jul-13
Terms of Service agreements for your website protect you and should help your users. Ryan Boudreaux asks an expert for some best practice advice and provides some other resources for help.
95 New gTLD Pass Ie: .africa; .miami; .amsterdam; .bible; .adult; .landrover; .amazon; .dodge; .jaguar; .bestbuy – 12-Jul-13
95 new gTLD application passed ICANN Initial Evaluation (IE) today and 2 applications are headed for the dreaded Extended Evaluation. Leading the way passing IE, today are the Geographical applications for .Africa; .Miami; .Amsterdam…
86 Passes and Two Failures in This Week's New gTLDs – 12-Jul-13
ICANN has just published this week's batch of new gTLD Initial Evaluation results, revealing 86 passing scores and two applications that must go to Extended Evaluation. The two failures are .ged and .bcg. The .ged bid, which is intended to represent General Educational Development, was filed by a joint venture of the American Council on […]
First New gTLD Objection Scalps Claimed – 12-Jul-13
Employ Media has killed off the Chinese-language gTLD .招聘 in the latest batch of new gTLD objection results. Amazon and DotKids Foundation's respective applications for .kids also appear to be heading into a contention set with Google's bid for .kid, following the first String Confusion Objections. All three objections were marked as "Closed, Default" by […]
Amazon Picked Up Domain Names for New Jet City Comics Imprint in March – 12-Jul-13
Company hand registered one domain and acquired the other. Amazon.com announced its new Jet City Comics imprint today. The imprint features works by Hugh Howey, George R.R. Martin (Game of Thrones), Neal Stephenson, and Christian Cameron. Amazon.com hand registered the JetCityComic.com domain name in March. At the same time it acquired the plural version JetCityComics.com […]
Overus.com Case Provides Rare Glimpse Into UDRP Complaint – 12-Jul-13
Losing complainant posts all documents online, including price negotiations. When Domain Name Wire reports on UDRP decisions, usually all we have is the panelist's write-up of the decision. This typically includes the panelist's summary of each party's case, but not the entire written complaint and response. In the case of Overus.com, which the respondent just […]
Express. Llc Really Screwed Up By Not Spending $185k to File for .express; Instead Loses Objection to Donuts – 12-Jul-13
Donuts defeated an objection by Express, LLC brought under WIPO to the new gTLD string .Express in a case published yesterday. I started to write about the decision and it occurred to me that the real story is why didn't this company just apply for the new gTLD .Express…
Afilias Opens Pre-regs of 30 New TLDs – 12-Jul-13
Afilias has started accepting expressions of interest on the 30 new gTLDs it has applied for. A basic site launched today invites potential registrants to indicate which names they'd like to register in future and submit their email address for updates. As usual, it's free, no obligation, and provides more value to the registry than […]
Verisign Lays Out 'Buy Once' IDN gTLD Plans – 12-Jul-13
Verisign has finally clarified how it proposes to let existing registrants of internationalized domain names grab the matching domains in its 12 forthcoming IDN gTLDs. The company has applied for transliterations of .com in nine non-Latin scripts and .net in three, but its applications were light on details about existing registrants' rights. But today Verisign […]
Donuts Beats Dot-brand in fight over .express gTLD – 11-Jul-13
Donuts has prevailed in the first big dust-up between a portfolio gTLD applicant and a dot-brand hopeful. The World Intellectual Property Organization today published its decision (pdf) in the Legal Rights Objection filed by a clothing retailer called Express over the .express gTLD. The ruling could have a big impact on future rounds of the […]
Breaking: Suit Filed Against Scott Ross & Others Over Non-Payment of MD.Org Namejet $555,650 Auction – 11-Jul-13
On April 12, 2012, the domain name MD.org sold at a record setting NameJet.com auction for $555,650.00 to the high bidder ID of 'Winters". Today the seller of the domain name, Privacy LLC, (Privacy) filed a lawsuit along with NameJet, LLC ("NameJet") against Scott Ross and "Does defendants 1-3″ which "may include Ari Goldberger, Esq. and Larry Fischer", for breach of contract, in refusing to pay for the domain name…
Body.com Sells On GoDaddy.com for $380,000 – 11-Jul-13
The domain name Body.com just sold on GoDaddy's aftermarket for $380,000.
This was listed via Godaddy's partnership with Sedo and sold from GoDaddy.com as a make offer listing. The seller appears to have been Red Trend Limited out of Hong Kong…
IAB Gives Dotless Domains The Thumbs Down – 11-Jul-13
The Internet Architecture Board believes dotless domain names would be "inherently harmful to Internet security." The IAB, the oversight committee which is to internet technical standards what ICANN is to domain names, weighed into the debate with an article apparently published yesterday. In it, the committee states that over time dotless domains have evolved to […]
Domainsbot Takes Its New gTLD Spinner to Registries – 11-Jul-13
DomainsBot has started promoting its domain name suggestion services to new gTLD registries. Announced today, its new TLD Recommendation Engine for Registries is designed to make TLD suggestions more relevant when people are hunting for a new domain name. It's a sister service to the TLD Recommendation Engine for Registrars that, as we reported last […]
Internet Architecture Board: Dotless Domains May "Cause Significant Harm to The Security of The Internet" – 11-Jul-13
The Internet Architecture Board, has come out strongly against Dotless Domains as proposed by Google to operate the .Search new gTLD…
Hilco Streambank Selling CircuitCity.com & CompUSA.com Domain Names – 11-Jul-13
Hilco Streambank is the company that auctioned Bargain.com for $150,000, ETM.com for $16,659, and they privately sold the package of My Website related domain..
True Value Sues After Losing UDRP – 11-Jul-13
Hardware cooperative files lawsuit in second attempt to get domain name TrueValueWeb.com. If at first you don't succeed, try, try again. This Monday I wrote about how United Press International filed a lawsuit after losing a UDRP complaint. Now True Value Company, which also recently lost a UDRP complaint, has done the same thing. The […]
Report Names and Shames Most-abused TLDs – 11-Jul-13
Newish gTLDs .tel and .xxx are among the most secure top-level domains, while .cn and .pw are the most risky. That's according to new gTLD services provider Architelos, which today published a report analyzing the prevalence of abuse in each TLD. Assigning an "abuse per million domains" score to each TLD, the company found .tel […]
Key-Systems to Take a Loss on .hiv Domains – 11-Jul-13
Key-Systems said yesterday that it plans to make .hiv domain names available at "below net cost price", in solidarity with would-be new gTLD registry dotHIV. The registrar said it will also offer free .hiv names at launch to organizations involving in fighting the virus via its Moniker and domaindiscount24.com retail registrars. dotHIV, also a German […]
Godaddy's Offline Marketing of .la in Los Angeles – 11-Jul-13
Old school advertising to promote the .la domain name. GoDaddy CEO Blake Irving tweeted a photo of a .LA billboard in Los Angeles yesterday (see photo). As more "local" domains come to the internet, this type of targeted offline advertising will become more common. GoDaddy already does a lot of TV and promotional advertising and […]
.co Internet Looking for More Registrars – 11-Jul-13
.CO Internet is expanding its registrar channel with a new Request For Proposals. The company wants would-be registrars to respond with the commitments they're willing to make to market and promote .co domains, particularly in markets where .co is not currently popular. Only ICANN-accredited registrars need apply. Amusingly, registrars also need to be specifically accredited […]
Governments Kill Off Patagonia's Dotbrand Bid – 11-Jul-13
The clothing retailer Patagonia has withdrawn its application for .patagonia after it became clear that ICANN's Governmental Advisory Committee was unlikely to allow it. Controversial from the outset, Patagonia's dot-brand came under fire from governments including Argentina and Chile because the company is named after a large region of Latin America. The GAC couldn't find […]

If you enjoyed this article, subscribe for updates (it's free)