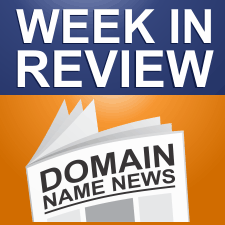 Every Friday, DomainSherpa.com provides you with a hand-selected, editorially-based review of the weekly news. In this summary, you will find the latest articles and videos produced by DomainSherpa staff and contributors. You will also find links to the best news articles in the domain name industry – so you don't have to spend your time searching for news or reading something that was not worth your time.
---
This Week's DomainSherpa Interview
---
---
This Week's News in Review
---
Moniker Spring Auction Results Net's $20k – 17-May-12
Moniker auction nets close to $20,000 in sales. The Moniker Premium Spring Auction at SnapNames just concluded. Here are the (unofficial) results: drivinggloves.com 6450 – this is a recently developed site. Auction included Facebook page (with 2,000+ likes) and Twitter handle. florists.info 3050 – good keyword, but not a bad price given how marketplace for […]
Dotster Moves Domains to Domain.com Credentials – 17-May-12
Company transfers domains between registrar accreditations. If you start to see domain name registrar Domain.com growing in registrar ranking reports, there's a good explanation for that. Dotster, which owns Domain.com, has transferred the domain names from its Dotster accreditation to the Domain.com one. I was alerted to this change when I received a DomainTools whois […]
Hexonet Announces More Than 1 Million Domains Under Management – 17-May-12
German based HEXONET, a domain technology solutions provider, recently announced that they are now managing over a million domains for clients, resellers and…
Apple Wins Iphone5.com Domain Name – 17-May-12
Apple's attempt to wrest control the iPhone5.com domain name from the hands of a cybersquatter has been a success, TheNextWeb reports.
Oversee.net Hires GM for $40M+ Travel Vertical – 17-May-12
Oversee.net hires GM from online travel industry to run its travel network. Oversee.net has hired Raj Beri as General Manager of its travel vertical, the company announced today. Beri was previously Director and COO of IgoUgo, a travel site owned by Travelocity. The travel vertical is part of Oversee.net's "vertical markets" business that includes fully […]
MLB Buys Athletics.com Domain Name – 16-May-12
Major League Baseball makes another big domain acquisition. Just a couple days ago I was revisiting a post I wrote in 2010 about Major League Baseball's domain names. The only change to the list since I posted was MLB picking up Angels.com. But this week MLB picked up another one. Jamie Zoch of dotWeekly discovered […]
2011 UDRP Filings Up at WIPO, Down at NAF – And Still Infinitesimal – 16-May-12
The World Intellectual Property Organization (WIPO) recently issued a detailed press release regarding Uniform Dispute Resolution Policy (UDRP) cases for which it provided arbitration services in 2011 and, once again, the number of WIPO filings was up. According to WIPO: "In 2011, trademark holders filed a record 2,764 cybersquatting cases covering 4,781 domain names with the WIPO Arbitration and Mediation Center (WIPO Center) under procedures based on the Uniform Domain Name Dispute Resolution Policy (UDRP), an increase of 2.5% and 9.4% over the previous highest levels in 2010 and 2009, respectively."
BankAds to Acquire CreditCards.net – 16-May-12
BankAds, a leading provider of advertising solutions for the banking and credit card industries, announced today that it has signed an exclusive agreement to acquire CreditCards.net from Acme Media LLC, a leading online publishing company based out of New York. Sean Sullivan, Co-Founder of BankAds, said the following regarding the acquisition.
Intuit Buys Apps.net for 24,100 Eur Among 25 End User Domain Sales – 16-May-12
Intuit picks up Apps.net domain name and other notable domain purchases.
UK Insurer First to Lose .xxx Dispute – 15-May-12
Request for .xxx domain name denied. United Kingdom insurance company BGL Group Limited, better known as CompareTheMarket.com, is the first complainant to lose a UDRP for a .xxx domain name. The company filed the complaint against UK resident Jon Watkins, who registered the domain back in December when .xxx became generally available. But as I've […]
Zimbabwe.com Seller Takes Huge Loss – 15-May-12
Zimbabwe.com sells for a fraction of what it sold for in 2007. We always hear stories about people who bought domains and flipped them for many times their purchase price. But the opposite also happens. Take the case of Zimbabwe.com, which just sold for $42,500 at Sedo. The last time this domain (reported) sold was […]
Here's What Law Enforcement Wants You to Do Before Registering a Domain… – 15-May-12
Registering a domain name might become a lot more time intensive in the future. Negotiations between ICANN and registrars to amend the registrar accreditation agreement are ongoing, and law enforcement agencies are asking for some pretty big changes to how domains are registered today. Law enforcement proposals relate to verifying whois information and tracking more […]
Bari Meyerson Latest to Change Jobs Within Domain Industry – 15-May-12
Meyerson lands at eNom. Once people discover the domain industry and all it has to offer, it's hard to move to any other industry. The latest move comes courtesy of Bari Meyerson. Meyerson left her long-time post at Moniker as it was being sold to Key Drive. Today eNom announced that it has hired Meyerson […]
StocktonGolf.com Lost in a UDRP Based Off a Common Law Trademark to Golfer … – 15-May-12
A one member UDRP panel has just awarded a pretty generic domain name StocktonGolf.com to  StocktonEnterprises, Inc. a company owned and operated by  professional golfer, Dave Stockton, a 10-time PGA Tour winner and a 14-time Champions Tour winner.
…
TAS Problems Doom Digital Archery – 14-May-12
IPC questions ICANN's ability to execute digital archery. Digital archery is doomed. The clever way ICANN plans to "batch" applications for new top level domains will either be killed, or it will be subject to accusations and lawsuits. Shortly after the bug in ICANN's new TLD application system was revealed I wrote about how this […]
Dot-music, Dot-sport and (Security Experts Hope) Dot-secure – 14-May-12
The Internet Corporation for Assigned Names and Numbers, or Icann, is about to throw open the floodgates to new top-level domain names. While most security experts have criticized the change, one group sees an opportunity by creating what it says will be a secure top-level domain. Read more…
Olympics Wastes More Money on ICANN Nonsense – 14-May-12
International Olympic Committee lawyers have lodged an official appeal of ICANN's latest decision to not grant it extra-extra special new gTLD protection.
.CA Turns 25 Years Old Today, Nearing 2,000,000 Registrations – 14-May-12
The domain name registry that operates the .CA ccTLD, Canadian Internet Registration Authority (CIRA), announced today that the .CA domain is turning 25 years
Now This is a Creative UDRP Argument – 14-May-12
You violated someone's rights when you registered the domain, even if it wasn't our rights. Think you've seen them all? Here's a very creative argument from Stabilus GmbH, maker of electronic tailgate openers, on why a UDRP panel should give it the domain powerise.com. Stabilus started using the "Powerise" term in commerce back in 2008. […]
Google Shoves Cybersquatter Off 763 Googletastic Domains – 14-May-12
Google has seized over 750 domain names from a cybersquatter who used them to drive traffic to a series of "gay interest" websites and now wants Google's trademark cancelled.
Artemis Seeks .secure Domain Name – 14-May-12
Websites who register with the name will have to go above and beyond when it comes to protecting their users.
10,000 Most Popular Topics in Domains – 14-May-12
Cloud, tech, and tv are popular topics in domain names. LeanDomainSearch has just published a list of the 10,000 most popular topics found in .com domain names. The site used research from its list of top prefixes and suffixes for domain names to figure out which topics show up most often in domain names. Here's […]
Verisign Releases More Traffic Data About Unregistered Domains – 11-May-12
.com and .net registry provides added detail about NXD traffic. VeriSign has enhanced its DomainScore tool to provide more insight into the traffic unregistered domains receive. DomainScore provides a relative score for the amount of traffic an unregistered domain name receives. But this so-called "NXD" traffic doesn't qualify the type of traffic very well. That's […]
Marchex Successfully Defends Geo Domain Name in UDRP – 10-May-12
Panel rules company can keep Norcross.com domain name. Marchex has successfully defended the domain name Norcross.com in a UDRP with the help of domain name attorney John Berryhill. Marchex acquired the domain when it bought Yun Ye's Ultimate Search portfolio. Norcross is a suburb of Atlanta and the parked page at Norcross.com has shown links […]
Overstock.com: We'd Still Really Like O.com – 10-May-12
Overstock.com pleads for single letter .com domains in VeriSign contract renewal. For many years Overstock.com has had an obsession. An obsession with getting the domain name O.com. As you may know, there are only three one letter .com domains ever registered: q.com, x.com, and z.com. These were registered (and grandfathered) prior to a restriction on […]
Google Wants to Patent Making Online Ads Social – 10-May-12
Company files two patent applications for making online ads social. Google has filed two patent applications related to social interactions with online advertisements. The applications, 20120116871 and 20120116867 (pdf), were filed in November and just published today. Both are titled "Social Overlays On Ads". The patent applications describe systems in which social overlays are placed […]

If you enjoyed this article, subscribe for updates (it's free)