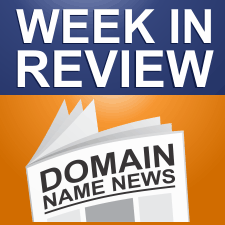 Every Friday, DomainSherpa.com provides you with a hand-selected, editorially-based review of the weekly news. In this summary, you will find the latest articles and videos produced by DomainSherpa staff and contributors. You will also find links to the best news articles in the domain name industry – so you don't have to spend your time searching for news or reading something that was not worth your time.
---
This Week's DomainSherpa Interview
---
VIDEO: How to Use the Google Adwords Keyword Tool for Domain Names

If you want to buy keyword-rich domain names with the objective of ranking the domain name at the top of the results for a search, you'll first want to determine if there is enough search volume and interest to justify purchasing the domain name.

In this how-to video, you'll learn exactly how to use the Google Adwords Keyword Tool to determine search volume and advertising interest before you make a domain name purchase.
---
This Week's News in Review
---
NAF picked to be first URS provider
– 21-Feb-13
The US-based National Arbitration Forum has been selected by ICANN as the first provider of Uniform Rapid Supsension services. NAF, which is one half of the longstanding UDRP duopoly, submitted "an outstanding proposal demonstrating how it would meet all requirements presented in the [Request For Information]", according to ICANN.
DomainMarket.com President Chad Bennett Resigns
– 21-Feb-13
Chad Bennett, who served as President and Chief Technical Officer at Michael Mann's aftermarket sales venue, DomainMarket.com, for the past 10 months has stepped down from that position.
ICANN Announces Pre-Beijing Meeting Webinar: Here is How You Can Participate
– 21-Feb-13
Whether you plan to participate in the upcoming ICANN meeting in Beijing remotely or in person, you're invited to an update on the background and current status of major policy issues which are likely to be discussed during the Beijing Meeting.
Icann Terminates Registrar With Over 75000 Domain Names
– 21-Feb-13
Registrar blamed for not maintaining accurate registrant data. ICANN has followed up on its threats by terminating Bargin Register's registrar…
.org Project 94 Kicks Off Next Month
– 20-Feb-13
Short .org domains go on auction block beginning next month. Next month .org registry Public Interest Registry (PIR) will begin auctioning off domain names
Demand Media mulls eNom spin-off
– 20-Feb-13
Are the synergies between domain name registrars and content farms not all they were cracked up to be? That's a question emerging from last night's news that Demand Media is planning to spin off its domains business, which includes number-two registrar eNom, into a separate public company.
Iranian org not happy about .eco bids
– 20-Feb-13
The Iran-based treaty organization ECO, the Economic Cooperative Organization, has registered its displeasure with ICANN that several companies have applied for .eco as a gTLD.
.transformers gTLD bid transforms into pile of burnt cash
– 19-Feb-13
Toy-maker Hasbro has withdrawn its application for the .transformers new gTLD.
Ecommerce Company Eyemagine Found Guilty of Reverse Domain Name Hijacking
– 19-Feb-13
Company claimed rights to domain registered in 1996, well before it started using the name as a brand. Irvine, California eCommerce technology company…
Icanns Debating What's in a Domain Name
– 19-Feb-13
Should a company be allowed to run a generic term such as tire, insurance or book as a domain and wall off its use from competitors? That's the question the Internet Corporation for Assigned Names and Numbers is wrestling with as it prepares to begin awarding firms new top-level domains — the words to the right of the dot. The nonprofit…
GM Seeks .buick, .chevy Domain Names, Withdraws .chevrolet, .gmc, .cadillac
– 19-Feb-13
Washington – General Motors Co. wants .Buick and .Chevy as top-level Internet domain names – the equivalent of .com and .org. But it has withdrawn applications for .Chevrolet, .GMC and .Cadillac.
Hilarious Troll Takes Over The Domain Name of Guy Fieri's Restaurant and Posts …
– 19-Feb-13
Guy Fieri, the food personality who spikes his hair with french fry oil, has a new-ish restaurant, Guy's American Kitchen and Bar in Times Square, that was brutally eviscerated by food reviewers. That's probably not good when you're trying to launch a restaurant. What's also not good is forgetting to lock down the website domain of your restaurant's name. Apparently, somebody bought the rights to Guysamericankitchenandbar.com and posted a fake menu that's sure to excite all of Middle America.
Demand Media Considers Spinning Off Domain Name Business
– 19-Feb-13
Domain business might become its own company. Demand Media, parent company of eNom and Name.com, is considering splitting its business in two.
Sony Registers Multiple Playstation Cloud Domain Names
– 19-Feb-13
With the PS4 announcement just one day away, many people are expecting huge things to come out of it. One of these things is the PlayStation Cloud service. Sony registered the domains of PlayStation-Cloud.com, PlayStation-Cloud.org and PS-Cloud.net.
Hackers may have stolen .edu domain passwords
– 19-Feb-13
Owners of .edu domain names have been told to change their passwords after hackers compromised a server belonging to registry manager Educause.
PIR starts pre-registration for .ngo domain names
– 19-Feb-13
Public Interest Registry has become the first major gTLD registry to start taking pre-registrations for a not-yet-approved gTLD.
Nintendo Files Complaint Over WiiU.com
– 18-Feb-13
Company says owner is cybersquatting with WiiU.com domain name. Nintendo released WiiU, the successor to its popular Wii video game system Wii, in November.
Two more dot-brand gTLD bids withdrawn
– 18-Feb-13
General Motors has withdrawn its bid for .gmc and Hartford Fire Insurance Company dropped .thehartford. Both bids had been assigned priority numbers in ICANN's prioritization draw last December, but neither applicant had purchased tickets, suggesting a lack of interest in operating the TLDs.
Protrada Integrates DomainPower
– 18-Feb-13
The partnership, which was initiated at the TRAFFIC conference in Fort Lauderdale Oct 2012, has now been cemented with the integration of DomainPower's monetization solution into Protrada. This enables members to monetize their domain assets and access reporting from within Protrada.
ALAC likely to object to five .health gTLDs
– 18-Feb-13
ICANN's At-Large Advisory Committee is planning to formally object to four applications for the .health gTLD and one for .健康, which means ".healthy" in Chinese.
Internet Domain Names Pay Off for Lucky Few
– 18-Feb-13
Most so-called domainers didn't score big payoffs, but some domains with popular generic names like toys.com and jewelry.com made their owners millions of dollars.
Cargill Registers Truvia Lawsuit Domain Names
– 18-Feb-13
Cargill gets defensive with domain name registrations. Food giant Cargill registered dozens of domain names on Friday, many of which could be used to protect…
The Go Daddy Kiss That Keeps On Giving
– 17-Feb-13
This year's Go Daddy commercial may have been its most effective yet. One thing Go Daddy founder Bob Parsons figured out a long time ago, before GoDaddy.com…
Warren Buffet Invests In $165 Million Dollars into Domain Industry
– 15-Feb-13
According to TheStreet.com, the most famous stock investor on earth, Warren Buffet's company Berkshire Hathaway (BRK.A) has purchased 3,685,700 shares of Verisign (VRSN).
Governments to Reveal New gTLD Objection Shortlist Next Week
– 15-Feb-13
ICANN's Governmental Advisory Committee will next week reveal its shortlist of new gTLD applications that face possible death-by-government.
Chehade Names the Date: ICANN to Approve First New gTLDs on April 23
– 15-Feb-13
The long-awaited date, which of course comes with certain caveats, was revealed by CEO Fadi Chehade in a video interview with ICANN media affairs chief Brad White today.
Huffington Post Files 2 UDRP For 21 Domain Names
– 15-Feb-13
The Huffington Post has filed 2 separate UDRP's seeking 21 typo domains both filed with the National Arbitration Forum.
Bob Menendez's Domain Names are Not Bob Menendez's
– 14-Feb-13
New Jersey Senator Bob Menendez does not control the Internet domain names that represent his own name. The American Future Fund registered RobertMenendez.com on February 12.
If you enjoyed this article, subscribe for updates (it's free)