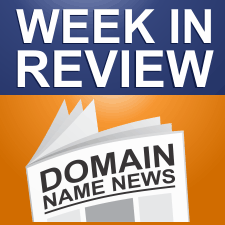 Every Friday, DomainSherpa.com provides you with a hand-selected, editorially-based review of the weekly news. In this summary, you will find the latest articles and videos produced by DomainSherpa staff and contributors. You will also find links to the best news articles in the domain name industry – so you don't have to spend your time searching for news or reading something that was not worth your time.
---
This Week's DomainSherpa Interview
---
VIDEO: DNSeattle Keynote: The Shave Network – Building a Real Business on a Premium Domain Name – With Luke Webster

In 2011, Luke Webster found an underserved niche in the $13 billion shaving industry: straight razors.

He imported razors and sold them online using his vast experience in search engine marketing. As sales grew, so did his venture. When Webster came on DomainSherpa in March 2013, he shared that his business was grossing six figures per month.

So when DomainSherpa produced the first domain name meetup in Seattle, DNSeattle, it was a no-brainer to invite Northern Idaho-based Webster to keynote on how he built a business on an exact-match domain name – including his experience and how his business has grown in the last year.
---
Additional Resources
---
DomainSherpa Review – Feb 13, 2014

In this show:
* A recently-purchased portfolio of four- and five-figure domains from a successful domain name investor and entrepreneur
* 15 mostly two word .com domains in the pre-release at NameJet are reviewed
* We switch up the lightening round from "Registered or Available" to "Name That Price" and crown a winner

A fantastic discussion in the After Show about:
* Mike Berkens' recent sale of Malls.com for $350,000
* New gTLD purchases by Sherpas
* Trademark registrations of new gTLDs
* Analyzing drop lists
* Finding trending topics
* And much more

This is the show where we get into the minds of successful domain name investors and talk about the value of specific domain names. By listening to the Sherpas, we expand our thought process so we can become more successful investors ourselves.

We're joined by four Domain Sherpas: Adam Dicker, Michael Berkens, Page Howe and Rick Schwartz.
---
This Week's News in Review
---
Registrars Adjust Registration Prices On Some of Donuts' Domain Names
– 13-Feb-14
Let the testing begin… They haven't been available for long, but already we're seeing changing registration fees for Donuts' domain names. Domain name registrar GoDaddy has decreased annual registration fees for some of the new top level domain name offered by Donuts — while raising them for others. Pricing for many of the already-launched domains…
IBM Wins First New Top Level Domain Urs Case
– 13-Feb-14
Panel hands down decision within one week. IBM has won the first ever Uniform Rapid Suspension case for new top level domain names. A National Arbitration Forum panelist ruled in the company's favor in a dispute over IBM.guru and IBM.ventures. Both domain names will be suspended but not transferred to IBM. IBM can opt to…
.shabaka Faces Many Challenges Bringing Its Domain Name to Market
– 13-Feb-14
In addition to going first, the Arabic TLD needs registrars and technology to support it. The first new top level domain names coming out of the gate are facing many challenges. Everything is a "first" and everyone is learning as they go. It's perhaps hardest for شبكة. (shabaka), which faces many more hurdles than the…
.CEO Starts Sunrise Today & Releases Another Video to Celebrate
– 13-Feb-14
Registry operatory dotCEO TLD announced today it has entered its 30-day Sunrise period and issued another video to celebrate the occasion (which appears below)
.CEO, is being marketed to brand leaders, in a partnership with dotCEO parent company PeopleBrowsr Inc…
Tucows On New TLDs, 2013 RAA, and Advertising
– 13-Feb-14
Tucows CEO Elliot Noss discusses the domain name business in the company's latest investor call. Tucows released Q4 2013 earnings and held its investor conference call this week. Here are some highlights: * Tucows started charging for WHOIS privacy due to increased costs the company faces with the 2103 Registrar Accreditation Agreement. * Domain parking…
IBM Wins Its URS On IBM.ventures & IBM.guru 6 Days After Filling
– 13-Feb-14
IBM has won the first Uniform Rapid Suspension (URS) filed on new gTLD domain names. On February 6th IBM filed the first URS on the new gTLD domains IBM.ventures and IBM.Guru. Yesterday the Nation Arbitration Forum is showing as the domain names being in SUSPENDED FINAL status…
UDRP Filed Over ThamesRivers.com
– 13-Feb-14
F&C Management Limited has filed a UDRP on the domain name ThamesRivers.com. The domain name ThamesRivers.com is the site of the Thames River Capital Group Limited which "is a privately owned investment company. The firm provides its services to institutional investors and entrepreneurs. It launches and manages equity, fixed income, and balanced mutual funds and hedge funds for its clients. The firm invests in the public equity and fixed income markets across the globe. It was founded in 1998 and is based in London, United Kingdom"…
Tucows Reports: Revenue Up 11% But Misses On Earnings & Revenue
– 12-Feb-14
Tucows Inc. (NASDAQ:TCX, TSX:TC), reported its financial results for the fourth quarter ended December 31, 2013. Although Tucows revenue increased 11% but missed by $0.98M. off of estimates..
.photography, On Day One, Becomes Second-largest New gTLD
– 12-Feb-14
Donuts' new gTLD .photography has become the second-largest new gTLD after .guru, just a few hours after it hit its regular general availability pricing. Zone files dated 1840 UTC today show that .photography had 8,878 domains, compared to .guru's 27,698 and .bike's 6,524. That's just a few hours after .photography finished with its week-long premium-pricing…
The .com Firewall: Is a .com Registration Better Protection From New gTLD's Than Trademarks?
– 12-Feb-14
An interesting point of view on new gTLD's, trademarks and .com registrants was published today by Cybrands.com. Basically the author of the post is claiming that owning a .com can be better protection against potentially infringing new gTLD domain names than a trademark…
BusinessForSale.com Survives UDRP
– 12-Feb-14
BusinessESforSale.com (plural) failed to show it had trademark rights in its descriptive name. Although there are many benefits to using a good descriptive domain name, there's also a drawback: other people can use similar domains, too. That's the case with BusinessESforSale.com, which just lost a UDRP against the owner of BusinessforSale.com. The complainant failed to…
.web and .webs: "There Can Be Only One"
– 12-Feb-14
.Web and .webs top level domain name applications are now in a contention set. The International Centre for Dispute Resolution has handed in its final determination for the controversial String Confusion Objection process. In this case, Web.com won against Vistaprint's two applications for .webs. As a result, .webs will now be in a contention set…
Brandshield Raises $1.4 Million & Launches Its Brand Protection Software System in US
– 12-Feb-14
BrandShield, announced today backed by $1.4 million in seed funding its rolling out of the Brand Protection Software System in North America. BrandShield helps companies combat online brand abuse from brand parasites that steal traffic, scam users, sell counterfeit goods, register domain names in violation of trademark or otherwise impersonate or infringe brands online…
ICANN Plays "Make Believe" With String Confusion Review Process
– 12-Feb-14
ICANN pretends other inconsistencies don't exist so it can resolve two of the most embarrassing ones. Yesterday ICANN posted a proposal for dealing with "perceived inconsistencies" in String Confusion Objections filed over new top level domain names. The plan would deal with two cases in which different panels came to different conclusions on objections filed…
Mike Daniels Former NSI Chairman: Dot Com Became The Brand of Choice & I Believe It Will Be in The Future
– 12-Feb-14
Mike Daniels who served as Network Solutions (NSI) chairman from 1995 – 2000 and orchestrated the sale of Network Solutions to VeriSign for $19.3 billion in 2000 shared his thoughts on the new gTLD's with BroadwayWorld.com. Will the new crop of domain registration companies be as successful as Network Solutions? Probably not…
ICANN Reveals gTLD Objections Appeals Process
– 12-Feb-14
Two new gTLD applicants would get the opportunity to formally appeal String Confusion Objection decisions that went against them, under plans laid out by ICANN today. DERCars and United TLD (Rightside), which lost SCOs for their .cars and .cam applications respectively, would be the only parties able to appeal "inconsistent" objection rulings. DERCars was told…
.toyko & .nagoya Selects Pool.com for Sunrise & Landrush Auctions
– 12-Feb-14
.Tokyo and .Nagoya, announce their partnership with Pool.com and its auction services platform to help accelerate their introduction to global markets…
EU Guns for ICANN's Relationship With US
– 12-Feb-14
The European Union has made ICANN's close relationship with the US one of the targets of a new platform on internet governance. In a new communication on internet governance (pdf), the European Commission said it will "work with all stakeholders" to: – identify how to globalise the IANA functions, whilst safeguarding the continued stability and…
.vegas to Launch Summer of 2014 & Registrar Expects Registrations to Easily Exceed 900,000
– 12-Feb-14
According to a press release out this morning the .Vegas Registry is expecting to launch in the Summer of 2014 and expects 900,000 registrations. According to the PR .Vegas will have a 60 day Sunrise period then right to Go Live with no Landrush or other priority period in between…
Breaking: The EU Wants Global Control Over ICANN in Wake of NSA Revelations
– 12-Feb-14
In a press release issued by the European Commission this morning entitled "Commission to pursue role as honest broker in future global negotiations on Internet Governance". The EU stated the intend to "pursue role as honest broker in future global negotiations on Internet Governance"…
DomainHoldings Launches New Ad Exchange Bidtellect; Names Lon Otremba As Its CEO
– 12-Feb-14
Adweek.com just covered Domain Holdings new ad exchange Bidtellect and the company's new CEO Lon Otremba who previously ran the social gaming firm Tylted. Otremba and Ferber said they've built a new tech platform that can help brands buy native ads in an automated fashion, at scale…
2nd Dispute Filed Over New gTLD Domain As Canyon Bicycles GmbH Files Over Canyon.bike
– 11-Feb-14
Canyon Bicycles GmbH has filed a UDRP/URS over the new gTLD domain name Canyon.bike. Its not clear whether Canyon Bike's filed their dispute as a UDRP or the cheaper and quicker URS…
Delegation Wait Time Varies Wildly for New gTLDs
– 11-Feb-14
New gTLDs get delegated on average 70 days after they sign their ICANN Registry Agreement, but the duration of the wait varies quite a lot by registry, according to DI research. For the 145 delegated new gTLDs I looked at, the delegation has come 39 to 151 days after contract signing. After signing an RA,…
Video Game Industry Fails to Beat Amazon.com's .game
– 11-Feb-14
No cheat codes available for community objection. The Entertainment Software Association, a U.S. industry group for the video game industry, has failed to quash Amazon.com's application to run the .game top level domain name. ESA filed a community objection against Amazon's application. There are six applicants for .game, but ESA only went after Amazon.com's application…
First Aftermarket of .guru Domains Launches & is Full of Trademarks
– 11-Feb-14
gurudomainnamesforsale.guru which appears to be the first aftermarket site dedicated to .Guru domain name launched today. The site unfortunately has many .guru domain names listed for sale that are trademarked terms, including: ChickFilA.guru, GoldmanSachs.guru, NeimanMarcus.guru…
.club Holds Winter Domain Name Auction On Sedo
– 11-Feb-14
New TLD to hold auction during its sunrise period. New top level domain name .club is holding its first domain name auction on Sedo. The auction features "winter sports" domain names (really it's Olympic themed, but there are trademark issues with that) including sochi.club, snowboard.club, skate.club, icehockey.club and bobsled.club. The trademark sunrise for .club just…
New Top Level Domain Name Lawsuit Dismissed But Leaves Door Open for ACPA for TLDs
– 11-Feb-14
Judge grants motion to dismiss top level domain dispute. A federal district judge has dismissed (pdf) a lawsuit brought by Del Monte International against Del Monte Corporation over the top level domain name .delmonte. In doing so, the court also left the door open on the possibility of the Anti-cybersquatting Protection Act (ACPA) being applied…
How Common Words Like Pizza, Money, and Shopping Ended Up in The Trademark Clearinghouse for New TLDs
– 10-Feb-14
The Trademark Clearinghouse for new TLDs is giving some people first dibs on domains like realestate.guru and pizza.restaurant. The .info domain name got seriously gamed when it had its trademark sunrise period in 2001. There was no pre-verification mechanism to determine if trademarks used to claim a .info domain met requirements. As a result, 20,000…
CentralNic Appoints Experienced Domain Name Executive As New CFO
– 10-Feb-14
Internet domain names company CentralNic Group PLC Monday said its has appointed Glenn Hayward as its Chief Financial Officer.
.photography Beating .camera
– 10-Feb-14
Who said shorter domains are more popular? Donuts' new .photography and .camera gTLDs, which both come out of their Early Access Period premium pricing phases this week, have seen .photography get more than twice as many registrations so far. During their EAP and sunrise periods, where retail prices can range from $150 to $13,000, .camera…
Rightside Registry Offers Its Own Domain Protected Marks List
– 10-Feb-14
Service for blocking trademark domain names is very similar to Donuts'. Rightside Registry announced its own version of the Domain Protected Marks List (DPML) service last week. With the service, trademark owners can block their marks from being registered as a second level domain name in any of the top level domain names Rightside runs…
Company Uses UDRP to Go After Dead Man's Domain Name
– 10-Feb-14
French publication files publication to try to get domain name from deceased man. Société Du Figaro S.A. of Paris, France, a news publication, has lost a UDRP it filed against a dead man. The group filed the UDRP against the domain name figaro.tv. The domain name is registered to Stefan Blumtritt of "Cut Company" in…
Universal Postal Union Loses Objections to .mail Top Level Domain Name
– 10-Feb-14
Group that runs .post fails to end bids for .mail top level domain name. The Universal Postal Union (UPU) has lost community objections against five applications for the .mail top level domain name. UPU filed objections against all five active applicants for .mail, including Amazon.com, Google, Donuts, WhitePages TLD and GMO Registry. The objections on…
ICANN Says Brands are at Risk of Domain Abuse
– 09-Feb-14
Katy Bachman at AdWeek did a piece on ICANN and their statement that brands are at risk of domain abuse. They are warning brands to protect their intellectual property by using the Trademark Clearing House. The article mentions that many brands are not rushing to pay the $150/year per domain fee to register each brand…
Sedo is Ready & Has New gTLD's for Sale; Afternic Does Not
– 08-Feb-14
I did a check to see if the major aftermarket houses were ready and listing new gTLD's for sale. The short and simply answer: Sedo.com is. Afternic.com is not…
New gTLD Committe Tells ICANN to Consider Appeal Mechanism in String Confusion Cases
– 08-Feb-14
The New gTLD Program Committee of ICANN (NGPC) pased a resolution, directing the ICANN President and CEO, to initiate a public comment period on the framework principles of a potential review mechanism to address the perceived inconsistent String Confusion Objection Expert Determinations…
BidPal Cybersquatting Lawsuit is Either Misleading or Poorly Researched. You Decide.
– 07-Feb-14
Lawsuit falsely presumes domain owner is offering to sell the domains. And that's just part of the problem. In December I wrote about a UDRP for BidPal.com filed by BidPal, Inc. I noted that the UDRP decision against the complainant was probably correct, but that BidPal's lawyer screwed up the research as well. BidPal, Inc…
Verisign: We're Not Afraid of New TLDs, and IDN Transliterations Will Be Delayed
– 07-Feb-14
A defense of .com's staying power and bad news for IDN.com investors. On its investor conference call yesterday afternoon, Verisign CEO James Bidzos explained why he isn't afraid of new top level domain names. Also, in a blow to IDN.com investors, the company said it will take a longer for them to hit the market…
Linkedin Acquires Bright.com
– 07-Feb-14
LinkedIn made their largest acquistion yet acquiring Bright.com. Tech Crunch covered the acquisition which coincided with LinkedIn reporting earnings on Thursday…
If you enjoyed this article, subscribe for updates (it's free)