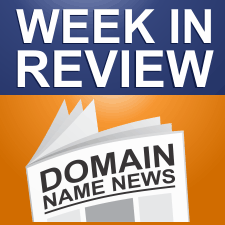 Every Friday, DomainSherpa.com provides you with a hand-selected, editorially-based review of the weekly news. In this summary, you will find the latest articles and videos produced by DomainSherpa staff and contributors. You will also find links to the best news articles in the domain name industry – so you don't have to spend your time searching for news or reading something that was not worth your time.
---
This Week's DomainSherpa Interview
---
VIDEO: Do Not Register Trademark-infringing Domain Names – With David Weslow

How risky could registering a $10 domain name be?

Every day new domain name investors and speculators overlook the financial risk associated with registering a domain name that infringes on an existing trademark – a mistake that could cost them more than $100,000. And it's happening at an increasing rate with the new top-level domains available for registration.

If you're a domain name broker or an experienced investor that regularly receives emails from new investors asking for help or valuation – and the portfolio is full of trademark-infringing domain names – this is the video to refer them to.

If you're a new domain name investor or speculator, learn how to avoid the mistake that has the potential to financially bankrupt you.
---
Additional Resources
---
DomainSherpa Review – Feb 27, 2014

In this show:
* 67 bitcoin and current-related domain names
* 8 bitcoin and crypto currency domains in the pre-release at NameJet are reviewed
* One Sherpa domainates the "Name That Price" game

For multiple domain name lists and portfolios, the Sherpas answer:
* Which domains are valuable, and in what way?
* What is the market value (both wholesale and retail) of the best domain names?
* Which domains are worthless and should be dropped?
* Which domain names may invite legal issues, such as a UDRP case or cybersquatting lawsuit?
* Which domains do our Sherpas want to make an offer on?

A fantastic discussion in the After Show about:
* Questions from the audience about bitcoin domain values
* What the Sherpas are registering in the new TLDs
* Why Uniregistry had few sales in the first day of .sexy and .tattoo availability
* How the market is shaping-up for selling new TLDs
* Why Page Howe thinks .LA is just as strong as .NYC
* Rick Schwartz's recent purchase in another buyer's failed auction purchase
* And much more!

We're joined by four Domain Sherpas: Adam Dicker, Michael Berkens, Page Howe and Rick Schwartz.
---
This Week's News in Review
---
Richard Branson Turns to New Tools to Combat Cybersquatting
– 27-Feb-14
Billionaire entrepreneur Richard Branson has turned to two new tools to combat cybersquatting in new top level domain names: The new Uniform Rapid Suspension (URS) policy and Donuts' "Domain Protected Marks List". Branson filed a URS case with the National Arbitration Forum in…
.co Creates a "Pop-up HQ" for SXSW 2014
– 27-Feb-14
.CO creates its own home on the road for SXSW Interactive. .CO went small the first time it came to SXSW Interactive in Austin. It was more of a scouting trip than a marketing one. I remember catching up with the company at the W Hotel that year. .CO Internet CEO Juan Diego Calle said…
Marchex's Archeo Clarifies 4th Quarter Sales
– 27-Feb-14
Last week we reported on Marchex earnings which included its Archeo division sold a total of 262 domain names in the 4th Quarter that yielded $1.6 million. At the time we noted that the average sales price of domain names in 4Q was just over $6,100 per domain name which was well below the average price the company sold its domains in the third quarter of 2013. Today we received some additional and clairfy information from Rod Diefendorf COO, of Archeo on the sales…
AO.com Founder Now Worth $900 Million Purchased The Domain for Around $600k Last Year
– 27-Feb-14
Earlier today we wrote about AO.com going public making the founder a very wealthy guy. George Kirikos just found out that the domain was recently acquired by the company in March 2013 for approximately £391,000, which based on the exchange rate of £1.5205 the domain sold for just about $600,000…
The French Really are Different: .paris Announces 100 Pioneer Domain Names
– 27-Feb-14
The city of Paris released today the names of 100 Pioneers (Les pionniers ambassadeurs) for the new gTLD .Paris. For 6 months, these Pioneers will be the only ones using .Paris domain names, and will participate in all events around the launch of .Paris…
4 More Donuts Domain Names Entered GA Yesterday. Here are The Numbers.
– 27-Feb-14
Donuts' domain names continue to spill onto the domain name market. Yesterday four new Donuts domain names came off of "Early Access Pricing" and became available for standard registration prices. .Tips I could tell this one was getting traction because Network Solutions was promoting it much like it did .guru. It's a fairly solid generic…
Whisky.com Domain Name Sells for $3.1 Million
– 27-Feb-14
Michael Castello gives details behind blockbuster $3.1 million domain name sale. Michael Castello (with his brother David known as "The Castello Brothers") has sold the domain name Whisky.com for $3.1 million, DNJournal reported today. This is a phenomenal sale. Michael Castello did a great job explaining how the sale came to be. Here are some…
Disappointing .sexy Launch Shows The Importance of The Channel
– 27-Feb-14
.sexy not so sexy after all? Uniregistry's first new gTLDs to launch, .sexy and .tattoo, have showed a poor first-day performance after the company failed to secure Go Daddy as a registrar partner. During the 60-day sunrise period and the first 30 hours of general availability, .sexy sold just shy of 2,700 domains, judging by…
New gTLD Registries Given Way to Free Up Millions of Blocked Names
– 27-Feb-14
Up to 9.8 million new gTLD domain names are to get a get-out-of-jail card, with the publication yesterday of ICANN's plan to mitigate the risk of damaging name collisions. As a loyal DI reader, the details of the plan will not come as a great surprise. It was developed by JAS Global Advisors and previewed…
While Most of The Domain Industry Debates New gTLDs, 4.cn is Lighting It Up Selling Numeric Domains
– 27-Feb-14
While most of the domain world is talking about new gtlds and registration numbers, 4.CN is selling some nice numeric .com domains for big numbers. The Chinese New Year was on January 31st this year, that caused a lull in selling on 4.CN the first half of February. Over the last week things have picked up with some of the biggest sales ever in the history of the site. 920.com which sold on 2-26-14 is the number 5 sale all time…
Say Hello to The Next Hit New gTLD .tips, Breaks Out With Over 8k Registrations
– 26-Feb-14
.Tips went into General Availability today and from the zone file it appear the new gTLD has surpassed 8,000 registrations. Based on its numbers .Tips is already the 4th most popular new gTLD….
Endurance Revenue Jumps on Subscriber Additions; Shares Rise
– 26-Feb-14
Endurance International Group Holdings Inc, a provider of internet domain names, reported a 17 percent rise in quarterly revenue as the company added more subscribers, sending its shares up 16 percent after the bell. Endurance owns several brands that offer services including website design and hosting, domain name registry and e-commerce tools to small businesses…
ICANN Publishes Study On Mitigating Risks of DNS Collisions & Opens Comment Period
– 26-Feb-14
An independent report commissioned by ICANN, Mitigating the Risk of DNS Namespace Collisions, has offered a set of concrete recommendations on how to mitigate potential risks of domain name collisions. A name collision occurs when an attempt to resolve a name used in a private name space results in a query to the public Domain Name System (DNS)…
Namecheap.com Says Its Has 20% of All .sexy & .tattoo Registrations
– 26-Feb-14
NameCheap.com has around 20% of all .Sexy and .Tattoo registrations.
Based on the last zone file update, .Sexy and .Tattoo has around 2,700 domain name registered…
Demand Media Fall Under $5 a Share Down 10%
– 26-Feb-14
Demand Media, Inc. (DMD) released its earnings for the 4th Quarter of 2013 as well 2013 numbers and the market apparently didn't like them. Demand Media, Inc. is hovering around $5 a share down about 10% from the closing price last night hitting an intraday low of $4.95…
15 Domain Names Sell in .club Auction
– 26-Feb-14
Auction at Sedo closes with 15 domain names meeting their reserve. The .Club Winter Olympics-themed auction on Sedo has closed with 15 domain names selling. Most of the domain names had reserves near the low end of their reserve ranges, putting them within reach of bidders. The top sale was IceHockey.club for $2,000. The two…
Frank Schilling's .sexy Close to 2,000 Domains, .tattoo 700
– 26-Feb-14
Due in part to poor distribution, initial launches fail to garner same traction as other launched TLDs. Frank Schilling's Uniregistry released its first two top level domain names in general availability yesterday. According to the latest zone files, there are around 2,000 registered .sexy domain names and almost 700 .tattoo. Although zone files don't include…
.mail Added to New TLD Deathwatch, New Proposal for Handling Name Collisions
– 26-Feb-14
.Mail may be shelved and group suggests new way to handle name collisions for new top level domain names. JAS Global Advisors has released a new report about name collisions for new top level domain names and has made a new set of recommendations. The report is available for comments. One of the key changes…
GoDaddy Partners With Spree to Provide "The Easiest, Most Flexible E-commerce Platform for Small Business"
– 26-Feb-14
GoDaddy, today announced its partnership with Spree Commerce, a leading open source platform for e-commerce. The goal of the partnership is to provide the easiest, most flexible and extensible e-commerce platform for small businesses. This is a key step in GoDaddy's continued commitment to democratize technology for small businesses, enabling them to succeed online…
.ar Domains (Argentina) Go From Being Free to Around $25 a Year On March 5th
– 26-Feb-14
According to the Buenosairesherald.com, .Ar domain names, which is the Country Code (ccTLD) for Argentina will go from being free to costing "less than" 200. Argentina Pesos ($25.42 based on today's official exchange rate) a year starting on March 5th…
Demand Media's Parking Revenue/Domain Sales Down 33% in 2013 & They are Confused On gTLD Numbers
– 26-Feb-14
In the earnings call yesterday Demand Media, Inc. (DMD) had some interesting details about the financials they released for the 4th quarter of 2013 and for the full year 2013 and some interesting statements which demonstrate they are somewhat confused by the new gTLD numbers…
Here are The .sexy Brands: Google, Chrysler; Bwm; GoDaddy; Rolex; Microsoft; Durex; Viagra
– 25-Feb-14
I just looked over the zone file for .Sexy to discover the brand holders that registered .Sexy domains. For one observation there are plenty of URS to come in .Sexy domains registered today…
Demand Media: Registrar Revenue Increases 12% in 4Q and 10% Year-Over-Year
– 25-Feb-14
Demand Media, Inc. (DMD) reported its financial results for the fourth quarter and fiscal year ended December 31, 2013. Q4 2013 Financial Summary: Total revenue ex-TAC declined 3% year-over-year, with 12% year-over-year growth in Registrar revenue offset by an 11% decline in Content & Media revenue ex-TAC. Excluding the acquisitions of Society6 and Name.com, total revenue ex-TAC decreased 15%…
ParkRoyal.com: UDRP and Panelist Selection
– 25-Feb-14
Complainant argues that two panelists are biased and should not hear the case. The panel disagrees. Last week a World Intellectual Property Organization panel handed down a decision in a UDRP brought against ParkRoyal.com. The panel found in favor of of respondent Vertical Axis, which was represented by ESQwire. But the decision itself was only…
.club Domain Name Auction Ends Tomorrow. 0 Domains Have Hit Their Reserve.
– 25-Feb-14
Auction has bidders but no domains have hit their reserve yet. The Olympic-themed .Club domain name auction going on at Sedo ends on Wednesday. So far no domain names have hit their reserve price. I think there are three reasons that no domains have hit their reserves so far. 1. If you're going to bid…
Here's Why Registrars are Boycotting .sexy
– 25-Feb-14
Will .sexy and .tattoo trip on the starting blocks today due to registrars' fears about competition and Whois privacy? Uniregistry went into general availability at 1600 UTC today with the two new gTLDs — its first to market — but it did so without the support of some of the biggest registrars. Go Daddy –…
Domain Search Progressing, But Still Not Ready for New Top Level Domain Names
– 25-Feb-14
Registrars are slowly improving their search results to show new top level domain name options, but the experience is far from ideal. Earlier this month I wrote about how domain name search at major registrars wasn't ready for new top level domain names. I admitted it was early, as Donuts' domain names had just come…
.green and .wedding Contention Sets Settled in Multi-million Dollar Auctions
– 25-Feb-14
Two three-applicant contention sets are resolved. The .green and .wedding new top level domain name contention sets have been resolved in private auctions. It's unclear which company won the .green auction as applications have not yet been withdrawn. However, Top Level Domain Holdings (Minds + Machines) announced today it was on the losing end of…
Mistake Blamed for "Germans Only" .voting Policy
– 25-Feb-14
It seems the new gTLD .voting will not be restricted to Germans after all. We reported earlier today that .voting registry Valuetainment had submitted a registration policy that required all registrants to have a presence in Germany. The language used in the policy was identical, we later discovered, to that found in the equivalent policy…
Minds+Machines Wins Private Auction for .wedding Loses .green Costing a Net of Over $2.3M
– 25-Feb-14
Top Level Domain Holdings Limited (LON:TLDH) said on Tuesday it has won won the private auction for the new gTLD .Wedding and lost the auction for .Green. The net cost of securing .Wedding after losing .Green was $2,321,300.00. The figure quoted includes funds it will receive from its unsuccessful participation in the auction of the .GREEN domain name as well as a rebate from ICANN for its withdrawal of its application for .Green…
Pirate Bay a Victim As Go Daddy Suspends Hundreds of New gTLD Domains
– 25-Feb-14
New gTLDs may have only been in general availability for a few weeks, but there's already evidence of substantial abuse. Go Daddy has suspended at least 305 new gTLD domain names, putting them on its spam-and-abuse.com name servers, standard Go Daddy practice for domains suspected of abuse. Over 250 of these were put on the…
.wedding and .green gTLD Auctions Raise Millions
– 25-Feb-14
Two more new gTLDs — .wedding and .green — have been auctioned off, with proceeds amounting to millions of dollars. Top Level Domain Holdings said in a press release that it won .wedding and lost .green, which cost it a net $2.23 million. That's the amount it paid for .wedding, minus its share of the…
Fifth URDP Provider Goes Live
– 25-Feb-14
The Arab Center for Dispute Resolution has gone live as the fifth approved provider of UDRP dispute resolution services. The Jordan-based outfit, which says it has offices in "all Arab countries", says it "is uniquely positioned to address domain name issues pertinent to the region, while maintaining an international, multicultural disposition to case settlement." ACDR…
An English New gTLD Restricted to Germans?
– 25-Feb-14
Reading through the policies of new gTLD registries has given me cause to double-take several times, but .voting has to be one of the oddest yet. Ostensibly an English-language gTLD, managed by a registry based in Switzerland, .voting domains will be essentially restricted to residents of Germany, according to its policies. [UPDATE: The policy was…
ROTD Conducts First New gTLD Auction As One.com Wins .one
– 25-Feb-14
Danish registrar One.com has won the .one contention set in the first private auction carried out by new gTLD consultancy Right Of The Dot. One.com beat Radix, the United Arab Emirates-based portfolio applicant, to the string. Radix withdrew its application last week. The price has not been disclosed. ROTD, Mike Berkens and Monte Cahn-managed company,…
.co.com Sunrise Period Begins February 24th
– 24-Feb-14
co.com Registry launched its 30-day TM Sunrise Period for trademark holders today, Monday, February 24th. During the Sunrise Period, qualified trademark holders have the first opportunity to register the exact match of their trademark, before .co.com opens to the public.
GoDaddy is Not Bringing .sexy Back; Nor are 9 of The Top 10 Registrars
– 24-Feb-14
Tomorrow Frank Schilling's Uniregistry is launching their first 2 new gTLD extensions .Sexy and .Tattoo however if you want to register one you won't be able to do it at Godaddy.com. Godaddy.com is not carrying Uniregistry strings at the moment, nor is NetworkSolutions.com or Register.com which are part of Web.com (WWWW) or 1and1.com or UnitedDomains.com which are part of the same parent company which owns Sedo.com…
Which Registrars Have The Lowest Prices On New TLDs? Here's a Price Comparison.
– 24-Feb-14
NameCheap appears to have the cheapest overall pricing on new TLDs among the largest domain name registrars. If you're actively investing in new top level domain names, price is certainly a key factor for selecting a domain name registrar. So far, these new TLDs aren't cheap. You can register 2-4 .com domains for the same…
Facepets.com Asks Court to Get Facebook Off Its Back
– 24-Feb-14
If I were them, I'd find another domain name and focus on the business rather than waste time with a lawsuit. Facepets.com, LLC, a company that wants to start a social network for pet owners, has filed a federal lawsuit (pdf) against Facebook in Nashville. The company is asking for Declaratory Judgment that its name…
One.com Wins .one Contention Set in RightOfTheDot Auction
– 24-Feb-14
Two competing applicants settle contention set; first auction facilitated by new TLD consulting firm RightOfTheDot. Webhosting company one.com has settled its contention set with Radix for .one through a "single sealed bid second price" auction orchestrated by RightOfTheDot. In this type of auction, typically each participant will send in a sealed bid. The bids are…
Frank Schilling's First Two Top Level Domain Names Available Tomorrow
– 24-Feb-14
.Tattoo and .sexy enter general availability tomorrow, although relatively few registrars are offering the domain names. Frank Schilling's first two top level domain names, .tattoo and .sexy, enter general availability tomorrow at 11 am EST. Judging from registrar support so far, Uniregistry's first two domains are going to be a bit hampered. That may be…
Domain Name Association Signs 8 New Members – Pymnts.com
– 24-Feb-14
The Domain Name Association (DNA), the global trade association for the internet domain industry, has welcomed eight new members from all over the world, bringing the total to 30. The newest members are: Afilias (Ireland), au Domain Administration Ltd. (Australia), CO Internet S.A.S. (Colombia), Neustar (U.S.), Nominet (UK), Radix (United Arab Emirates), SIDN (The Netherlands), Web.com Group (U.S.)…
Web.com Brings Premium Domain Names to Network Solutions and Register … – Marketwatch
– 24-Feb-14
Sedo and Web.com Group today announced a partnership that will give customers access to more than 18 million premium domain names, including those under new Internet domain extensions being launched this year. By joining Sedo's multi-listing Service, SedoMLS , customers of Network Solutions, Register.com and any of their resellers will be able to quickly and easily find the right domain for their business, even if that name is already registered…
Nature's Way is Unsuccessful in Their Attempt to Gain 4 Domains Through UDRP
– 23-Feb-14
This case was well thought out by the panel imo, its the type of critical thinking that domainers and small business owners should be happy with. This was a sole panelist decision. Nature's Way went after a couple of variants in this UDRP, one might think they would have succeeded in getting naturesway.biz and .info. The hyphenated version of their name most would have thought would be a victory, NatWay.net seemed to be a real stretch imo…
Buckingham Palace Buys Up Royal Family Domain Names
– 23-Feb-14
Buckingham Palace has bought up dozens of website addresses for members of the Royal Family to protect their online identities, fuelling speculation it will launch websites about them. Online records show that an official at Buckingham Palace registered a series of domain names including countessofwessex.com, theprincessroyal.org, dukeofkent.org and earlandcountessofwessex.com at the start of this month…
Your.tattoo: The 100 Domains Uniregistry Reserved for .tattoo
– 23-Feb-14
The 100 domain names Frank Schilling Uniregistry reserved for its own use are now in the zone file. Most of the domains clearly relate to the operation and promotion of the .Tattoo registry. However some of the domains are some of the best brandable domains the registry has like Geta.tattoo, iwanta.tattoo and Your.Tattoo…
No Privacy or Proxy Registrations for .nyc New gTLD Domain Names
– 23-Feb-14
This week during the Fairwinds Beyond The Dot conference held in Washington, Jeff Neuman of Neustar, laid out some more interesting information about the new .NYC extension which Neustar will be running in cooperation with the city of New York…
First URS Decision Published On New gTLD's
– 22-Feb-14
The first Uniform Rapid Suspension decision has been issued. The case was decided 9 days ago, which was 6 days after the 1st URS was filed on the domain names; ibm.guru and ibm.ventures…
Domain Registrars Question Minds + Machines' Priority Reservation System
– 20-Feb-14
Registrar Stakeholder Group questions if Minds + Machines is complying with registry and registrar agreements. The separation between registry and registrar is being blurred with the introduction of new TLDs. For the first time, gTLD registries can also own domain name registrars. This uncharted territory is sure to lead to first time issues that need…
Google; Linkedin; Amazon; Bmw; Dupont; GoDaddy; Micosoft; Yahoo All Grab .menu Domains in Sunrise
– 20-Feb-14
An interesting mix of companies applied during Sunrise for .menu domains.
While some of the Sunrise domains like nestle.menu; fridays.menu; tgifridays.menu; panerabread.menu; pfchangs.menu; icantbelieveitsnotbutter.menu, joyofcooking.menu; sweettomatoes.menu and kentuckyfriedchicken.menu are bang on for those in the food or restaurant industry, most of the trademarks were by tech companies and other global brands.
Even Mark Monitor and Godaddy registered their respective .menu domains
Google; Linkedin; Amazon; BMW; Dupont; Micosoft; and Yahoo all registered Sunrise .Menu domains for some of the worlds most well known brands including:
adsense.menum…
Best Selling Author & Social Media Expert Gary Vaynerchuk to Keynote DOMAINFest Conference
– 20-Feb-14
DomainSponsor just announced that New York Times and Wall Street Journal best-selling author and social media expert Gary Vaynerchuk will be the opening keynoter at this year's DOMAINFest Hollywood, which will be held from March 31 to April 2, 2014 at the luxurious Loews Hollywood Hotel in Hollywood, California.
As a social media trailblazer, Vaynerchuk began video blogging in 2005 and now has nearly 1 million Twitter followers…
Gucci Wins UDRP On 71 Domains Against The Most Ridiculous Domain Holders of All Time
– 20-Feb-14
Gucci won 71 domain names in a UDRP against the most ridiculous domain holders of all time. The Complainant is Guccio Gucci S.p.A. of Florence, Italy, represented by Studio Barbero, Italy. The Respondent is Organization shimici…
Moniker Has a New CEO: Bonnie Wittenburg
– 20-Feb-14
Bonnie Wittenburg takes over the top spot at domain name registrar Moniker. Domain name registrar Moniker has a new CEO, Bonnie Wittenburg. Wittenburg has been with Moniker's parent company KeyDrive since 2009, where she served as Executive Vice President of Key-Systems USA. She has been in the domain name industry since 1999, including stints at…
SteelBuildings.com: an Example of What's Wrong With UDRP
– 20-Feb-14
Small business owner forced to defend his great product-defining domain name. Last month I was shocked to see a UDRP filed for SteelBuildings.com. I was even more surprised when I saw that the domain name seemed to be in use by a company that sells steel buildings. I reached out to the whois contact for…
New gTLD Registrations Top 125k As .today; .technology; .land; .directory Open Up Strong
– 20-Feb-14
The total number of new gTLD domain name registrations have now passed the 125,000 mark as several new extensions have finished Sunrise and starting to take registrations. .Guru continues to led the pack now topping over 35,000 registration with .Photography topping 18,000 registrations…
PeopleBrowsr Tones It Down in New .CEO Vids
– 20-Feb-14
PeopleBrowsr, registry for the forthcoming .ceo gTLD, has eschewed the cringe in its new promotional videos. No more company employees dancing around in masks to white rap; rather, straightforward animation with a voice-over explaining what .ceo is. As I was so rude about the first (horrible, horrible) .ceo vid I feel duty bound to embed…
If you enjoyed this article, subscribe for updates (it's free)