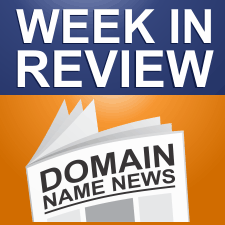 Every Friday, DomainSherpa.com provides you with a hand-selected, editorially-based review of the weekly news. In this summary, you will find the latest articles and videos produced by DomainSherpa staff and contributors. You will also find links to the best news articles in the domain name industry – so you don't have to spend your time searching for news or reading something that was not worth your time.
---
This Week's Featured DomainSherpa Show
---
---
In Addition, Don't Miss…
---
Welcome to the Google Domains invite-only beta!

The Google Domains registrar service is in private beta, and only invitation-only users have access.

Luckily, I was invited today to preview their service. Come along for a pictorial walk-through of the new Google Domains registrar service.

DomainSherpa Discussion: Fail.WTF?; Visa Drops V.me; Google Domains Preview; DomainTools Competitor…

This is the show where we discuss domain name industry news with a panel of veterans and thought leaders.

In this DomainSherpa Discussion:
* Did the new TLDs .Fail this week? .Reise, .Limited, .Financial, .WTF, .Rocks, .Actor
* What we can learn from competing TLDs like .Photos. .Photo, .Pics and .Pictures?
* Visa checkout drops v.me for a 12 letter .com. .WTF?
* An insider look at Google's new registrar service. Is it a GoDaddy killer?
* Amazon enters the domain space, much like Google did years ago.
* DomainIQ.com, a new competitor to DomainTools.com, launches in private beta.
* Porn.com is stolen! How can this happen in today's day and age?
* And much more!
---
This Week's News in Review
---
Xbiz.con Reports Porn.com Has Been Recovered
– 07-Aug-14
Yesterday we wrote about a UDRP that was filed against the domain name Porn.com which we said appeared to be stolen out of a Moniker.com account. Today xBiz.com is reporting that the domain Porn.com has been recovered. It maybe interesting to note that when the domain appeared at the new registrar yesterday the domain was…
Rightside Reports: Revenue Up 13% But Aftermarket Revenue Decreases 40%
– 07-Aug-14
Rightside Group, Ltd. (NAME), today announced financial results for the second quarter ended June 30, 2014. Rightside became an independent, publicly traded company on August 1, 2014 as a result of the completion of its spin-off from Demand Media, Inc.(R) (DMD) so this is the first earnings report by Rightside as a separate operating public…
Rightside Just Released Its First Earnings Report
– 07-Aug-14
Revenue and earnings slip year-over-year, but that was expected. Rightside today released its first quarterly earnings report after being spun off from Demand Media. The company, which started trading as NAME on the NASDAQ this Monday, posted total revenue of $46.7 million and a net loss of ($3.5) million. Both revenue and earnings were lower…
Rightside/Enom Enters Into $30 Million Dollar Credit Agreement W/Silicon Valley Bank
– 07-Aug-14
According to an announcement just out, after the market closed Rightside Group, Ltd. (the "Company"), its domestic subsidiaries Rightside Operating Co. and eNom, Incorporated (together with the Company, the "U.S. Borrowers") and its foreign subsidiaries DMIH Limited, United TLD Holdco Ltd. and Rightside Domains Europe Limited (collectively, the "Non-U.S. Borrowers" and together with the U.S…
DomainIQ.com Takes On DomainTools.com to Take "Domain Name Research to a New Level"
– 07-Aug-14
Intelium Corp. , which is headed up by Luc Lezon CEO, has rolled out their newest site DomainIQ.com, "the world's most powerful domain name and internet research tool." The site "was created by software engineers with over a decade of experience in the domain industry which created popular services including EstiBot, Dropping.com, Domainex, DomainResearchTool and PremiumDrops"…
Minds + Machines Adopts Compensation "Restricted Stock Unit Plan" for Up to 12.5% of Its Shares
– 07-Aug-14
Minds + Machines Group Limited (AIM:MMX), announced today "that it has adopted a new share incentive scheme". "As set out in the Company's Readmission document published earlier this year, the Company has been considering implementing a replacement incentive compensation scheme across the Group for its directors and employees to better attract, retain and reward employees…
Very Troubling: 19 Year Old SouthPaw.com Lost in UDRP
– 07-Aug-14
Southpaw Enterprises, Inc. just won the rights to the domain name southpaw.com in a UDRP As a term, Southpaw refers to someone who is left handed. The domain name was registered on April 18, 1995. The Respondent bought the domain name in 2002. The Complainant federal trademark registration is dated March 8, 1983 Despite the…
Principal Financial Loses URS On Principal.guru
– 07-Aug-14
Principal Financial Services,just lost a Uniform Resolution Proceeding on the domain name Principal.Guru The company filed a separate URS on the domain names principal.services principal.center Which case has not been decided yet but I would not expect that to go any better for Principal than this URS. The record shows Respondent's use of the disputed…
.rocks The New gTLD With Over 5k Registrations. .limited 1,100; .wtf 973; .financial 751
– 07-Aug-14
.Rocks led this weeks new gTLD's that went into general availability yesterday finishing off its first day with 5,191 registrations which includes domains taken in Sunrise and through the Early Access Program (EAP). .Limited finished it first day with 1,101 according to the Zone file which I pulled this morning .WTF had 973 domain names…
Montreal Looks Like The Next City That Wants to Apply for Its Own New gTLD: .MTL
– 06-Aug-14
According to the MontrealGazette.com, the city of Montreal seems to be the next city expressing Interest in applying for its own new gTLD, of .MTL "It's an interesting possibility for Montreal," said city councillor Harout Chitilian, the vice chairperson of the city executive committee. "We have to be creative to promote Montreal, and it's a…
2 Very Odd UDRP Cases Claim "Technological Confusion"
– 06-Aug-14
Part of brand is in domain names, but you have to look closely for it. I was rather confused a couple months ago when I saw fashion designer Philipp Plein filed UDRPs against peopleincasinos.com and supportpeopleinneed.org. Both sites featured clothing that the sites claimed was authentic Philipp Plein clothing. But what did these domain names…
Porn.com Stolen? UDRP Filed By Company That Paid $9.5 Million for It
– 06-Aug-14
      A UDRP has been filed on the grandfather of adult generic domain names, Porn.com with the World Intellectual Property Organization (WIPO) The company filing the complaint, MXN Limited bought the domain name back in 2007 for more than $9.5 Million dollars. The domain name Porn.com was registered at Moniker.com for a many…
Whatthefuck.wtf & Other Taken .wtf Domain Names
– 06-Aug-14
The new gTLD goes into general availability (GA) today where domains can be registered on a first come first served basis .WTF domain names are priced at $27.99 for a domain registrations, for a non-premium domain and yes there are some .WTF domains priced at premium registration and renewal prices. We went through the zone…
Gmail Adds IDN Support
– 05-Aug-14
Google will support non-Latin characters and accented characters. Non-Latin characters will now work with email addresses when using Gmail. Gmail has added support for internationalized domain names in email addresses, in what is certainly big news for the more than half of the world that uses a non-Latin alphabet. That means that addresses ending in…
Marchex Sued in Federal Court Over SmartPlanner.com; TM in 2014; Domain Registered in 2002
– 05-Aug-14
This certainly goes into the anyone can sue anyone, for anything at anytime, file. Marchex (MCHX) has been sued over the domain name SmartPlanner.com by SMART PLANNER SUITE, LLC of Newton Massachusetts for trademark infringement under 15 U.S.C. § 1114(a) and cybersquatting under 15 U.S.C. § 1125(d), and violation of the Anti- Cybersquatting Consumer Protection…
Chinese Police Bust "Domain Brokerage Scam" Which Made Over $4.5 Million, Arrest 100
– 05-Aug-14
According to ifeng.com, a Chinese publication, on July 30, Changping police announced the busting of the an online domain name brokerage scam and detained over 100 suspects. "The scam company, with over 130 employees, markets itself as a subsidiary of China Internet Network Information Center (CNNIC), operating under the cover of domain name brokerage. Its…
Panel Denies QIQ.com UDRP, But Denies RDNH
– 05-Aug-14
QIQ.com to remain with domain name owner after WIPO decision. A World Intellectual Property Organization panelist has denied a UDRP filed against the domain name QIQ.com. However, she denied a reverse domain name hijacking claim without giving any sort of reason. Based on the facts presented to the panel, respondent Netico, Inc registered QIQ.com in…
Demand Media Spins Off Rightside
– 05-Aug-14
Demand Media has completed the spin-off of its domain name business, Rightside. Shares in the new company, which will be listed on the Nasdaq stock exchange, went to existing Demand Media shareholders. Trading under the ticker symbol NAME, Rightside stock started off at $16.77 yesterday morning and is currently trading at around $15.07. Rightside comprises…
Visa Rebrands From 1 Letter .me Domain to 12 Letter. Com; V.me to VisaCheckout.com
– 05-Aug-14
Visa Intentional has decided to rebrand its new digital wallet product from V.Me to VIsaCheckout.com stating that the name change is going to help the company "a great deal" in helping explain what the solution is about. It was just back in November that we told you, Visa was rolling out V.Me a new service…
Dublin Picked for ICANN 54
– 05-Aug-14
ICANN had selected Dublin to play host to its 54th public meeting, which will be held in October next year. According to a blog post from Michele Neylon, CEO of Irish registrar Blacknight, the venue will be the imaginatively named The Convention Centre, Dublin. The primary sponsor will be INEX, the local internet exchange, he…
Inside The BTC.com Sale With Mike Robertson of Domain Guardians
– 05-Aug-14
We are talking today with Mike Robertson of Fabulous.com fame and Co – Founder along with Jen Sale of Domain Guardians. Domain Guardians successfully brokered the name BTC.com for seven figures, He was kind enough to give us a few minutes on just how the sale went down. 1) What was the total sales price…
Rightside Names Board of Directors
– 05-Aug-14
Rightside Group, Ltd., (NAME) today announced through a press release the members of its board of directors and executive management team following the completion of Rightside's spin-off from Demand Media, Inc.® on August 1, 2014. I Rightside Board of Directors Rightside's board is composed of three independent members and two non-independent members. The board is…
Two More Years! Chehade Stays at ICANN With $100,000 Pay Raise
– 05-Aug-14
ICANN CEO Fadi Chehade has had his contract renewed for an extra two years with a new pay package worth up to $100,000 more than he was previously getting. The ICANN board of directors last week approved an extension of his contract, which had not been due to expire until July next year, to June…
Gannett Co. (GCI), Owner of USA Today, Agrees to Pay $1.8 Billion for The 73% of Cars.com It Doesn't Own
– 04-Aug-14
According to Bloomberg.com, Gannett Co. (GCI), the owner of USA Today, agreed to pay $1.8 billion for the 73% of Cars.com that it doesn't already own already Gannett, which already owns about 27%of Cars.com, values the whole business at about $2.5 billion, the person said, asking not to be identified discussing private information. The deal…
The 14 Year Old Emoney.com Saved in UDRP Panel Finds $300k Asking Price Ok
– 04-Aug-14
Electronic Transaction Systems Corporation just lost its attempt to grab the domain name eMoney.com which was registered back in January 2000. The domain owner was represented by Ari Goldberger and Jason Schaeffer of Esqwire.com The panel found, unlike other panels have found that they $300K price tag was not outrageous. Here are the facts and…
A Look at .com Numbers Over The Past 5 Years
– 04-Aug-14
.Com continues to grow, just at a slower pace. There are many ways to measure .com. There's the zone file, the monthly reports Verisign sends to ICANN, and Verisign's quarterly numbers revealed to investors. Each of these numbers is measured differently. For example, some include domains in pending delete, while others don't. The quarterly number…
Banks, Brokerage and Poker Dominate Over 200 .financial Sunrise/EAP Domain Registrations
– 04-Aug-14
.Financial goes into general availability on Wednesday meaning it becomes available to be registered on a first come basis just completed it Sunrise period for trademark holders and its Early Access Program (EAP), for those who were willing to pay a one time additional fee for early access. Reviewing the zone file so far it…
Rightside Begins Trading Today As Name On The NASDAQ
– 04-Aug-14
A big day for Rightside (and the domain name industry). Today is a big day for domain name company Rightside as it begins to trade on the NASDAQ. Shares are down slightly right now to $15.65. Rightside has been spun off from Demand Media. Owners of Demand Media shares will get one Rightside share for…
BTC.com Domain Name Sells for $1.0 Million to Bitcoin Company
– 04-Aug-14
Three letter domain name sells for seven figures. Domain name brokerage firm Domain Guardians has brokered the sale of the BTC.com domain name to a bitcoin company. GAWMiners, seller of bitcoin mining machines, is the buyer. This is an example of how a three letter domain name can gain significant value based on new popular…
Rightside Promotes Matt Overman, Hires Dwayne Walker
– 02-Aug-14
Former NameJet GM gets a promotion and Dwayne Walker jumps from Oversee.net to Rightside. Matt Overman, formerly General Manager of NameJet, has a new role at Rightside. According to Rightside's Executive Leadership page, Overman is now VP & GM, Aftermarket and Premium Domains. His bio describes his responsibilities as covering the "monetization and premium domain…
Network Solutions Parent Web.com Down 25 % Today & Close to 40% From June
– 01-Aug-14
Web.com (WWWW) is down big today after missing their revenue numbers for the second quarter. As of publication with about 40 minutes of trading left, Shares of Web.com are trading at $20 even down 6.55 after hitting an intraday, 52 week low of $19.37. Web.com acquired Snapnames back in May, and they own two of…
Web.com Discusses .xyz and Threat From Google
– 01-Aug-14
Company responds to question about .xyz giveaway and threat from Google becoming a domain name registrar. Web.com held its quarterly conference call yesterday. Analysts asked the company about Network Solutions' .xyz domain name giveaway and the threat from Google becoming a domain name registrar. The answers below are from David Brown, CEO. On. .XYZ: And…
.kiwi Premium Domain Sales Top $250,000
– 01-Aug-14
The .Kiwi Registry is reporting for the firs time that they have sold over $250,000 in .Kiwi premium domain names. The total amount of sales including domains sold under NDA which comprised about $70,000 of the $250,000 in sales. .Kiwi is also listing some sales as "Undisclosed" as these domains were sold…
Web.com Announces Acquisition of Scoot
– 31-Jul-14
Web.com Group, Inc. (Nasdaq:WWWW), a leading provider of Internet services and online marketing solutions for small businesses, announced today that it has acquired Scoot, a leading local online directory company in the United Kingdom.
Web.com Misses Revenue Target, Acquires UK Online Directory Company
– 31-Jul-14
Web.com's Q2 revenue numbers don't hit company's target. Web.com, which owns Network Solutions, Register.com and SnapNames, released earnings after the bell today. GAAP revenue for the second quarter was $138.2 million. Adjusted revenue was $144.7 million. Although that's up 10% year-over-year, it's below the company's guidance range of $146.0 million to $147.5 million. The company…
Estibot to Launch domainIQ for Reverse and Historical WHOIS
– 31-Jul-14
New service will launch next week. The company behind Estibot is launching a new domain name service called domainIQ next week. domainIQ provides reverse whois (all the domains owned by a person or company), historical whois, and other intelligence about domain names. Many of the features are currently found in DomainTools, and some are also…
Sedo Sells $17m of Domains in Q2, Including a New TLD for $100k
– 31-Jul-14
Sedo reports on its domain aftermarket sales so far this year. Sedo released its market report for the first half of 2014 today. The company sold about $17 million worth of domain names in the second quarter, down slightly from $19 million in Q1. In the second quarter is sold 7,453 domains, down from 8,763…
Sedo Publishes 2014 First Half Domain Market Study: 35.9 Million in Sales
– 31-Jul-14
Sedo today announced the results of its First Half 2014 Domain Market Study, revealing domain industry trends and changes based on transactions in its marketplace. An infographic depicting findings from the study is available at http://bit.ly/1rMCO82. During the first six months of 2014, Sedo powered 16,216 transactions worth a total of $35.9 million in sales…
German Domain Name .reisen Tops Donuts' Launches With 2,262 Registrations
– 31-Jul-14
Domain buyers go traveling with .Reisen. Donuts launched another four domain names into regularly-priced general availability yesterday. Based on overnight zone files, which don't include a full day, .Reisen was the most successful launch. .Reisen, German for travel, got 2,262 registrations. That brings its total with sunrise and early access to 2,262. .University and .Toys…
1st Day Totals for New gTLD's: .reisen 2,262; .university 1,340; .toys 1,320; .town 590
– 31-Jul-14
Several new gTLD's went into its first day of general availability GA) yesterday and according to ntldstats.com,here are the number of registrations after the first day of GA which include all Sunrise applications and those domains registered in the Early Access Program (EAP) Once again the total for this weeks new gTLD are less than…
If you enjoyed this article, subscribe for updates (it's free)