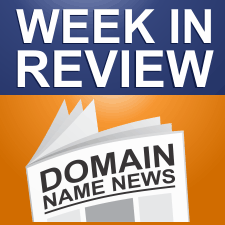 Every Friday, DomainSherpa.com provides you with a hand-selected, editorially-based review of the weekly news. In this summary, you will find the latest articles and videos produced by DomainSherpa staff and contributors. You will also find links to the best news articles in the domain name industry – so you don't have to spend your time searching for news or reading something that was not worth your time.
---
This Week's DomainSherpa Interview
---
VIDEO: The Gamer Who's Going to Make Math Fun – With Bill Karamouzis

Many entrepreneurs today grew up playing role-playing games. Gaming can teach you many things, including problem solving, how to look for clues, group dynamics – and game theory.

Equipped with such skills from his days gaming as a youth, Bill Karamouzis started, grew and sold three successful gaming companies. Today, he's starting his fourth – TeachMe.com – and with two young daughters at home, he is shifting his focus from time-killing games to games aimed at making math skills fun and rewarding with MathGames.com.
---
This Week's News in Review
---
3 More .brand New gTLDs are Withdrawn: Now 108 Pulled
– 08-Aug-13
Three more .Brand new gTLD application have been withdrawn on the ICANN site. Microsoft withdrew it applications for .Skydrive which had a prioritization number of 386.
Microsoft described the application for .Skydrive as follows…
Tucows: Sold .marketing & .media New gTLD Applications for "a Substantial Sum"
– 08-Aug-13
In its earnings call today Tucows.com (TCX) said that they sold two of their new gTLD applications for a "Substantial Sum" that will be reflected in its YummyNames.com subsidiary revenue in the third quarter of 2013…
Tucows Reports: Revenue Increases 11%; Sells Over $1 Million in Domain Names
– 08-Aug-13
Tucows.com reported its financial results for the 2nd Quarter ending June 30, 2013. Net revenue for the second quarter of 2013 increased 11% to a record $31.2 million from $28.2 million for the second quarter of 2012…
Realtors Withdraw Five gTLD Community Objections
– 08-Aug-13
The US-based National Association of Realtors has withdrawn its Community Objections against five applicants for .realestate and .realty, according to well-placed sources. The five separate objections, which had been combined into one action under the auspices of the International Chamber of Commerce's International Centre for Expertise, were withdrawn today. NAR is a million-member trade association […]
Dish DBS Ruled a Top Level Domain Cybersquatter
– 08-Aug-13
Dish's .direct application tossed out; Donuts is sole applicant remaining for .direct top level domain name. It's notable that the two applicants deemed to be attempting to cybersquat top level domain names thus far aren't nefarious cybersquatters, as industry groups suggested would happen. Instead, it's two members of those types of trade groups that have […]
Another Dot-brand gTLD Bid Withdrawn (.avery)
– 07-Aug-13
Eighty-year-old adhesives company Avery Dennison has withdrawn its application for the .avery new gTLD. The application was ranked 1,780 in ICANN's evaluation queue, meaning it was due to receive its Initial Evaluation results shortly. By withdrawing now, the company gets a bigger refund. According to its application, Avery Dennison makes "cutting-edge pressure-sensitive solutions, self-adhesive and […]
Verisign: We Will Delegate New gTLDs to The Root if The NTIA Tells Us to
– 07-Aug-13
Some bloggers here and here, have raised the alarm that Verisign may not Delegate new gTLD's based on a letter Verisign send to the U.S. National Telecommunications & Information Administration (NTIA) back in March…
Demand Media Reports: Revenue Up 9%; Registrar Revenue Up 4% Without Name.com + 10% With
– 07-Aug-13
Demand Media, Inc. (DMD),reported financial results for the second quarter ended June 30, 2013…
Trademarks Still Trump Founders in Latest TMCH Spec
– 07-Aug-13
New gTLD applicants and ICANN seem to have failed to reach an agreement on how new registries can roll out founders programs when they launch. A new draft of the Rights Protection Mechanism Requirements published last night, still appears to make it tricky for new gTLD registries to sell domain names to all-important anchor tenants. […]
Verisign Gets Patent for Non-existent Domain Traffic Analysis
– 07-Aug-13
Patent covers tool to identify potentially valuable unregistered domain names. The U.S Patent and Trademark Office has granted a patent to Verisign that covers analysis of traffic to non-existent domain names. U.S. Patent number 8,504,673 (pdf) is titled "Traffic like NXDomains". I wrote about this patent last year when it was published. Here's the patent […]
Icann Opens Comment Period On Rights Protection Mechanism (RPM) Requirements
– 07-Aug-13
ICANN has opened the comment period for "Rights Protection Mechanism (RPM) Requirements"…
Marchex Up Over 20% to New 52 Week High
– 07-Aug-13
After reporting earnings last night Marchex (MCHX) is up just over 20% in trading today to a 52 week high of $7.30 a share. Marchex has now more than doubled off its 52 week low of $3.06 a share…
AOL Buys Adap.tv for $405 Million
– 07-Aug-13
AOL has agreed to acquire Adap.tv for $405 MM, here is what Adap.tv brings AOL: The only complete global programmatic video stack for publishers and advertisers across all screens;
A unified yield management platform for advertisers and publishers for planning, targeting, ad-serving and measurement…
Marchex Details Spin Off Archeo Business: Buying & Selling & Developing Domains; 200,000 of Them
– 07-Aug-13
The Marchex earnings call yesterday reveal some interesting facts about Archeo the business that Marchex is looking to spin off to a separate public company later this year.
It appears Archeo is set to become the first publicly traded company whose only business is one of being a domainer…
We Have a Winner! Del Monte Wins .delmonte LRO
– 07-Aug-13
No sooner did I predict the new gTLD Legal Rights Objection would not produce any prevailing complainants in this application round, then I've been proved wrong. A three-person WIPO panel yesterday delivered a majority-verdict win for Del Monte, which had filed an LRO against its licensee, .delmonte new gTLD applicant Fresh Del Monte. It's a […]
Donuts, Uniregistry and Famous Four Respond to Icann's New gTLD Security Bombshell
– 06-Aug-13
Following the shock news this morning that ICANN wants to delay hundreds of new gTLD applications due to potential security risks, we pinged a few of the biggest applicants for their initial reactions. Donuts, Uniregistry and Famous Four Media, which combined are responsible for over a fifth of all applications, have all responded so far, […]
After Sweeping It Under The Rug, Name Collisions Come Back to Haunt New TLD Program
– 06-Aug-13
Name collisions derail new top level domain name timeline. Everyone in the executive suite at Verisign must have been smiling this morning. That's because ICANN dropped a bombshell, delaying a big portion of new top level domain names due to "name collisions". It not only delays much of the program (as some have argued is […]
New gTLDs are The New Y2k: .corp and .home are Doomed and Everything Else is Delayed
– 06-Aug-13
The proposed gTLDs .home and .corp create risks to the internet comparable to the Millennium Bug, which terrorized a burgeoning internet at the turn of the century, and should be rejected. Meanwhile, every other gTLD that has been applied for in the current round could be delayed by months in order to mitigate the risks […]
Dotless Domains "Dangerous", Security Study Says
– 06-Aug-13
An independent security study has given ICANN a couple dozen very good reasons to continue outlaw "dotless" domain names, but stopped short of recommending an outright ban. The study, conducted by boutique security outfit Carve Systems and published by ICANN this morning, confirms that dotless domains — as it sounds, a single TLD label with […]
Uniregistry Not Happy About Donuts
– 05-Aug-13
Uniregistry would never have withdrawn its applications for .media and .marketing if it had known that Tucows would later take money from Donuts to also withdraw, according to CEO Frank Schilling. Schilling told DI tonight that Uniregistry had pulled out of both new gTLD contention sets after having made a deal with Tucows, the details […]
Donuts Says Tucows Deal "Just Another Type of Private Auction"
– 05-Aug-13
Donuts has confirmed that it paid Tucows for the rights to the .media and .marketing new gTLDs, but says it was actually "just another type of private auction". The existence of a deal for the two strings emerged in a tongue-in-cheek Tucows video on Friday. I blogged over the weekend that it was the first […]
SM.net UDRP Claims Domain Couldn't Be Related to Porn
– 05-Aug-13
A rather curious argument in a UDRP for SM.net. Spanish education publishing company Fundación Santa María-Ediciones SM has lost a UDRP it filed against the owner of SM.net. Although the company's trademarks include the term "SM", it only makes up part of its marks. Thus, the panel ruled that the domain name was not confusingly […]
Now.com Owner Starbucks (HK) Limited Loses Dispute Over .now
– 05-Aug-13
Company that owns now.com loses the first of many objections it filed over the .now top level domain. IPTV company Starbucks (HK) Limited has lost its legal rights objection against One.com A/S' application for the .now top level domain name. Starbucks, which is not affiliated with the coffee chain, owns the second level domain name […]
Walmart, Sony, Cbs, Microsoft, Google, Disney Still Allowing Trademark Drop Domains to Be Grabbed By Others
– 05-Aug-13
As we have chatted about before, some of the biggest companies in the world which are quick to file a UDRP with filing fees at $1,500 a pop are allowing dropping domains to be registered by third parties rather than spending $10 to register the domains themselves…
Veterinarians.com Sold As Felix Upgrades Its Domain LocalVets.com
– 05-Aug-13
It appears the domain name Veterinarians.com has been sold to Felix, a leading local advertising company, which announced today that is has launched Veterinarians.com as "the directory of choice for connecting consumers with veterinary hospitals to schedule an appointment"…
Afilias Forecasts 5,000 to 50,000 Domains for Its New TLDs After Three Years
– 05-Aug-13
Company forecasts only 4 of its new TLD strings having over 50,000 DUM after three years. For the most part, new top level domain applicants have remained quiet about their registration projections. There's a good reason for this, especially if they're in a contention set with other applicants. If competitors know how many domains they […]
NTIA Alarmed As Verisign Hints That It Will Not Delegate New gTLDs
– 05-Aug-13
Verisign has escalated its war against competition by telling its government masters that it is not ready to add new gTLDs to the DNS root, raising eyebrows at NTIA. The company told the US National Telecommunications and Information Administration in late May that the lack of uniform monitoring across the 13 root servers means it […]
Network Solutions Shuts Down 3 Iranian Websites
– 02-Aug-13
Registrants are agency of the Iranian government or Specially Designated Nationals. Web.com, parent company of domain name registrar Network Solutions, revealed today that it has shut down three Iranian websites due to the The Iran Threat Reduction and Syria Human Rights Act of 2012. In its SEC filing, the company details three organizations that Network […]
Clean Sweep for gTLD Applicants As 91 Pass
– 02-Aug-13
Ninety-one new gTLD applications passed Initial Evaluation this week, as ICANN enters the final month of results. There were no failures to report. The following strings, with links to the relevant applicant on DI PRO, achieved passing scores: .staples .gmo .hot .organic .degree .quebec .ricoh .guardian .hiphop .llp .ram .ieee .kpmg .obi .game .style .blackfriday […]
WIPO Panel Rejects Legal Rights Objection to Google's .tube Application
– 02-Aug-13
Latin American Telecom, LLC of Pittsburgh, Pennsylvania, represented by ESQwirecom has become the latest Objector to lose a Legal rights Objection…
If .amazon is Killed, Will Amazon Bail On The New TLD Program?
– 02-Aug-13
Amazon may be questioning its role in the first round of new top level domain applications. With the Governmental Advisory Committee (GAC) recommending that ICANN block Amazon.com's application for the .amazon top level domain, it poses an interesting question: should Amazon.com bail out on the entire new TLD program? Assuming ICANN's board agrees with the […]
TLDH and Tucows Team Up On 3 Top Level Domain Names
– 02-Aug-13
Two TLD applicants pool resources. Top Level Domain Holdings and Tucows are combining resources in an effort to lock down three top level domain names that are in contention sets. Tucows had applied for .group and TLDH applied for .tech and .store. By teaming up, each company will contribute to auction funds and take a […]
Vertical Axis Gets Hit With UDRP On The 12 Year Old Domain Lulac.com By Owner of The .org & .net
– 02-Aug-13
A UDRP has been filed against Vertical Axis, Inc. on the domain name Lulac.com. Although the Complainant is not listed, the most likely suspect is The League of United Latin American Citizens, which was established in 1929 and operates under the domain names Lulac.org and Lulac.net…
That's All Folks, No More LRO News
– 02-Aug-13
The results of Legal Rights Objections against new gTLD applications are no longer news. That's the decision handed down by the editor here at DI's Global World International Headquarters today. "Hey, Keith," she barked from her ermine-carpeted corner office. "This LRO stuff is getting a bit old, don't you think?" "My name's Kevin," I said. […]
ICANN to Crack Down On UDRP Cyberflight
– 02-Aug-13
ICANN has moved closer to cracking down on cybersquatters who try to flip their domains when they discover they've been hit with a UDRP complaint. Under recommendations approved by the GNSO Council yesterday, registrars would be bound by a much stricter set of UDRP-related domain locking rules in future. So-called "cyberflight" — where squatters transfer […]
Stevie Wonder Files a UDRP to Gain Control of The Domain Name LittleStevieWonder.com
– 01-Aug-13
Legendary performer Stevland Morris a/k/a Stevie Wonder filed his 11th UDRP to gain control of the domain name LittleStevieWonder.com…
Hacker Site Run By "The Jester"; Jesterscourt.cc Seized By Feds
– 01-Aug-13
The site JestersCourt.cc appears to have been seized by the federal government today. The all too familiar ICE – Home Security Investigation seizure notice appears on JetersCourt.cc tonight…
17 Year Old Domain Reckon.com Saved in UDRP
– 01-Aug-13
Reckon Limited of North Sydney Australia, just lost a UDRP on the domain name Reckon.com which is owned by Multitech s.r.l. of Rome, Italy…
Merck & Co Legal Rights Objections Dismissed By WIPO
– 01-Aug-13
In two more WIPO decision out today Merck & Co., Inc. objection to the applications of Merck KGaA to .Merck and .eMerck were thrown out…
Are Famous Four's Top Level Domain Name Projections Realistic?
– 01-Aug-13
A new pitch deck for Domain Venture Partners details how much money it thinks a new top level domain registry can generate. In November I wrote about Domain Venture Partners' pitch deck for new top level domain investors. Today I received a new pitch deck, dated June of this year, detailing the investment funds' capital […]
New gTLD Revenue Projections Revealed in Leaked Famous Four Presentation
– 01-Aug-13
Famous Four Media expects to make an average of almost $30 million revenue in year one from each of the new gTLDs it secures. That's according to a PowerPoint presentation, written for potential investors, that was provided by an anonymous source (I suspect not a fan of the company) to DI this week. According to […]
India Giant Tata Files UDRP On 17 Year Old Domain Croma.com
– 01-Aug-13
Infiniti Retail A 100% owned subsidiary of the India conglomerate Tata filed a UDRP on the domain name Croma.com…
ICANN Will Start Enforcing The New Expired Registration Recovery Policy at The End of The Month
– 01-Aug-13
On August 31, 2013 ICANN will start enforcing the new Expired Registration Recovery Policy ("ERRP") . The ERRP is expected to promote better understanding of registrants' options and help alleviate common issues related to the expiration of gTLD registrations…
If you enjoyed this article, subscribe for updates (it's free)