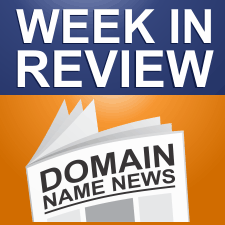 Every Friday, DomainSherpa.com provides you with a hand-selected, editorially-based review of the weekly news. In this summary, you will find the latest articles and videos produced by DomainSherpa staff and contributors. You will also find links to the best news articles in the domain name industry – so you don't have to spend your time searching for news or reading something that was not worth your time.
---
This Week's DomainSherpa Interview
---
VIDEO: How to Sell a Brandable Domain Name – With Dave Evanson

Brandable domain names – domain names that don't necessarily mean anything or cannot be associated with a product or service, such as Google.com, eBay.com and Fiver.com – are tough to sell because most companies are not actively looking for them.

But on today's show, you will learn how to do just that. Watch this master class on selling brandable domain names, featuring the 2012 T.R.A.F.F.I.C. Domain Name Broker of the Year.
---
This Week's News in Review
---
WIPO Denies Another Legal Rights Objection to .music: Community Trademarks of Objector "Not Bona Fide" – 15-Aug-13
A WIPO panel has rejected another Legal Rights Objection to the new gTLD .Music .
This objection was to Famous Fours application to operate the .Music registry and was filed by another applicant for .Music, DotMusic Limited/Constantinos Roussos…
Donuts Beats Its Third Fashion Brand in Top Level Domain Disputes – 15-Aug-13
Coach, Inc. lost its objection to Donuts' .coach application. New TLD applicant Donuts has now successfully defended itself against three fashion brands in Legal Rights Objections over top level domain applications. After beating The Limited and Express, the company can add Coach to its list. Coach, Inc., a $15 billion (market cap) company known for […]
Beat.la Gets About 100k Pageviews in Two Weeks – 15-Aug-13
Just a couple weeks after buying the domain, the Phoenix Suns' Beat.la website has received a lot of traffic. Is Beat.la the most trafficked .la domain name that takes advantage of the "Los Angeles" meaning? On July 31 I noticed that the Phoenix Suns basketball team bought the beat.la domain name for $5,300 at Sedo. […]
Take-Two Interactive Software, Inc. Files UDRPs Against Mike Mann's Domain Asset Holdings On 4 Domains – 15-Aug-13
Take-Two Interactive Software, Inc makers of the widely popular Grand Theft Auto games, filed a UDRP's today against Mike Mann's Domain Asset Holdings, LLC on four domain names with WIPO…
Del Monte Sues After .delmonte TLD Objection Decision – 15-Aug-13
After losing top level domain objection, Del Monte International GmbH files suit. Is this the first lawsuit over a top level domain name Legal Rights Objection? Del Monte International GmbH has sued Del Monte Corporation in U.S. District Court in California in a trademark infringement case (case 2:13-cv-05912-RSWL-MAN). Although the actual complaint hasn't been posted […]
Grand Theft Auto Creator Files Complaint Against Gta.tv – 15-Aug-13
Take-Two Interactive asks World Intellectual Property Forum to order transfer of GTA.tv. Is this a case of grand theft or a legitimate intellectual property claim? Take-Two Interactive Software, Inc, maker of the popular Grand Theft Auto video game series, has filed a dispute against the owner of GTA.tv claiming the domain is cybersquatted. The current […]
ICDR Rejects Verisign's String Confusion Objection to .cam As Being Too Confusing to .com – 15-Aug-13
One of the more interesting objections filed at the International Centre for Dispute resolution (ICDR) based on String Confusion was Verisign's objection to the new gTLD .Cam being too confusing to .Com…
New TLD Applicants Group Rubbishes New gTLD Collision Risk Report – 15-Aug-13
The New gTLD Applicants Group has slated Interisle Consulting's report into the risk of new gTLDs causing security problems on the internet, saying the problem is "overstated". The group, which represents applicants for hundreds of gTLDs and has a non-voting role in ICANN's GNSO, called on ICANN to reclassify hundreds of "Uncalculated" risk strings as […]
Verisign Confirms .gov Downtime, Blames Algorithm – 14-Aug-13
Verisign this morning confirmed yesterday's reports that the .gov top-level domain went down for some internet users due to a DNSSEC problem, which it said was related to an algorithm change. In a posting to various mailing lists, Verisign principal engineer Duane Wessels said: On the morning of August 14, a relatively small number of […]
IPC Wants Uniform Rapid Suspension Provisions in .org, .biz, and .info Contracts – 14-Aug-13
Intellectual Property groups already asking for way to add URS to existing top level domain names. This shouldn't come as a surprise. The ICANN Intellectual Property Constituency (IPC) has asked ICANN to insert a provision into registry agreements for existing TLDs that could lead to Uniform Rapid Suspension (URS) expanding beyond new top level domain […]
Centralnic Planning September IPO On London Stock Exchange With a Valuation of More Than £30m – 12-Aug-13
According to telegraph.co.uk, CentralNic will announce its intention to go public on the London Stock Exchange tomorrow…
Lisa Box Joines Endurance International – 12-Aug-13
Box leaves Moniker:SnapNames to take role with Endurance. Lisa Box has joined Endurance International Group as Senior Director of Domains, the company announced today. Box has been in the domain name industry since 2007, when she joined Internet REIT as Vice President of Sales & Marketing. She then joined Oversee.net as Senior Director of Sales. […]
Demand Media Gains $1.2 Million From New TLD "Withdrawals" – 12-Aug-13
Demand Media records seven figure gain from new TLD withdrawals. Demand Media recorded a gain of $1.2 million last quarter from withdrawals of its interest in new top level domain name applications. Here's how it's worded in the company's 10-Q filing with the U.S. Securities and Exchange Commission: In the three month period ended June […]
Scripps Networks Loses Second New TLD Objection, This One for .diy – 12-Aug-13
Scripps learns that DIY, like the word Food, is generic. Scripps Networks has lost its second legal rights objection against a top level domain name application, this time losing .diy. It previously lost an objection for .food. Scripps, which owns home improvement media company DIY Network, filed the complaint against Google. Scripps and Google are […]
Former GoDaddy General Counsel to Run for Arizona Governor – 12-Aug-13
Jones jumps headfirst into politics with gubernatorial bid. Christine Jones, former General Counsel & Corporate Secretary for GoDaddy, announced that she will run for Governor of Arizona. Jones left the company last year after a decade in high profile roles at the fast growing domain name registrar and web services firm. Having a leading role […]
TLDH to Participate in 4 Private Domain Auctions – 12-Aug-13
Company will challenge three competitors in private auctions. Top Level Domain Holdings announced today that it will participate in 4 private auctions to settle top level domain contention sets. The four auctions will resolve these contention sets: .GUIDE (versus Donuts) .CASA (versus Donuts) .网址 ("web address" in Chinese) (versus HU YI GLOBAL INFORMATION RESOURCES) .FISHING […]
Next Round of New gTLD Private Auctions Take Place This Week, TLDH is in 4 of Them – 12-Aug-13
The 2nd round of the private new gTLD auctions to resolve contention being run by Applicant Auction takes place this week starting Tuesday and a second participant has stepped forward to publicly say they are participating. Top Level Domain Holdings (LON:TLDH) is participating in private auctions for .GUIDE, .CASA, .网址 (which means web address in Chinese) and .FISHING…
Xbiz: Morality in Media Asks The Feds to Probe ICM Registry Over .xxx .porn – 09-Aug-13
According to xBiz.com, Morality in Media has called on federal authorities to probe ICM Registry after the operator of the .XXX TLD received initial approval for the .porn gTLD. "The anti-porn group, led by Patrick Trueman, the former chief of the Justice Department's Child Exploitation and Obscenity unit, said that the establishment of a .porn domain will increase the spread of online porn."…
Another 104 gTLDs Pass IE, Another Two Withdrawals – 09-Aug-13
With only three weeks of scheduled Initial Evaluation results remaining, ICANN has passed another 104 applications. We've also seen another two withdrawals over the last day or so — Monster Worldwide withdrew its dot-brand application for .beknown while Microsoft dropped its bid for .skydrive. Here are the IE passes, with links as ever to DI […]
Demand Media Successfully Defends Motorola Challenge for .moto – 09-Aug-13
Google subsidiary loses legal rights objection over .moto. Motorola, now part of Google, has lost its legal rights objection against Demand Media subsidiary United TLD over the .moto top level domain. United TLD plans to offer the domain names for motorcycle enthusiasts, while Motorola uses it as a brand for mobile devices. Motorola also applied […]
Hermes International Files UDRP Seeking 182 .org Domains, Looks Like Huge Waste of Money – 09-Aug-13
Hermes International is what seems to be a huge waste of money to this author, just filed a UDRP seeking control of 182 .Org domain name all containing the word Hermes. Renewal fees of these domain name alone even at Godaddy.com rates over $1,500 a year…
Alexa, Amazon; Paypal, Ebay Team Up to Win 14 Domain in UDRP: Kindle6.com, Kindle7.com Kindle8.com – 09-Aug-13
Several companies joined forces to file a single UDRP to gain control 17 domain name.
The company's filed the UDRP were Alexa Internet, Amazon Technologies, Inc, eBay Inc., Elance, Inc. and PayPal, Inc…
Consuela, Llc Found Guilty of Reverse Domain Name Hijacking – 09-Aug-13
Consuela, LLC of Austin Texas, has been found guilty of Reverse Domain Name Hijacking (RDNH) in its attempted grab of the domain name Consuela.com…
The UK is Going Nuts About Porn and Go Daddy and Nominet are Helping – 09-Aug-13
In recent months the unhinged right of the British press has been steadily cajoling the UK government into "doing something about internet porn", and the government has been responding. I've been itching to write about the sheer level of badly informed claptrap being aired in the media and halls of power, but until recently the […]
3 More .brand New gTLDs are Withdrawn: Now 108 Pulled – 08-Aug-13
Three more .Brand new gTLD application have been withdrawn on the ICANN site. Microsoft withdrew it applications for .Skydrive which had a prioritization number of 386.
Microsoft described the application for .Skydrive as follows…
Tucows: Sold .marketing & .media New gTLD Applications for "a Substantial Sum" – 08-Aug-13
In its earnings call today Tucows.com (TCX) said that they sold two of their new gTLD applications for a "Substantial Sum" that will be reflected in its YummyNames.com subsidiary revenue in the third quarter of 2013…
Tucows Reports: Revenue Increases 11%; Sells Over $1 Million in Domain Names – 08-Aug-13
Tucows.com reported its financial results for the 2nd Quarter ending June 30, 2013. Net revenue for the second quarter of 2013 increased 11% to a record $31.2 million from $28.2 million for the second quarter of 2012…
Realtors Withdraw Five gTLD Community Objections – 08-Aug-13
The US-based National Association of Realtors has withdrawn its Community Objections against five applicants for .realestate and .realty, according to well-placed sources. The five separate objections, which had been combined into one action under the auspices of the International Chamber of Commerce's International Centre for Expertise, were withdrawn today. NAR is a million-member trade association […]
Realtors Withdraw Five gTLD Community Objections – 08-Aug-13
The US-based National Association of Realtors has withdrawn its Community Objections against five applicants for .realestate and .realty, according to well-placed sources. The five separate objections, which had been combined into one action under the auspices of the International Chamber of Commerce's International Centre for Expertise, were withdrawn today. NAR is a million-member trade association […]
Dish DBS Ruled a Top Level Domain Cybersquatter – 08-Aug-13
Dish's .direct application tossed out; Donuts is sole applicant remaining for .direct top level domain name. It's notable that the two applicants deemed to be attempting to cybersquat top level domain names thus far aren't nefarious cybersquatters, as industry groups suggested would happen. Instead, it's two members of those types of trade groups that have […]

If you enjoyed this article, subscribe for updates (it's free)