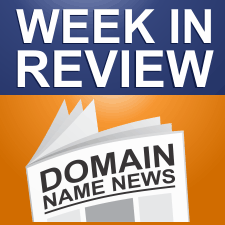 Every Friday, DomainSherpa.com provides you with a hand-selected, editorially-based review of the weekly news. In this summary, you will find the latest articles and videos produced by DomainSherpa staff and contributors. You will also find links to the best news articles in the domain name industry – so you don't have to spend your time searching for news or reading something that was not worth your time.
---
This Week's DomainSherpa Interview
---
---
This Week's News in Review
---
17 Year Old Domain Reckon.com Saved in UDRP
– 01-Aug-13
Reckon Limited of North Sydney Australia, just lost a UDRP on the domain name Reckon.com which is owned by Multitech s.r.l. of Rome, Italy…
Merck & Co Legal Rights Objections Dismissed By WIPO
– 01-Aug-13
In two more WIPO decision out today Merck & Co., Inc. objection to the applications of Merck KGaA to .Merck and .eMerck were thrown out…
Are Famous Four's Top Level Domain Name Projections Realistic?
– 01-Aug-13
A new pitch deck for Domain Venture Partners details how much money it thinks a new top level domain registry can generate. In November I wrote about Domain Venture Partners' pitch deck for new top level domain investors. Today I received a new pitch deck, dated June of this year, detailing the investment funds' capital […]
New gTLD Revenue Projections Revealed in Leaked Famous Four Presentation
– 01-Aug-13
Famous Four Media expects to make an average of almost $30 million revenue in year one from each of the new gTLDs it secures. That's according to a PowerPoint presentation, written for potential investors, that was provided by an anonymous source (I suspect not a fan of the company) to DI this week. According to […]
India Giant Tata Files UDRP On 17 Year Old Domain Croma.com
– 01-Aug-13
Infiniti Retail A 100% owned subsidiary of the India conglomerate Tata filed a UDRP on the domain name Croma.com…
ICANN Will Start Enforcing The New Expired Registration Recovery Policy at The End of The Month
– 01-Aug-13
On August 31, 2013 ICANN will start enforcing the new Expired Registration Recovery Policy ("ERRP") . The ERRP is expected to promote better understanding of registrants' options and help alleviate common issues related to the expiration of gTLD registrations…
The Huffington Post: Direct Navigation Traffic Almost As Important As Google in Reaching Your Destination of Choice
– 31-Jul-13
The Huffington Post just seems have discovered people really do type in domain names into the navigation bar and it seems there is even money to be made in owning domain names…
Zynga Files a Lawsuit Over BangWithFriends.com for Trademark Infringement
– 31-Jul-13
According to Bloomberg.com, Zynga Inc. (ZNGA) filed a lawsuit in the U.S. District Court, Northern District of California against the maker of the "Bang With Friends" claiming it infringes on Zynga's trademark for its "with friends" family of games…
Objection Against Google's .music Bid Rejected
– 31-Jul-13
First of seven objections filed by DotMusic Limited fails. DotMusic Limited's legal rights objection to Google's application for the .music top level domain name has been rejected. Officially, panelist David J.A. Cairns ruled that DotMusic Limited didn't have standing to bring the case because it was unclear if it (or other entities) owned the marks […]
Dotmusic Loses LRO, and Four Other Cases Rejected
– 31-Jul-13
Constantine Roussos has lost his first Legal Rights Objection over the flagship .music gTLD. The case, DotMusic v Charleston Road Registry (pdf) was actually thrown out on a technicality — DotMusic didn't present any evidence to show that it was the owner of the trademarks in question. But the WIPO panelist handling the case made […]
Where Will Registrants for New gTLDs Come From? Mike Berkens Answers
– 31-Jul-13
Last week Andrew from DomainNameWire asked in a blog post "Whats The Market Size For A Top Level Domain". The post basically asked where are the new gTLD's going to get their registrants from, so I thought I would join the conversation.
Here is where I see registrations for new gTLD's coming from…
Whistles.co.uk Owner Files UDRP On Whistles.com
– 31-Jul-13
Parked page's contents probably upset clothing company. Whistles Limited, a UK womens' clothing brand, has filed a UDRP against Whistles.com. The company's website is Whistles.co.uk. A B.S. filing against a generic domain name? Maybe. But this is one of those cases in which the domain's owner should have been more careful with domain name parking. […]
Two Banks Go Down After Forgetting to Renew Domains
– 30-Jul-13
Two UK banks suffered downtime over the weekend after apparently failing to renew their domain name registrations. Clydesdale Bank and Yorkshire Bank, which offer online banking services at cbonline.co.uk and ybonline.co.uk respectively, both blamed a "systems update" for the downtime. But some customers reported seeing a registrar's renewal page when they attempted to access the […]
Donuts Willing to Sent 68 Strings to Auction in August
– 30-Jul-13
New top level domain applicant commits more strings to private auction model. Donuts, the largest applicant for new top level domains, has committed up to 68 strings to the next new TLD "private" auction held by Applicant Auction next month. In the first auction held in May, Donuts committed 63 domains. In order to go […]
Donuts Commits 68 New gTLDs to Private Auction
– 30-Jul-13
According to a press release we just received Donuts, has committed 68 of its applied for new gTLD's to a private auction that will be held on August 13th…
Neustar Reports: Revenue Up 7% Net Income Up 12% and Has $381 Million in The Bank
– 30-Jul-13
Neustar, Inc. (NSR), the backend provider for the ccTLD's .US, .CO, the TLD of .biz and hundreds of new gTLD's today announced results for the quarter ended June 30, 2013 and updated its guidance for 2013…
DomainTools.com Wins Its 1st UDRP Gaining Control of 10 Typo Domains
– 30-Jul-13
DomainTools, LLC just won its 1st UDRP gaining control of 10 typo's of its URL.
The domain were registered as early as 2007 and as recent as 2011…
Domain Name Association Creates New TLD Primer at WhatDomain.org
– 30-Jul-13
Domain Name Association publishes educational site to promote new TLDs. Domain Name Association (DNA), a non-profit advocacy group representing domain name registries, registrars, resellers, and registry service providers, has launched an updated site at WhatDomain.org. WhatDomain.org explains what a domain name is, the current state of top level domain names, and the new types of […]
Amazon.com, Hp, Ford Among Those Lobbying Washington About Domain Names
– 30-Jul-13
Big companies join domain heavyweights in lobbying U.S. government about domain name issues. It's been a couple years since I've done a round up of how much domain name companies are spending on lobbying in Washington. I just ran an updated analysis and made two key observations. First, major domain name companies including VeriSign and […]
Three More Legal Rights Objections Thrown Out By Wipo: .food, .cam, .vip
– 30-Jul-13
Its looking like filing an Legal Rights Objection with WIPO was a huge waste of time and money as three more decisions are out today all in favor of the new gTLD applicants. Objectors are now 0-23 and if you were hitting like that they would send you back to the minor league…
Food Network Loses Food Fight for .food Top Level Domain Name
– 30-Jul-13
Scripps wanted to claim universal rights to the term "food" on the web. The company behind the Food Network and Food.com, Scripps Networks Interactive, Inc., has lost an objection against a rival applicant for the top level domain name .food. In the objection against Dot Food, LLC, Scripps tried to argue that it basically owns […]
Name.com Enters The New gTLD Watch Game With TheNewDots.com
– 30-Jul-13
Name.com just sent out an email letting all their customers know that they have entered the new gTLD watch game using the domain name TheNewDots.com…
Guardian.co.uk Moves Today to TheGuardian.com
– 30-Jul-13
The Guardian a widely read publication out of the UK which broke the news about Edward Snowden has officially moved its site from the domain name Guardian.co.uk to TheGuardian.com as of today and published it first article under its new domain…
Yahoo Gets Patent for Prioritizing Cybersquatting Cases
– 30-Jul-13
Patent covers discovering and prioritizing cybersquatting issues. The U.S. Patent and Trademark Office has granted patent number 8,499,032 (pdf) to Yahoo for a "System and method for compiling a set of domain names to recover". The invention, which I wrote about when the application was published in 2010, allows a trademark owner to generate a […]
3 Ways to Track New TLD Applications
– 30-Jul-13
Three resources for tracking and reviewing new top level domain applications. As of right now there are 1,824 active new top level domain name applications covering 1,353 different strings. If tracking and reviewing them is important to your business, you have a few different options. 1. ICANN's Current Application Status ICANN obviously has an interface […]
Namecheap Wins $1.3 Million Cybersquatting Judgement
– 29-Jul-13
A Federal District Court has awarded NameCheap.com $1.3 Million Dollars in a cybersquatting suit. The judgement (Judgment) was entered back in January 2013 but it does not appear to have been reported on before….
Afilias Wants Registrar Ownership Ban Lifted On .mobi and .pro
– 29-Jul-13
Afilias has applied to ICANN to have its ban on owning registrars in two of its own gTLDs, .mobi and .pro, lifted. With requests to ICANN a few days ago (here and here), the company said it wants to be able to own more than 15% of an ICANN-accredited registrar that sells both TLDs, which […]
16 Year Old Model Esther Heesch Awarded Estherheesch.com in a UDRP Based On Her Fame
– 29-Jul-13
A one member UDRP panel awarded the domain name EstherHeesch.com to what the panel found to be a "a rising star in the fashion and modeling agencies…an international supermodel represented by the prestigious agency, Next Model Management"…
L'oreal Takes The Red Pill, Withdraws .matrix Bid
– 29-Jul-13
L'Oreal has withdrawn another of its dot-brand new gTLD applications. This time it's .matrix, for one of its hair-care product brands. It's the eighth of L'Oreal's 14 original new gTLD applications to be withdrawn, after .欧莱雅, .kiehls, .loreal, .garnier, .maybelline, .kerastase, and .redken. Only .lancome remains of its dot-brand applications. It has already passed Initial […]
Oversee.net Launches TrafficMatch to Pitch Domain Traffic to Advertisers
– 29-Jul-13
TrafficMatch promotes domain name traffic to advertisers. Oversee.net, the parent company of DomainSponsor, somewhat quietly launched TrafficMatch last month. TrafficMatch pitches the company's 300 million monthly visitors direct to advertisers – and a big part of that 300 million is domain name traffic. Here's how the TrafficMatch website explains it: TrafficMatch is a leading provider […]
Matt Cutts Releases New Video About Using ccTLDs for Generic Purposes
– 29-Jul-13
Cutts explains when Google decides to make a ccTLD global. Google's SEO/Webspam leader Matt Cutts has released a new video about using a country code top level domain name for a website not targeted to that country. His message is the same that Google has been giving for many years, but he added some more […]
Gmail Vs. Snail Mail: Google Wins Challenge By USPS
– 29-Jul-13
USPS' challenge to Google over .mail top level domain is denied. Last week, a World Intellectual Property Organization panelist delivered some bad news to the The United States Postal Service: its challenge to Amazon.com's application to run the .mail top level domain was denied. Now the group's challenge to Google's bid to run .mail has […]
URS is Live Today As .pw Voluntarily Adopts It
– 29-Jul-13
Directi has become the first TLD registry to start complying with the Uniform Rapid Suspension process for cybersquatting complaints. From today, all .pw domain name registrations will be subject to the policy, which enables trademark owners to have domains suspended more quickly and cheaply than with UDRP. URS was designed, and is obligatory, for all […]
Buckingham Palace Doesn't Want The Domain of The Royal Baby GeorgeAlexanderLouis.com
– 29-Jul-13
After taking a beating in the media for registering the matching .com domain name of the Royal Baby GeorgeAlexanderLouis.com it seems the Royal's don't want the domain even for free…
Justfab.com Sues Fab.com for Infringing Its Trademark
– 29-Jul-13
Two fashion startups argue over which one is the most fabulous. This legal battle is absolutely fabulous! Just Fabulous, the company behind online fashion site JustFab.com, has sued white-hot e-commerce site Fab.com. Just Fabulous claims that Fab.com is infringing its Just Fab marks. The two sites are heavyweights. JustFab.com has raised over $100 million. Fab.com […]
Law Firm Sues Justdropped.com and Its Owner, Claiming Cybersquatting
– 29-Jul-13
Law firm with the generic name "Outside Legal Counsel" sues Dan Rubin over OutsideLegalCounsel.com domain name. A law firm called Outside Legal Counsel Plc has sued JustDropped.com and its owner Dan Rubin, claiming he is cybersquatting on OutsideLegalCounsel.com. At first I thought the attorneys for the case made a mistake, as it appeared someone acting […]
Dotshabaka Wants to Be The First New gTLD to Launch, But Big Problems Remain
– 29-Jul-13
Having been the first to sign a contract with ICANN two weeks ago, new gTLD registry dotShabaka is also desperate to be the first to launch, but faces big obstacles. The company, International Domain Registry, is a spin-off of AusRegistry, with many of the same directors and staff, but executives insist it is an entirely […]
Six More LROs Kicked Out, Most for "Front Running"
– 28-Jul-13
Six more new gTLD Legal Rights Objections, six more rejected objections. The World Intellectual Property Organization is chewing through its caseload of LROs at a regular pace now, made all the more easier by the fact that a body of precedent is being accumulated. Objections rejected in decisions published last week cover the gTLDs .home, […]
Orbitz Loses UDRP On Orbotz.com Parked for Last Five Years
– 27-Jul-13
Orbitz Worldwide, LLC which was represented by CitizenHawk, Inc., just lost a UDRP on the domain name Obotz.com a domain which has been parked for the last five years…
Huge List Of Marijuana Domain Names Listed For Sale By THCDomains.com
– 26-Jul-13
THCDomains.com, a cannabis industry domain name sales website, has announced the availability of a large number of marijuana-related dot-com and dot-net domains. THC Domains is a division of THC Media Group, a marketing firm specializing in serving medical marijuana and legal cannabis businesses.
104 New Gtld's Pass ICANN Ie: .sydney; .wow; .gmail; .catholic; Volkswagen; .walmart; .mit; .comcast; .realtor
– 26-Jul-13
104 new gTLD's passed ICANN Initial Evaluation (IE) today.The highlights for this week include the one of the most beautiful cities in the world .Sydney and some applications filed by Google's Charleston Road Registry Inc which had been passed over in some previous weeks IE results including .Gmail; .Wow; .FYI; .Shop; .Fun .Fly and .RSVP
Other interesting new gTLD applications passing this week were the Massachusetts Institute of Technology for .MIT; Amazon's application for .Search…
Verisign's Earnings Swell As Domain Name Registrations Steadily Climb
– 26-Jul-13
Verisign (NASDAQ:VRSN), the provider of registry services for all .com and .net domain names, posted revenue of $239 million in Q2 2013, up 12% y-o-y. Its operating margin improved from 50% in Q2 2012 to 55.2%, mainly on account of 12% and 10% declines in sales and marketing, and general and administrative expenses respectively.
Vice President Joe Biden Domain Name Expires
– 26-Jul-13
If Vice President Joe Biden intends to run for President in the 2016 US Presidential election, JoeBiden.com should be renewed by someone associated with…
JetGo of Australia Files UDRP Against Frank Schilling's NameAdministration On Jetgo.com
– 26-Jul-13
Frank Schilling has gotten hit with its 35th UDRP as Jetgo of Australia has filed on the domain name JetGo.com. JetGo of Australia's official site is jetgoaustralia.com.au…
Tucows Follows Uniregistry & Withdraws Two gTLD Applications .media & .marketing Leaving Donuts The Only Applicant
– 25-Jul-13
Three more new gTLD applications were withdrawn with ICANN today and two are very interesting. Tucows, Inc. withdrew two of its new gTLD applications one for .Media, just one week after another applicant Uniregistry dropped their application for .Media. and .Marketing just a little over a month after Uniregistry dropped their application for .Marketing…
Oversee.net Names Joanna McFarland as General Manager, Consumer Finance Group
– 25-Jul-13
Oversee.net®, which owns and operates a portfolio of websites and mobile apps designed to help consumers make smart, informed purchase decisions, announced today that it has hired Joanna McFarland as General Manager, Consumer Finance Group. McFarland will initially be focused on enhancing the user experience and product offerings of consumer finance websites, such as CreditCards.org…
Verisign: Ends 2Q With 124.3 Million .com/.net; Domain Revenue Up 12% & $2 Billion in The Bank
– 25-Jul-13
VeriSign, Inc. (NASDAQ: VRSN), reported financial results for the second quarter ended June 30, 2013 after the market closed. As of the quarter ending June 30 there were 124.3 million .com/.net domain names an increase of 4.9%…
.song and .yellowpages New TLD Objections Denied
– 25-Jul-13
Two more objections fail, bringing total to 18. World Intellectual Property Organization panelists have denied two more Legal Rights Objections to new top level domain name applications. The latest failed objections are for .song and .yellowpages. Of the 18 determined cases so far, the objectors have lost in each of them. That has a lot […]
4 More Legal Rights Objections Denied at WIPO: 17 Objections, 17 Thrown Out: .song; .yellowpages; .cam
– 25-Jul-13
Earlier today we wrote about two Legal Right Objections (LRO) that were denied at WIPO one for .GMBH and the 5th objection filed be Defender against an applicant for .Home
Since then three more decisions came out all against the objectors on the strings .Song; .YellowPages and .Cam…
Demand Media Successfully Defends .cam TLD Against Objection
– 25-Jul-13
Company defends one objection for .cam, still faces a string confusion objection. Demand Media subsidiary United TLD Holdco Ltd has defended itself against a legal rights objection over its .cam top level domain name application. AC Webconnecting Holding B.V., a competing applicant for the string, based its objection on community trademark registrations for ".cam" as […]
Sports Training Company Fouls Out in D1.com Domain Name Grab
– 25-Jul-13
Company fails to take D1.com domain name from rightful owner. D1 Sports Holdings, LLC has lost a UDRP complaint it filed against the domain name D1.com. As you can imagine, D1.com was registered a long time ago. It was registered in 1995 and belongs to New Dimension One Spas, Inc, which acquired the assets of […]
Trademark Frontrunner TLDOT GmbH Loses .gmbh Objection
– 25-Jul-13
Company that trademarked .GMBH loses legal rights objection to competing applicant. TLDDOT GmbH, an applicant for the .gmbh domain name that has tried to "frontrun" the new TLD process with trademarks, has lost a legal rights objection against competing applicant InterNetWire Web-Development GmbH. TLDDOT's objection was quite amazing, really. The company basically told the panel […]
Wipo Rejects 13th & 14th Legal Rights Objections to New Gtld's On .gmbh & Another The 5th On .home
– 25-Jul-13
WIPO today released two more Legal Rights Objections (LRO) decisions today and for the 13th and 14th time ruled against the Objector…
Afternic to Provide New gTLD .kiwi Reserve Lists of Premium Domains
– 25-Jul-13
Afternic, today announced a strategic partnership with Dot Kiwi Ltd, the applicant for the new Top Level Domain (TLD) .KIWI. Afternic has been selected by Dot Kiwi to to create reserve lists for their new TLD and "provide definition and valuation services for .KIWI premium domains, expected to launch in late 2013″…
If you enjoyed this article, subscribe for updates (it's free)