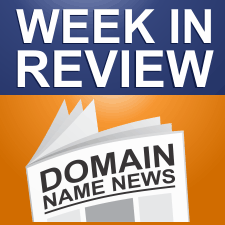 Every Friday, DomainSherpa.com provides you with a hand-selected, editorially-based review of the weekly news. In this summary, you will find the latest articles and videos produced by DomainSherpa staff and contributors. You will also find links to the best news articles in the domain name industry – so you don't have to spend your time searching for news or reading something that was not worth your time.
---
This Week's DomainSherpa Interview
---
VIDEO: The Unseen Threat to GeoDomain Owners and Local Media Companies – with Skip Hoagland

If you own a geographic domain name, such as HiltonHead.com or Seattle.com, or a newspaper, radio station, television station or media company focused on a local geography, there may be an unseen competitor to your business – and the competitor might not be playing fair.

Skip Hoagland has been fighting against unfair business practices since October 2011. Watch this interview to learn more about this issue, and what you can do to determine if abuse is happening in your city.
---
This Week's News in Review
---
Donuts Beats Dot-brand in fight over .express gTLD
– 11-Jul-13
Donuts has prevailed in the first big dust-up between a portfolio gTLD applicant and a dot-brand hopeful. The World Intellectual Property Organization today published its decision (pdf) in the Legal Rights Objection filed by a clothing retailer called Express over the .express gTLD. The ruling could have a big impact on future rounds of the […]
Breaking: Suit Filed Against Scott Ross & Others Over Non-Payment of MD.Org Namejet $555,650 Auction
– 11-Jul-13
On April 12, 2012, the domain name MD.org sold at a record setting NameJet.com auction for $555,650.00 to the high bidder ID of 'Winters". Today the seller of the domain name, Privacy LLC, (Privacy) filed a lawsuit along with NameJet, LLC ("NameJet") against Scott Ross and "Does defendants 1-3″ which "may include Ari Goldberger, Esq. and Larry Fischer", for breach of contract, in refusing to pay for the domain name…
Body.com Sells On GoDaddy.com for $380,000
– 11-Jul-13
The domain name Body.com just sold on GoDaddy's aftermarket for $380,000.
This was listed via Godaddy's partnership with Sedo and sold from GoDaddy.com as a make offer listing. The seller appears to have been Red Trend Limited out of Hong Kong…
IAB Gives Dotless Domains The Thumbs Down
– 11-Jul-13
The Internet Architecture Board believes dotless domain names would be "inherently harmful to Internet security." The IAB, the oversight committee which is to internet technical standards what ICANN is to domain names, weighed into the debate with an article apparently published yesterday. In it, the committee states that over time dotless domains have evolved to […]
Domainsbot Takes Its New gTLD Spinner to Registries
– 11-Jul-13
DomainsBot has started promoting its domain name suggestion services to new gTLD registries. Announced today, its new TLD Recommendation Engine for Registries is designed to make TLD suggestions more relevant when people are hunting for a new domain name. It's a sister service to the TLD Recommendation Engine for Registrars that, as we reported last […]
Internet Architecture Board: Dotless Domains May "Cause Significant Harm to The Security of The Internet"
– 11-Jul-13
The Internet Architecture Board, has come out strongly against Dotless Domains as proposed by Google to operate the .Search new gTLD…
Hilco Streambank Selling CircuitCity.com & CompUSA.com Domain Names
– 11-Jul-13
Hilco Streambank is the company that auctioned Bargain.com for $150,000, ETM.com for $16,659, and they privately sold the package of My Website related domain..
True Value Sues After Losing UDRP
– 11-Jul-13
Hardware cooperative files lawsuit in second attempt to get domain name TrueValueWeb.com. If at first you don't succeed, try, try again. This Monday I wrote about how United Press International filed a lawsuit after losing a UDRP complaint. Now True Value Company, which also recently lost a UDRP complaint, has done the same thing. The […]
Report Names and Shames Most-abused TLDs
– 11-Jul-13
Newish gTLDs .tel and .xxx are among the most secure top-level domains, while .cn and .pw are the most risky. That's according to new gTLD services provider Architelos, which today published a report analyzing the prevalence of abuse in each TLD. Assigning an "abuse per million domains" score to each TLD, the company found .tel […]
Key-Systems to Take a Loss on .hiv Domains
– 11-Jul-13
Key-Systems said yesterday that it plans to make .hiv domain names available at "below net cost price", in solidarity with would-be new gTLD registry dotHIV. The registrar said it will also offer free .hiv names at launch to organizations involving in fighting the virus via its Moniker and domaindiscount24.com retail registrars. dotHIV, also a German […]
Godaddy's Offline Marketing of .la in Los Angeles
– 11-Jul-13
Old school advertising to promote the .la domain name. GoDaddy CEO Blake Irving tweeted a photo of a .LA billboard in Los Angeles yesterday (see photo). As more "local" domains come to the internet, this type of targeted offline advertising will become more common. GoDaddy already does a lot of TV and promotional advertising and […]
.co Internet Looking for More Registrars
– 11-Jul-13
.CO Internet is expanding its registrar channel with a new Request For Proposals. The company wants would-be registrars to respond with the commitments they're willing to make to market and promote .co domains, particularly in markets where .co is not currently popular. Only ICANN-accredited registrars need apply. Amusingly, registrars also need to be specifically accredited […]
Governments Kill Off Patagonia's Dotbrand Bid
– 11-Jul-13
The clothing retailer Patagonia has withdrawn its application for .patagonia after it became clear that ICANN's Governmental Advisory Committee was unlikely to allow it. Controversial from the outset, Patagonia's dot-brand came under fire from governments including Argentina and Chile because the company is named after a large region of Latin America. The GAC couldn't find […]
New Partnership Between IP Neighborhood and Fabulous.com Expands Market for Premium Domains
– 10-Jul-13
Intellectual Property intelligence firm IP Neighborhood and professional domain services provider Fabulous.com have joined forces in a new partnership that the two companies said will showcase thousands of premium domain names for sale worldwide. Fabulous.com is a leading registrar and supplier of domain monetization and management services, as well as a reseller of aftermarket domains with a searchable catalog (at FabulousDomains.com) stocked with more than 500,000 domain names…
UDRP Complainant Agrees to Buy Quirk.com for $85k; Backs Out: Now Loses UDRP
– 10-Jul-13
Quirk Productions, Inc. ("Complainant"), which owns QuirkBooks.com lost its bid to grab the generic domain name Quirk.com. The domain holder officially was TobyClements.com, LLC / Toby Clements but in fact the domain was owned by Michele Wilson d/b/a Exotic Design Group ("EDG") since 2004, who was represented by John Berryhill…
Dan Warner Picks The Winners & Losers: New gTLDs in The Sports Category
– 10-Jul-13
Dan Warner, who many in the domain industry know is a numbers/stats guy, has some interesting thoughts on winners and losers of the new gTLD's in the "sports" category which he recently published…
8 Observations From The First New TLD Objection Decisions
– 10-Jul-13
Some take-aways from WIPO's first three legal rights objection decisions. WIPO has published the results of three legal rights objections for new TLDs. Objectors to .home, .vip, and .rightathome all lost their cases. Here are eight observations from the first three cases. Hey there, WIPO UDRP panelists! The first three decided legal rights objections were […]
Agendas Published for Upcoming ICANN New TLD Committee and Board Meetings
– 10-Jul-13
Meetings to be held at Durban conference. ICANN has published agendas for three upcoming board-related meetings taking place in conjunction with the ICANN meeting in Durban. The New gTLD Program Committee will have two meetings in conjunction with the conference. The first, held July 13, will cover Funding Objections, CRM system, Ombudsman letters, and IGO […]
RKG Digital Marketing Report: Google Search Spend Up 18%: 26% of Organic Searches On Tablets & Smartphones
– 10-Jul-13
RKG, a leading full-service digital marketing agency, released its Digital Marketing Report (full report .pdf) covering the second quarter of 2013 today…
Key-Systems To Offer .HIV Domain At Below Cost To Its Customers & Free To Some Org's
– 10-Jul-13
The German based domain registrar Key-Systems today announced that they will support the charitable work of the dotHIV association within the field of HIV/AIDS prevention and fundraising with three distinct activities: Key-Systems will offer their customers the registration of .hiv web addresses (domains) below net cost price…
Patagonia, Inc. Withdraws Its Application for New gTLD .patagonia
– 09-Jul-13
In what I would say is not great shock, Patagonia, Inc, has withdrawn its application to operate the .Patagonia new gTLD…
Rabbi's Say ICANN Unequal Treatment Of .Halal Is Not .Kosher.
– 09-Jul-13
ICANN asked to ensure that the top-level domain applications, and the religious communities affected by the applications, are provided equal treatment.
Fascinating Tale of a Political Domain Name "Opportunist"
– 09-Jul-13
Florida man's political domain registrations have given him access to a number of politicians on the campaign trail. NationalJournal has a fascinating story today about Michael Deutsch. Deutsch has beaten a number of politicians to registering key domain names, and the story talks about how these domain names have helped Deutsch get access to the […]
.la Domain Names Now Up for Sale [Mashable]
– 09-Jul-13
Los Angeles has become the first city to have its own domain name extension…
Chehade Joins Twitter
– 09-Jul-13
ICANN CEO Fadi Chehade now has his own Twitter account, the organization has confirmed. Here he is, tweeting this morning: Receive the best of our meeting in Durban sent directly to your email with the #myICANN platform. http://t.co/PRD7nBHPQw #ICANN47 — ICANN President (@icann_president) July 9, 2013 And here's ICANN confirming it: @DanielNegari @DomainIncite – Yes. […]
Ammar Kubba Explains Aftermarket.com's New Park & Sell
– 09-Jul-13
Aftermarket.com offers new domain parking program integrated with sales platform. Last month Aftermarket.com, a Thought Convergence company, launched its new Park & Sell program. Clients can park their domains with Aftermarket and integrate them into its domain name sales platform. I reached out to Thought Convergence CEO Ammar Kubba to learn more about the new […]
CBS News Covers The Domain Aftermarket & Puts DomainAgency.com in The Spotlight
– 09-Jul-13
CBS News just published a story on the domain name aftermarket getting all their information from the story from husband and wife team Brian and Meghan Berke which run domainagency.com…
The Business of Buying Aftermarket Domain Names [CBS News]
– 09-Jul-13
See a domain name out there that someone else owns but you really want? A domain broker may be your best bet…
.asia Passes 500,000 Registrations Relaunches Redesigned Site Dot.asia
– 09-Jul-13
DotAsia announce today that the ".Asia" gTLD has reached over 500,000 domain names under management…
.asia Passes 500,000 Registrations Relaunches Redesigned Site Dot.asia
– 09-Jul-13
DotAsia announce today that the ".Asia" gTLD has reached over 500,000 domain names under management…
The First 7-Figure Sale Reported This Year is in the Books – $2.1 Million Domain Goes to Chinese Buyer
– 09-Jul-13
Seven-figure domain sales have been few and far between in recent years. Only two were reported all of last year and none had been reported this year – until this post. We have learned that an unnamed Chinese company, working through a New York based representative, has purchased the domain 114.com for a whopping $2.1 million in cash (plus an $18,690 escrow fee) in a private transaction. The deal went through Escrow.com and a party to the sale gave Escrow.com permission to confirm the price that was reported to us.
World Congress Plans 2nd Annual gTLD Summit
– 08-Jul-13
New TLD event to focus on legal aspects of new top level domain names. Conference organizer World Congress is planning its 2nd Annual Generic Top-Level Domain (gTLD) Names Summit for this September. The one day event will take place September 25 at the Affinia in New York City. It is targeted to intellectual property professionals […]
United Press International Sues After Losing UDRP
– 08-Jul-13
Company that lost UDRP in May files cybersquatting lawsuit. United Press International, commonly known simply as UPI, has filed an in rem cybersquatting lawsuit (pdf) for the domain names UPIPhoto.com and UPIPhoto.org. The company lost a UDRP for upiphoto.com in May. A World Intellectual Property Organization ruled that the registrant of the domain, which goes […]
Tesco Goes After Domain Hack Tes.co – and There's More to Come.
– 08-Jul-13
Here's an example of a type of complaint we'll see more often going forward. Traditionally, UDRP panels don't consider the top level domain as part of what makes a domain name similar to a mark in which the complainant has rights. We can expect this to change as new top level domain names come online. […]
.la Gets Godaddy's Marketing Power to Help Brand Domain for Los Angeles
– 08-Jul-13
.LA to get another push as the domain for Los Angeles. GoDaddy announced this morning that it has teamed up with DOT LA Marketing Company and CentralNic to help push the ccTLD .la as a domain name for Los Angeles. The domain name registrar is offering annual .la domain name registrations for $39.99 and will […]
Africa to Get Own Domain Name By Year-end
– 08-Jul-13
A long-standing project to establish a continental top-level domain (TLD) for Africa was expected to culminate in the launch of .africa by the end of this year. The impending launch of the 'created for Africans by Africans' domain initiative marked the continent's strides in growth and development, said Werksmans Attorneys director and intellectual property practice member Donvay Wegierski.
2013 RAA is Illegal, Says EU Privacy Watchdog
– 08-Jul-13
European privacy regulators have slammed the new 2013 Registrar Accreditation Agreement, saying it would be illegal for registrars based in the EU to comply with it. The Article 29 Working Party, which comprises privacy regulators from the 27 European Union nations, had harsh words for the part of the contract that requires registrars to store […]
Geo gTLD Bidders Propose New Constituency
– 08-Jul-13
Applicants for geographic gTLDs voted unanimously to form a new ICANN constituency last week. According to minutes of a meeting hosted by .london applicant London & Partners in London last Thursday, 20 applicants voted in favor of a constituency and nobody voted for the alternatives. Not every geo was in attendance, however. Twenty votes represents […]
Demand Media Withdraws .bar Application
– 08-Jul-13
Demand Media has withdrawn is application for the .bar new gTLD. It's the first of the company's applications, filed via its United TLD subsidiary, to be withdrawn. It was in a contention set with only one other applicant, a Mexican venture by the catchy name of Punto 2012 Sociedad Anonima de Capital Variable, which has […]
Google's .app Draws Fire From The Association for Competitive Technology
– 06-Jul-13
Google's new gTLD application to operate the .APP new gTLD come under fire yesterday by the The Association for Competitive Technology (ACT)…
Demand Media Withdraws 1st New gTLD Application: .bar
– 06-Jul-13
Demand Media, Inc. (DMD) withdrew its first new gTLD application, .Bar.
The application had a prioritization number of 1,689…
Comcast / NBC Sports Sells Versus.com for Six Figures to Startup Versus.io
– 06-Jul-13
The domain name Versus.com the former name of the NBC Sports Network has been sold by Comcast/NBC Sports for a "six figure sum". According to a story in VentureVillage.eu, The buyer is startup company that upgraded from the domain Versus.io…
GoDaddy to Rebrand .LA Domain Names & Market Them in Los Angeles
– 06-Jul-13
According to The LA Times, GoDaddy, will kick off a marketing campaign Monday to re-brand .LA as the Web suffix for Los Angeles after partnering with CentralNic, the company that handles the database for .the .LA ccTLD…
Amazon's Dot-brand likely doomed as US withdraws geo objection
– 05-Jul-13
The US government is set to allow the Governmental Advisory Committee to kill off Amazon's application for .amazon, along with eight other new gTLDs with geographic flavors. In a position paper published last night, the National Telecommunications and Information Administration said: the United States is willing in Durban to abstain and remain neutral on .shenzen […]
Verisign Files Patents for a Domain Manager and Preventing Malicious Domain Registrations
– 05-Jul-13
Company that is looking to assert its patents files two more applications. The U.S. Patent and Trademark Office published to patent applications yesterday that were filed by Verisign. Both applications were filed in 2011. Application 13/339466 (pdf) is titled "Methods and Systems for Creating New Domains": Systems and methods for creating a new domain, such […]
Verisign Files Patents for a Domain Manager and Preventing Malicious Domain Registrations
– 05-Jul-13
Company that is looking to assert its patents files two more applications. The U.S. Patent and Trademark Office published to patent applications yesterday that were filed by Verisign. Both applications were filed in 2011. Application 13/339466 (pdf) is titled "Methods and Systems for Creating New Domains": Systems and methods for creating a new domain, such […]
Feds Seize 46 Domain Names to Celebrate Independence Day
– 05-Jul-13
It appears some agency of the Federal Government seized 46 domain names, all using Godaddy.com servers at DomainControl.com yesterday, on Independence Day in the United States. So far I haven't see any official announcement of the seizures, nor the agency that sent the order out or the basis for the seizure…
Trademark Nightmare: 977 .com/.net Google Domains Registered Last Month Only 8 By Google
– 05-Jul-13
Over the years we have chatted about over reaching trademark holders and trademark group pushing for great protections and while we have been on the side of the domain holder, in all fairness we do have to admit that for a large trademark holder they have a nightmare on their hands when it comes to domain names. Take Google…
Facebook Files UDRP for Fäcebook.org & 19 More Domains
– 04-Jul-13
Facebook filed a UDRP yesterday for 20 domain names including an IDN, Fäcebook.org with WIPO. Other gems on the list include the very dangerous FacebookAteMyBabt.com…
Today's New gTLD Updates: Two Withdrawals and Two "Not Approved"
– 04-Jul-13
DotConnectAfrica and GCCIX WLL have become the first new gTLD applicants to have their applications — for .africa and .gcc respectively — officially flagged as "Not Approved" by ICANN. Both were killed by Governmental Advisory Committee advice. While GCC had passed its Initial Evaluation already, DCA's IE results report (pdf), which were published last night, […]
If you enjoyed this article, subscribe for updates (it's free)