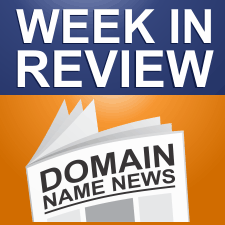 Every Friday, DomainSherpa.com provides you with a hand-selected, editorially-based review of the weekly news. In this summary, you will find the latest articles and videos produced by DomainSherpa staff and contributors. You will also find links to the best news articles in the domain name industry – so you don't have to spend your time searching for news or reading something that was not worth your time.
---
This Week's DomainSherpa Interview
---
VIDEO: Protrada's Deal Spree to Grow the Domain Name Industry – With Troy Rushton

Protrada.com has been on a business development spree, acquiring Domainface.com assets, partnering with a top Internet marketer, sharing the stage with Donald Trump, Anthony Robbins and Robert Kiyosaki, and creating a technology platform to power non-domain name-specific websites.

In this interview, we catch up with past sherpa Troy Rushton, and learn about these business growth
---
This Week's News in Review
---
VeriSign Publishes New Video Promoting .TV – 16-Aug-12
VeriSign published a new video yesterday promoting .TV domain names.
Owner of RomneyRyan.com Plans to Auction Site – 16-Aug-12
If his job in the tech industry doesn't work out, Peter Crowley should try psychic reading. The 26-year-old purchased RomneyRyan.com in 2010 after hearing recently-named Republican vice presidential candidate Paul Ryan speak. Predicting that Romney was the inevitable GOP frontrunner, he matched them up and bought the site.
Invest.com Domain Announced For Sale Targeting Global Financial Services – 15-Aug-12
DigitalDNA, a leading digital advisory firm, has been engaged to conduct a private sale process for one of the world's most valuable domain names, Invest.com (www.Invest.com). Due to recent trends in the evolving financial services industry, the timing is now optimal for the right company to acquire this rare asset and leverage it to launch a new leading financial brand.

Escrow.com and T.R.A.F.F.I.C. Have Announced a Strategic Partnership. – 15-Aug-12
Escrow.com will be the exclusive escrow provider for the T.R.A.F.F.I.C. Domain Auctions. T.R.A.F.F.I.C. founders, Rick Schwartz and Howard Neu, reached out to Escrow.com with the idea and Escrow.com couldn't have been more pleased. Rick Schwartz commented, "T.R.A.F.F.I.C. is for serious domain investors and if you are serious about this business you know and probably already use Escrow.com. They are a key partner in our industry and we are excited to have them join the T.R.A.F.F.I.C. team."
Sedo Says Domain Parking Continuing to Decline, Writes Off EUR 57.1 million – 14-Aug-12
Company says intense competition and overall decline in domain parking are hurting its business.
Saudis Attempt to Block Vatican Plan for .catholic Web Addresses – 14-Aug-12
The Kingdom of Saudi Arabia has attempted to block a Vatican bid to create new web addresses ending in .catholic, arguing that it "cannot demonstrate that it possesses a monopoly over the term 'Catholic'".
Public Interest Registry Grows .ORG Registrations by 7.7 Percent and Applies for Six New Top-Level Domains During First Half of 2012 – 14-Aug-12
Public Interest Registry (PIR)—the not-for-profit operator of the .ORG domain—today released the results of its bi-annual domain name report, "The Dashboard," detailing the strong growth of .ORG during the first six months of 2012. Specifically, PIR grew .ORG registrations by 7.7 percent in the first half of 2012 compared to the same time period a year ago.
New gTLD Application Comment Period Extended – 13-Aug-12
ICANN has extended the public comment period for new generic top-level domains applications for an additional 45 days. The new end date is now 26 September 2012.
US Registrar NameSilo Joins SedoMLS Premium Network – 13-Aug-12
The world's largest domain marketplace and monetization provider, Sedo, announced a new partnership with US registrar NameSilo. This partnership enables NameSilo to offer their customers access to Sedo's inventory of 16 million premium domains directly at their site, as well as the option to list their own names for sale in the SedoMLS network, reaching millions of potential buyers worldwide.
Demonoid Domain Names Now Up For Sale – 12-Aug-12
Bad news for those expecting the BitTorrent site Demonoid to somehow spring up from the ashes after last week's alleged bust. The Demonoid domain names are now officially for sale via Sedo, the final nail in the coffin for the popular site that was taken down via a combined assault from the International Federation of the Phonographic Industry and Interpol.
Craigslist Loses CraigsLists.com Domain Dispute – 10-Aug-12
Online classifieds site Craigslist has lost a case against one Craig Solomon for the domain name CraigsLists.com (note the extra 's' at the end). The National Arbitration Forum panel relied heavily on laches — Craigslist's delay in filing the dispute — in coming to its determination.
City Website Redirected After Registration Lapses – 10-Aug-12
The City of Tucson's website was redirected Thursday. Instead of displaying information on city departments, it showed visitors lists of Google ad links. The city's IT department is working on the problem, said spokesman Michael Graham, who said users outside the city's network are being sent to another site.
Escrow.com: Domain and Website Transactions Up 21% – 09-Aug-12
Escrow.com's transaction volume for domain names and web sites was up 15% in the first half of 2012 compared to the same period in 2011. The dollar volume for these transactions was up a whopping 21%.

If you enjoyed this article, subscribe for updates (it's free)