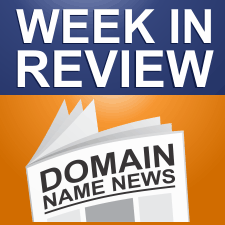 Every Friday, DomainSherpa.com provides you with a hand-selected, editorially-based review of the weekly news. In this summary, you will find the latest articles and videos produced by DomainSherpa staff and contributors. You will also find links to the best news articles in the domain name industry – so you don't have to spend your time searching for news or reading something that was not worth your time.
---
This Week's DomainSherpa Interview
---
VIDEO: The Story of the First Domainer of the Year – with Richard Lau

In 1995, Richard Lau registered several domain names that he simply thought were cool, but never considered would be worth thousands of dollars. His portfolio attracted the attention of Microsoft, who tentatively agreed to pay $9,500 for one of his domains. That gave him an inkling he was on to something big.

Later, after spending 80 hours per week building one of the first 30 domain name registrars in the world, he was faced with stage A colon cancer and a series of unfortunate business liabilities.

In this biography, Richard Lau discusses how he learned the industry, tells some fantastic stories, and provides guidance to others that are just starting out.
---
This Week's News in Review
---
Apparently Verisign is Worth The Same With or Without Price Hikes
– 04-Apr-13
Company's market cap is back up to October levels. Just as I don't understand why the DOW has been hitting all time records lately, I also don't understand this: Verisign is apparently worth the same with or without seven-percent-a-year price hikes on .com. When Verisign dropped the bomb on October 25 that the Department of […]
.WTF: .lotto, .weather, .game, .retirement Hit With Objections
– 04-Apr-13
Seriously, WTF? International Chamber of Commerce has posted more community and limited public interest objections on its web site. On the surface, these look to be quite misdirected. Afilias' application for .lotto has been hit with a community objection filed by European State Lotteries and Toto Association. That's a group that represents lotteries and gambling […]
The GSM Association Sends Letter to ICANN Regarding Applications for Closed gTLDs .mobile and .phone
– 04-Apr-13
The GSM Association, that is located in the United Kingdom, sent a letter to ICANN regarding applications for closed gTLDs .MOBILE and .PHONE. The letter from GSMA actually supports the Donuts applications for .phone and .mobile. The GSMA, the trade …
Right of The Dot Gets Legal Opinion: New gTLD Auctions Not Illegal
– 04-Apr-13
Right Of The Dot, one of the companies hoping to offer contention set resolution services to new gTLD applicants, has published a legal opinion arguing that auctions are not inherently illegal. The document was issued in response to Uniregistry's claim that the US Department of Justice has refused to give auctions a green light under […]
Architelos and Kurt Pritz Join Forces to Serve TLD Market
– 04-Apr-13
Architelos Inc. and Kurt Pritz announced a collaboration to provide advisory services to the new gTLDs applicants and registries. The duo aim to translate their clients' strategic objectives into the successful pursuit and operation of a top-level domain name registry…
Right of The Dot Posts Response to Private TLD Auction Antitrust Claims
– 03-Apr-13
Company says private auctions do not automatically violate U.S. antitrust law. Last month new TLD applicant Uniregistry published a press release that announced it would not participate in private auctions for new TLDs due to anti-trust concerns. It based its decision on a verbal conversation with the Department of Justice. The press release also suggested […]
Google Objects to 9 Plural Top Level Domain Applications
– 03-Apr-13
Google and Verisign file most objections (so far) against TLDs on string similarity grounds. The International Centre for Dispute Resolution has published 33 of the string confusion objections it has received, representing about half of the total. One of the biggest filers so far is Google, which has objected to at least 9 applications. All […]
U.S. Department of Commerce Not Supporting USPS Objection to .mail Top Level Domains
– 03-Apr-13
Department of Commerce not backing .mail objections. Last week I wrote about how the United States Postal Service filed objections to all of the top level domain applications for .mail. It's a big waste of money, as in order to prevail the USPS would have to show it has some sort of legal rights to […]
ICANN Selects CNNIC, Neustar and Nominet As Backup Registry Operators for New gTLDs
– 03-Apr-13
Marking another milestone in the implementation of the community-developed New gTLD Program, ICANN today announced the selection of three geographically diverse emergency back-end registry operators, or EBEROs. The China Internet Network Information Center (CNNIC), Neustar, Inc. and Nominet were selected …
ICANN Enters into a USD 4 Million Agreement with IBM for Trademark Clearinghouse
– 03-Apr-13
ICANN and IBM negotiated the terms for a proposed statement of work for operation of the Sunrise and Trademark Claims services offered by the Trademark Clearinghouse. The New gTLD Program Committee has reviewed the terms of the proposed Statement of Work for ICANN. Approval is required to commit ICANN funds in the amount of USD 4 million. Execution of the agreement enables continuation of the technical build out to support these services for the New gTLD Program.
ANA Calls for New gTLDs Delay, Again
– 03-Apr-13
The Association of National Advertisers has seized upon Verisign's recent report into the security risks of ICANN's new gTLD timetable to call for delays to the program. In a blog post yesterday, ANA vice president Dan Jaffe said ICANN's dismissal of the surprising Verisign letter is "like the Captain of the Titanic before the crash […]
Namejet and Afternic Sign Another gTLD Launch
– 02-Apr-13
NameJet and Afternic will provide launch auctions and premium name distribution for the .build gTLD, should it be approved, the two companies have announced. The deal was inked with applicant Plan Bee LLC, which is affiliated with Minardos Group, a construction company. The two companies will handle auctions under the sunrise and landrush phases, according […]
Related posts:
NameJet to auction three-letter .pro domains
.SO launch date is November 1
TLDH expects gTLD auctions in second half of 2013
The Verisign Pile On Effect – 02-Apr-13
Last week Verisign dropped a bomb on ICANN by releasing a report that said that ICANN was not yet ready for the rollout of new top level domains. Critics have suggested that Verisign has financial motives for slowing out the rollout of new TLDs, and they're likely correct. Regardless of what Verisign's motives are, and […]
Go Daddy Hires CTO From Yahoo – 02-Apr-13
Go Daddy has made its third top-level hire from CEO Blake Irving's alma mater, Yahoo. Elissa Murphy, formerly vice president of engineering, will join the registrar as chief technology officer and head of platform, All Things D reports. Go Daddy has reportedly confirmed the move, saying she's due to start next month. The news comes […]
Related posts:
Go Daddy poaches another Yahoo exec
Go Daddy gets its fourth CEO in a year
IEDR admits blame for hack that brought down Google and Yahoo
Tracy Morgan Wins Domain Name Dispute – 02-Apr-13
Comedian Tracy Morgan can now tell jokes at TracyMorgan.com. Comedian Tracy Morgan laughs about a lot of stuff, but not about how he didn't own the domain TracyMorgan.com. In January I wrote about how the 30 Rock star had filed a UDRP against the owner of TracyMorgan.com. At the time, the parked page on the […]
First Seven TMCH Agents Approved – 02-Apr-13
The Trademark Clearinghouse has listed its first seven approved trademark submission agents. These are the companies that are able to secure bulk discounts for submitted marks to the TMCH. The first seven are NetNames, Corporation Service Company, SafeNames, MailClub, Key-Systems, Net-Chinese, which are all domain registrars too, and the Law Offices of S.J. Christine Yang, […]
Related posts:
Trademark Clearinghouse lowers prices
Trademark Clearinghouse to open March 26
Trademark Clearinghouse prices revealed
Thou Shalt Not Steal? Christian College, Alum Battle Over Domain Name – 02-Apr-13
Cybersquatting is not a very Christian — or legal — thing to do. That's the premise behind a Florida college's lawsuit against a former student who allegedly committed trademark infringement and cybersquatting when he registered and later maintained a website critical of Pensacola Christian College.
Network Solutions Gets a Continuation Patent On Url Forwarding – 02-Apr-13
Patent issued today covers forwarding one domain name to another. Domain forwarding, a.k.a. URL forwarding. Every domain registrar offers it, and most give it away for free to their customers. Type in DNW.com and get forwarded to DomainNameWire.com. Pretty simple, right? Did you know that Network Solutions has a patent for "Apparatus and method for […]
ICANN Tones Down Power Grab in New gTLD Contract – 02-Apr-13
ICANN has published a new version of its Registry Agreement for new gTLD operators that waters down the controversial unilateral right to amend provisions. The revised RA, available for review here, makes it harder for ICANN to force new rules on registries without their consent, at least when compared to the version published in February. […]
Related posts:
ICANN fights government gTLD power grab
VeriSign's .com takedown power grab causing controversy
ICANN seeks more power over new gTLD registries
TechCrunch Fights to Take Down Copycat Blog – 01-Apr-13
TechCrunch demands NewTechCrunch.com domain; site owner tries to rebrand. TechCrunch's parent company AOL has filed a complaint with National Arbitration Forum to take down the copycat blog NewTechCrunch.com. As of right now, NewTechCrunch.com does not resolve. But until recently the domain resolved to a web site that included articles about laptops, tablets, and phones (see […]
.CO to Offer Asian IDNs Starting April 15 – 01-Apr-13
More .co internationalized domain name options available this month. .Co Internet announced that it will begin allowing registrations of Asian language .co IDNs starting April 15. Registrations will be available in Chinese, Japanese, and Korean. There will be no trademark sunrise period, so brand owners that wish to register their IDN.co domain should place an […]
Donald Trump is Suing a 'Hacker' Over Opinionated Websites & Domain Names – 01-Apr-13
Donald Trump is super upset because he didn't register domain names before someone else did, and now they won't give them up for $100 a piece. So he's SUING them!
How ICANN is Changing Business Website Domain Names Forever [SmartCompany] – 01-Apr-13
Soon, instead of being stuck with .com.au, you could have a range of new website domains to choose from.
Twitter Co-founder Starting New Company Called Jelly at JellyHQ.com – 01-Apr-13
As with Twitter, Stone isn't buying the "best" domain yet. Twitter co-founder Biz Stone is working on a new company called Jelly. Although it's very early stage, on March 22 he registered JellyHQ.com. So what about Jelly.com? It's actually owned by a company in my backyard in Fredericksburg, Texas called Fischer & Wieser. Believe it […]
It's Opening Day and MLB is Batting .867 With Domains – 31-Mar-13
Major League Baseball owns 26 of 30 team names in .com. It's a sure sign of spring as Major League Baseball opens up the 2013 season with 12 games today. MLB made a good acquisition over the summer, buying the domain name Rockies.com for an unspecified amount. With the Rockies.com domain, MLB now owns 26 […]
Google Says Parked Domains = Spam – 31-Mar-13
Google's spam page claims parked domains are web spam. Here's something interesting to start your week. Google has a page about "Fighting Spam" referring to pages designed to trick search engines such as cloaking and hidden text. Listed right there underneath "Types of Spam" is this: It's completely understandable that Google doesn't want to index […]
Enom Offers Premium .org Domains Exclusively in Auction – 31-Mar-13
eNom, the world's largest ICANN accredited wholesale registrar, today announced the dates of its participation in the Public Interest Registry's (PIR) Project 94. This historic auction will offer one and two-character .ORG domain names never before released for registration beginning April 7 and continuing through April 19. eNom has partnered with the premier aftermarket domain name service, NameJet, to host the auction of 39 premium .ORG domain names exclusively in partnership with PIR. Registration is open and validation by the Registry is required in advance of the auctions in order to participate.
"Domainer" and "Domain Parking" Hit Cnn.com Home Page – 31-Mar-13
Article discusses cybersquatter who calls himself a domainer. One of the top stories on CNN.com today is about a self-proclaimed "domainer". Unfortunately, that domainer is a cybersquatter, so the article doesn't paint domainers in a positive light. The article is about Taikwok Yung. I've written about Yung before, when he registered domains related to Bank […]
ICC Publishes Initial List of New TLD Community Objections – 29-Mar-13
Group posts first 28 objections. International Chamber of Commerce, which is handling new TLD objections for community objections and limited public interest objections, has published a list of pending cases. The list so far includes 28 objections. All of the published limited public interest pbjections were already known as they were filed by the independent […]
Introducing RDNH.com: a Database of Reverse Domain Name Hijacking Cases – 28-Mar-13
129 reverse domain name hijacking cases and counting… Today I'd like to introduce you to RDNH.com, a site that provides a database of reverse domain name hijacking cases under UDRP. The site is a "collaboration" between myself, Nat Cohen, and David Lahoti. I say "collaboration" because Nat has been doing most (all) of the work […]
ICA Comments on ACDR's Revised Application to Provide UDRP Services – 28-Mar-13
Last Friday ICA filed its comment on the revised ACDR proposal. While the revised application has some modest improvements compared to the 2010 version, there are still many unanswered questions – particularly how ACDR will assure that proposed panelists with no UDRP experience will receive adequate training, what steps will be taken to assure that the full panelists roster will be utilized on an unbiased basis, and how ACDR will assure that its UDRP adjudications are consistent with prevailing practice and don't develop in a manner that encourages forum shopping by complainants.
Chehade Says "No Delay" As Verisign Drops a Security Bomb On ICANN – 28-Mar-13
Verisign today said that the new gTLD program presents risks to the security of the internet, but ICANN CEO Fadi Chehade told DI that he's not expecting any new delays. The .com behemoth tonight delivered a scathing review of the security and stability risks of launching new gTLDs on ICANN's current timetable. The new Verisign […]
Verisign to ICANN: Not Ready for New TLDs – 28-Mar-13
Verisign claims insufficient preparation (mostly technical) for new top level domains. Verisign has sent a report to ICANN (and filed it with the Securities and Exchange Commission) that basically says that the internet isn't prepared new top level domains yet. The report outlines multiple issues, ranging from automated TLD additions to the root (of which […]
MLM Company Denied Zija.com Domain in Dispute – 28-Mar-13
Company was founded two years after domain registered. Zija International, a multi-level marketing company that sells nutritional and dietary supplements, has failed to get the domain name Zija.com through a UDRP. The registrant of the domain name registered it in 2002, two years before Zija even existed. He then used the domain name to forward […]

If you enjoyed this article, subscribe for updates (it's free)