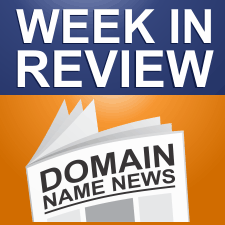 Every Friday, DomainSherpa.com provides you with a hand-selected, editorially-based review of the weekly news. In this summary, you will find the latest articles and videos produced by DomainSherpa staff and contributors. You will also find links to the best news articles in the domain name industry – so you don't have to spend your time searching for news or reading something that was not worth your time.
---
This Week's DomainSherpa Interview
---
VIDEO: Differentiating Good Domain Names from the Crappy Ones – With Adam Dicker

Everyone has bought crappy domain names in the past. Many of us still own them today.

Watch this interview and learn six criteria that will help you avoid buying sub-par domain names in the future.

You will also learn how to organize your current portfolio to separate the junk from the good, and then what to do with domain names that have no value.
---
This Week's News in Review
---
ICA Comments on ACDR's Revised Application to Provide UDRP Services – 28-Mar-13
Last Friday ICA filed its comment on the revised ACDR proposal. While the revised application has some modest improvements compared to the 2010 version, there are still many unanswered questions – particularly how ACDR will assure that proposed panelists with no UDRP experience will receive adequate training, what steps will be taken to assure that the full panelists roster will be utilized on an unbiased basis, and how ACDR will assure that its UDRP adjudications are consistent with prevailing practice and don't develop in a manner that encourages forum shopping by complainants.
MLM Company Denied Zija.com Domain in Dispute – 28-Mar-13
Company was founded two years after domain registered. Zija International, a multi-level marketing company that sells nutritional and dietary supplements, has failed to get the domain name Zija.com through a UDRP. The registrant of the domain name registered it in 2002, two years before Zija even existed. He then used the domain name to forward […]
Nordstrom Fails to Get Preliminary Injunction Against Nomorerack.com – 27-Mar-13
Judge hands victory to online retailer NoMoreRack.com. Here's an update on a lawsuit I wrote about in October. Upscale retailer Nordstrom, which also operates outlet stores under "The Rack" name, sued online flash sales and discount site NoMoreRack.com. It claimed NoMoreRack.com's brand and domain name infringed its trademarks. This week the judge on the case […]
.online is Just The Beginning of New TLD Partnership Announcements – 27-Mar-13
Partnerships are a key way contention sets will be resolved. Get ready for a number of new TLD partnerships. Yesterday Tucows, NameCheap, and Directi (see disclosure) announced a partnership for the .online top level domain name. The three companies were part of a crowded field of six applicants vying for the domain name. By combining […]
Mystery Web Site Proposes New gTLD "String Change" System – 27-Mar-13
Somebody out there is bummed that they can't afford to win their new gTLD contention set. A new web site, StringChange.org, is planning to petition ICANN to allow new gTLD applicants to change the string they've applied for, for an extra $100,000 fee. It's not clear who's behind the proposal, which was sent to every […]
Loophole Gives Trademark Owners Unlimited Clearinghouse Records – 27-Mar-13
Trademark owners will be able to add potentially thousands of strings to the Trademark Clearinghouse due to a recently introduced loophole, it emerged last night. ICANN recently said that it will allow mark holders to add up to 50 strings related to their trademarks to their TMCH records, if the strings have been abused in […]
ICANN to Pay $2 Million to Keep Trademark Clearinghouse "Free" for Registrars – 27-Mar-13
ICANN is putting its money where its mouth is when it comes to helping new gTLDs be successful, committing $2 million to keep Trademark Clearinghouse access "free" for registrars. While TMCH pricing for trademark owners is now well-publicized, ICANN COO Akram Attalah last night revealed some of the fees for new gTLD registries and registrars. […]
ICANN to Water Down Contract Powers With "Public Interest Amendments" – 26-Mar-13
ICANN has made a few tweaks to its proposed unilateral-right-to-amend powers in order to fend off open hostility from registries, registrars and new gTLD applicants. The organization is set to announce "Public Interest Amendments", a rebadged version of its hugely unpopular proposals for the Registry Agreement and Registrar Accreditation Agreement. As previously reported, ICANN wants […]
United States Postal Services Just Wasted Your Money Objecting to .mail Top Level Domain – 26-Mar-13
USPS should stick to delivering mail. This morning World Intellectual Property Organization posted that the United States Postal Service has objected to the seven applications to run a .mail top level domain. Really, USPS? First of all, the type of objection filed (legal rights objection) is designed as a vehicle for trademark holders. Last time […]
ICANN: About 274 New gTLD Objections Filed – 26-Mar-13
There have been roughly 274 formal objections against new gTLD applications, ICANN said last night. During a webinar with applicants, new gTLD program manager Christine Willet broke down the numbers. There have been: 67 String Confusion Objections — these are of the "your TLD looks like my TLD" variety. 71 Legal Rights Objections […]
Tucows, Directi and Namecheap to Combine .online gTLD Bids – 26-Mar-13
Three applicants for the .online gTLD appear to have settled their differences in what I believe is the first public example of new gTLD contention set consolidation. Tucows, Directi and Namecheap said today that that they plan to "work together to manage the .online registry." From the press release: applicants for the same TLDs have […]
"Tube" Domainer Objects to Google's .tube gTLD Bid – 26-Mar-13
Remember the "mystery gTLD applicant" that had promised to campaign against Google's closed generic gTLD applications? It turns out the company behind the campaign is actually Latin American Telecom, one of the three applicants for .tube, and that part of its strategy is a Legal Rights Objection. According to a copy of the LRO kindly […]
Q&A: Deloitte Partner Overseeing New Domain Name Clearinghouse – 26-Mar-13
ICANN tapped Deloitte to oversee the Trademark Clearinghouse, which has been created to allow intellectual property owners to register their marks in order to prevent misuse by other parties. It opened for business Tuesday. Reuters spoke to the Deloitte partner in charge of the effort, Belgium-based Jan Corstens.
Demand Media Paid $18 Million for Name.com – 26-Mar-13
On December 31, 2012, the Company completed the acquisition of the net assets of Name.com, a retail registrar company based in Denver, Colorado. The purchase consideration of $18,000 comprised an initial cash payment of $16,200 and the remaining $1,800 is subject to a hold back to satisfy post-closing indemnification obligations as well as a working capital adjustment and any remaining portion of such hold back amount that is not subject to then pending claims will be paid to the selling shareholders prior to or on the 18-month anniversary of the closing of the transaction.
Accuweather Vs Weather Channel for .weather Domain Name – 26-Mar-13
The USA's two largest private commercial weather companies — The Weather Channel and AccuWeather, along with a few others — are duking it over the use of this new so-called generic top-level domain, dot-weather.
.CO Domain Tops 1.5 Million Domains – 25-Mar-13
.Co now has over 1.5 million domains registered. The .co domain namespace has hit a new milestone: 1.5 million domain names. The .co domain name ticker rolled over a big digit overnight: This is a pretty huge number of domain names within 3 years of launch, especially with .co's premium pricing. Interesting times are ahead […]
Company Objects to Chinese IDNs Over Contractual and Patent Rights – 25-Mar-13
Group that partnered with Chinese government for IDNs claims that new TLDs will infringe contractual and intellectual property rights. A legal rights objection is supposed to be filed based on trademarks, but a Singapore company has filed two objections based on alleged contractual terms and patent rights. i-DNS.net says it has filed objections against Chinese […]
Candy.com Hurt By Google Penalty – 25-Mar-13
Company hit with penalty last year; Google continues to deny requests to lift penalty. Candy.com has a sweet (and expensive) domain name, one that helped it get instant credibility in the candy industry. But apparently the site is lacking good search rankings due to a manual Google penalty — and that has led the company […]
Neustar Leading The New gTLD Back – 25-Mar-13
New gTLD applications backed by registry service provider Neustar scored the highest results in the first batch of Initial Evaluation results. All 27 of the applications that have had their IE results revealed by ICANN so far have easily passed the 22 out of 30 points threshold required for a passing score on the technical […]
ICANN approves .shabaka top-level domain name – 25-Mar-13
Arabic businesses and internet users are set for a paradigm shift in their online behaviour as Internet Corporation for Assigned Names and Numbers (ICANN), the global regulator of web addresses, has officially approved شبكة. (.shabaka in Arabic – translates to .web in English).
With 3 Days to Go, Ts.org Leads 1-2 character .org auction at $2,475 – 25-Mar-13
Go Daddy's auction of one and two character .org domain names ends on Thursday, and plenty of the lower priced domains are seeing action. As of the time of posting, TS.org has the highest bid at $2,475 with 5 bidders and 16 bids. Other two character domains, including b3.org, e3.org and c2.org, have also attracted […]
Directi Sells 4,000 .pw Domains in First Half Hour – 25-Mar-13
PW Registry, the Direci unit looking after the .pw registry, said it received orders for 4,000 domain names in its first 30 minutes of general availability today. Disappointing? It's certainly not up to the standard of, say, .co, which was well into six figures in the same period when it launched a few years ago. […]
Chehade to Play Hard – 24-Mar-13
ICANN CEO Fadi Chehade has reportedly indicated that the unilateral right to amend powers ICANN wants to put in its registry and registrar contracts are non-negotiable. Speaking at a meeting of the Association of National Advertisers last week, Chehade is reported to have said: "I'm not going to back off this one." He is understood […]
Pinterest Files Its First UDRP – 24-Mar-13
Company targets Pinterest.info, and I bet it will be filing a lot more domain disputes soon. Image-based social networking service Pinterest has filed its first domain name dispute under the Uniform Domain Name Dispute Resolution Policy (UDRP). The case was filed against the domain Pinterest.info, which was registered in May 2011 by someone in Los […]
Five Interesting Nuggets From The First Batch of gTLD Evaluations – 24-Mar-13
ICANN gave many in the industry cause for celebration on Friday when it released its first batch of 27 new gTLD applications that have passed Initial Evaluation. The plan is to release 30 per week, ramping up to 100 at some point in future, but three applications in the first 30 still have change requests […]
First Signs of Google's New Domain Parking Client Identification Program… – 22-Mar-13
Internet Traffic asks customers to identify themselves as part of new Google initiative. One of the topics discussed extensively in the hallways at Webfest this year was changes Google is making to its parking program. Although I don't have all of the details, the bottom line is that Google is making an effort to better […]
ICANN Clears 27 New Domain Name Suffixes in Non-english Languages (WaPo) – 22-Mar-13
The agency in charge of Internet addresses says it's given preliminary approval for 27 new suffixes — all in Chinese, Arabic and other languages besides English. They are the first approved out of nearly 2,000 bids submitted last year. The Internet Corporation of Assigned Names and Numbers previously said it was reviewing the non-English bids first. ICANN expects additional approvals in the coming weeks.
27 New Tlds Have Passed Their Initial Evaluation – 22-Mar-13
First batch of new TLDs have passed initial evaluation. Today was a big milestone in the new top level domain name process. ICANN's new top level domain application status page is now showing the first top level domain names to pass Initial Evaluation. As of the time of writing, 27 domains have passed initial evaluation. […]
First 27 New gTLDs Pass Evaluation – 22-Mar-13
ICANN has started reporting the results of Initial Evaluation in its new gTLD program as promised, delivering a passing grade to 27 applications today. So far, no bids appear to have explicitly flunked IE, judging by ICANN's web site. However, some of the applications in the top 27 in the prioritization queue are still flagged […]
New Web Domain Names: Should You Pass? (Infoweek) – 22-Mar-13
Plenty of organizations remain in the dark about the flood of new Internet addresses about to become available later this year. Here's what you need to know.
Here's How New TLD Objections Work – 21-Mar-13
An explanation of new top level domain objections. Yesterday I wrote about a number of objections filed against new top level domain applications. I also explained the four types of objections. So just how do these objections work? In a lot of ways they are modeled after UDRP, except the fees are higher and there's […]
What Objections Against Donuts' Tlds Show Us About The Next Phase of The New TLD Game – 21-Mar-13
An early look at new TLD objections shows some questionable claims. The deadline to file objections against new top level domain applications was March 13. Dispute resolution providers are slowly posting the objections, but it looks like what has been posted so far is just the tip of the iceberg. Donuts, the largest TLD applicant […]

If you enjoyed this article, subscribe for updates (it's free)