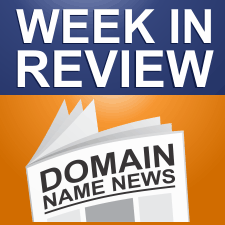 Every Friday, DomainSherpa.com provides you with a hand-selected, editorially-based review of the weekly news. In this summary, you will find the latest articles and videos produced by DomainSherpa staff and contributors. You will also find links to the best news articles in the domain name industry – so you don't have to spend your time searching for news or reading something that was not worth your time.
---
This Week's DomainSherpa Interview
---
VIDEO: 4 Steps to Increase Parking Revenue by 70% – With Paolo DiVincenzo

Paolo DiVincenzo, general manager of DomainPower, increased revenue on 9,800 parked domain names by more than 70 percent. To achieve this revenue lift, he deployed a methodology and four-step process: 1) establish metric/baseline, 2) group, 3) test and 4) optimize.

In this interview, DiVincenzo describes the four steps in detail, as well as how to implement them in your own portfolio.
---
This Week's News in Review
---
Registrars Group Campaigns to Transform .IE Namespace
– 15-Mar-12
A new group consisting Irish domain name providers and web hosting providers plan to campaign against what they believe to be restrictive policies of the .ie Domain Registry (IEDR), Siliconrepublic.com has learned.
Twitter Snaps Up Posterous Domain Names On Day of Acquisition Announcement
– 14-Mar-12
Company registers two domain names for acquisition but it probably won't use them. Twitter announced the acquisition of Posterous on Monday, and just to be safe it registered a couple related domain names: TwitterPosterous.com and PosterousTwitter.com.
MLA Defends Purchase of Animals Domain Names
– 14-Mar-12
A vocal animal welfare organisation has raised concerns this week about Meat and Livestock Australia buying internet domain names.
Cybersquatter Anticipates Delta/US Airways Merger
– 14-Mar-12
Potential airline mergers involving US Airways have triggered demand for domain names.
Domain Seizures for Copyright Breach to Go Global
– 14-Mar-12
ICANN promises to co-operate closer with governments and law enforcement agencies at the organization's international conference.
Judge Hears Closing Arguments in Libyan Embassy Domain Name Case
– 14-Mar-12
Ahmad Miski doesn't deny that he has no alter ego known as the "Libyan Embassy" or the "Embassy of Libya." Still, Miski made his case today in federal court in Washington that he has a legal right to keep domain…
Retargeted Ads Will Boost Domain Parking Revenue
– 14-Mar-12
Retargeted ads increase the relevant ad inventory on parked domains. Over the past 6-12 months I've notice a sharp increase in the number of Google Adsense ads I see that are retargeted. Instead of being related to the topic of the page I'm viewing, …
.CO Internet is a Company Cool Enough for Brooklyn Hipsters
– 13-Mar-12
uddenly, the outfit behind the .co domain is everywhere, even if many people barely notice. It's all part of Juan Diego Calle's shrewd strategy.
SedoMLS Premium Network Expands across Europe, with Addition of DonDominio
– 13-Mar-12
Sedo announced this morning the addition of Spanish registrar DonDominio. As the newest full SedoMLS Premium partner, DonDominio can now allow their own customers to list domains for sale in the SedoMLS Premium network, as well as purchase premium names from the SedoMLS network directly at DonDominio's website.
National Arabized Domain "تونس." Launched – Ag-ip
– 13-Mar-12
By virtue of Decision No. 12/2012 approved by Tunisian Council of the Telecommunications National Authority (INT) on February 16, 2012 the naming charter of the Arabized Domain "تونس." has been approved, whereby the marketing of domain names in Arabic script has been officially launched on March 1, 2012, according to Abu-Ghazaleh Intellectual Property.
ICANN Appoints Iid's Rod Rasmussen to Its Security and Stability Advisory …
– 12-Mar-12
IID (Internet Identity(R)), a provider of technology and services that help organizations secure their Internet presence, today announced that ICANN (The Internet Corporation for Assigned Names and Numbers) has appointed IID President and CTO Rod Rasmussen to its Security and Stability Advisory Committee (SSAC). ICANN is an internationally organized, non-profit corporation that has responsibility for Internet Protocol (IP) address space allocation, protocol identifier assignment, generic (gTLD) and country code (ccTLD) Top-Level Domain name system management, and root server system management functions. Created in 2002 by ICANN, the SSAC advises the ICANN community and Board on matters relating to the security and integrity of the Internet's naming and address allocation systems. SSAC members span the public and private sector, and include some of the foremost Internet security experts and numerous people credited with creating the foundation for today's Internet.
Commerce Rejects Internet-management Bids
– 12-Mar-12
The U.S. Commerce Department has rejected bids to manage the Internet's address and domain systems, instead extending the contract for six months and…
Yahweh Domain Name Gets Thumbs Up
– 12-Mar-12
Despite halacha claims it might be offensive to use explicit sacred name of God, committee in charge of approving domain names grants use of new domain: 'Yahweh.co.il'
US Air Buys AMR Web Names
– 12-Mar-12
US Airways Group, which recently disclosed that it has hired advisors to help it assess a possible combination with American Airlines parent AMR Corp., has claimed a number of Internet addresses that could come in handy if the two carriers got together.
Facebookofsex.com Url Gets 4m Visitors Before Shut Down
– 12-Mar-12
FacebookOfSex.com (previously owned by FriendFinder Networks) was able to live for about a year and had over four million visitors before Facebook was able to get the rogue domain shut down recently. Facebook now owns the rights to the domain name and has been very busy protecting its name and brand against several other trademark infringing domains.
Internet Overseer ICANN Needs to Tighten Board Conflict Rules, CEO Says
– 12-Mar-12
The organization that manages the Internet's address system should strengthen conflict-of-interest rules for its board of directors, the group's chief executive officer said.
Two Domain Name Registrars Behind Most Rogue Pharma Sites, Says Study
– 12-Mar-12
LegitScript concluded that about 33 percent of pharma domains are hosted by Internet.bs and about 17 percent are registered with ABSystems, which makes the two registrars responsible for more than 50 percent of all rogue pharmaceutical domain names.
CADNA Supports NTIA's Dedication to IANA RFP Guidelines
– 12-Mar-12
The Coalition Against Domain Name Abuse (CADNA) supports the National Telecommunications and Information Administration's (NTIA) adherence to the guidelines set out in its Request for Proposal (RFP) for the management of the IANA functions – the technical functions of the Internet. The NTIA's decision to cancel the RFP due to the fact that it %22received no proposals that met the requirements requested by the global community%22 should be an opportunity for ICANN and other applicants to better address the guidelines that NTIA has set forth as a result of input from stakeholders around the world.
Survey Says… Escrow.com #1 Again!
– 11-Mar-12
Escrow.com preferred over 5 times greater than nearest competitor in Domain Name Wire Survey.
Domain Name Wire Turns Seven Today
– 09-Mar-12
Time flies when you're having fun. Seven years ago today I wrote the first post on Domain Name Wire. When I started Domain Name Wire the domain industry
NAR Protects Realtor® Trademark By Winning Domain Name Challenge
– 09-Mar-12
The National Association of Realtors® has won a challenge to the use of its trademark Realtor® in a domain name operated by a former member.
Namemedia Promotes Bob Mountain to Senior Vice President
– 08-Mar-12
Bob Mountain promoted to Senior Vice President NameMedia. Bob's Promotion recognizes his contributions to our company and the entire domain industry.
Verisign Reports 2011 Closed With 225 Million Domain Registrations: .com/Net …
– 08-Mar-12
Verisign today announced its latest quarterly Domain Name Industry Brief report for the 4th Quarter of 2011.
The fourth quarter of 2011 closed with a base of more than 225 million domain name registrations across all Top Level Domains (TLDs), which …
How Anonymous Plans to Use DNS As a Weapon – 08-Mar-12
An Anonymous threat to take down the global Domain Name Service may have been a mere troll, but the group is looking to use the DNS itself as an offensive weapon.

If you enjoyed this article, subscribe for updates (it's free)