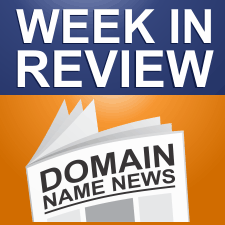 Every Friday, DomainSherpa.com provides you with a hand-selected, editorially-based review of the weekly news. In this summary, you will find the latest articles and videos produced by DomainSherpa staff and contributors. You will also find links to the best news articles in the domain name industry – so you don't have to spend your time searching for news or reading something that was not worth your time.
---
This Week's DomainSherpa Interview
---
VIDEO: ICA: The Domain Name Trade Association That Represents Your Financial Interests – With Philip Corwin

Large corporations have deep pockets and large intellectual property staffs with which to protect their interests, including trademarks. The result of such financial power can often be lobbyist-influenced legislation that does not favor domain name investing.

What you probably didn't realize is that the Internet Commerce Association is a domain name trade association that since 2006 has been representing the financial interests of domain name entrepreneurs.
---
This Week's News in Review
---
ANA Urges ICANN to Improve Rights Protection On Domain Names (B2B Online)
– 07-Feb-13
The Association of National Advertisers urged the Internet Corporation for Assigned Names and Numbers to improve protection mechanisms for top-level domains in a letter that supports Limited Preventative Registrations.
Cyber squatter Buys 'Michelin Guides' Domain Name, Sets up 'Michel (Platini) in Guides' Website (ESPN)
– 07-Feb-13
A 28-year-old salesman named Adam Mascall from Luton received a very angry letter through the post from the people at Michelin Guides (i.e, the French restaurant bible universally revered in food circles) after he snapped up the "www.michelinguides.com" domain name for just £6 recently.
Dick's Sporting Goods Buys Three Domain Names for $395,000 (DNW)
– 06-Feb-13
Retailer purchases sports-related domain names. Sporting goods giant Dick's Sporting Goods has purchased three sports related domain names for…
Sedo Issues Domain Name Market Study for Q4 and Year End 2012 (PR)
– 06-Feb-13
Sedo, the world's largest domain marketplace and monetization provider, today announced the results of its Annual Domain Market Study with Q4 20…
Global Domain Name Disputes Rise 4.3 Percent (CIO)
– 06-Feb-13
A record 2884 disputes covering 5082 domain names were filed in 2012.
Domainers Raise $40,000 for Clean Water (DNW)
– 06-Feb-13
Domainers raise $40,000 for The Water School. The domain name industry raised about $40,000 for The Water School at Water Night last night. The event,
Tumblr Files 9 Cybersquatting Complaints
– 06-Feb-13
Blogging platform cracks down on cybersquatters. Blogging service Tumblr has filed 9 separate cybersquatting complaints in the last two weeks. The
Steamboat Woman Accused of Taking Former Employer's Domain Names (Denver Post)
– 05-Feb-13
The former manager of a Steamboat Springs entertainment venue faces a felony charge after being accused of taking control of domain names owned by her former…
Steamboat Woman Accused of Taking Former Employer's Domain Names
– 05-Feb-13
The former manager of a Steamboat Springs entertainment venue faces a felony charge after being accused of taking control of domain names owned by her former
1&1 Registers Over 2.5 Million .fr Domain Names
– 05-Feb-13
Internet host 1&1 has registered over 2.5 million .fr domain names. The 2.5 millionth domain name was sought by dog breeder Antoine Cagnac, www.borders-collie.fr, who will be rewarded with personalised help on how to use professional referencing for higher visibility, statistical analysis tools, e-mail, task and calendaring, and online data storage.
IP Lawyers Gird for Trademark Issues Amid Domain Name Expansion
– 05-Feb-13
While registration for names such as .wine or .golf seems like it would be open to Internet squatting, certain measures are in place to help ensure that doesn't happen.
Domainsponsor Releases New iPhone and Android Apps
– 05-Feb-13
Updated app includes notifications of domains for sale. DomainSponsor today announced the release of its updated apps on both Apple and Android. The app
100 Best, Inc. Announces Website Name Change to 100bestdomainnames.com
– 04-Feb-13
100BestDomainNames.com features the best domain registrars in the industry. Visitors will find reviews, articles, and detailed information about everything relating to domain name registration.
Snapnames Picks Up Host Europe Expired Domain Stream
– 04-Feb-13
Deal gives company a strong partner in Europe. SnapNames has picked up a new partner to bolster its expired domain name inventory. The company has gone
.CO Says Best Super Bowl Ad Yet
– 04-Feb-13
.Co happy with Super Bowl ad results. Last night was the third Super Bowl ad .co has run in conjunction with Go Daddy (or should I say GoDaddy.co). I
Looking for Organizing for Action Website? You've Reached the NRA
– 01-Feb-13
Derek Bovard, a 40-year-old computer technician in Castle Rock, Colo., was up watching Fox News early the morning of Jan. 18 when he saw the news that President Obama's advisors were launching a new advocacy group called Organizing for Action. Bovard jumped on the computer and snapped up the domain name Organizingforaction.net, which he's now selling for $10,000.
The Bar Refaeli Go Daddy Super Bowl Commercial
– 31-Jan-13
People will be talking about this commercial Monday morning. Wow. I have a feeling this commercial will be more talked about than many of Go Daddy's…
SnipesShop.de Was $50,000 Buyer of Snipes.com
– 31-Jan-13
Company shrinks URL and gets a .com for its online store. In December Afternic reported that it had brokered the sale of Snipes.com for $50,000. I've
ICANN has found a sub-$500 URS provider
– 31-Jan-13
ICANN has picked a provider for its Uniform Rapid Suspension anti-cybersquatting service, one that's willing to manage cases at under $500 per filing.
Kieren Mccarthy to Become Executive Director of IFFOR
– 31-Jan-13
McCarthy takes bigger role in IFFOR and group offers policy making services. Former ICANN General Manager of Public Participation Kieren McCarthy will become
Makeup.com Sold for $2 Million, Rodeo.com and Karate.com for $500k Total
– 31-Jan-13
L'Oreal paid $2 million for domain in 2010. I was digging through some SEC filings today when I came across some prices on domain name sales. The sales
American Automobile Association Sues Owner of Aaaclubs.xxx and Other Domains
– 31-Jan-13
AAA sues to stop adult entertainment site from using AAA in its name. The American Automobile Association, commonly known as AAA or Triple A, has sued the
If you enjoyed this article, subscribe for updates (it's free)