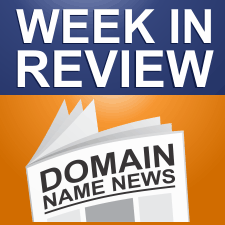 Every Friday, DomainSherpa.com provides you with a hand-selected, editorially-based review of the weekly news. In this summary, you will find the latest articles and videos produced by DomainSherpa staff and contributors. You will also find links to the best news articles in the domain name industry – so you don't have to spend your time searching for news or reading something that was not worth your time.
---
In Addition, Don't Miss…
---
DomainSherpa Discussion: .COMs are Meaningless; New TLD SERPs; Sherpa Tools; IDN Email…

This is the show where we discuss domain name industry news with a panel of veterans and thought leaders.

In this DomainSherpa Discussion:
* "The Meaninglessness of .COM" by Mason Cole
* All other factors being equal, which would rank higher: wine.club or wineclub.com?
* Tool swap — what do the Sherpas use daily and why?
* Who cares about new TLDs? The DomainSherpa audience sounds off.
* Buying strategy for .com based on .whatever?
* And much more!

DomainSherpa Review – August 11, 2014: Detect.com, PoolToys.com, NM.uk, Don't Buy…

Get into the minds of the Sherpas with the DomainSherpa Review!

* An investor's portfolio is reviewed and appraised: Detect.com, JNA.com and BabyOutlet.com…
* Domain names going to auction at NameJet are valued: ETB.com, MedicalBillingServices.com and DCTowing.com, NM.uk…
* Adam Dicker is the top Sherpa on the mountain in the "Name That Price" game

For each domain name portfolio, the Sherpas answer:
* Which domains are valuable, and in what way?
* What is the market value (both wholesale and retail) of the best domain names?
* Which domains are worthless and should be dropped?
* Which domain names may invite legal issues, such as a UDRP case or cybersquatting lawsuit?
* Which domains do our Sherpas want to make an offer on?

We're joined by three Domain Sherpas: Adam Dicker, Andrew Rosener and Page Howe.
---
This Week's News in Review
---
GoDaddy Amends IPO Filing, Reports Q2 Results
– 14-Aug-14
Company continues to grow revenue as it heads toward IPO. GoDaddy released its second quarter financial results today through an amended S-1 Initial Public Offering filing with the SEC. Q2 2014 revenue came in at $338.5M, up from $276.0M in the same quarter of 2013 and $320.2M in Q1 2014. The net loss for the…
GoDaddy: Radix Landrush Fees are Fully Refundable & Always Were
– 14-Aug-14
  I got a message from Godaddy today in response to my story of a few days ago, that they were charging a non-refundable $160 application Landrush fee for the Radix new gTLD which start with .Press, .Website, .Host. Godaddy wrote me today and said that the $160 landrush fee was in fact refundable in…
Sued Yesterday As Part of BestRegistrar, Jeff Smith is Also Applicant for New gTLD .shop
– 14-Aug-14
Yesterday we reported that Simon Property Group (SPG) sued domain name registrar BestRegistrar along with a few alleged resellers and its principals individually including a Jeff Smith to "recover control of approximately 5,000 Internet domain names rightfully owned by SPG, and to recover damages both compensatory and statutory in nature arising out of: (i) Defendants'…
Medical Domain Names All Under 2,000 Registrations After First Day
– 14-Aug-14
No surprises in initial launches of four medical-themed domain names. As I previewed earlier this week, the only four domain names entering true general availability this week were medical-themed domains from Donuts. Here are how many domains are registered in each of the four after the first day, based on zone file numbers: .Dental 1,971…
German Company Now Has $1 Billion Valuation After Acquiring Pizza.de
– 14-Aug-14
TechCrunch.com is reporting that the German food delivery service Delivery Hero announced today that it has acquired Pizza.de, another food delivery service also based in Germany. "The financial terms of the deal were not disclosed but we understand from a source that it is an all-cash deal, with no shares exchanged and that post-acquisition, the…
Group On's Ideeli, Acquires & Rebrands As Ideel.com
– 14-Aug-14
ideeli, the online retailer, announced today it has acquired the domain name and rebranded itself to ideel.com The company recently acquired the domain ideel.com back in June from a domain holder in France in a sale that has not been previously reported. "The company which is a discount fashion site was acquired by Groupon earlier…
Internet Marketer Goes to Prison, Registers His Inmate Number As Domain Name
– 13-Aug-14
Well known online marketer starts a blog that uses his inmate number. You might not know Shawn Hogan by name, but it's possible you've heard about him. He runs the Digital Point marketing forum. He also made a mint from affiliate marketing. How he made much of that money in affiliate marketing ended up landing…
Suit Filed Against BestRegistrar Over "Ransom" to Transfer Over 5k Domains Out
– 13-Aug-14
A company has filed a federal lawsuit against the company that owns the ICANN accredited registrar, BestRegistrar.com a few alleged resellers of BestRegistrar and the owners of the company that owns Bestregistrar.com, to "recover control of approximately 5,000 Internet domain names rightfully owned by SPG, and to recover damages both compensatory and statutory in nature…
Amazon Launches Square Competitor, Snaps Up 100 Domain Names
– 13-Aug-14
Company registered 100 related domain names ahead of latest product launch. Today Amazon.com launched Amazon Local Register, a mobile credit card merchant solution similar to Square. Yesterday the company registered close to 100 new domain names for the new service, by my count. Of the companies I track, Amazon does the most defensive domain name…
Verisign: 3% of New TLD Registrations Contain Business Websites
– 13-Aug-14
Parked domains make up the bulk of new TLD registrations. Verisign analyzed registrations of new top level domain names to determine how second level registrations under these new domain names are being used. The analysis determined that just 3% of domains registered so far are being used for a "business website" and the majority of…
WOI.com Reported Stolen
– 13-Aug-14
The three letter domain name WOI.com has been reported stolen. The domain name was at Godaddy until just a few days ago registered to a Bernard Naiborhu of Jakarta, when it moved over to the domain name registrar, eName Technology Co.,Ltd. of China WOI.com is now registered to: Admin Name: linyu Admin Organization: xia men…
1 & 2 Character.gd and .vg Domains Will Be Charged a Higher Registration Fee
– 13-Aug-14
The registry for the .GD and .VG ccTLD announced today that beginning on September 2, 2014, all 1 and 2 character domains under .GD and .VG will be considered as premium domain names and will be charged with a higher domain registration fee. The renewal fee for these domains will remain on standard pricing. Currently…
Tucows Earnings Call: gTLDs & ccTLDs Increase Margins & They Bank Money Off .group
– 13-Aug-14
  In the earnings call Tucows (TCX) which reported earnings yesterday revealed some interest facts and figures. In general profit margins from domain name is increase due to new gTLD's and ccTLD's, sales of domains are slowing, and Tucows revealed they had a minority interest in an application for .group which lost a private auction…
Verisign: 41% of New gTLD Sites are Parked
– 13-Aug-14
As much as 41% of domains registered in new gTLDs are parked with pay-per-click advertising, according to research carried out by Verisign. That works out to over 540,000 domains, judging by the 1.3 million total I have on record from June 29, the day Verisign carried out the survey. Domains classified as carrying "business" web…
Tucows Hits 52 Week High & Reports Earnings
– 12-Aug-14
Tucows Inc. (NASDAQ:TCX, TSX:TC), reported its financial results for the second quarter ended June 30, 2014 in a day that saw intraday 52 week high for the shares. Tucows.com closed at $16.20 a share after hitting an intraday 52 week high of $16.33 per shares. Yummy domain sold less than $1 Million in domains for…
Tucows Reports Strong Earnings Growth…from Phone Service
– 12-Aug-14
Ting powers Tucows to growth in Q2. Tucows released earnings for Q2 2014 after the bell today. It was a strong quarter for the company, which owns domain name reseller service Tucows. Revenue was up 14% compared to Q2 2013 and net earnings per share doubled. Don't thank the domain name business for that growth…
As .clinic Launches Into General Availability Tomorrow Here are The Taken Domains
– 12-Aug-14
The new gTLD .Clinic launches tomorrow into general availability here are the more interesting domains that were taken in Sunrise or Early Access Program (EAP) and therefore will not be available: 24hour.clinic airway.clinic alabamaallergy.clinic asthmacontrol.clinic autism.clinic babyscan.clinic bitcoin.clinic boi.clinic bone.clinic breath.clinic brisbane.clinic childcustody.clinic dermatology.clinic detox.clinic diabetes.clinic doctors.clinic euro.clinic familytherapy.clinic harley.clinic hipandknee.clinic hormone.clinic hypnosis.clinic implant.clinic keith.clinic…
ICANN Publishes Updated New TLD Auction Schedule
– 12-Aug-14
Delays now require all-party consent, so contention set resolution should accelerate. ICANN has published an updated "auction of last resort" schedule for new top level domain names. It's harder for individual applicants to postpone these auctions now that the framework for handling name collisions is finalized. Postponements are now only possible if all parties in…
Warning: Some Registrars (GoDaddy) are Making The Radix $160 Landrush Fee Nonrefundable
– 12-Aug-14
Radix a new gTLD registry, landrush for three new gTLDs .Host, .Website and .Press opens up on August 26th and runs until September 15th. Applying in landrush for a new gTLD domain gives the applicant early access to domain names ahead of general availability. The wholesale cost to apply for a .Host, .Website and .Press…
Demand Media Names New CEO Shares Sink Now Down 20% From Last Week
– 11-Aug-14
Demand Media, Inc, named one-time Ticketmaster Chief Executive Sean Moriarty as its new CEO and the market didn;t like the news sending shares down over 8% to close at $8.97 a share. You may recall it was just a week ago when Demand split off its Rightside division it traded as high as $11.10. Demand…
Verisign: Internet Grew By 5 Million Domain Names in Q1
– 11-Aug-14
Domain Name Industry Brief shows continued growth of registered domain names. Verisign released its Domain Name Industry Brief (pdf) today , estimating that the total base of registered domain names grew by 5 million to 276 million in Q1 this year. (Yes, that's Q1 — not the most recently concluded quarter.) That's 1.7% more than…
Momentum Cancels Dot-brand Conference
– 11-Aug-14
Momentum Events has cancelled its planned new gTLD conference, which was due to take place in Amsterdam next month. The Digital Strategy & DotOps Congress was designed primarily for potential dot-brand gTLD applicants — with free tickets on offer for eligible companies — but Momentum said there was not enough demand. A Momentum rep tells…
Biggest New TLD Surprises (Upside and Downside)
– 11-Aug-14
We're closing in on 200 top level domain names being released in general availability, and there have been quite a few surprises. Some domains have done better than I expected and others have done much worse. I'll list a few here, and I'm curious what you think. Let's start with three that have done better…
A Lot of Good Domains Grabbed in The Eap of .care
– 11-Aug-14
We took a look into the zone file for The new gTLD .Care that goes into general availability on Wednesday meaning it can be registered on a first come, first served basis to see what has been registered during Sunrise and the Early Access Program (EAP). It looks like one drug company, Teva Respiratory, LLC…
A Good Snyopsis of Verisign's Monopoly Contract
– 10-Aug-14
Investor does a pretty good job explaining how Verisign has a license to print money. Verisign has a wonderful license to print money. Its contract with ICANN to run .com allows it to charge $7.85 per .com domain name registered. The company enjoys fat 55% operating margins as a result. Stephen Pomeroy of Pomeroy Capital…
SignEasy.com Saved in UDRP But Panel Finds "Sales Page" Not Legitimate or Fair Use
– 08-Aug-14
Glykka LLC of San Francisco, California lost its bid to grab the domain name SignEasy.com. The domain name SignEasy.com was registered back on October 7, 2005. The Complainant wasn't even incorporated until March 8th 2013. So the domain owner registered the domain some 7 years before the Complainant even existed. The Complainant trademark is dated…
Flippa Introduces The Domain Catalog and Becomes a Full-blown Marketplace
– 08-Aug-14
Flippa introduced a new feature yesterday that is the Domain Catalog. Flippa's Domains Catalog is a brand new section of the marketplace, entirely different from the auction listings that all Flippa users can list their domains for sale but without…
If you enjoyed this article, subscribe for updates (it's free)