Video interviews, panel discussions, articles and Q&As featuring
Latest Interview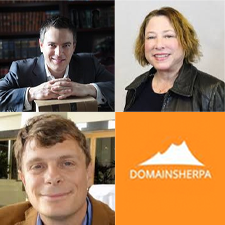 Hear perspectives from Zak Muscovitch, Karen Bernstein, Stevan Lieberman on the historic US Supreme Court decision regarding the trademark on Booking.com, plus vital thoughts on how this may impact domain valuations from Andrew Rosener.
Any domain investor, domain attorney or corporate domain manager, will benefit from today's show!
DomainSherpa July 13, 2020 7

With GDPR on May 25, you can expect to lose access to WhoIs data as we know it and begin many months of "growing pains" as the domain industry scrambles to figure out how to comply with GDPR.
If you're invested in domain names & want to lower your risks or understand strategies for the future, pay attention to these 3 experienced domain name attorneys!
Learn from:
• Stevan Lieberman of Greenberg & Lieberman
• Ari Goldberger of ESQwire.com
• Jason Schaeffer of ESQwire.com
DomainSherpa April 29, 2018 19
The greatest risk to owning a high-value generic domain name is having it taken away from you during a UDRP action.
If you're spending $10,000, $50,000 or $100,000 or more on a premium generic domain name and you want to lower your risk of UDRP, URS or lawsuit, then pay attention to these four attorneys and the tactics they suggest.
Learn from:
• David Weslow of Wiley Rein
• Stevan Lieberman of Greenberg & Lieberman
• Zak Muscovitch of The Muscovitch Law Firm
• Jason Schaeffer of ESQwire.com
Michael Cyger April 13, 2015 28